Phanom Rung Historical Park
SUPER SUNRISE
Phanom Rung Historical Park, Buriram
The largest and best-preserved Khmer temple complex in Thailand, Buriram's Phanom Rung Historical Park, sits loftily on a dormant volcano above paddy fields. Due to a quirk of design, the sun only shines through all 15 of its doors four times a year (twice at sunrise and twice at sunset). This summer, the correct solar alignment takes place at sunrise from Apr 3-5, during which time locals celebrate Khuen Khao Phanom Rung (Go Up Phanom Rung Mountain), a festival featuring live performances of ancient dances.
Where to stay:
Thailand's only football-themed hotel,
Amari Buriram United
(Buriram-Prakhonchai Road, 044-111-444.
www.amari.com
) currently has a series of Asian Champions League packages, which gets you a room and a chance to watch Buriram United take on Asia's finest teams at the Thunder Castle stadium. This
Apr 6-8
, they're offering a three-day-two-night package at B4,764, which includes two tickets for the match against Japanese heavyweights Gamba Osaka. Otherwise, rates start at B3,237 for a deluxe room per night.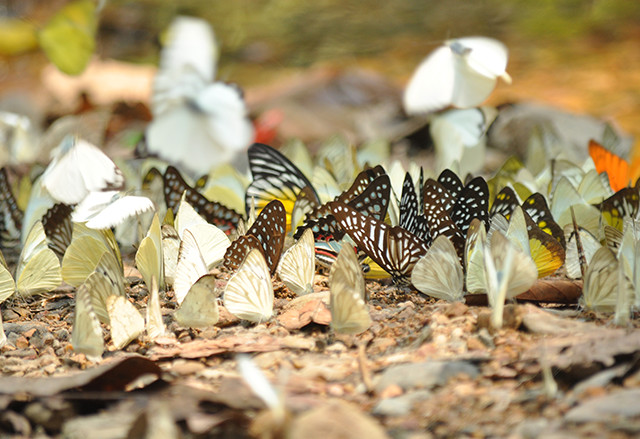 Kaeng Krachan National Park Credit Wisoot Supong
BUTTERFLY EFFECT
Kaeng Krachan National Park, Petchaburi and Prajuab Khiri Khan
Thailand's largest national park, Kaeng Krachan National Park, welcomes hundreds of species of butterflies from April to June. There are two main spots to catch them, the first of which is Pa La-U Waterfall in the south of the park, where millions of butterflies gather around a salt lick. The other spot is Baan Krang Camp Site, where visitors can stay to see the sunrise from Pha Noen Thung Mountain viewpoint. This campsite is also a good spot for bird watchers who can catch rare species like brown hornbills, dusky broadbills and bluethroated barbets.
Where to stay:
Kaeng Krachan National Park (032-459-293.
www.dnp.go.th/parkreserve
) offers tents (B225) and houses (B1,200). If you'd prefer a proper resort,
Kaengkrachan Boat House Paradise Resort
(309 Moo 2, Wangwon Soi 5, Song Phi Nong district.
goo.gl/AgY2b2
) has picturesque views of Kaeng Krachan Dam, with deluxe rooms from B2,600-B3,200 and family rooms from B5,000-B6,000.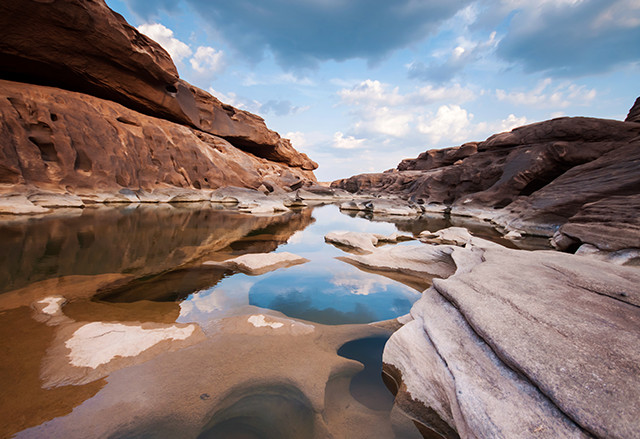 Sam Pan Bok Credit Nut Onaree
ON THE ROCKS
Sam Pan Bok, Ubon Ratchathani
Dubbed the Grand Canyon of Thailand, Sam Pan Bok (literally "3,000 Holes") is best visited in the dry season when water levels are at their lowest and you can explore the jagged orange rocks which stretch out like a strange alien landscape. The sunset is a must-see with Had Hong, a desert-like stretch of sand, being one of the prime viewing positions. Other popular spots include Dog Head Rock, whose name speaks for itself, and Had Salueng, where you can rent a boat to visit more impressive canyons along the river. The ride also takes you to Pak Bong where the mighty Mekong River is at its narrowest, at a mere 56 meters.
Where to stay: Tohsang Khongjiam Resort
(68 Moo 7, Baan Huay Mak Tay, Khongjiam, 045-351-174-6 and 081-860-5905.
www.tohsang.com
) offers impressive views from sunrise to sunset with room rates starting at B2,500 per night.
Sangkhlaburi Credit Nut Onaree
WATER WORLD
Sangkhlaburi, Kanchanaburi
This is the best time to visit this land of three cultures (Thai, Mon and Burmese). During most of the year, one of its main attractions, Wang Wiwekaram Temple, is almost completely submerged by the waters of Khao Laem Dam. But towards the end of the dry season, visitors can take a boat trip and walk around the ruins of the old temple. The Mon community here also hosts a unique Songkran festival from Apr 13-17, which starts with offering food to monks on the recently-repaired Uttamanusorn Bridge, said to be the second longest wooden bridge in the world. Other festivities include bathing the monks by pouring water into long bamboo pipes.
Where to stay:
P Guesthouse
(81/2 Moo1, Nonglu, Sangkhlaburi, Kanchanaburi, 034-595-061 and 081-450-2783.
www.p-guesthouse.com
) offers room packages that also include extras like a boat trip, elephant ride, rafting and a visit to the flooded church. Packages range from B1,000 to 1,450 per person, while a trip without rooms is B900-1,000 per person.
Khanon Temple
TEMPLE THEATER
Khanon Temple, Ratchaburi
Wat Khanon, home to the renowned Nang Yai Shadow Puppet Drama, will host its annual Wat Khanon Festival on Apr 13-14. This year is extra special as it will mark 10 years since the festival's creation, hence the theme Nueng Todsawat Nang Yai Wat Khanon (One Decade of Nang Yai Khanon Temple). Apart from the impressive puppet performances, you can also catch shows by the legendary khon artist Prasat Thong-aram, aka Kru Mued. If you can't make it during Songkran, they normally do weekly shows on Saturdays at 10am. Do make sure you visit the Nang Yai Exhibition Hall (open daily 8am-5pm, 032-233-386 and 089-555-4195), which tells the history of the troupe through puppet displays.
Where to stay: Space 59 Hotel
(8/9 Taoauthong Rd., Muang, 032-315-559 and 097-016-2459.
www.space59hotel.com
) is currently offering special rates at B650 for a standard room and B1,350 for a duplex room per night.