Singapore's oldest urban quarter, Kampong Glam, is now one of its most glamorous neighborhoods. Formerly a bustling port town, the area has long been home to Malay immigrants and other Muslim communities. Much like Phuket's old town, it is packed with colorful, well-conserved shop-houses containing vibrant stores, cafes and diverse restaurants spanning Malay, Middle Eastern, Indian, Mexican and European cuisine. The many small side lanes that run off of Arab Street are hip, chic and filled with dizzying colors—a far cry from the monochrome business districts that dominate Singapore.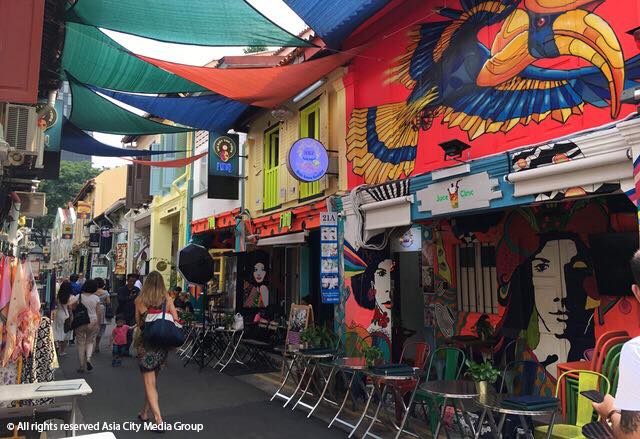 ---
Alaturka Via www.fb.com/Alaturka-Turkish-Mediterranean-Restaurant
Bussorah Street

Located in front of Masjid Sultan Mosque, Bussorah is packed with foodie offerings, especially for lovers of Middle Eastern cuisine. Here, you can find everything from Indian, Pakistani, Greek and Mediterranean, to Moroccan, Persian, Turkish, and Lebanese restaurants—many of which look almost jewelry box-like with their technicolor interiors and vibrant parquet mosaic tiles. Hungry? Head to Alaturka (15 Bussorah St., +65-6294-0304) for tasty Turkish delights like kofte and pide, or Kampong Glam Cafe (17 Bussorah St., +65-6294-1697), where you can savor a mix of Indonesian, Malaysian and Peranakan cuisine—try their generously portioned chicken curry with roti and nasi goreng.
Jamal Kazura Aromatics via www.fb.com/JamalKazurasingapore
Muscat Street

Named after the capital of Oman, Muscat Street represents the ancient trading routes that linked the Middle East and Asia. Located between North Bridge Road and Baghdad Street, Muscat is lined with colorful mosaics referencing Omani history and trading vessels. Eight meter-high granite arches stand at either end of the street, with the gold-domed national monument Masjid Sultan (3 Muscat St.) mosque at the center. Be sure to pop around the corner to Jamal Kazura Aromatics (728 North Bridge Rd.) to pick up some exotic Middle Eastern perfume.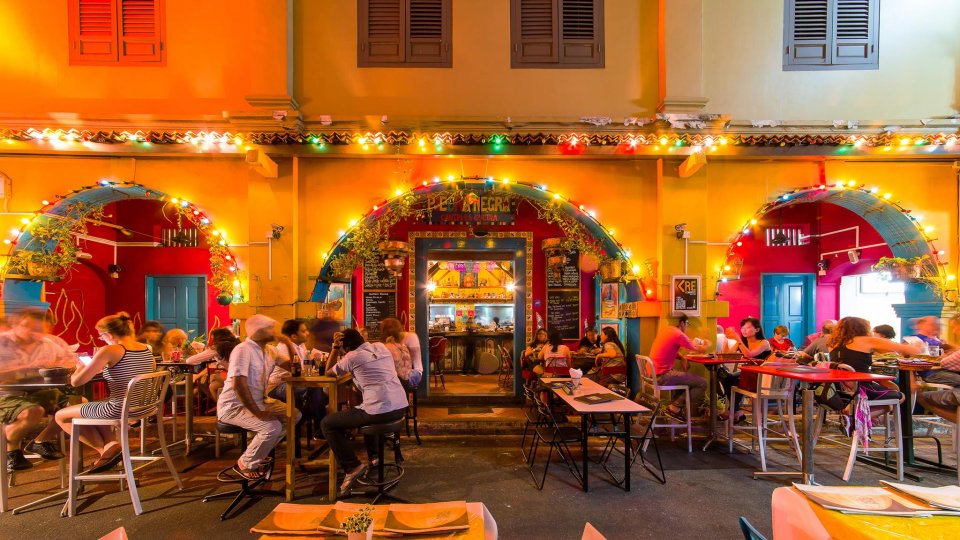 Piedra Negra via www.fb.com/PiedraNegraSg
Blu Jaz Cafe via www.fb.com/blujazcafe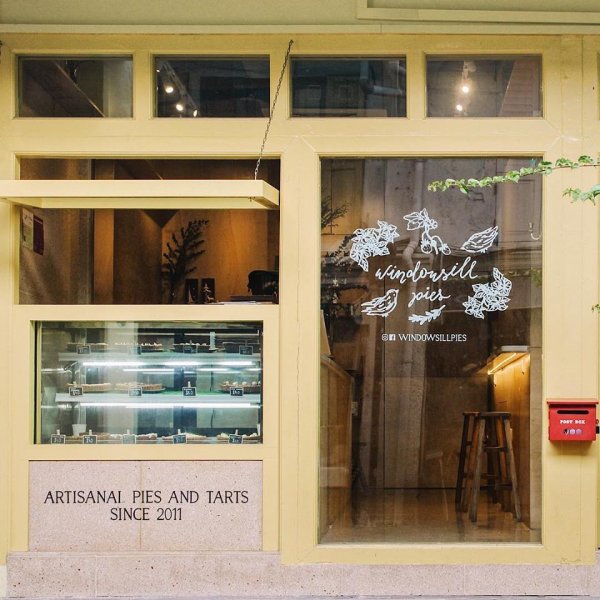 Windowsill Pies via www.fb.com/WindowsillPies
Haji Lane

This narrow lane is awash with vibrant graphic murals, which become the front for creative stores selling fancy local-brand clothing, accessories and toys, as well as hip bars and cafes decorated with eye-popping paintings and patterns. Check out Mexican bar Piedra Negra (241 Beach Rd., +65-6291-1297), where the color continues inside for a fun, eclectic spot to get your Margarita and Mexican food fix. Jazz fans can enjoy soulful performances at Blu Jaz Cafe (11 Bali Ln., +65-6292-3800), a three-story shophouse down a tiny sidestreet with a small courtyard out front. For a hit of sugar, the tiny Windowsill Pies (17 Haji Ln., +65-9772-5629) will draw you in with its window display of tasty looking treats.
Zam Zam via www.fb.com/Singapore-Zam-Zam-Restaurant
North Bridge Road

Fragrant spices fill the air, luring you into an array of small Malay- and Indian-Muslim eateries, filled with folk munching on crispy roti, scrumptious rendang and fiery sambal goreng dishes. The murtabak and biryani at Indian-Muslim restaurant Zam Zam (697-699 North Bridge Rd., +65-6298-6320) have been stuff of legend since 1908, though next-door rival Victory Restaurant (701 North Bridge Rd., +65-6298-6955) makes a fierce contender with its killer mutton biryani. For Indonesian, Sabar Menanti (747 North Bridge Rd.) serves up authentic Padang cuisine, while Warong Nasi Pariaman (738 North Bridge Rd., +65-6292-5898) offers a luscious beef rendang. Satisfy your sweet tooth at halal artisanal bakery Mother Dough (749 North Bridge Rd., +65-6909-6604), where flaky, buttery croissants are baked fresh daily—get there fast, as they're prone to selling out.

Baghdad Street

If all that heavy food has awakened a sugar craving, head over to Baghdad Street, located right next to Muscat, where Overrun (18 Baghdad St.) pumps out generous cups of soft-serve ice-cream in flavors like durian with chendol (worm-like green rice flour jelly with coconut milk). Meanwhile, Spatula Bakery (21 Baghdad St., +65-6243-3208) offers scrumptious cupcakes and Julie Bakes (14 Baghdad St., +65-9647-9027) conjures up some crazy-moist layer cakes. If you're not ready for dessert yet, there are also Turkish restaurants like Mevlana (25 Baghdad St., +65-9062-0523) and IstanBlue (17 Baghdad St., +65-9337-8138) in the area.
---
Must-Hit Culture
MALAY HERITAGE CENTRE

Occupying what was once a Malay palace back in 1840, this space is dedicated to the rich history of Kampong Glam and its Malay community. The big colonial-style house is separated into five exhibition rooms, which explore the evolution of culture, arts, language and way of life in the area. If you're lucky, you might catch a cultural performance, too.
85 Sultan Gate. www.malayheritage.org.sg
Masjid Sultan Mosque via www.fb.com/masjidsultan.singapore
MASJID SULTAN MOSQUE

What is now the heart of the Muslim community was built back in 1824. The style draws on a mix of Gothic and Indo-Islamic architecture, which can be seen from the large golden dome on a base of high, shaft towers and pointed arches.
3 Muscat St. sultanmosque.sg
THE PROJECTOR

Fans of indie, unconventional or classic films shouldn't miss this independent theater, home to two big cinema halls that have been screening since 1973. Keep an eye on their website for special themed nights and creative events.
6001 Beach Rd. theprojector.sg/filmsandevents