Phnom Penh is shedding its stigma as a sleepy backwater with a tragic past. The Cambodian capital is taking its first small steps toward becoming a global city, offering an intriguing blend of ancient civilization and art alongside an emerging food and nightlife scene.
Rolling on the River

Running along the Tonle Sap River, Preah Sisowath Quay is the backbone of downtown and pretty much every tourist's North Star. From north to south, the landmarks along this route include Wat Phnom, the passenger river terminal, the night market, the Old Market, Wat Ounalom, the Grand Palace complex and the National Museum.
Wat Phnom at the north end of this strip is the perfect place to begin a self-guided tour. The 700-year-old temple speaks to the city's unusual origin story. Legend has it that, in the 1300s, a wealthy widow named Daun Penh was collecting firewood when she noticed a tree floating down the Tonle Sap. Inside she found four Buddha statues and a statue of Vishnu and decided to build a shrine on the nearest hilltop for them. In the 1500s, King Ponhea Yat redeveloped the city around the hill, and Phnom Penh—translated to "Lady Penh's Hill"—was born.
Further south is The Old Market. This local hotspot is liveliest in the morning, when you'll find vendors doling out simple dishes, fruit, sweets and desserts, as well as the full supply of tourist goods, like silk scarves and home decor.
The striking, 1,000-year-old Wat Ounalom, meanwhile, might be the most important Buddhist building in the country. Nearly destroyed during the Khmer Rouge's reign of terror, the restored temple houses what is believed to be an eyebrow (ounalom in Khmer) of the Buddha.

Moving History

To get a better feel for ancient Khmer culture, visit the National Museum (Preah Ang Eng St. 13, adjacent the Grand Palace), located within a traditional, burnt red terra cotta building. There are about 5,000 items on display, with another 10,000 in storage, including some impressive sandstone sculptures (Khmer sculptors are to sandstone what Italians are to marble). The metalwork is equally impressive. The statuettes and decorative objets d'art look fresh and sharp, as if they were made recently instead of in 500 CE.
Grand Palace
For a taste of the "new" kingdom, visit the Grand Palace, fronted by acres of green space, stretching to the river. It includes the imperial Throne Room and Wat Preah Keo (Cambodia's Temple of the Emerald Buddha). It was built 80-100 years after Bangkok's landmark, and the similarities are blatant—local tuk tuks even use the classic "Grand Palace is closed today" hustle. Wat Preah Keo's ubosot holds the Emerald Buddha, and the chamber is staggering. It contains hundreds, if not thousands, of gold and silver pieces, many of which were donated by the royal family. Focus on the art itself and not the display cases, however. They're beaten and worn, and many tourists overlook what lies inside.
Tuol Sleng Genocide Museum (Street 320 and Street 350; tuolsleng.gov.kh) confronts a more sobering chapter in Khmer history. Over four years, some 20,000 prisoners went in, but only seven came out. It takes an emotionally challenging hour or more to take in and process the tiny cells, instruments of torture and photographs of prisoners left behind. You can also read about this era—street vendors sell a whole catalog of related books for about B150 a piece.


On the Town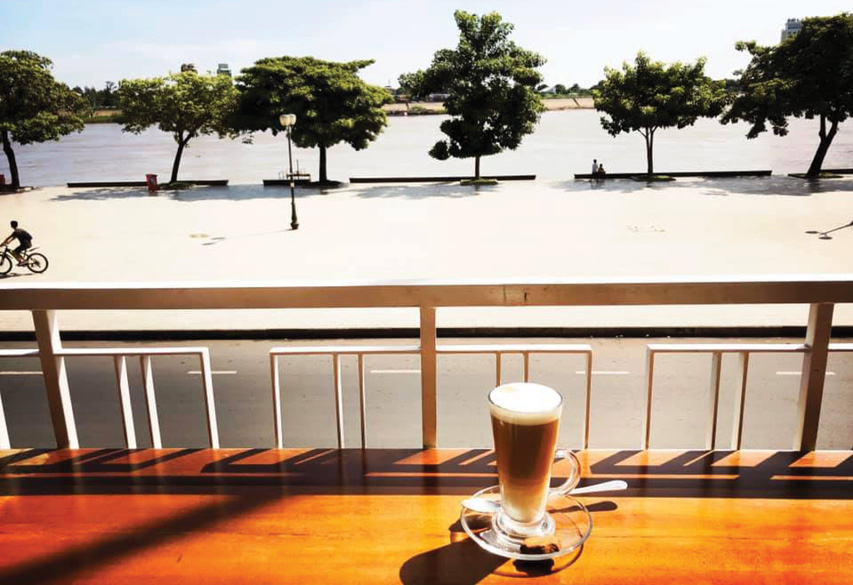 Credit: La Croisette Facebook
Need to unwind? Consider supporting the visually-impaired at Khmer Angkor Seeing Hands Massage (182 Eo Street 13), a well-respected studio set near the river.
Dining options go beyond Cambodian dishes. There are least 20 French restaurants in the city center, including Bangkok-hailing Oskar Bistro (159 Preah Sisowath), La Croisette (241 Preah Sisowath) and Chez Tonton (331 Preah Sisowath)—all boasting river views. Indian food is an excellent mid-range option, and New Season Indian (179 Preah Sisowath), Yellow Chilli Indian (225 Preah Sisowath), New Delhi Indian (237 Preah Sisowath) and Mother India (269 Preah Sisowath) all come highly recommended. Go for Vietnamese pho when you want to eat on the street. It is affordably priced ($2/B60) and as abundant as boat noodles in Bangkok.
Preah Sisowath might also be Asia's best beer mug-clinking district. At least eight east-west streets end along the river, and each boasts a pair of bookend open-air pub-cafes. There's a price war going on and USD1 (B30) draughts are standard. Imports will set you back B60, with jugs B180-240. Mekong River (No 1 Street 118) raises (or lowers) the bar with beers going for USD.75 (about B22). It also has the longest happy hour (7am-11pm), so it's a good bet anytime.
---
Essentials
Getting there

Flights are less than an hour, and more than a dozen carriers fly the route. Local options include Thai AirAsia (B2,700), Bangkok Airways (B6,000), Thai Airways and Thai Smile (both B6,500). Bus journeys typically take 12 hours and begin at around B700.

Currency

U.S. dollars are widely accepted and often welcomed.

---
Stay here

Credit: Raffles
Raffles Hotel Le Royal is an oasis of Old World charm just a few minutes from Wat Phnom (92 Rukha Vithei; from B7,250/night).