The party-based economy has helped turn Koh Phangan into a mecca for backpackers, ravers, and modern-day hippies. With mass tourism and moon-fueled techno bashes out of the picture indefinitely, the island suddenly has a different feel. Now is the perfect time to travel south, experience the island's rugged beauty and natural attractions, and help local businesses rebuild for the future. Here's a primer to prep you for a feel-good adventure.



Credit: Seaboard Bungalows

Where to stay
Ringed by coral reefs, the island boasts glass-flat, postcard-blue waters, and cornea-blisteringly white beaches. In short, it's hard to go wrong here. Typically, much of the island's action, for better or worse, centers on Haad Rin, better known as the "Full Moon" beach. It's actually a lovely spot outside the parties; you just have to deal with some riffraff. If you venture in the opposite direction on the island, however, you'll find remarkably chilled out expanses that seem to get better the further north you go, offering sugary white sands and incredible sunsets with a fraction of the crowds.
While Chaloklum at the very north of the island is a great option—it has a local village and therefore offers more activities, bars, and restaurants—we prefer the not-too-tucked-away vibe of Haad Yao. For a peaceful place to stay here, check out Seaboard Bungalows, a collection of relatively basic but pleasant rooms set on the beach and dappled with avant garde art installations (bungalows from B800/night; rates go down for stays of a week or more). Seaboard is run by a gregarious Italian woman named Paola, who organizes classical music nights every Monday, plus a local arts and crafts market followed by an electronic music party every Thursday (5pm-midnight). Between those sonic poles, the bungalows offer solid Italian food, excellent happy hours, an eclectic soundtrack, and direct access to white sands—good for the mind and body.
Closer to Thong Sala, the island's main town and pier, Bluerama (from B700/night) is another great place to stay. The hilltop hotel aims to help you reduce your carbon footprint. The restaurant uses locally grown produce to both help farmers and reduce fuel usage, while, among other eco-friendly initiatives, the rooms feature natural fiber sheets, towels, and mattresses. Bonus: it offers fantastic sunset views from its infinity pool.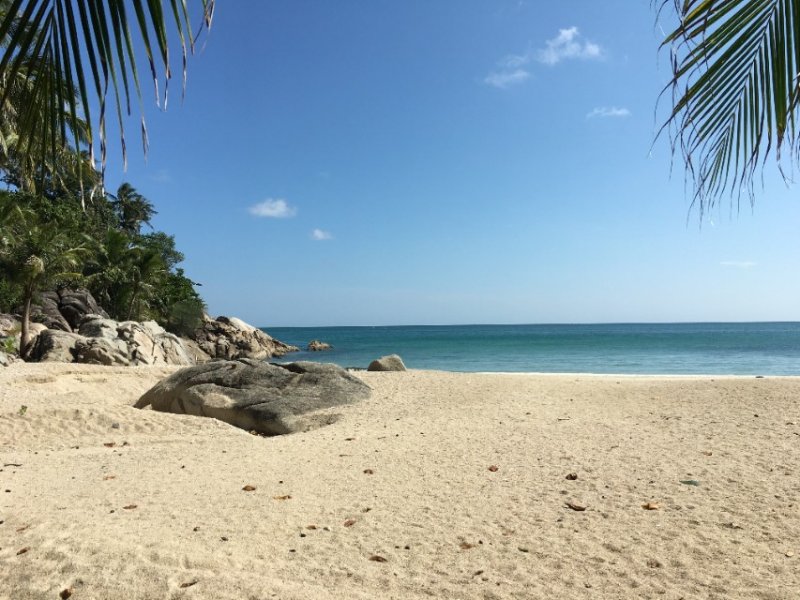 Bottle Beach

What to do
Skip the spiritual rebirthing sessions and opt for meditation through physical activities. Koh Phangan boasts a half dozen excellent hiking routes, plus all the yoga classes and diving trips your heart desires (Sail Rock Divers, 080-885-7268, and Haad Yao Divers, 086-279-3085, are good options for the latter).
Most Thai islands feature jungly peaks in the center. Koh Phangan is no different. If you're up for a challenge, hike to the top of Khao Ra, the island's tallest point at 627m. (Warning: despite its relatively low elevation gain, this 5km hike isn't easy. Carry all the fluids you can handle, because you won't find any shops along the way, and it's a good hour-and-a-half hike up and down if you're moving fast.) Head to Khao Ra Terrace off Madurwan Rd. to find the trailhead. Once you begin, you'll ascend, largely under the canopy, until the jungle clears, and then you'll find yourself looking out across the island in every direction.
For a hike with an even better payoff, try the trek to Bottle Beach. The trailhead is located at the end of the road past Chaloklum and Haad Khom. From here, you have two options: the seaside route (harder) or the interior route (easier, but you'll still have to get on all fours at points). The 30- to 45-minute trek takes you to what might be Koh Phangan's best beach. At the moment, you might not find another soul on these palm-fringed sands. If you're not up for the return trip, Smile Bungalows remain open, and the friendly manager will hail a boatman to shuttle your carcass back to Chaloklum for B300.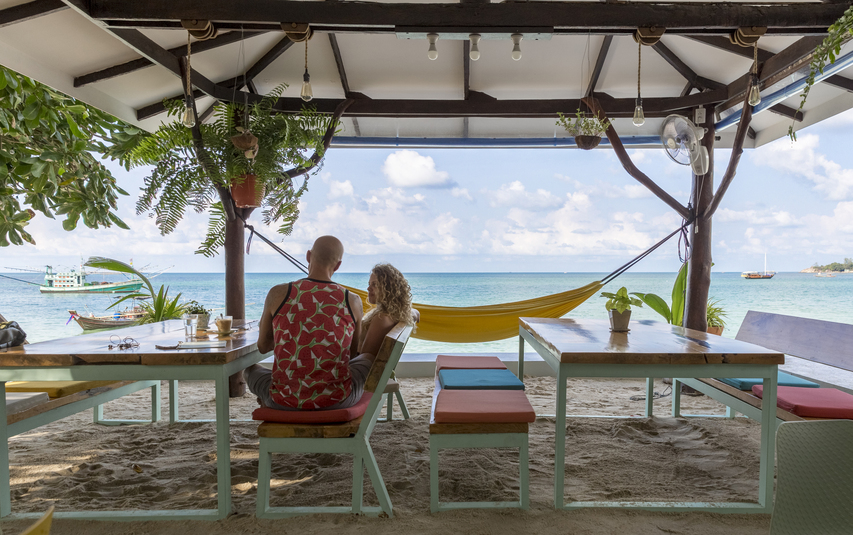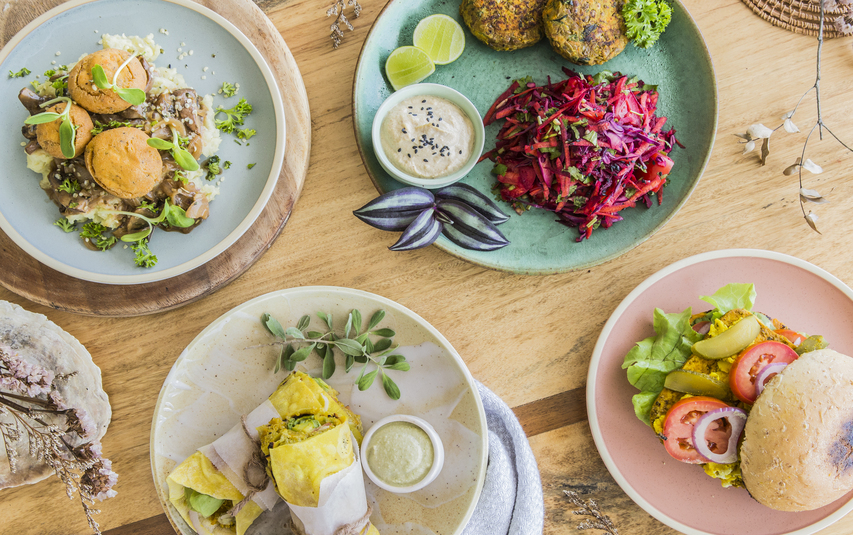 Credit: Food & Roots

Where to eat
Koh Phangan has begun to do its best Bali impression. Now you can find local produce and plant-based options on menus island-wide. Part bookstore, part boutique, part open-air cafe,
Eat.Co
, with branches in Srithanu and Thongsala, has been serving so-called cruelty-free vegan dishes to islanders since 2013.
Foods & Roots
, meanwhile, is a newer addition to the plant-based scene. This airy eatery overlooking the bay in Chaloklum sells a bunch of natural products—from hemp-based goods to natural cleaning supplies—as well as globe-spanning vegan dishes, like Burmese tea leaf salad (B200), lentil burgers (B260), and mashed chickpea salad (B300).
Credit: Bubba's
It isn't all about the plant-based life here. For a taste of Bangkok coffee culture with a distinct island vibe, join the digital nomads at
Bubba's
(two locations: in Haad Yao and Baan Tai) for salmon eggs Benedict (B200) and coffee made with beans from Chiang Mai, Chiang Rai, and Tak (from B60). They roast on-site, so you can grab a bag to go, too (B220-250/250g). Want to get some work done for some reason? Visit
Indigo Specialty Coffee
in Srithanu. The coffee shop and bakery doubles as a co-working space, but you'd be just as well off going for
their
eggs Benedict (B240), which includes guacamole and house-made croissant bread, or a smoothie bowl (from B180) with an espresso (B50).
When happy hour calls, the no-frills, beachfront sanctuary Freeway Bar on Srithanu ticks all the boxes, or you can pop over to Zen Beach, the cultural mecca for Koh Phanganers, where sunset yogis and fire dancers ply their trade before night falls. Then shuttle your way over to Sirtaki Taverna for a Greek feast that's as good as any you'll find this side of Mykonos—think grilled seafood of the day (B400), grilled octopus (B250), and pork souvlaki (B260)—before ending your escapade as the expats do: with live music and free-spirited dance at Hemmingway's Koh Phangan.
Staying Safe
This is where we should mention that, at press time, Thailand has reported 737,562 road injuries and 11,336 road deaths in 2020 so far, according to the
Thai Road Accidents Data Center
. These days, a lot of people on Koh Phangan have a bad habit of driving motorbikes without a helmet but with over-ear headphones on, completely tuning out traffic sounds. This is a recipe for brain stew served on hot asphalt. You can currently rent a motorbike for B150/day at several shops near the Thongsala Pier, and all offer helmets. Ask for one, and wear it.