When thinking of Indonesian travel, most minds would venture to the beautiful coast in Bali. However, a sunny beach isn't the only reason you should go to Indonesia, as your most wonderful trip might happen in North Sumatra—a province containing beautiful islands, hot springs and volcanic mountains. It also contains Samosir, the largest fully-Indonesian island (the others, Java and Borneo, are shared with Papua New Guinea and Malaysia), and has plenty of attractions to be explored, with short and affordable flights you could take straight from Thailand.
If you are traveling around Lake Toba, which you should, a visit to Samosir Island is an absolute must. This is where most of the modern conveniences of life will be found, but it is also a place to meet like minded travellers and use as a launching pad for adventures around the surrounding area. With that said, entire trips could be spent here. With a range of diverse cuisines, homestays and natural wonders, Samosir Island has everything most tourists want, without the tourist hordes. The same could be said for North Sumatra as a whole.

How to Get There


By Plane
Direct flights from Bangkok to Kualanamu International Airport at Medan cost around B5,300 - B7,000 on Jetstar and Air Asia airlines (you can also find them as low as B1,600 if you book at the right time).


From Medan
Once at Medan, you have three options to go to North Sumatra: express minivan, bus (from around B46), or taxi (B270-B350).


What to do
Indonesia's largest island (that's not shared with Papua New Guinea or Malaysia) is full of beautiful places waiting to be explored. It has all the lush jungles, clear rivers, imposing volcanoes and beautiful island scenes you want, but it's also full of diverse cultures and good food. Here are some must-do activities: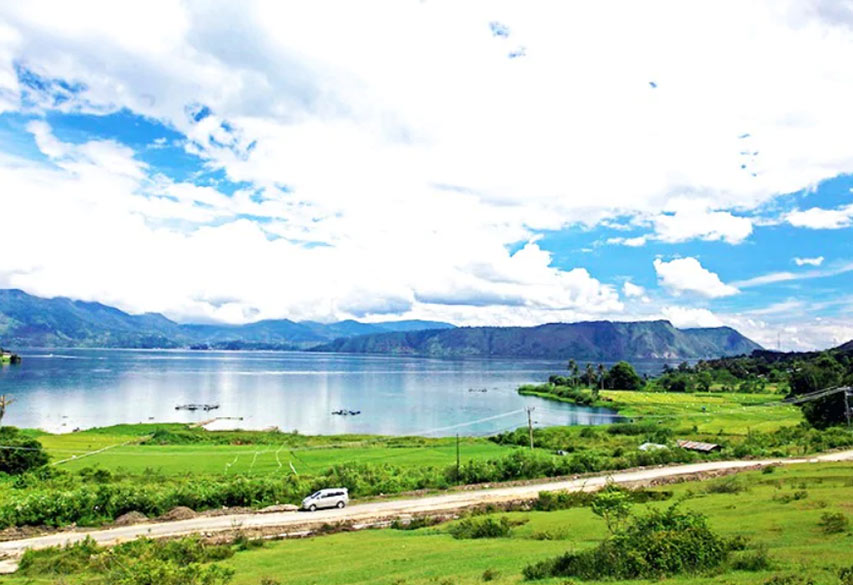 Biking in Samosir
Samosir is a large volcanic island with exotic scenery and friendly locals. The best way to explore the beauty is to bike along the mountain from Ambarita to Tomok and enjoy the amazing landscape from endless rice fields, lakeside and the hills far apart. Renting a bike can cost you from around B70 per day.


Dress like a local
The locals wear a traditional woven fabric called Ulos over their bodies from head to lower torso. There are plenty of creative designers who've turned this traditional item into a more modern staple in Indonesian fashion nowadays, and you can by some pieces to fill your fashion collection at North Sumatra.


Tubing
This is another cool activity you can enjoy at most of the guest houses. Pay a small fee (around B300) for them to set you up in a raft tube, placing mat in the center to keep you seated, and guiding you down to enjoy some refreshing splashes from cold, clear river.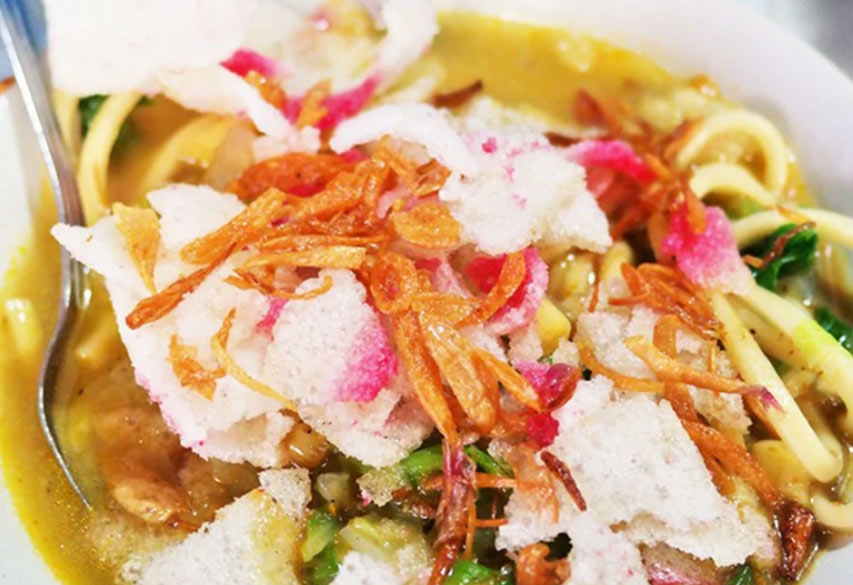 Introduce yourself to local good food
Indonesia's culinary traditions are as varied and colorful as any country on Earth, but our most recommended dish is Mie Gomak—a traditional Sumatran curry noodle that can be served in broth or fried. The long noodle is boiled and adorned with spinach and chayote, while the broth is made of coconut milk and ground spices like shallots, turmeric, chillies and ginger. Try this one in the cold weather and don't forget to ask for a boiled egg as a topping.


Develop some dance moves
Love to dance when going out? You should try Tor Tor, a traditional group dance of Batak which is normally performed with ceremonial music using local instruments. The dance focuses on feet-pounding as the music will be upbeat and cheerful. Each movement of Tor Tor presents emotions and interaction with other participants, this is probably why it is mostly performed by the bride and the groom during a wedding ceremonies.





Where to Stay

Staying in North Sumatra means a trip that is local, adventurous and somewhat peaceful. The price is also on budget and the people are friendly and accommodating.

Silimalombu Farmstay (from B321/night) - Situated inside a 500-year-old mango forest, this guest houses has lake view rooms and food made from their own organic farm. You can also be a farmer for one day by joining the coffee harvesting and roasting activities, graviola leaf tea production, planting cacao, or just taking out a canoe and fishing.
Tranquil Jungle Hut & Trekking (from B344/night) - This is the perfect place for your adventurous holiday, as it's located 15 minutes away from a forest that isn't packed with tourists. The bamboo hut offers a peaceful jungle and river view, with a jungle trekking service (from B1,700/day) to help you meet with orangutans and other wildlife—in their natural habitats.
D'Primahotel (from B1,300/night) - Want to get a glimpse of city life before returning home? This is the hotel you're looking for. With a location just 0.1 km from the city center, and close to a walkway that will take you to the train platform, it's location is unbeatable. The accommodation is also cozy and well kept.
Experience the 5 Natural Wonders of Indonesia

Nature, Scenic Landscapes & Wilderness
In this tropical country, explore the magnificent white sandy beaches, great volcanoes or colourful marine treasures. One lifetime would not be enough to explore Indonesia's natural wonders.

Culinary & Wellness
This is where to spoil your senses: hearing, sight, touch, smell and taste. Explore the many flavours Indonesia has to offer by taking a bite out of some local delicacies or delighting in traditional spa treatments.

Arts, Culture & Heritage
Indonesia is a huge nation comprised of hundreds of cultures derived from local regions, making it one of the most diverse countries in the world. Explore the unique culture and heritage of each region in Indonesia!

Recreation and Leisure
A nation is often measured by how advanced its technology is. Indonesia's major cities adopt modern lifestyle that is complete with stunning skyscrapers, vibrant nightlife and technologically advanced offices.

Adventures
One would never get bored exploring Indonesia. Plunge into thrilling caving adventures, exotic diving escapades, challenging volcano climbs, intriguing jungle treks and many more!

For more information, visit: www.indonesia.travel
Sponsored by: