Uber-luxe five star oceanfront resort Kata Rocks is throwing huge parties for Christmas and New Years—giving you the chance to enjoy Christmas Day, Christmas Eve and New Years in paradise with family and friends.
Though all three fall together in the busy holiday season, each is its own party on Kata Beach. Sugar is a feast on Christmas Eve; Spice is a pool party on Christmas Day; and All Things Whimsically Nice is an "Alice in Wonderland" themed party for New Years.
Together, they make for a sumptuous and joyful celebration—though each includes its own unique, tempting feast, seasonal celebrations, and entertainment.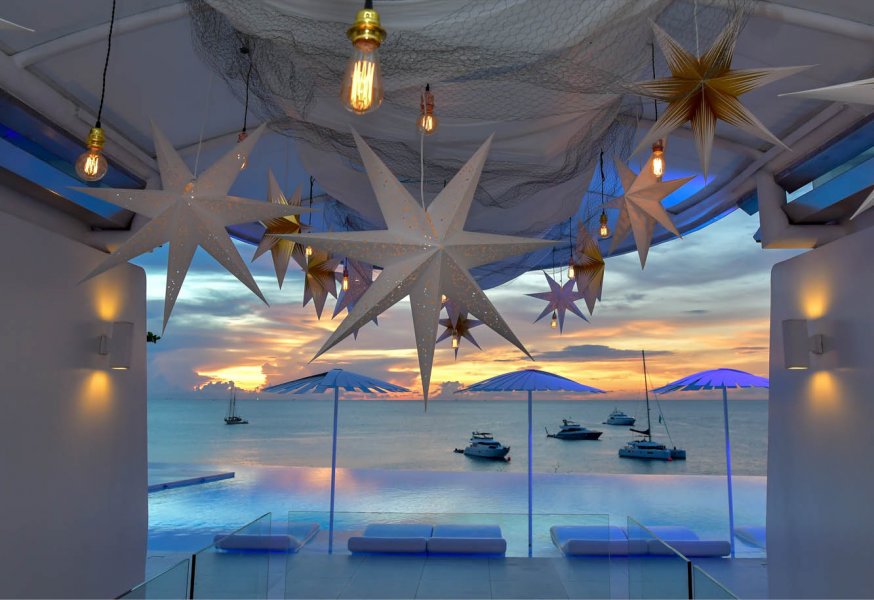 For the Christmas Eve dinner Kata Rocks clubhouse will be redecorated as a winter paradise, with a stunning white Christmas tree, and life-sized peppermint sticks and mints. The festivities will truly be in the air.
The family-style event starts off with a mini goodie bag (for the holiday feels!) and a very welcome warm-up cocktail. The feast that follows is a food coma-inducing, epic holiday spread—one of the best we've seen in a while. International holiday classics like French oysters collide with Christmas staples like roast turkey, smoked salmon and Boston lobster. The meal oozes luxury, as you would expect, with delicacies like foie gras terrine and truffle dressings abound. There's a special kids menu for any little munchkins you have along for the celebration (the breadcrumb mac & cheese on that menu will make adults envious).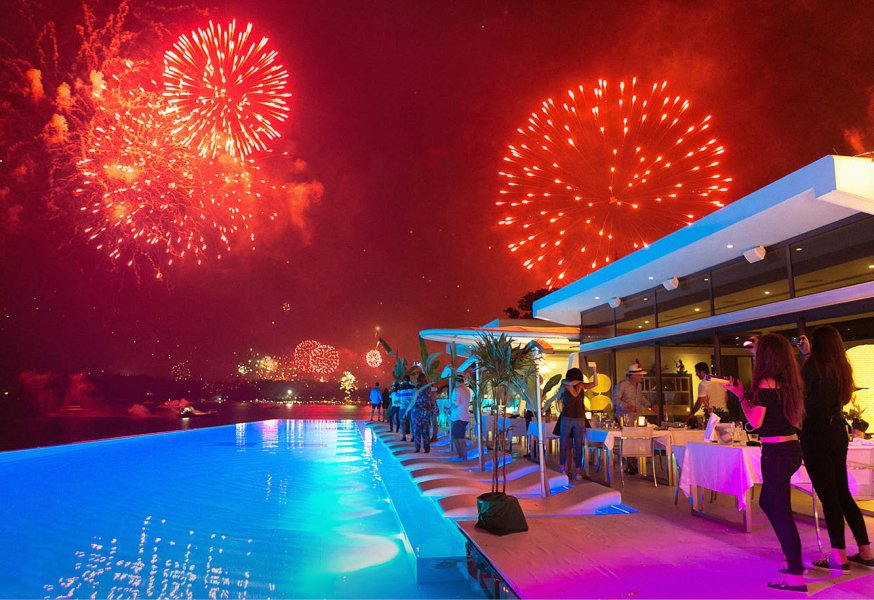 At noon on Christmas Day, Kata Rocks' 35 meter long infinity pool will be Spiced Up with Christmas ornaments and spice-themed inflatables. Oversized decorative gingerbread men, cupcakes, chocolates and colorful Christmas candies will fill the pool like a scene from "the Nutcracker."
A gourmet brunch spread will run along the poolside with festive spiced desserts—made with cinnamon, cloves, nutmeg, allspice, ginger, star anise, and cardamom—in a tantalizing selection of cakes, pastries, pies and cookies.
The gourmet brunch includes international breakfast staples and lunch specials, holiday classics and festive desserts. Free flow wine, beer and cocktails, and bottles of Champagne are also available. An after party kicks off from 3-5:30pm, with entertainment and more partying in the pool. So you can unwind to tunes from the resident DJ, as the sun sets over the infinity pool.
On New Years Eve, the dazzling 'Everything Whimsically Nice' gala party brings stylish costumes, performances, entertainment and even fireworks to Kata Rocks.
It's the perfect red carpet moment for guests to unleash their inner Lewis Carroll character. Prizes are also available for the best-dressed guests at the event.
The larger than life party kicks off at the Kata Rocks Clubhouse with welcome cocktails at 7pm. A gala dinner follows—a full buffet feast, featuring Thai and international delicacies. The no-boundaries gastronomical extravaganza is paired with spectacular themed performances, and signature cocktails are available throughout.
As the clock approaches midnight, a traditional customary countdown leads into a fireworks display.
Best of all Kata Rocks Festive Series has designed a special BK Exclusive Package—designed for four people. It includes a four-day three-night stay in a palatial oceanfront two-bedroom villa with daily breakfast included every morning.
Priced at just B120,000, the package also includes four tickets to one of the three events. So you and your loved ones can enjoy Christmas Eve Dinner (with cocktails) for four; Christmas Brunch poolside (with free-flow beverages) or the New Years Gala Party (with free-flow beverages) while also enjoying the amenities at one Phuket's most sophisticated and stylish world-class resorts.
For more: 076-370-777; dining@katarocks.com reservations@katarocks.com
(*The New Years event also includes a B18,000 surcharge).
Kata Rocks by Infinite Luxury, 186/22, Kok Tanode Road, Kata Beach. katarocks.com/events/festive-season-2019
Sponsored by: