Since last March, Khao Lak has been a ghost town—except for one sliver of beach.
Past the vacant resorts and rows of shuttered restaurants in Bang La On and Bang Niang, Pakarang Beach teems with surfers. From dawn until dusk, suntanned bodies glide on white water and green waves. A surf school rents longboards to newbies, who either ride the swell or take shots for social media, and a buzzing beach bar refuels them, the instructors, and the hangers-on lured to Pakarang by the hang-loose vibes.
With its steady swells, this small spit along 20 kilometers of nearly unbroken beach has become an unexpected draw for domestic tourism, a hub for Thailand's latest lifestyle fad. But for the local community, the rapid rise of Thai surf culture could offer more than just fun in the sun.
"The job opportunities down here are really rubber, fishing, tourism, or nothing—some just do nothing at all," says American expat Matt Blauer, 45, an Oregon native and avid surfer who has lived in Thailand since 2001, largely doing development work along the country's northern border with Myanmar. "I believe we can use surfing as a tool to empower people."
In April, Blauer opened
Salt Surf Club
, a cafe and surf school on Pakarang, across an inlet from popular Memories Beach Bar and Pakarang Surf School. More social enterprise than business, Salt Surf Club gives local youth a chance to grow as individuals, not just hone their surf skills.
Alongside Blauer, his wife, and their children, the club is run by teenagers from the local Moklan community, an indigenous group more commonly known as sea gypsies. The surf-crazy Moklan, all aged between 12 and 18, take orders, serve coffee and smoothie bowls, and teach aspiring surfers how to ride Khao Lak's beginner-friendly waves. Blauer believes this work can improve their English, help them engage with people from outside the community, and, importantly, allow them to keep surfing.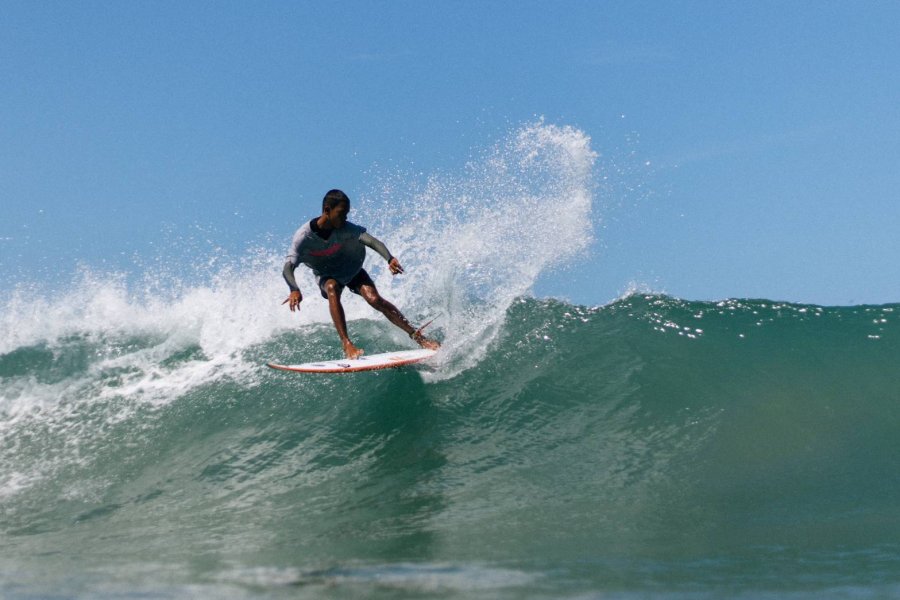 Pichet "M" Natalay / image courtesy of Phubet Laorchairangsi, Onedayasurfer
"I'm trying to keep kids out of trouble," he says, citing drug use and teenage pregnancy as some of the greatest obstacles youth face in rural, secondary destinations like Khao Lak. "For most of the local population, the parents aren't expecting too much [of their kids]. Most barely made it through high school themselves."
One of Salt Surf Club's employees, Pichet "M" Natalay, 15, says surfing is already changing lives.
"Most of the kids from where I live don't really have the chance to dream big," M explains. "There's drugs, smoking, alcohol. If I didn't have surfing, I'd probably be up to no good."
Laying ghosts to rest
On Boxing Day in 2004, a tsunami swallowed Khao Lak whole. Tourism gradually recovered. A higher-end resort town was built from the rubble of wrecked hotels and uprooted trees, but the region's underlying issues remained largely unaddressed.
Between 2005 and 2015, guest arrivals at registered accommodation in Phang-Nga province, where Khao Lak is located, quadrupled from 250,000 to nearly one million,
according to data from consulting firm C9 Hotelworks
and Thailand's Ministry of Tourism and Sports. But that growth was driven by international travel. By 2015, domestic arrivals had barely returned to the numbers seen in 2004 as Thai tourists, perhaps spooked by spirits or fearful of the sea's power, stayed away. Without their attention, the local economy failed to diversify.
Now, nearly 17 years after the tsunami, many who were young when the sea rose up—or, in the case of surfers like M, weren't born yet—are looking beyond the ghosts of Khao Lak's past. They're helping to create new opportunities, too.
According to local businessman Pachara "Palm" Naripthaphan, 36, many Bangkok millennials are now basing themselves in Khao Lak. "I never thought this region would attract people from Bangkok," he says. "It's the first time I've seen urban-to-rural migration in Thailand."
Some have decided to ride out the pandemic by the beach, where they can surf between online meetings. Others have moved there semi-permanently, like Srilak Kulnthomyotin, 43, director of the Bangkok-based Area Management modeling agency. Lured by the mellow surf, open space, and slower pace of life, she's now building a home in Khao Lak.
"I didn't even know surfing in Thailand existed until last year. [Now] I just don't want Khao Lak to turn into Canggu," she says, referring to Bali's hub for digital nomads.
Pachara "Palm" Naripthaphan and family / image courtesy of Salt Surf Club
Palm is himself an urban escapee. Born into a southern Thai family but educated in Bangkok and the U.S., Palm worked in politics until 2014, assisting cabinet officials across several ministries. (His father, Pichai, is the deputy leader of the opposition Pheu Thai Party.) Last year, he moved his family to Khao Lak to be closer to his mother. Now, he's playing an important role in the surf renaissance.
Seeing Blauer haul kids to competitions in the back of his truck, Palm felt moved to act and asked how he could help. Before long, he was offering free space: a vacant villa attached to the Grand South Sea Resort, the hotel his mother runs. "I'm lucky my mom supported me. Everyone [in business] thinks in return per square meter," says Palm.
Now filled out with surfboards and blond-wood tables, this once empty villa attracts people like Srilak, who come in to work, eat, or hang out after riding the waves.
"Exposure brings enlightenment"
Across Khao Lak, many hotels have closed and construction has ground to a halt. As jobs have disappeared, working-class communities have come under greater pressure to put food on tables. Yet a blank slate, however devastating it may be in the present moment, might benefit Khao Lak's development in the long run.
"Most tourists come and go. They don't see the growth," says Palm. The energy around surfing, however, is starting to turn would-be one-timers and fly-ins into frequent returnees. "People who try surfing and love it keep coming back to get better at it," Srilak says. And returning visitors could help Khao Lak develop a tourism industry that better serves its whole population.
Surfers swooping in from Bangkok exchange ideas, language, and customs with local youth, according to Palm, making them active participants in the community. "Exposure brings enlightenment," he declares. Not to mention greater wealth. "The kids [who work as surf instructors] can gain more in an hour than their parents can in the whole day."
The former politico also sees the bigger picture, plus the unique role that Blauer plays in it.
"There are still vast inequalities here, from language [fluency] to income," he explains. "Someone like Matt, who is able to blend into the local community and can also engage with outsiders—that changes things. The Moklan had never integrated like this before."
The Salt Surf Club crew (Matt Blauer pictured in back) / image courtesy of Salt Surf Club
M, who started surfing only four years ago, is living proof of the possibilities these new opportunities provide. He has taken home prizes from events put on by the Thailand Surfing Federation, and he has expanded his network beyond Khao Lak. "Most of my friends are from Phuket," he says. His excitement is so palpable that he's already dreaming of a future made for Roxy ads. "I want to surf as long as I can. I want to be a pro," he admits.
Blauer, on the other hand, keeps a measured perspective, understanding that immediate returns are rare in development work.
In the future, he hopes to see one of the Salt Surf Club workers running the business—"Either my own kids or someone from the club"—and he makes it clear that churning out pro surfers isn't the goal.
"If [these kids] just make it through high school without getting in trouble," he says, "we're stoked."
Additional reporting by Veerabhatr Sriyananda