There's a whole new stye of cafe culture growing in Chiang Mai.
Mention Chiang Mai and the first thing that comes to our big-city brains is cooler weather, cafes and nature. With Thailand's Nov-Jan "winter" just around the corner, the Northern capital is getting into gear for the Bangkok invasion with a host of new restaurants and openings. But this season's latest cafes have more than just good coffee and Insta-worthy interiors in common; they're also moving out of the city and into the country, choosing charming woodland locations over the touristy Old Town. Interested? Here are six woodland eateries for your next trip up north.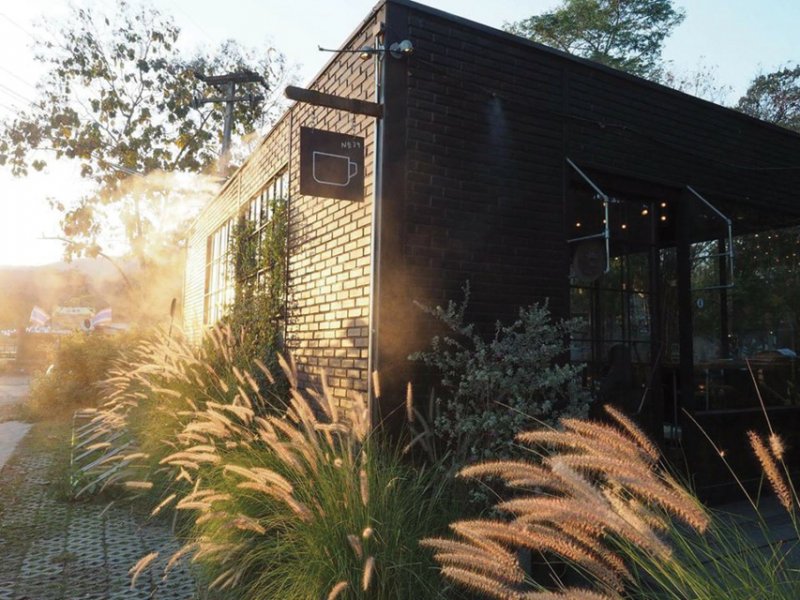 No.39
This hip glasshouse cafe sits beside a pond nestled in a jungle of trees. When the weather's not too hot, sit outside beside the water and enjoy a latte (B75) that lives up to Chiang Mai's reputation for good coffee. There's also three indoor spaces, including one converted from an old Thai house. As well as burgers (B150-B180) and fries (B70), they do a mean triple chocolate cake (B100) and fudgy brownie (B60).
39/2 Moo10, Suthep, Muang, 052-076-158. Open daily 9:30am-7pm. www.facebook.com/no39chiangmai
Cuisine de Garden
Long-time Chiang Mai fine-dining fave Cuisine de Garden has moved to a new location with infinitely more charm. The space keeps things rustic with an open kitchen and interior peppered in logs ready for the fire—which they also use to grill their meat-heavy menu. Longan tree charcoal adds a sweet scent and taste to steaks and chops. The Full Course Dinner set (B990/person) lets you picks four courses. We suggest you try "Nest," an organic egg cooked at 63.5 for 45 minutes served on top of a nest of crispy noodles with chicken dusted with porcini-shiitake mushroom powder and truffle oil.
99 Moo 11, Nong Kwai, Hang Dong, 053-441-599. Open Tue-Sun noon-2pm, 6-10pm. www.cuisinedegarden.com
Ironwood
Sitting amid a lush green landscape, Ironwood restaurant is the Chiang Mai ticket your Instagram was asking for this winter. Amid a triple-height, light-filled space decked out in furnishings plucked from an English country garden, enjoy classic Thai cooking prepared in the charming outdoor kitchen. Lychee adds a sweet tang to Ironwood's rich and spicy lamb panang (B420), while the khao khlook gapi (shrimp paste-fried rice with sweet pork sauce, B200) features the pretty addition of edible flowers. Just note that this is a day-out kind of place, sitting about 40 minutes by car from the city—but totally worth it.
592/1 Mae Rim-Samoeng Rd., Chaing Mai, 081-858-3555. Open daily Wed-Mon 10am-7pm. www.fb.com/ironwoodmaerim
Mejai shop and diner
This two-story wooden home converted into a cafe sits under the shade of mature trees. This makes Mejai the perfect place to just sit and relax with a cup of green tea (B45) or Thai tea with honey and lemon (B45). The rustic, makeshift bar setup is where the owners whip up their signature drink, a fizzy blend of butterfly pea flower, soda, honey, and lemon (45). They also serve Thai dishes for breakfast, lunch and dinner. Try the kung pad prik khai kem (shrimp stir-fried with salted egg, B85), or feed your Instagram with the squid pad kra pao served alongside butterfly pea rice (B75). Inside the house, shop for clothes made from Northern materials like mauhom, a cotton fabric dyed in blue.
34/13 Tumbon Suthep, 089-116-0885. Open Tue-Sun 9am-6pm. www.facebook.com/mejaishopanddiner
Payaka Cake House
Tucked deep down a tiny street, the wooden Payaka Cake house welcomes you with walls covered in green plants. Desserts, meanwhile, all come served on colorful Italian plates in the campagna style, whether it's the best-selling New York cheesecake drizzled with vanilla beans cream and berries (B125) or the banana hempseed cake with cream cheese frosting (B95). To drink, they offer plenty of hot teas, but we suggest you to try their Hojicha ice latte (75), a freshly brewed Japanese tea mixed with milk and espresso.
98 Raj Chiang Saen Rd., Tumbon Haiya, 082-612-1325. Opens Wed- Sun 10am-7pm. www.facebook.com/payakacafe
Naive cafe In Art
On your way to Mae Kampong village? Make a stop at the small, independent gallery called Chiang Mai's Art Museum, where you'll also find this little garden cafe. Coffees (B45-60) and smoothies (B65) come alongside dishes like Thai-style fried chicken (B109), squid pad kaprao (B89) and thin-crust pizza (B199-B219). But the best reason to come here is for the view, facing green rice fields with mountains in the background. They also run watercolor painting sessions.
Chiang Mai's Art Museum,Tumbon Rong Wua Dang, San Kampang, 094-635-4570. Open daily 9am-5pm. goo.gl/5K47UL
---
For the latest travel news around Thailand and Southeast Asia follow BK Escapes.