Strand yourself in Bali among volcanoes, temples and a dinosaur-shaped cove.

Goa Gajah (Elephant Cave)
At the bottom of a valley is Goa Gajah, a cave shrine with an entrance of stone carved to resemble the mouth of a formidable giant. Once within its mouth, the elephant in the room is in fact three stone stumps representing the Hindu god Ganesh, whose image is an elephant's head. The cave is a site of pilgrimage and meditation built in the 11th century. Nearby are bathing pools, fountains and (our favorite) mossy, flower-flanked trails that lead deep into the forest. The entrance fee is about B36/person.

Kintamani
Kintamani, a village in northeast Bali, is 1,500m above sea level, affording it a dramatic view of Mount Batur, an active volcano, and a lake of the same name at its base. Kintamani is cold year-round, and being so far-flung, it isn't on the standard tourist circuit. It's a quiet place appropriate for quiet activities, like day hikes and pensive evenings on a hotel terrace. We recommend staying at the Lakeview Hotel (
goo.gl/CFJmip
), where all the rooms have a volcano view and you can breakfast with the backdrop of a golden sunrise. Rooms start at B2,000/night. Note: Mount Batur neighbors Mount Agung, which recently erupted. Both volcanos are active, so check the conditions before your trip.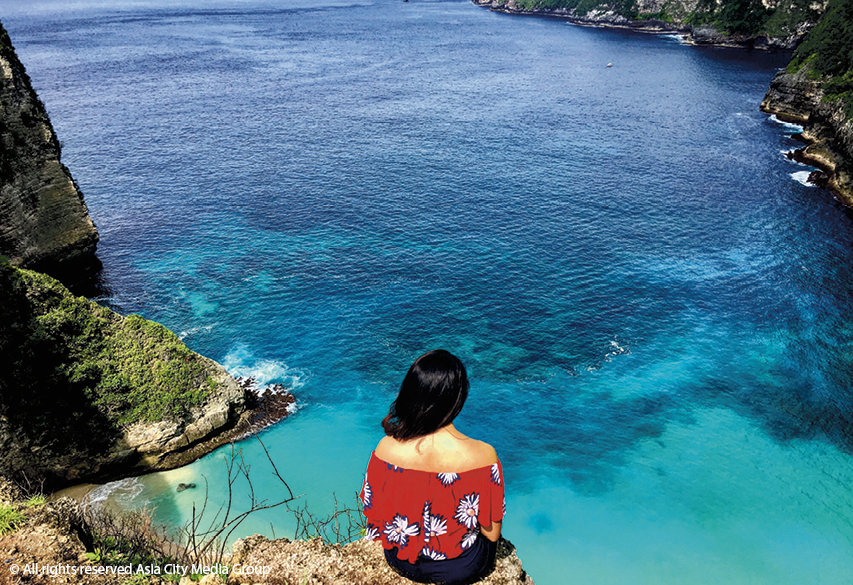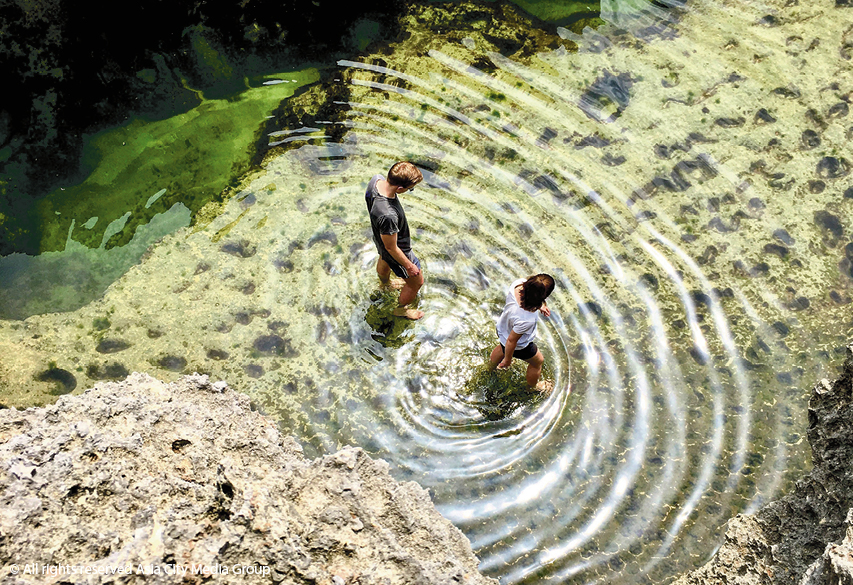 Nusa Penida Island
Off the southeast coast of Bali is Nusa Penida, a rugged island home to many of the region's most beautiful outdoor destinations. The island isn't an easy visit: the tour boats are over-crowded and the poor and pitted roads (four-wheel-drive only) will jostle you the entire 40-50 minutes between sites. Is it worth the ache? Absolutely. Make your first stop at Kelingking Beach, a peninsula framed by picturesque turquoise waters and a border of white sand. If that's not enough to occasion a visit, it also looks like a dinosaur (a brontosaurus, perhaps?). From the lookout spot there's a 150-meter cliff hike down to the waterside, but with its flimsy fence and precipitous drops, we'd say it's not for the faint-hearted. Get a guide if you intend to make the descent. A 45-minute ride from the dinosaur peninsula is Angel's Billabong, another uniquely-formed bit of coastline. Here, a semi-collapsed cliff, called "the broken beach," has created a beautiful emerald lagoon. In the clear blue waters below the limestone cliffs you can see passing squadrons of manta rays. The local dive tours can get you close to the creatures, an affordable and supposedly-safe experience. To get to the island, boats run from Sanur's pier and cost around B950 round-trip (one-day advanced booking is recommended). Once on the island, book a day tour with a personal guide/driver for about B750/person. We recommend Experience Nusa Penida Tour (
www.experiencenusapenidatour.wordpress.com
).

Tirta Empul Temple
Possibly Bali's busiest tourist spot, this temple stands shrouded by a lush green forest. It's referred to as the "Holy Water Spring" for its two rectangular pools in the central courtyard, a staple image of any Bali-related search. Each of the 30 spouts that feed the pools is said to carry a unique healing effect, from soul purification to exorcism to creating a general propensity for prosperity. As such, you'll regularly catch the locals participating in bathing rituals. In the inner courtyard are another pool and a number of shrines to various Hindu gods. You can join the locals in a ritual involving water and holy rice presented to you by the temple's priests. It's a soothing experience that seems to draw from some well of Balinese tranquility buried deep at the core of the island. Entry is B35.
Uluwatu Temple
The name Uluwatu comes from "Ulu," for head, and "watu," meaning rock, together an appropriate name for this region of high cliffs. The Hindu temple here is perched on such a precipice, 80 meters above the sea. Getting to the temple requires braving a steep forest staircase flanked by naughty monkeys. Make the trip in the evening to catch the sunset and the daily Balinese dance performance, from 6 to 7pm, called kecak. The entry fee is about B70/person.
---
Where not to go

Tegallalang
The rice terraces of Tegallalang, Gianyar are just that, stepped plots of rice. It's ready-made for tourists, costing B23 to get in, and consisting of a number of photo-friendly fields. If you insist on going, arrive before 9am to beat the crowds.
Ubud Monkey Forest
A tourist trap built only for that social media stamp of attendance.
Kuta Beach
Bali's main beach drag is like Pattaya but with surfing. Everything is a reminder of the Thai coastal town, from the streets of bars, clubs and souvenir shops to the unflattering seafront lined by concrete. Well, maybe there's one good thing about the place: cheap hotels.
Crispy Chicken
As much as you'll hear locals say, "You go to Crispy-Chicken!" don't go. Supposedly operated by tour companies, this local diner does deep-fried chicken that's as dry as a bone.
---
Essentials

What to eat
As with any country, the key to finding good food is the locals. Ask your guides or hotel staff to help you avoid ending up at some tourist trap. Our picks for local dishes are ikan bakar (whole fish marinated in sambal sauce and grilled to a crisp), gado-gado (vegetables and tofu with sweet peanut sauce) and nasi campur (a combo of dishes packed on one plate usually consisting of rice, sate skewers, curries and boiled eggs—perfect for when you want to try a lot of things in one go).
The Four Seasons Resort Bali
Royal Pita Maha
Where to stay
The Four Seasons Resort Bali at Sayan
(www.fourseasons.com/sayan
) is tucked in amid greenery and rice paddies, and offers an alluring blend of Balinese architecture and modern design. Room rates start at B12,900/night. Situated on a hillside overlooking the Ayung River Valley is the Royal Pita Maha (
www.royalpitamaha-bali.com
), which has luxury villas from B15,000/night. On the more affordable end, check out Airbnb for rooms starting at just B800.

Getting there
Flights with Lion Air are approximately B3,700 round-trip to Ngurah Rai International Airport (Denpasar).

Getting around
Bali's sights are spread out, requiring some form of transportation, whether a rental motorbike or car, or a travel tour. Tours come with a car and guide/driver, with gas included. We did a four-day trip with Teddy Tour (
teddybalitour.com
), with one driver and a big van for a total cost of B6,000.
---
For the latest travel news around Thailand and Southeast Asia follow BK Escapes.