Why traveling to this island is always worth the effort.
Since roaring onto the luxury traveler's map of the world in 2009, when the ultra-exclusive Soneva Kiri resort opened (price of entry, B40,000/night), Koh Kood has managed to hold onto its quiet beaches and laid-back charm. As its neighboring Gulf island near the Cambodian border, Koh Chang, slips further and further into package-tourism disrepair, the effort of traveling that little bit further to Koh Kood (1.5 hours' speedboat ride versus a 40-minute ferry) becomes ever more rewarding. Here's why.
Soneva Kiri

It has incredible beaches
The island's west coast is dotted with pristine beaches from north to south, all blessed with icing sugar-soft sand. When the sun shines (which is often), this gives Koh Kood's sea a clarity and shimmer that's unbeaten. The only spot to really have suffered from anything approaching development is Ao Tapao, where the concrete jetty sticking into the water is great for jumping off but less so for looking at. Our tip is to head one bay further south to Klong Chao. The "center" of Koh Kood tourism never has more than about 50 people draped on its sand even in high season, while the water is a blissful, lapping shade of gray-green-blue. At Klong Chao you also have access to dive centers, low-key bars and restaurants without being limited to your resort (taking on the staff of Castaway pub [087-136-4036] at pool is about as crazy as things get). Bang Bao, meanwhile, is a lake-quiet alcove with rustic wooden piers jutting into it as well as one of the island's best snorkeling reefs. For the full castaway experience, head to Ao Prao in the south, which remains a barely touched crescent moon bay lapped by that beautifully clear Koh Kood water.
Klong Chao Waterfall. Credit Josef Knecht via Wikimedia Commons
There's more to do than lie on the beach
Koh Kood's showpiece waterfall,
Klong Chao Waterfall
, is the one you always imagined: thick, wide and pummeling, surrounded by a deep green pool where the locals have erected a death-defying rope swing. It's a bit of a struggle to clamber onto, but provides wonderfully safety-bereft plunges into cool freshwater. There are two other waterfalls on the island as well,
Hua Ngu
and
Klong Yai Ki
, though Klong Chao is the most impressive. Divers need head to
BB Divers
(082-220-6002,
bbdivers-koh-kood.com
), who for B3,000 upwards will take you on a trip to the abundant coral reefs on neighboring islands, or get you PADI certified for B11,000. Another unique feature of Koh Kood is its tranquil water inlets, which make for excellent kayak adventures through untouched mangroves—with the occasional restaurant-slash-bar to moor up at and refuel, too (see below). Try setting off up the inlet leading from Klong Chao Beach, where most resorts offer a free kayak with your accommodation.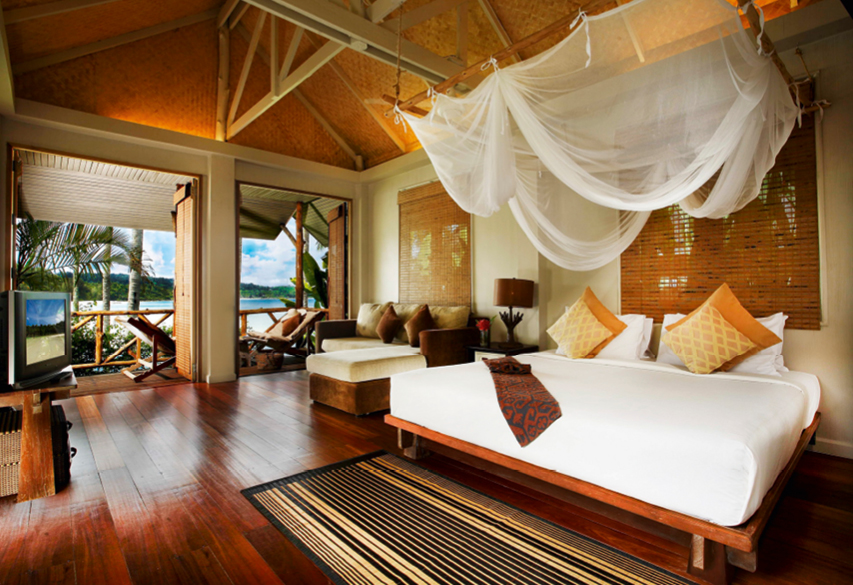 Away Koh Kood Deluxe Oceanfront Bungalow
There are resorts for all budgets
If you have the means to fly by private prop plane and stay at
Soneva Kiri
(starting B40,000,
www.soneva.com/soneva-kiri
), then you can probably forget the rest of the advice in this story. The expansive, jungle-luxe resort provides for all your needs across an entire peninsula on the north of the island. Its look of Robinson Crusoe chic—driftwood walkways, rope-and-peg door locks, treehouse restaurants—comes in villas so huge that they put most family homes to shame. The 400-sq-meter Beach Pool Villa, for example, encompasses a vast wraparound swimming pool, outdoor bathroom with a choice of showers and baths, walk-in dressing room, a garden big enough for a five-a-side football game and, the pies de resistance, your own little beach. It's all massively excessive and entertaining, but for a fraction of the price (starting B4,000), you can find an almost as secluded—if rather less lavish—stay at
Away Koh Kood
(
awayresort.com
). One of the first resorts to open on the island sits on the other side of the inlet from Klong Chao Beach, which you access via a leisurely, five-minute kayak paddle. Expect charming, personable service, comfortable, well-kept rooms that more than justify their price point (especially if you scoop one of the frequent last-minute booking.com deals) and an excellent breakfast spread. While Koh Kood remains secluded from the backpacker trail, budget digs do exist.
Siam Beach Resort
on Bang Bao Beach (B800,
goo.gl/mKyHcJ
) provides standard backpacker hut fare, while
Gumm Lonely Club
(B1,500,
www.fb.com/gummlonelyclub
) is a beautiful little spot on a water inlet where your room sits with your own kayak parked out front.
The local fishing villages are still fishing villages
They're not just tourist attractions. Fishing remains a full-time occupation on the island, and there are two working fishing villages where inquisitive visitors are welcome to take a stroll. Both Ao Yai in the south and Ao Salad in the northeast (beside the island's main pier) make for wonderful strolls along wooden walkways as locals busily sift through their catch and weave fishing nets by hand. The smattering of tourists who come through can also take up pews in the equal smattering of seafood restaurants like See the Sun (see below) in Ao Yai, where the fresh catch is displayed in live tanks out front at market prices.
---
Where to Eat

For something fancy
Soneva Kiri dispels all myths about island cuisine with its fastidious clifftop restaurant, The View, where a Japanese head chef presides over classic, fancy bistro fare. His bouillabaisse (a French seafood soup) rivals the best we've tasted.


For fresh seafood
See the Sun in Ao Yai fisherman village lets you buy live seafood by the kilo at low prices. Tuck into classic yellow curry crab and grilled-to-smoky-perfection prawns (B350/kg) as you watch the local fishermen at work.


For local beers and barbecue
When the islanders find time to knock off work and grab a beer, they head to Nang Prae Moo Krata, a roadside moo kra-ta (pork barbecue) shack, where a platter of pork to grill at your table will set you back next to nothing.
Yothathikan Trat Wat-Rat-tha Ruea Nam Luek Rd.


For riverside views
When kayaking up the inlet that leads from Klong Chao Beach, stop at Mangrove for classic Thai fare like somtam and deep-fried garoupa in garlic.
39/1 Moo 2 Baanklongchao, 089-936-2093. www.kohkood-mangrove.com
---
For the latest travel news around Thailand and Southeast Asia follow BK Escapes.