Meet the new high bar for luxury stays.
CHINA/HONG KONG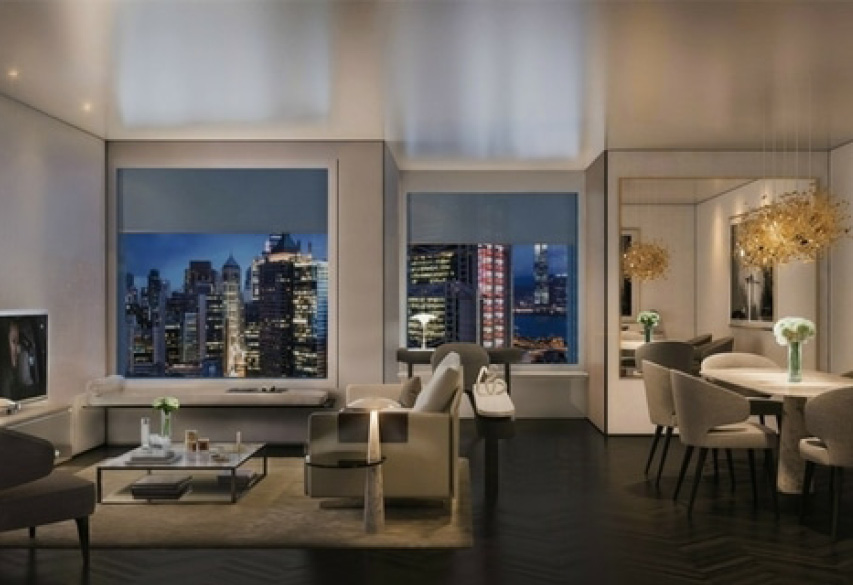 The Murray

Transforming an old British government building in Hong Kong's Central district into a ritzy, brass-and-marble clad hotel, The Murray is anything but boutique. Across 25 stories and over 300 rooms, its designers (whose main number is Britain's Foster + Partners) have captured a look that's both personal and lavish. The Murray Suite looks like something out of a New York loft with its sweeping, black-brushstroke art installations and blackened herringbone floor, while even the smallest rooms nudge at 50 sq meters. They've also partnered with the one Michelin-star Guo Fu Lou to open a restaurant in the neighboring two-story pavilion.
The rooms: Starting from B29,000/night. www.marcopolohotels.com
The flights: Air Asia gets you to Hong Kong for about B9,967/round-trip.
Amanyangyun

It took uber-luxury resort brand Aman over a decade to relocate the 50 Ming and Qing dynasty homes which make up the newly opened Amanyangyun resort. Now they sit in a 1,000-year-old camphor forest just outside downtown Shanghai, where, Aman has transformed them into just 26 villas and suites. Thick stone walls give way to interiors of warm bamboo, each with its own private courtyard and fireplace, while the central Nan Shufang building lets you try out ancient Chinese crafts. Learn the art of the tea ceremony and how to write calligraphy before taking a walk among the landscape of lakes and forests. Or just wake late and check into the Aman spa, which includes a Russian banya and a hammam.
The price: Starting from B25,700/night. www.aman.com/resorts/amanyangyun
The flights: With Spring Airlines you can fly to Pudong Airport for about B10,975/round-trip.

INDIA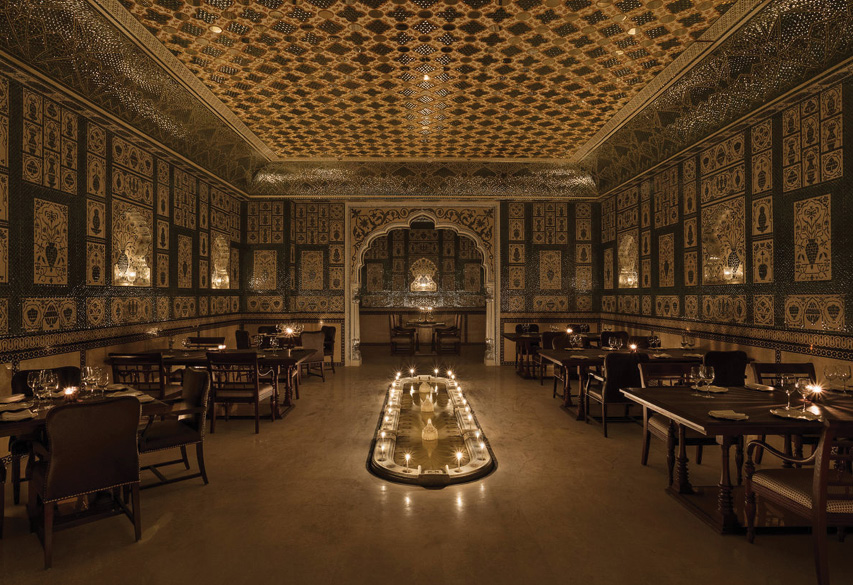 JW Marriott Jaipur

Situated on the outskirts of what's called the "Pink City" of India for its 18th century sandstone palaces and forts, JW Marriott's new opening isn't out of its depth amid all the old world grandeur. The hotel architecture borrows from Rajasthan's majesty and will have you convinced you're entering a palace of centuries past with its intricate stone latticework and tile mosaics. It's worth the stay just to eat at Mohan Mahal, a gorgeous, tenderly-lit restaurant serving up Rajasthani and Mughali cuisine. The 200-plus rooms, suites and villas are modern updates of antique opulence. Each room's marble floors convey a cool, minimalist vibe while invoking the marble palaces that the region's famous for.
The price: B14,000/night for the royal pool villa, which comes with a private plunge pool. goo.gl/1JnHzE
The flights: Thai Smie offers flights to Jaipur at about B13,285/round-trip.
INDONESIA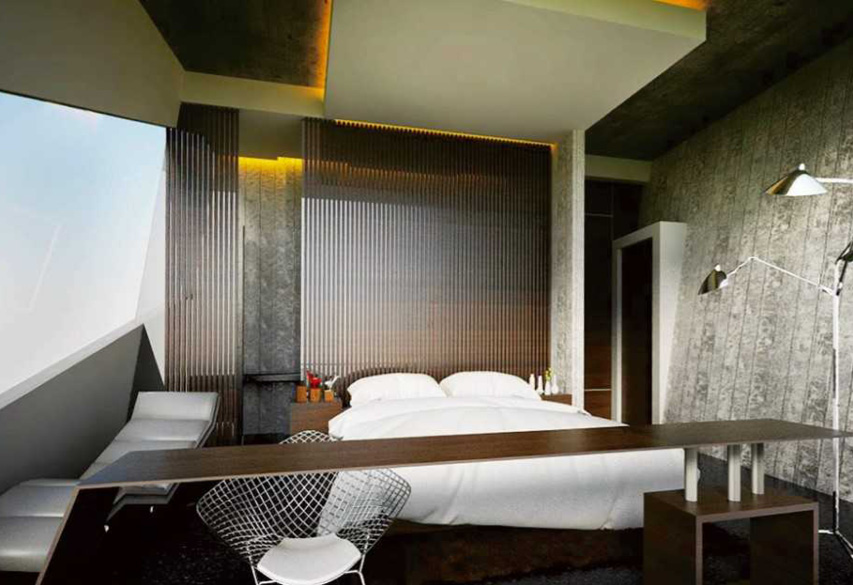 U Janevalla

Dutch-colonial architecture endures in Bandung, Indonesia, alongside a budding counter-culture teeming with markets. The new opening from U Hotel Group mixes modern, glass architecture with lots of green, a balance that reflects the city's own relationship with its surrounding lush hills and volcanoes. In the 119 rooms and suites, they've ditched the neoclassical outfitting favored by neighbors for an edgy-contemporary feel with stark grays and whites evened out by punchy furniture. The central location makes the hotel a convenient choice for a weekend shopping retreat or as a base for outdoor day trips.
The rooms: From B1,982/night. goo.gl/uYW4Em
The flights: Lion Air can get you to Bandung for roughly B10,420/round-trip.

Suarga Padang Padang

With its cliffside, canopy-level perch, modern treehouse design and emphasis on self-sustainability, this resort is a little like a five-star reinvention of the Swiss Family Robinson home. Bear with the analogy: the Balinese craftsmanship employs traditional bamboo, limestone and straw in beautiful, contemporary structures, while the place powers itself with solar panels and uses filtered rainwater for day-to-day activity. At just 36 rooms/villas, it's also very exclusive, with each of the villas afforded the extra luxury of a private pool. The hotel's Dugong Restaurant whips up Indonesian fusion food mostly prepared from ingredients sourced within a 50km radius.
The rooms: B9,867/Night. www.designhotels.com/suarga-padang-padang
The flights: Flying to Bali with Air Asia will cost you roughly B7,480/round-trip.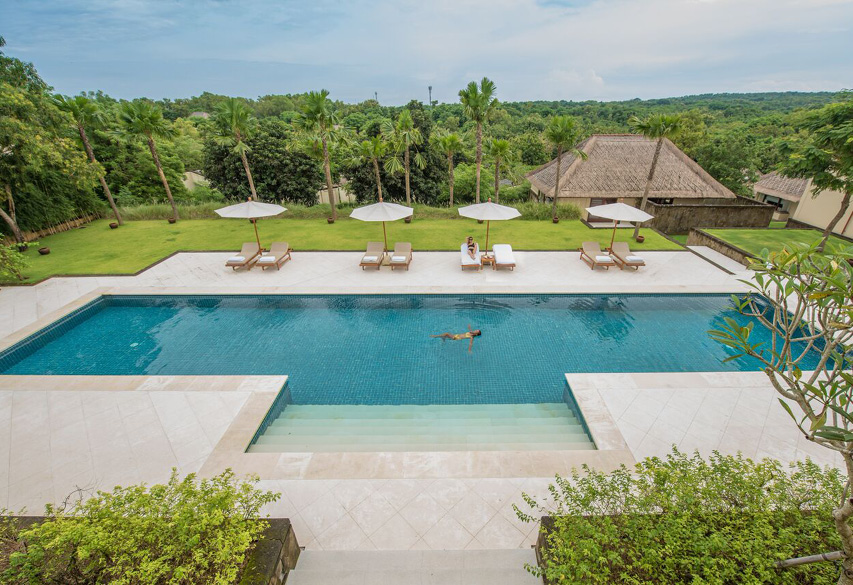 Revivo

Bali's new, five-star sanctuary hides on the edge of the rainforest. On top of four-poster beds and garden-view bathtubs, the Balinese-style suites here come with a private garden, courtyard or pool. The four-suite villas are even more exclusive, each encompassing 4,000 sq meters of land and the option for a private chef and butler. The 12,800 sq-m resort also has a martial arts hall, Pilates studio, gym, restaurant, poolside bar and a spa with five treatment rooms.
The rooms: Wellness programs range from 3-14 days. Three-day packages begin at B36,479/person for the garden suite or B43,771/person for the private pool suite. www.revivoresorts.com
The flights: Air Asia flights to Bali start at roughly B7,480/round-trip.

MALDIVES

Ras Fushi Resort & Spa

Centara has perfected the genre of romantic seaside holiday: stand-alone villas (both over the water and not), outdoor bathtubs, a sunset bar, those in-vogue mesh beds and (sorry, kids) a strictly adults-only policy. All this on a golden island surrounded by the turquoise waters of the Maldives. The hotel also organizes snorkeling and diving trips to the area's favorites of the Giraavaru Cave, Kuda Haaa and Shark Point.
The rooms: Ocean Front Beach Villas start at B18,549/night while the overwater villas go for B24,208/night. www.centarahotelsresorts.com
The flights: Air Asia flights to Male start at B8,108/round-trip.
---
For the latest travel news around Thailand and Southeast Asia follow BK Escapes.