Take a trip to north Vietnam's Sapa and you'll find everything from mountains, hill tribes, rice terraces and waterfalls to vibrant markets and Gothic arcitechture. Here are our highlights.
Embrace nature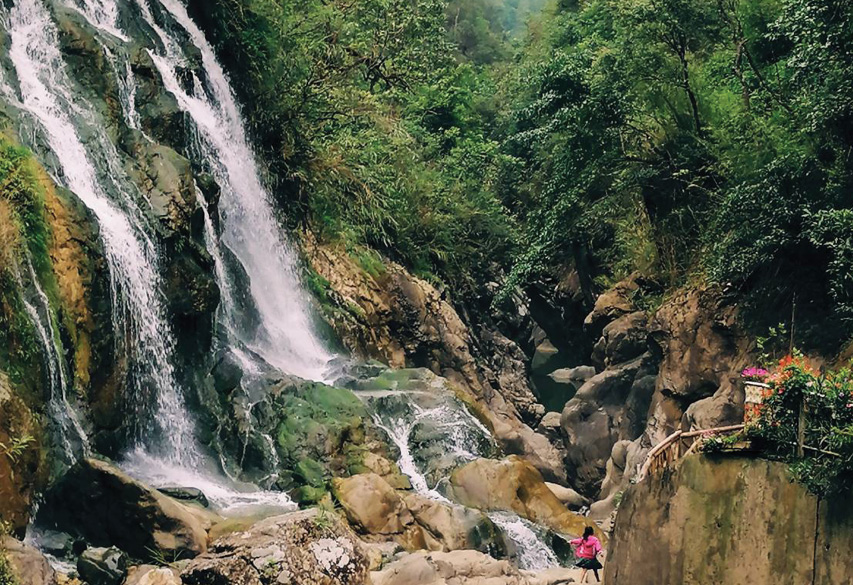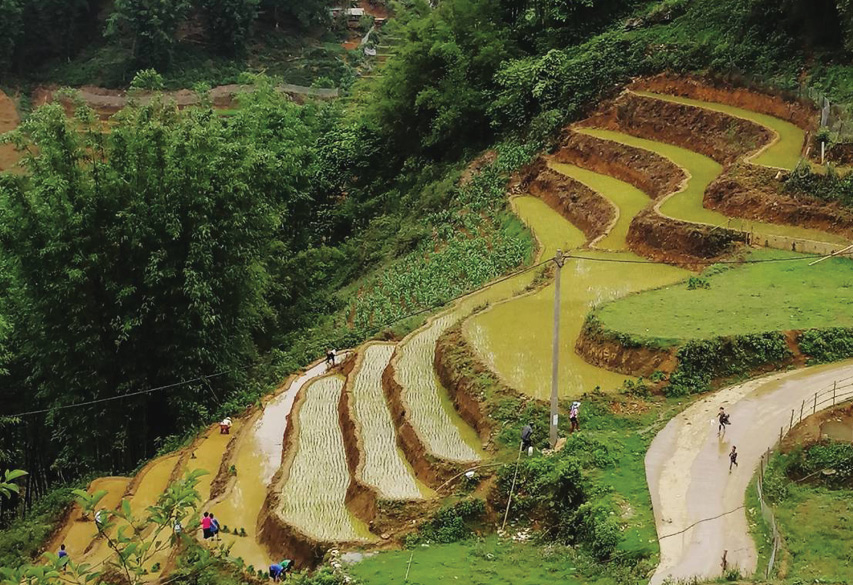 In the heart of Sapa is Notre Dame Cathedral; a colonial French landmark built in 1895. It's the centerpiece of the town and an easy spot to navigate from.
Take a deep breath and calm your mind with a stroll around Sapa Lake with stunning views of the surrounding town. Visit the enchanting Silver Waterfalls (Thac Bac to the locals), where a five-minute hike will lead you to a steel arched bridge blanketed in cool mist. Here, you can enjoy magnificent views of the 200-meter-high falls flowing from the Ham Rong Mountain peak.
Fansipan Mountain is the highest point in Vietnam, Laos and Cambodia, earning it the nickname "the Roof of Indochina." Conquering its height is obviously a highlight. But if you're not up for the climb, Sun World Fansipan Legend Station provides cable-car rides to Fansipan's peak (3,143 meters). Picturesque scenes of the Muong Hoa Valley, rice terraces and the Hoang Lien Son mountain range are guaranteed (B994/VND750k). A giant field of blooming lavender is nearby, for even more beautiful pictures.
Stepping out from the cable-car station above the clouds, you will find Chinese temples and shrines, and statues inspired by Chinese legends. Do not miss the 21.5-metre-tall statue of Amitabha Buddha, the highest-set bronze sculpture in Indochina. It also holds Buddha relics donated by the people of Myanmar.
Walk with locals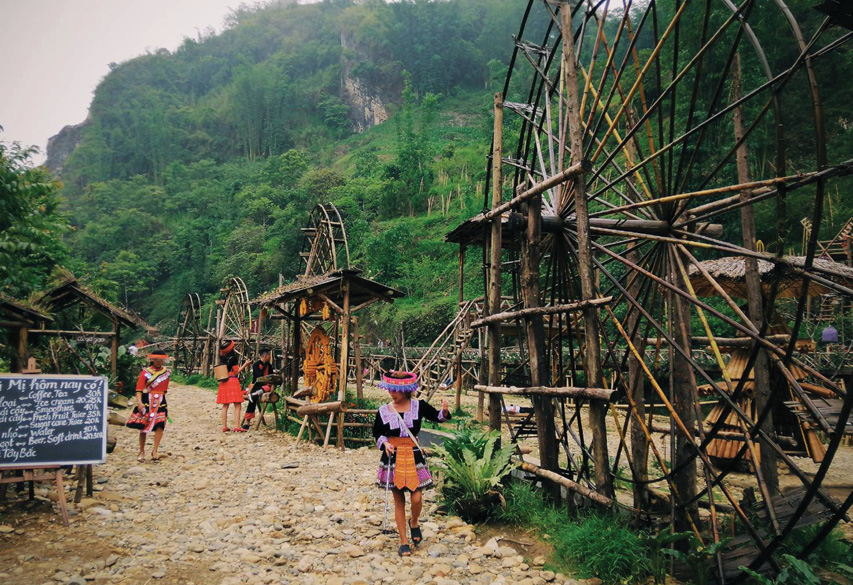 In Sapa you will immediately notice cultural diversity and a mix of both traditional and modern lifestyles. It feels recognizable and familiar, but also ancient and unique. To experience traditional culture and humble local life, head to Cat Cat Village—about three kilometers from Sapa city. Along the trail, you'll get a glimpse of H'mong lifestyles; from wooden cottages to village women stitching traditional costumes. Set into rocky hillside paths are giant bamboo water wheels that generate hydropower. With the majestic Tien Sa Waterfall as a backdrop, dip your feet in the cool water and devour a banh mi (Vietnamese sub).
Trekking is a must in Sapa. The five-hour route to Muong Hoa Valley through seemingly-endless mountains with tops that puncture the clouds will help you escape the flocks of tourists. Layer after layer of green and yellow terraced rice fields can be seen all along the path. If the locals offer you a chance to stay with them, definitely do not pass it up. It might be your best chance to experience their way of life; sleeping on the floor, drinking from streams, playing with farm animals, showering in canals and more. The indigenous people will surprise you with their excellent English.

Nightlife in Sapa

Sapa is lively by day, and bustling at night. Sapa Love Market is held every Saturday evening, and is organized by local minority tribal communities. The market is a showcase for traditional crafts, art and music, and plays an increasingly vital role in local life. It feels like a walking history lesson; seeing people vividly displaying their culture and dancing and singing in the streets. Join them in some traditional H'mong hill tribe dress. For Sapa street food, just follow your nose. The smell of charcoal and herbal scents will lead you to local barbeque made with wild ingredients (from B27).
As Napoleon once said "an army marches on its stomach," so start an evening of dining at The Hill Station Signature (37 Phansipan St., +84-20-388-7111) for an authentic taste of Vietnamese cuisine. The temperature can be chilly and harsh after sunset, so drop by Hoa Phuong Restaurant (7C Ham Rong Rd., +84-90-468-3679) for a traditional hot pot to warm up. A Phu Restaurant (15 Fansipan Rd., +84-86-815-9900) offers H'mong specialties like thang co—whole-buffalo stew— a highland signature, which attracts a lot of tourists.
Nothing in the world is more perfect than sipping wine watching the sun slowly set on the mountains. MK Rooftop Bar (at Pao's Sapa Leisure Hotel, +84-24-162-5399) is set outside the city, and offers luxury dining amidst peaceful gusts of cold fresh wind. Drop by the lodge at Color Bar (56 Fansipan Rd., +84-97-440-9111) for a cozy rustic spot with warm service. End your nightlife journey at Relax Bar (72 Thach Son Rd., +84-97-706-5279) with some cold beer and cool vibes.
---
Getting there
Tickets start at B2,500 (www.airasia.com) and B5,000 (www.thaiairways.com). You can also take a bus from Hanoi to Sapa (B400/VND302k) or get a train (one-way, B1,100/VND840k).

Currency

10 THB = 7,547 VND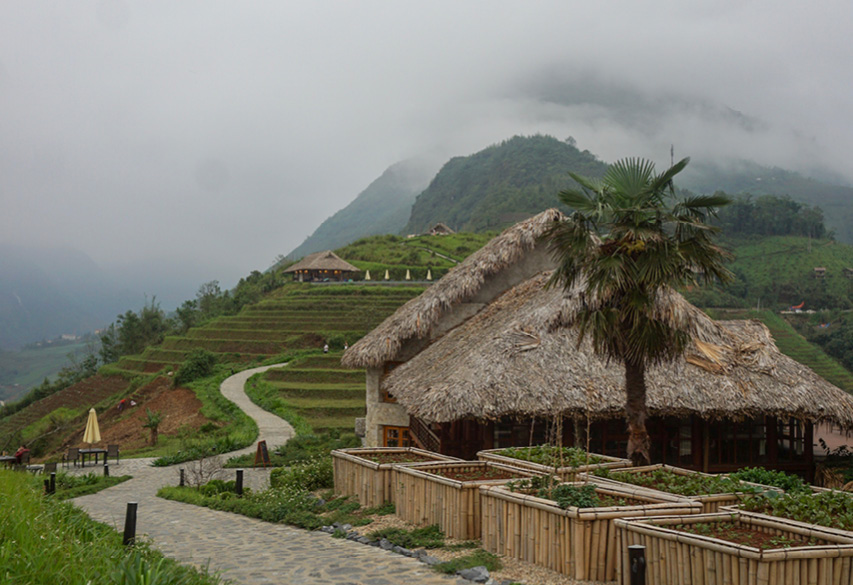 Stay here

Around 45 minutes from Sapa's center, Topas Ecolodge (www.topasecolodge.com) provides peaceful luxury accommodations (bungalows from B7,000/night). These minimalist hideaway lodges will stun you with panoramic landscapes visible from the infinity pool. With a relaxing spa to boot, this is the perfect place for some downtime.