If you think Phuket is all beer-bellied lager louts, teeming beaches and rip-off merchants, then think again. Though it's tempting to write off Thailand's most accessible island as a tourist trap, direct flights from as little as B800 return are not its only allure. Know where to look and you'll find unparalleled variety ranging from local secrets to luxury extravagance. Just be sure to hire a bike or car to get around, or all that money you saved on flights will be swallowed up by the taxi mafia. Here's why Phuket should be your next island get away.
The local food is awesome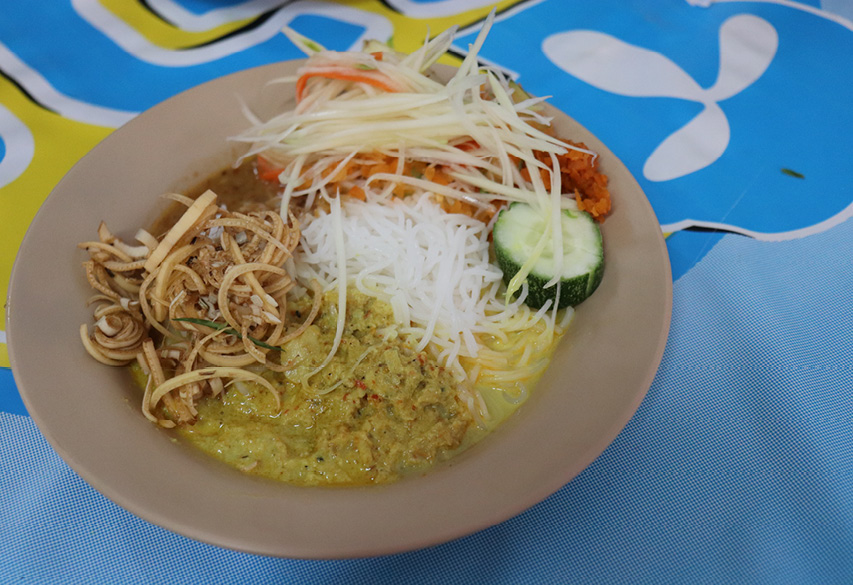 Mae Ting Kanom Jeen
Roti Taew Nam
It's safe to say that Phuket's food culture is among the richest of any Thai province, with influences drawn from Thailand, China and Malaysia. Mornings on the island are made for next-level street food, from the kanom jeen at 80-year-old Mae Ting Kanom Jeen (65 Satun Rd., 095-190-5049)—where a plate of fermented rice noodles with unctuous self-serve curry costs just B35—to the flaky roti (B20 for two) and massaman curry (B50) at the super low-key, 70-year-old Roti Taew Nam (150 Thalang Rd.).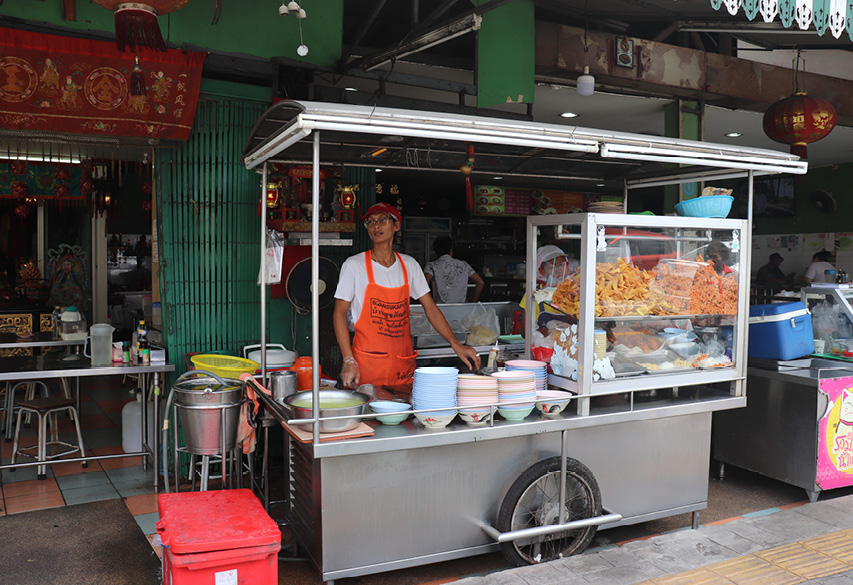 Yao Yen Ta Fo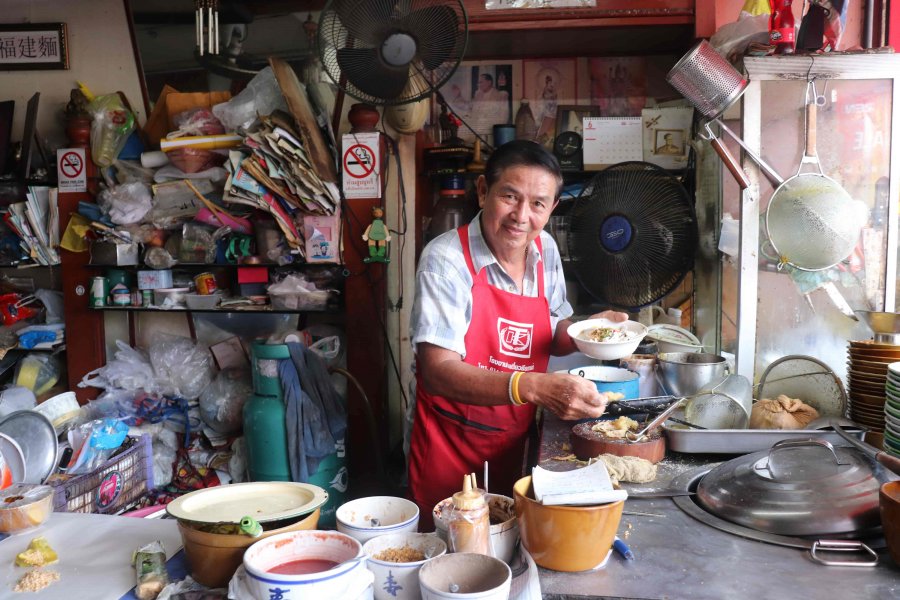 Ko Yoon Phuket Noodle (Image credit: Henry Wright)
For a taste of Phuket's classic yellow noodles, Hokkien mee, check out the bric-a-brac- and family photo-filled Ko Yoon Phuket Noodle (Suriyadet Fountain Circle, 084-189-5432. B60/bowl) or the no-frills Yao Yen Ta Fo (45 Patiphat Rd., 081-535-3304)—unique here is the rich prawn head broth (B60/bowl).
Ko Benz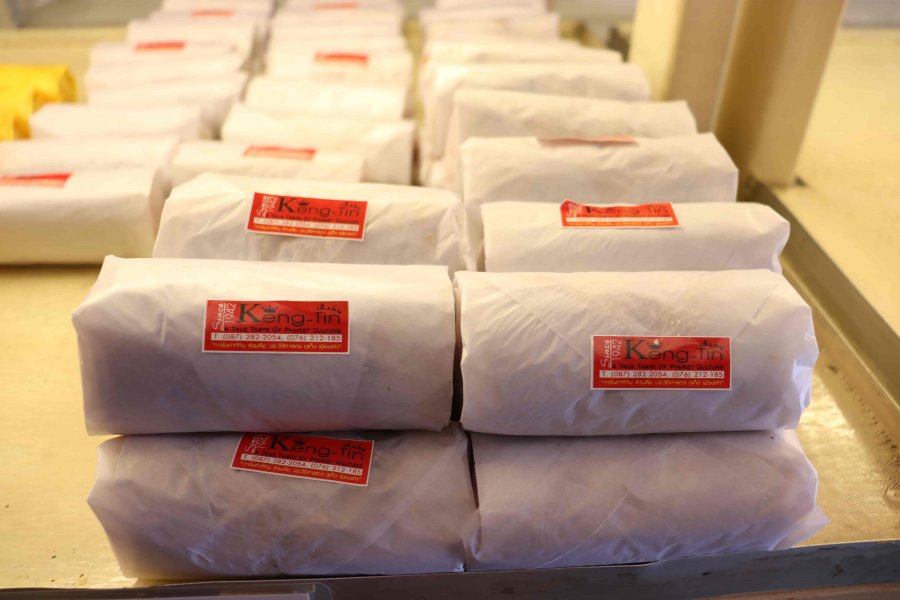 Keng-Tin
You can't go far in the Old Town without catching wind of the famous Ko Benz (intersection of Krabi Rd. and Patiphat Rd., 084-060-7799). Its khao tom haeng (dry rice soup, B50) attracts both locals and a gaggle of tourists. Be sure to end on a sweet note at the 77-year-old Keng-Tin bakery (342, 344 Phuket Rd., 076-212-185), where you'll find shelves stacked with chewy Phuket toop-tap (peanut brittle, B35) and flaky tao sor cakes (mooncakes, B20/four pieces).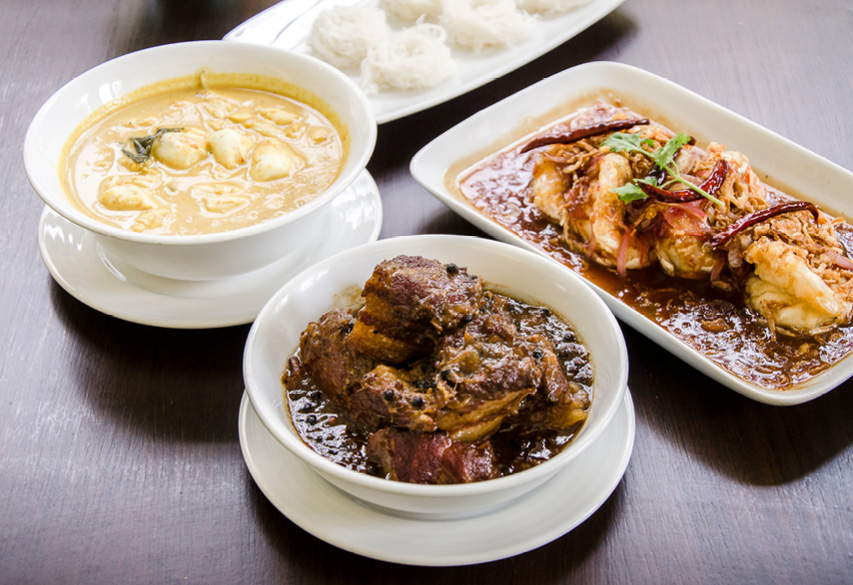 Raya
For an elevated take on local cuisine, don't miss the Old Town's long-running and celebrated southern cuisine specialist Raya (48/1 Dibuk Rd., 07-621-8155). Set in a century-old building adorned with '50s tea and coffee poster girls and pictures of Thai monarchs, the restaurant serves up full-powered Phuket favorites like moo hong (braised pork belly with pepper and garlic, B250), gaeng nue poo bai cha ploo (crab meat with curry and coconut milk, B400-600) and pad sataw kapi goong (stir fried sataw beans with shrimp, B250-350)—despite the hefty prices, they only take cash, so be sure to visit an ATM before your meal. For somewhere more fusion-leaning, hit the creative Suay (177/99 Moo 4, Si Sunthon, 093-339-1890) for everything from foie gras miang kham (betal leaf wraps, B450) to lemongrass lamb chops with papaya salsa (B650).
Fine dining to rival Bangkok
Prime (Image credit: Henry Wright)
Ideal for special occasions, The Nai Harn hotel's fine-dining charcoal-grill, Prime (23/3 Moo 1, Vises Rd., 076-380-200), serves up infallibly juicy dry-aged wagyu flank steaks (B1,700), Angus fillet tartare (B700) with smoked olive oil, porcini powder, truffle and tangy Parmesan crackling, and fresh gilt-head sea bream (B1,650) with rich Jerusalem artichoke and salty samphire on its al fresco, beachside perch. Pair your meal with a glass of wine from the James Suckling-curated list.
Long-standing names on the island's fine-dining scene include Phuket's first and only Michelin-starred restaurant, Pru (Trisara Resort, 60/1 Moo 6, Srisoonthorn Rd., 076-310-100). Its six-course menu (B4,500 plus B2,500 for wine pairing) utilizes produce grown on the restaurant's organic farm, and includes signature carrots cooked in soil topped with a cured egg yolk and black crab with Phuket coffee.
Once you've had your fill of local fare, head to Acqua (324/15 Prabaramee Rd., 07-661-8127), where well-heeled expats flock for Sardinian chef-owner Alessandro Frau's eight-course modern Italian degustation menus (B2,500/3,500) of sous vide cooked octopus salad and fried American scallops with foie gras, chili jam and truffle pumpkin sauce.
Cafe culture has hit hard
Campus Coffee Roaster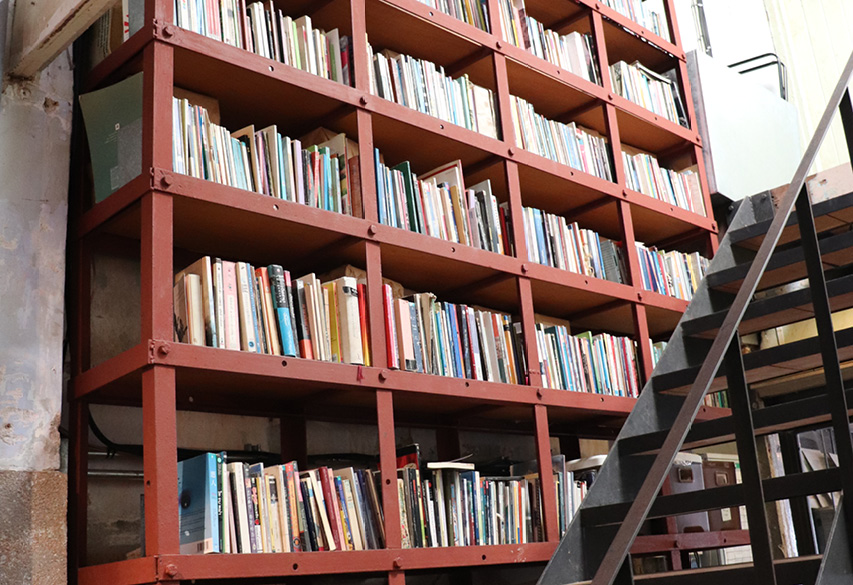 Bookhemian
If a day spent hopping between cute cafes and getting progressively caffeine-buzzed sounds like your idea of heaven, then schedule a trip to Old Phuket Town, where Soi Romanee, Thalang Road and Krabi Road form a burgeoning hub of cafe culture. Start at the bright blue Phuketique (2 Ranong Rd., 081-974-1559) with a traditional Thai coffee (from B30), before moving onto the hip Campus Coffee Roaster (6 Krabi Rd., 092-218-9292) for a signature Jelly Coffee (B75). Next, jump over to vintage-style The Old Phuket Coffee (72/1 Yaowarat Rd., 099-475-6846) for an iced Americano (B80) or check out the packed bookshelves at Bookhemian (61 Thalang Rd., 098-090-0657) with a grilled marshmallow coffee (B95) and a plate of eggs Benedict (B120).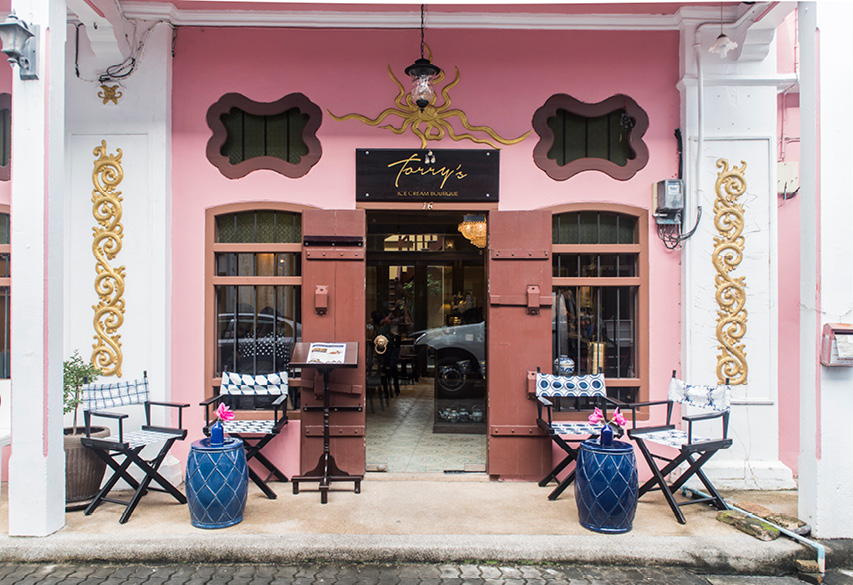 Torry's Ice Cream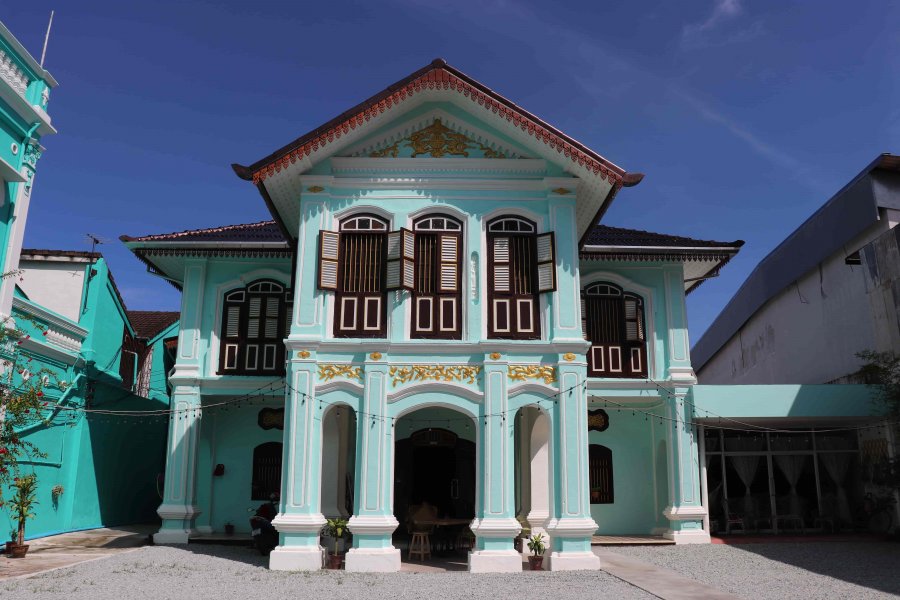 Endless Summer
On Soi Romanee you can get a taste of local Thai desserts at Orta (12 Soi Romanee, 065-249-3616)—try the ket leng mango bi co moi (local ice cream with black sticky rice, coconut milk and mango, B160)—or the famous pink Torry's Ice Cream (16 Soi Romanee, 076-510-888)—go for the O-Aew (clear jelly served with red beans and ice cream, B75). On the same street, you can watch the crowds go by with a citrus coffee (B100) at Dou Brew (15 Soi Romanee, 091-825-2435) or a nitro cold brew (B100) and avocado and poached eggs on toast (B160) at Rush Coffee (31 Soi Romanee, 065-028-4585).
Still thirsty? Head to Endless Summer's (175 Yaowarat Rd., 099-029-8067) gorgeous turquoise house, where you can sift through collections of bohemian European resort wear before taking a seat in the photogenic cafe with a Cafe Viennois (coffee and Chantilly cream, B120).
Nightlife isn't all about Patong
Dibuk House (Image credit: Henry Wright)
Zimplex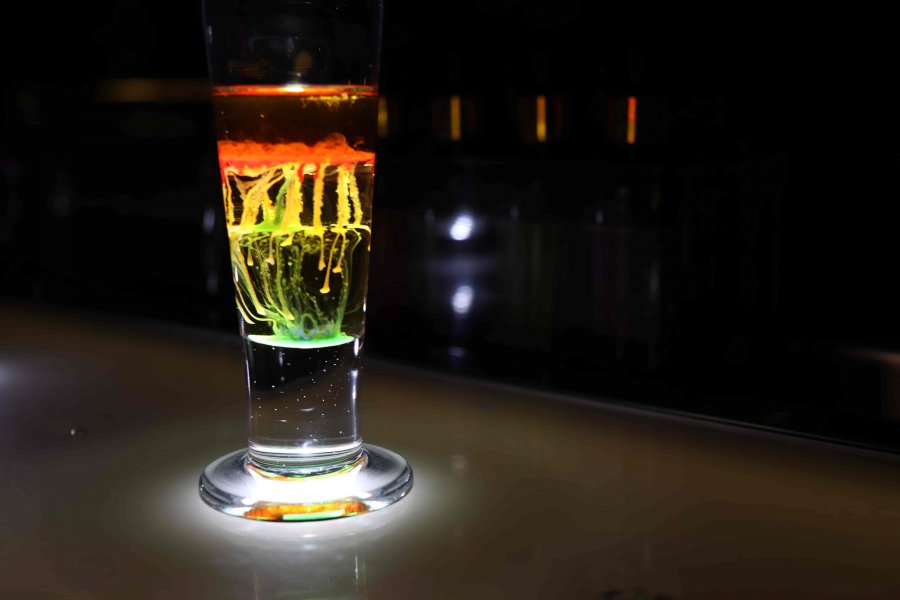 Zimplex (Image credit: Henry Wright)
Steer well clear of the sleazy happenings on Bangla Road and head instead to Phuket's Old Town. Here, you'll find a hub of hip bars, from the moody colonial Dibuk House (37 Dibuk Rd., 082-733-0442) for awesome cocktails like A Fearless Boy (butter-washed rum, roasted coconut water, dark cacao liquor, vanilla syrup, lime and smoked whisky, B320) to Zimplex (156/48 Phang Nga Rd.) for pricey but oh-so-Instagrammable lava lamp-like neon shots (B380 for the Enigma, a heady mix of 60-percent ABV absinthe, gin, vodka, cream liqueur, "lab liquors" and syrup).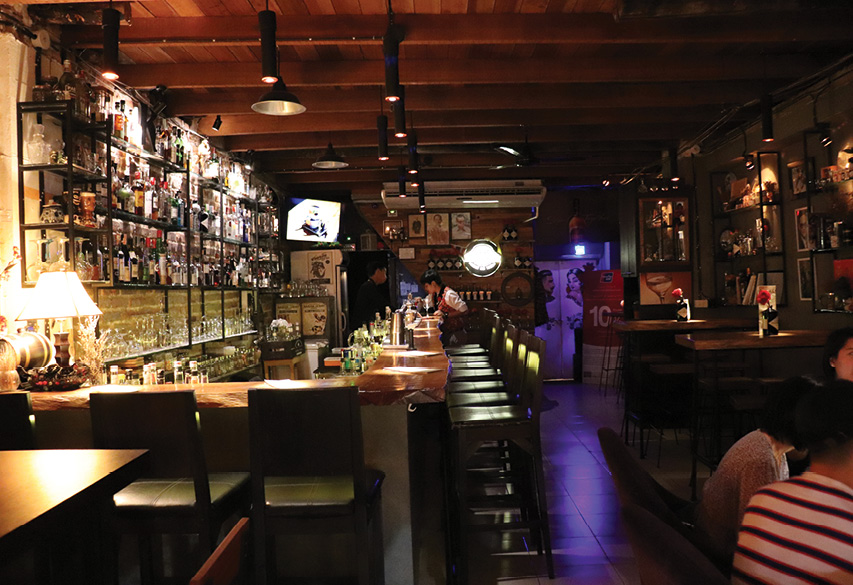 Club No 43
Rockin' Angels
Drop by Club No 43 (43 Yaowarat Rd., 081-476-7440) for more cocktails with flair, like the 43 Old Town (B320) which mixes vodka infused with tom yam ingredients (ginger, galangal, kaffir lime, lemongrass, chili), fresh mango and passion fruit juice in a tin pot. Nearby, Rockin' Angels (55 Yaowarat Rd., 089-654-9654) offers a taste of Nashville-esque music culture, with live blues and soul nightly.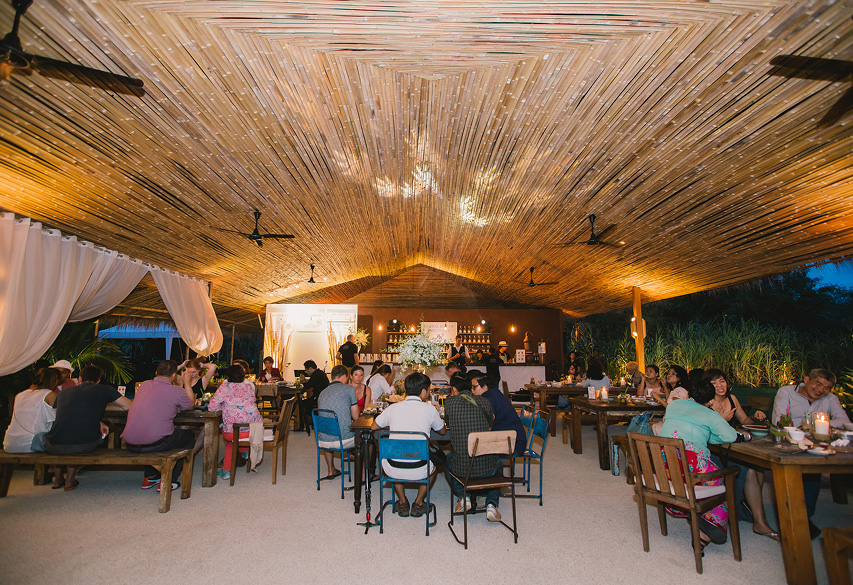 Chalong Bay Rum Distillery
For a spot of day-drinking, stop by Phuket's pint-sized artisanal Chalong Bay Rum Distillery (14/2 Moo 2, Palai Soi 2, 093-575-1119) for a glass of mix-yourself Ti'Punch (Chalong Bay, tropical syrup and lime, B250), or learn about their sustainable production methods on a guided distillery tour (B400/person, including a mojito cocktail). For something more hands-on, opt for the two-hour cocktail workshop, which includes the tour plus lessons on three concoctions—mojito, pina colada and "spicarina" (caipirinha with chili)—priced at B1,750/person. If you're into dancing, stop by on Thursday evenings (7-11pm) for Latin Fire night.
Baba Nest
Come golden hour, brush shoulders with Instagram influencers snapping the best sunset views on the island at Sri Panwa resort's swanky Baba Nest (88/5 Sakdidej Rd., 076-371-000). Plop onto a beanbag at the infinity pool-edged rooftop bar with a sake mojito (B480) or a Hitachino Nest Weizen beer (B220). Note that advance bookings are essential and it'll cost you: a minimum spend of B2,000 applies to outside guests, or B1,000 for hotel guests.
The arts scene is blossoming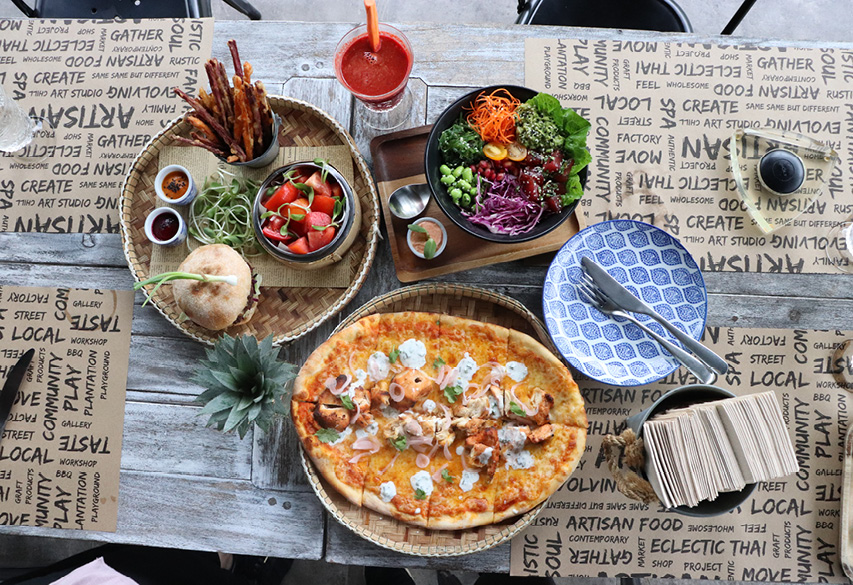 Project Artisan
You'd be forgiven for thinking that Phuket is lacking in modern arts and culture, but there are locals seeking to remedy that. Run by long-time residents Michaela and Martin Michalik, Project Artisan (53/17 Moo 6, Cherngtalay, 093-790-9911) is a tropical-designed, community-oriented creative hub that acts as a holiday spot for locals. After days spent lounging on the beach, photography classes and therapeutic yoga sessions make a welcome change, but that's not all. Visit during the day for great coffee (B130 for cold brew Chiang Mai coffee), incredible vegan burgers (B285) and nutrient packed yellow-fin tuna poke bowls (B350). Check back at night when the craft beer-filled bar (from B100 for Thai draft Riceberry by Cheers) comes into play, and local DJs (Wed and Sat) and live bands (Fri) light up the sound system. Come September, they will also have a full retail space and gallery featuring a collection of unique Thai-made art, crafts and gifts. Stay tuned to their Facebook page for details of markets, classes and events. If you're staying locally (Laguna and surrounding areas), they also offer a free tuk tuk pick up service.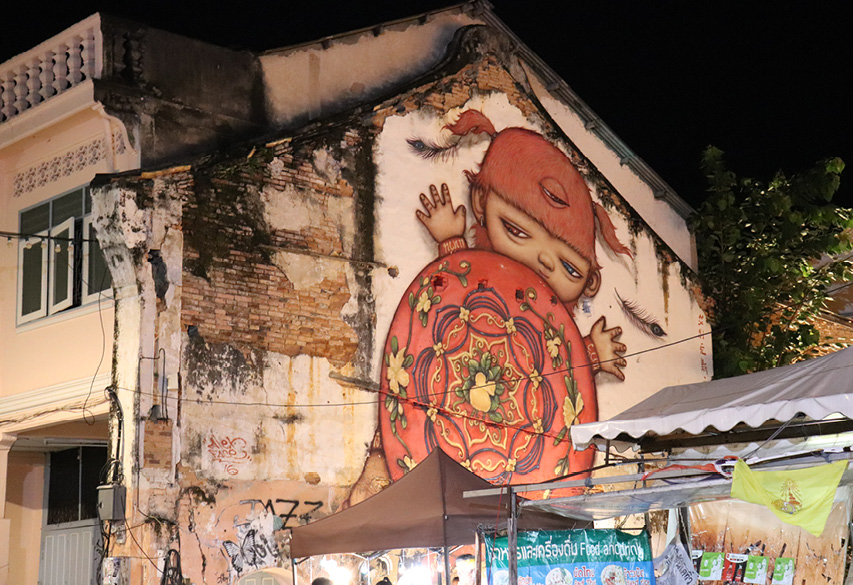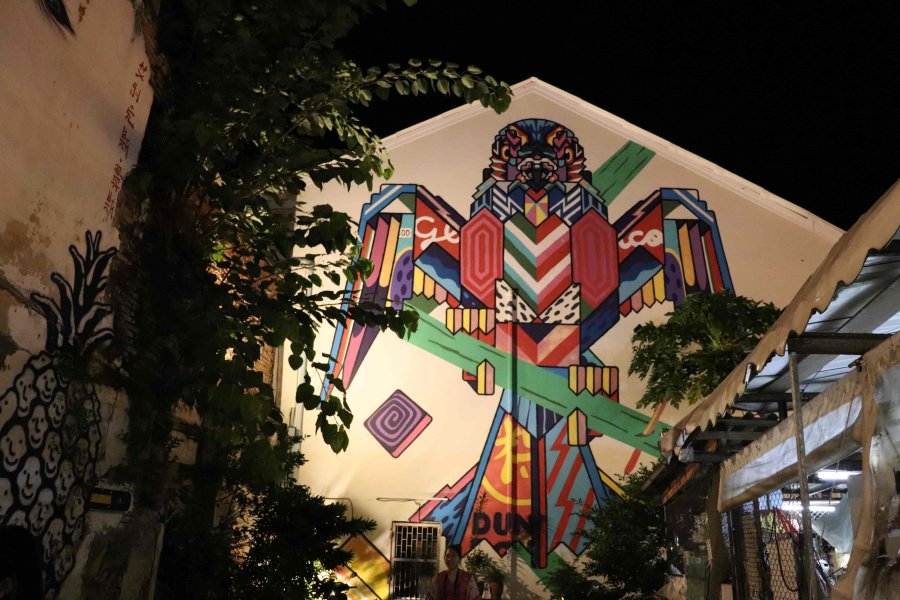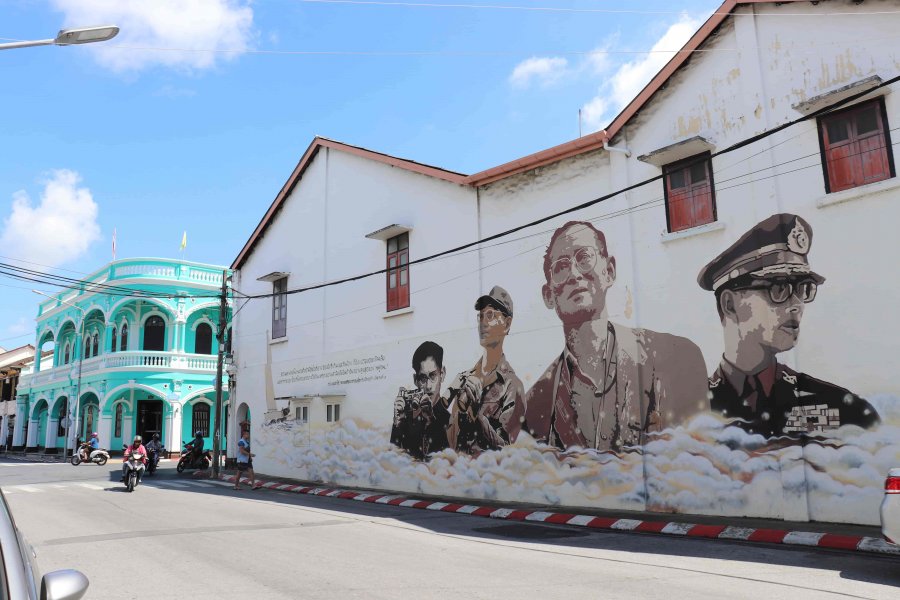 Phuket Old Town
To explore the Old Town's colorful collection of street art by some of Thailand's biggest names, take a stroll down from Romanee Road, where you'll find Rakkit Kuanhavej's colorful, geometric bird design—a tribute to traditional Phuket Hokkien-style sweets—and part of Alex Face's series of Phuket-referencing works. On Phang Nga Road, you'll find Mue Bon's signature chick design, while Dibuk Road is now home to 4 Studio's striking mural of King Rama IX residing above the clouds.
Pockets of natural beauty are still all around
John Gray's Sea Canoe (Image credit: Henry Wright)

Yes, other islands may win when it comes to untouched bays and deserted beaches, but Phuket is not without its charms. To really experience the beauty of the island's surrounds, book onto the Phang Nga Bay "Hong by Starlight" tour run by the long-standing John Gray's Sea Canoe (076-254-505). At B3,950/person, it's on par with other local operators but a pretty big hike on the B2,000 canoeing tours you'll find in rival destinations like Koh Samui. So, why pay it? Run by the legendary Californian canoer, John Gray—whose achievements include creating and hosting an Emmy Award-winning canoeing documentary, Moloka'i's Forgotten Frontier (1985), before he found himself stranded on Phuket in 1990—the eight-hour tour includes a professional, personal Thai guide who'll expertly paddle you through tidal sea caves into lagoons surrounded by limestone karsts. Come sunset, enjoy dinner on the boat before taking a magical journey into a cave filled with glimmering bioluminescent plankton—truly a dream-like experience.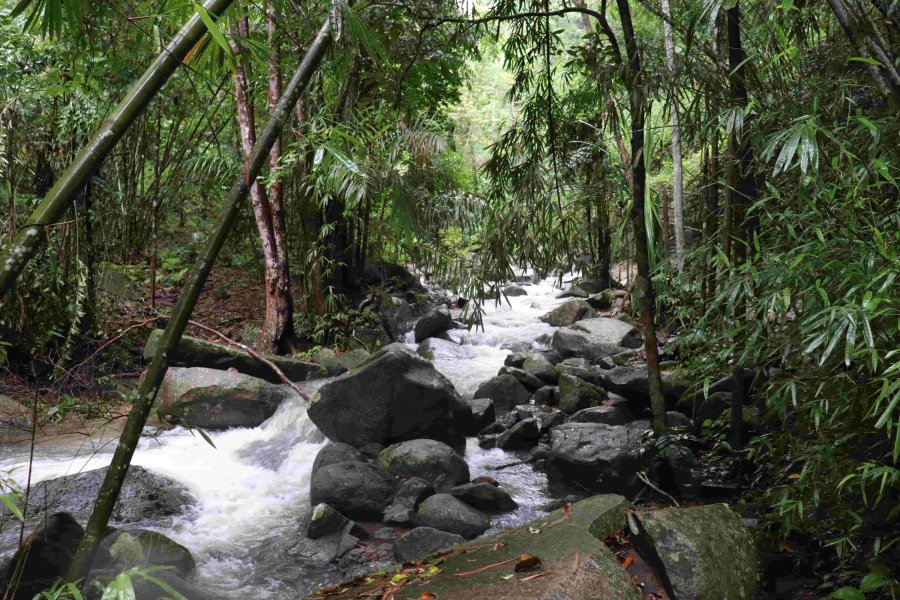 Bang Pae Waterfall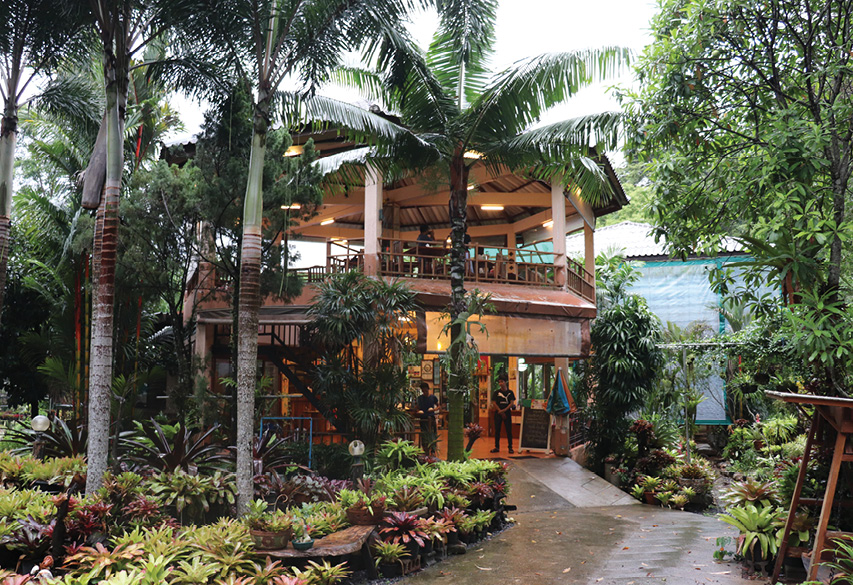 Piang Prai
At 10m, Bang Pae Waterfall (Pa Klok, Thalang District, entrance B200) is no Niagara Falls but it makes for a beautiful escape into nature. From the carpark, the walk up only takes 10 minutes, but wear sturdy shoes as the ground can be wet and uneven. While you're in the area, be sure to fit in some moo hong (Phuket pork belly stew, B180), spicy mangosteen salad (B190) and Thai craft beer (from B165) at the local indoor-outdoor restaurant, Piang Prai (101/18 Pak Khlok Rd., 085-832-7439).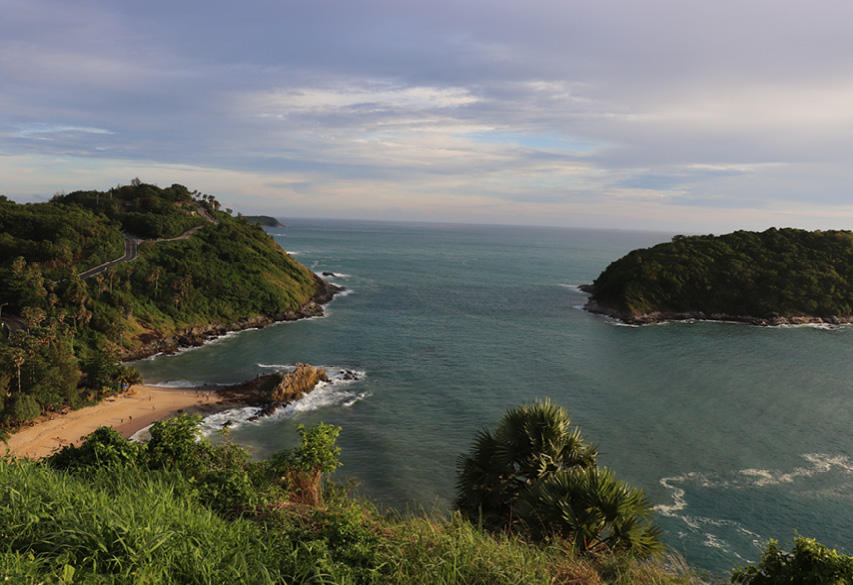 Windmill Viewpoint
Phuket's many viewpoints tend to resemble a zoo at feeding time as the sun sets—nowhere more so than the famous southern tip at Phromthep Cape, where literal busloads of tourists are decanted every evening. For almost identical views and far tamer crowds, check out the unofficial neighboring Windmill Viewpoint (located at Promthep Alternative Energy Station, Rawai)—a few people are in on the secret but it's nothing compared to the Phromthep Cape droves and there's a grassy bank with plenty of space to kick back. Plus, if you're lucky, you might spot paragliders gracefully soaring down to Ya Nui Beach as the sky turns pink.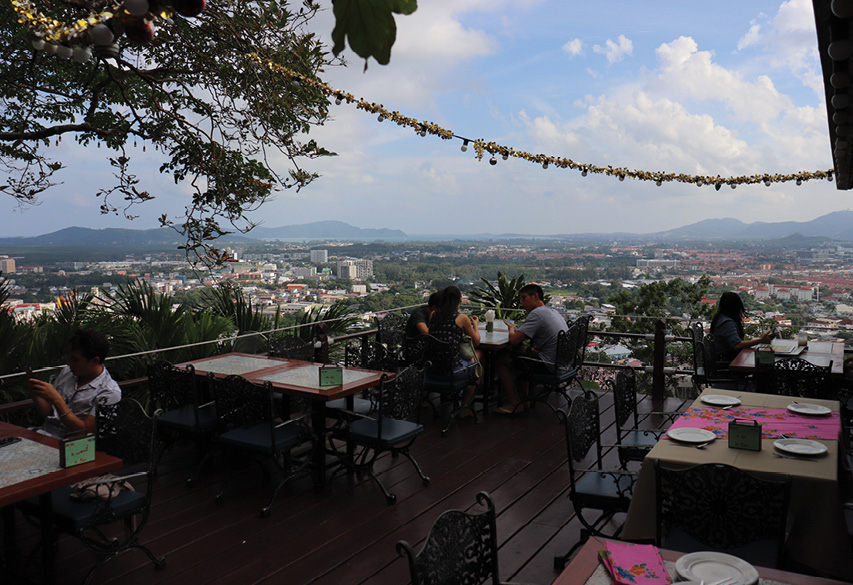 Tunk Ka Cafe
For more uninterrupted views, this time over Phuket Town, book an outdoor seat at Tunk Ka Cafe (Rang Hill, Khosimbi Rd., 076-211-500)—order the plamuek tod kratiam prik Thai (garlic-fried squid, B80/100g), gai hor baitoey (deep-fried chicken cooked in pandan leaves, B140) and a cold Phuket Beer (B100).
Nai Harn Beach
Escape crowded Patong, Kata and Karon beaches with a trip to the island's lesser frequented sands, such as Kata Noi—located just five minutes' drive from its bigger sister, its secluded location amid rocky promontories and lush greenery makes it far more tranquil; note that swimming is only possible outside of monsoon season. Tucked away from the main road to the north of the island, Nai Yang is one of Phuket's most peaceful beaches, with local restaurants dotting the shore. Head north up the coast for what is often lauded as Phuket's last hidden beach, the hard-to-reach Banana Beach. For snorkeling, head south to Ao Sane and Ya Nui—both close to Nai Harn Beach—whose small clusters of rocks to either side attract fish and other marine life. The tropical cove-like Laem Singh was closed to the public in 2017 after the land was bought by Mandarin Oriental, however savvy locals have found a work around—grab a boat for B100/person from Surin Beach and you can still enjoy the paradisiacal hideaway. Surin Beach itself is not the crowded party hub it once was; since the army demolished all its bars and restaurants back in 2016, it has become far more peaceful, if not very well cared for.
Shopping unlike any other island
You might not associate an island getaway with shopping sprees, but Phuket can offer the best of both worlds. Mall junkies can get their fix at Central Festival (74, 75 Vichitsongkram Rd., 076-291-111), home to stores like Zara, H&M and Lacoste, while market fiends should skip tourist-trap Chillva Market and check out the original Naka Weekend Market (7 Tin Rd. Open Sat-Sun, 4-11pm) for bargain clothing, tasty street food and cheap souvenirs.
---
Where to stay


Located in the heart of the historic Old Town, the chic Xinlor House takes over an unassuming townhouse with four exclusive guestrooms and two suites, each with a fresh white and blue color scheme. The Superior Room starts at B1,500, while the Deluxe Room at B2,000 comes with its own balcony—ideal for observing the surrounding Indo-Chinese architecture and local goings on. For a special occasion, the suites come with either a hot tub (B3,000) or balcony (B2,650). The communal areas are an Insta-worthy combination of whitewashed brick walls, framed old photographs and vibrant green potted plants.
78 Dibuk Rd., 064-551-5456


Occupying a hill overlooking Nai Harn Beach, all but eight of The Nai Harn's 130 stunning white-washed rooms and suites come with azure ocean views. Fun and fresh, the hotel comes complete with luxuries you never knew you needed—think yoga and mini golf equipment in your wardrobe, and a beach butler (who'll bring you everything from umbrellas to picnics). Occupy your time with daily complimentary fitness classes on the beach, make use of the complimentary paddle boards, snorkeling equipment and bicycles, or gorge on everything from delicious Thai fare at Cosmo to charcoal-grilled steaks at Prime. If you're on a budget, opt for the Mountain View Room (B4,000), though it's well worth splashing out B6,100 for an Ocean View Suite so that you can utilize the "press for Champagne" button on the terrace's daybed. Be sure to make it down in time for breakfast—with fresh-baked breads and pastries, house-smoked cheeses and meats and cold brew coffee, it's quite possibly the best on the island.
23/3 Moo 1, Vises Rd., Rawai, 076-380-200

With its 82 stunning tropical-contemporary style pool villas, penthouses and suites perched on a hillside on Phuket's Panwa Cape, there's no overstating the luxury of staying at the five-star Sri Panwa. Golf carts are on hand to ferry you around the vast, hilly property, from Cool Spa with its six waterfall treatment rooms, to the nine on-site dining facilities, including the iconic Baba Nest sunset bar, the private beach and the three gorgeous communal pools. A 70-sq-meter one-bedroom suite can be had for B10,400, with an infinity plunge pool overlooking the ocean, while larger groups can opt for the luxury 300-sq-meter two-bedroom villa with a 12-meter infinity pool for B25,000.
88 Sakdidej Rd., 076-371-000