Tokyo's home of high fashion isn't all B100,000 handbags. Aoyama might be exclusive, but it's also relaxed, slow-paced and inviting compared to chaotic and touristy neighbors Shibuya and Harajuku. In fact, one of Tokyo's wealthiest neighborhoods offers a mix of hip-retro and elegant cutting-edge. We've unpacked its small streets to discover the sweetest spots to eat and shop.
---
Minamiaoyama
Pizza Slice 2
It's crucial to come to this street hungry if you don't want to miss out on trying its many delish offerings. Warm up with a coffee at
Blue Bottle Coffee
(3-13-14 Minamiaoyama.
www.bluebottlecoffee.com
). With nine branches across Tokyo and counting, demand only seems to be intensifying for their signature mellow blend drip coffee and super-smooth lattes. Just across the street, Parisian-style bakery
Qu'il Fait Bon
(3-18-5 Minamiaoyama.
www.quil-fait-bon.com
) is the place to head for a slice or two of cake or pie—with nearly 20 options laid out decadently on the long counter, it's a challenge to choose. By then, you'll probably be maxed out on sugar and desperately in need of a salty treat, so carry on down the street until you reach the boutique clothing shop,
H beauty & Youth
, beneath which you'll find
Pizza Slice 2
(3-14-17 Minamiaoyama.
www.pizzaslice.co
). Encased in basketball court fencing, this New York-style diner lays on huge trays of freshly baked pizza—order a slice of meatball with caramelized onion and a side of their butter garlic knot, you won't be disappointed. Walk it off at the boutique Japanese clothing stores that line the rest of the street, like
L'Echoppe
(3-17-3 Minamiaoyama.
www.lechoppe.jp
) and
Super Dot Market
(3-17-2 Minamiaoyama.
www.tomorrowland.co.jp/superdotmarket
).

Kitaaoyama

Across the street from Minamiaoyama, Kita offers a slightly quieter, more peaceful vibe. On the corner of the street, the historic Sanyodo Book Store (3-5-22 Kitaaoyama) has been around since 1891. Here, you'll find everything from vintage Japanese books (including plenty on local folklore) to a gallery showcasing modern Japanese art—even if you're not buying anything, you'll be amazed by the well-kept collections of old and hard to find prints. Located just behind Omotesando station, Zenko-ji Temple (3-5-17 Kitaaoyama) stands defiant amid the bustling city and makes a perfect spot to rest—head there in sakura blossom season to see the area in bloom. Other historical sites include the commemorative monument to Takano Choei (3-5-17 Kitaaoyama), a Japanese scholar and medical pioneer who was killed here in 1850 after escaping incarceration for his criticism of the Shogunate (military government), and Akiba Shrine (3-5-26 Kitaaoyama). Art lovers can admire the work of local artists at NOSE Art Garage (3-5-21 Kitaaoyama. www.nose-artgarage.tokyo) and Art Breeze Omotesando (3-5-9 Kitaaoyama).

Cat Street
Smokehouse by T.Y Harbor Brewery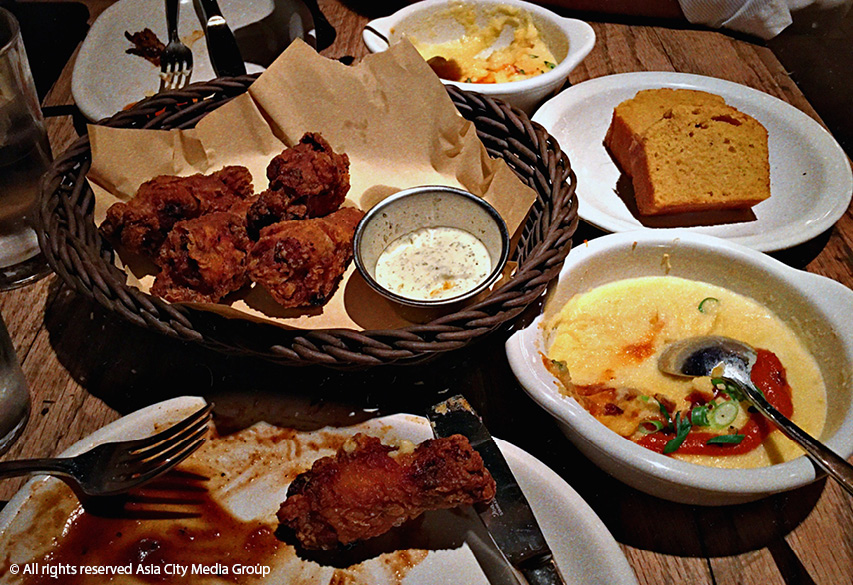 Smokehouse by T.Y Harbor Brewery
Flamingo
Pigsty

A narrow alleyway off of the flamboyant Omotesando Boulevard, Cat Street has a romantic vibe thanks to its rustic brick walkways. You'll be surprised at how many eateries, cool cafes, thrift stores and high-end clothing brands hide in the nooks and crannies on this small street. Do not miss the hole-in-the-wall Luke's Lobster (6-7-1 Jingumae. lukeslobster.jp), where buttery rolls are stuffed generously with fat chunks of lobster, or if you're craving a southern US feast of juicy smoked ribs, barbecue pulled pork, cornbread and creamy grits, head straight to the industrial-style Smokehouse by T.Y Harbor Brewery (5-17-13 Jingumae. www.tysons.jp/smokehouse). At The Roastery by Nozy Coffee (5-17-13 Jingumae. www.nozycoffee.jp), caffeine enthusiasts can enjoy single origin beans roasted in-house from the super-concise menu of espresso, latte and Americano—all served in a sophisticated tall Champagne glass, before hitting up contemporary art exhibitions at The Mass (5-11-1 Jingumae. themass.jp). Shoppers can sift through vintage thrift shops for hard-to-find (and crazy-expensive) items—try Flamingo (4−26-28 Jingumae) for women's fashion and Ragtag (6-14-2 Jingumae. www.ragtag.jp) and Pigsty (5−25−1 Jingumae. www.pigsty1999.com) for men—or shop the latest sports gear at Patagonia (6-16-8 1 Jingumae. bit.ly/2tZAvV7) and Burton (5-17-4 Jingumae. www.burton.com).

Jingumae

The main draw to this street is the small Japanese confectionary shop Mizuho (6-8-7 Jingumae), known for its signature soft mochi filled with sweet red bean paste, made fresh daily at the counter—get there fast, as they close as soon as they're sold out, which is usually early. Close by is Gomaya Kuki (4-26-22 Jingumae. gomayakuki.jp), where smooth sesame paste and sesame oil are churned together to make their amazing rich triple sesame white and black ice cream. Fashionista bookworms should hop into the sleek, three-story bookstore Bookmarc (4-26-14 Jingumae. www.marcjacobs.jp/bookmarc) by Marc Jacobs, where a mix of lifestyle and photography books is joined by music, locally made clothes and an underground art gallery.

Omotesando Boulevard

Running as the big Main Street across the neighborhood and reminiscent of New York's Fifth Avenue, this is truly the hi-so hub of Harajuku. Here, you can expect all the mainstream, high-end fashion brands, like Dior, Chanel and Louis Vuitton.
---
Essentials
Where to Stay

The 15-room Trunk Hotel (from B9,300/night, trunk-hotel.com) is located right in Shibuya's nightlife and food hub of Cat Street. Inside, the industrial-style space blends extreme raw concrete walls, calming grey tones and dark-wood furniture. For a chic yet affordable option, Shibuya Stream Excel Hotel (from B6,500 on booking.com) comes with parquet carpeting and modern-retro furniture in earthy tones.

Getting There

Direct flights between Bangkok and Tokyo cost around B8,000 return with low-cost airline NokScoot (www.nokscoot.com), not including airline fees, luggage or food.

Currency

1 JPY = 0.28 THB