Bueng Kan and Nong Khai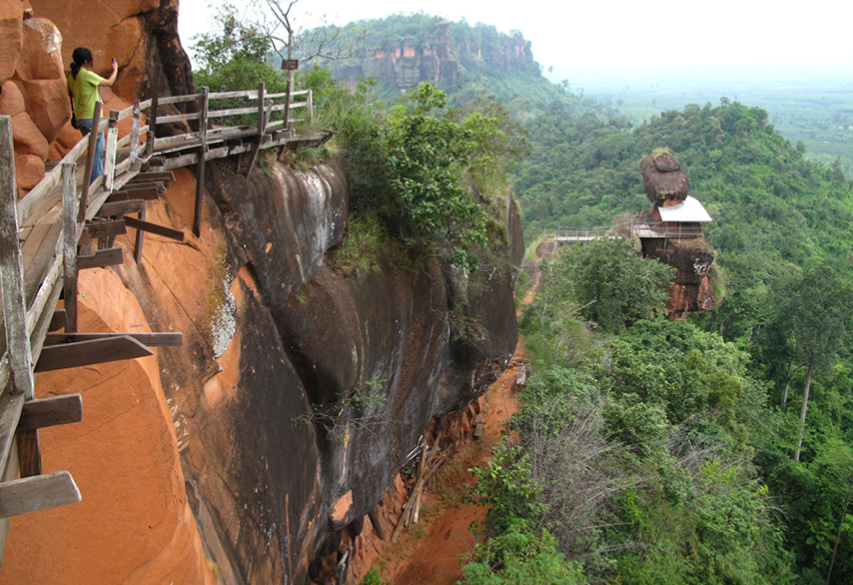 Phu Tok, Bueng Kan Credit: TAT Udon Thani
Isaan's northernmost provinces are really emerging as must-visit destinations, offering the kind of mist-shrouded views you'd normally have to travel far up north to witness. Thailand's youngest province, Bueng Kan is home to Phu Thok, a 359-meter-high sandstone mountain that has become a goal of many travelers seeking something different. Phu Thok (which means "Lonely Mountain" in the Isaan dialect) has two peaks: Phu Thok Yai and Phu Thok Noi, which is the only part currently open. Visitors hike along a narrow wooden bridge that circulates the cliff in order to reach its peak. The thrilling walk ascends seven different levels before you reach the summit, where you'll be greeted by Wat Jetiyakhiri Viharn, aka Wat Phu Tok. The 400-meter-long bridge to reach the temple was hand-built by locals and took five years to finish.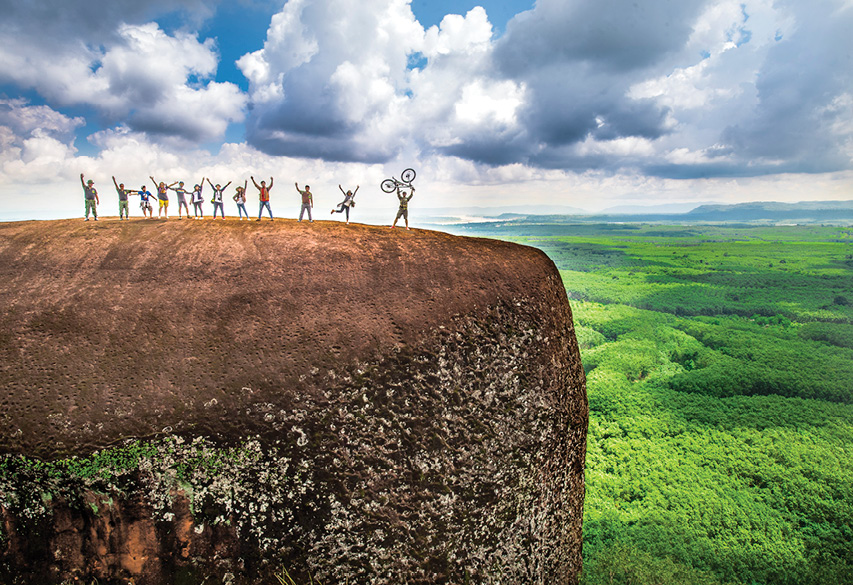 Hin Sam Wan, Bueng Kan Credit: TAT Udon Thani
Another of Bueng Kan's highlights, the strange-but-beautiful geography of Hin Sam Wan features three giant rock formations that look like a trio of whales. Visitors are free to walk on the giant, 75-million-year rocks, situated in Phu Singh Forest Park, but be careful: there isn't any safety railing. It's a popular spot to catch the sunrise.
Phu Huay Esan Credit: Khao Khiang Khong Homestay
In the neighboring Nong Khai province, Sangkhom district on the edge of Mekong River is a must-visit, dubbed the "sea of mist" town in Isaan. A new, all-glass skywalk sticks out from the cliff at Wat Pha Tak Sue, offering a spectacular 500-meter-high viewpoint that'll get your heartbeat racing. For something a little less thrilling, Phu Huay Esan is a small hill right beside the Mekong River in Ban Huay Muang, an upcoming destination for its misty vistas that only appear in winter. You can only reach the peak via a local car service which runs every morning. It's B450 for tents and B2,000 for rooms at Khao Kiang Khong Home Stay for 4-10 people. Contact 087-219-5500 or 089-769-4856 to find out the meeting point.
Contact: TAT Udon Thani, 042-325-406-7
---
Mae Hong Son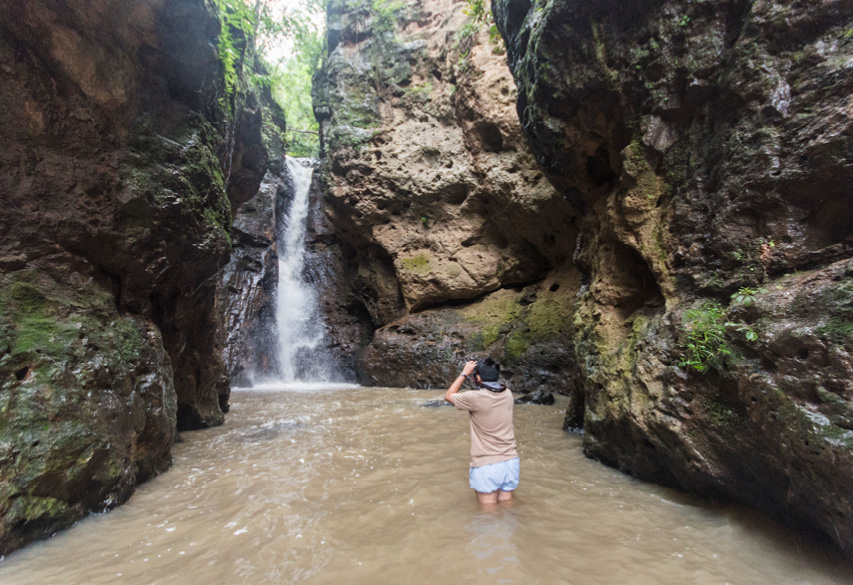 Pam Bok Waterfall
Kho Gu So Bamboo Bridge
This year, there's good reason to head back to Mae Hong Son's tourist utopia of Pai thanks to new attractions at Pam Bok village. The newly built Kho Gu So Bamboo Bridge (meaning "merit bridge" in Thai) was built to connect the village with the nearby Huay Khai Khiri House of Priests and spans 815 meters across rice paddy fields. In the same area, Pam Bok Waterfall features a 15-meter-high cascade flanked by a crevasse.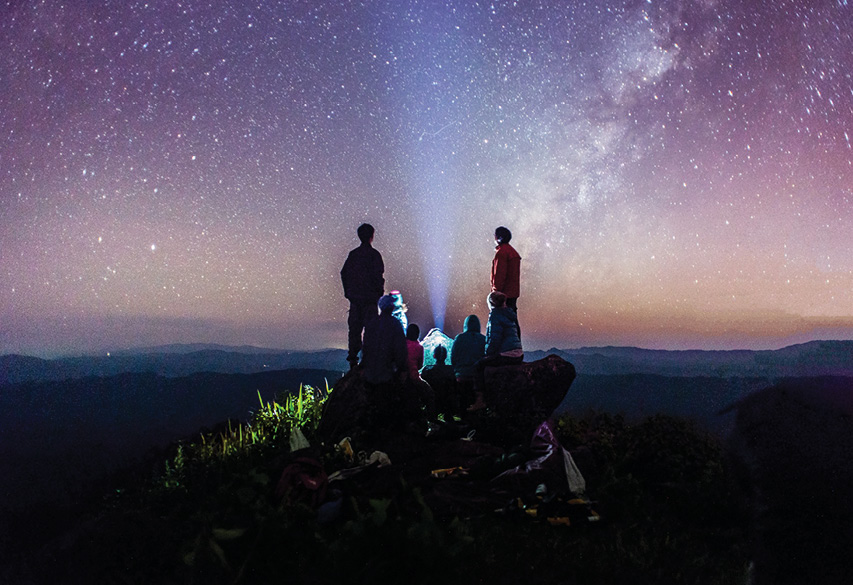 Doi Miang, Pai Credit: Worapoj Tragunbangkhla
Up in the mountains,
Doi Thong
and
Doi Miang
are on the travel wish-lists of all sunset seekers. You'll find four guestrooms in the area, powered by electricity from solar cells and costing B500 per night, as well as four-man tents to rent at B400 per night. Traveling to Doi Thong and Doi Miang requires help from the village's tourism unit (063-123-9022, 089-261-8986,
www.fb.com/cbt.pambok
) as you'll need a fourwheel drive vehicle to reach the peak. Rides starting from Pai center cost B300 per person, or you can charter a truck for B2,200.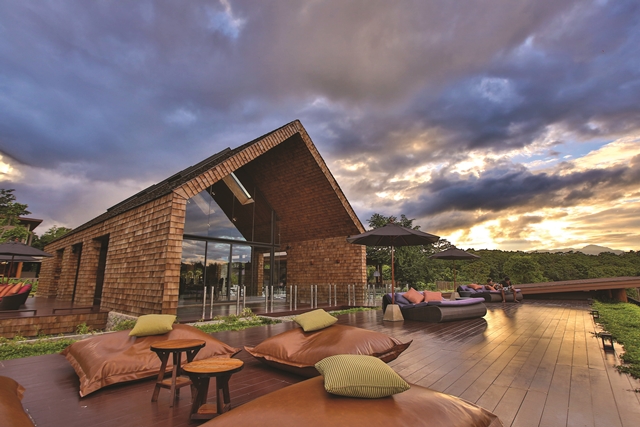 Puripai Villa
For a more luxurious stay, check out
Puripai Villa
(
puripaivilla.com
), which just unveiled three new villas. Rates start at B8,837 for the villas and B5,600 for deluxe rooms.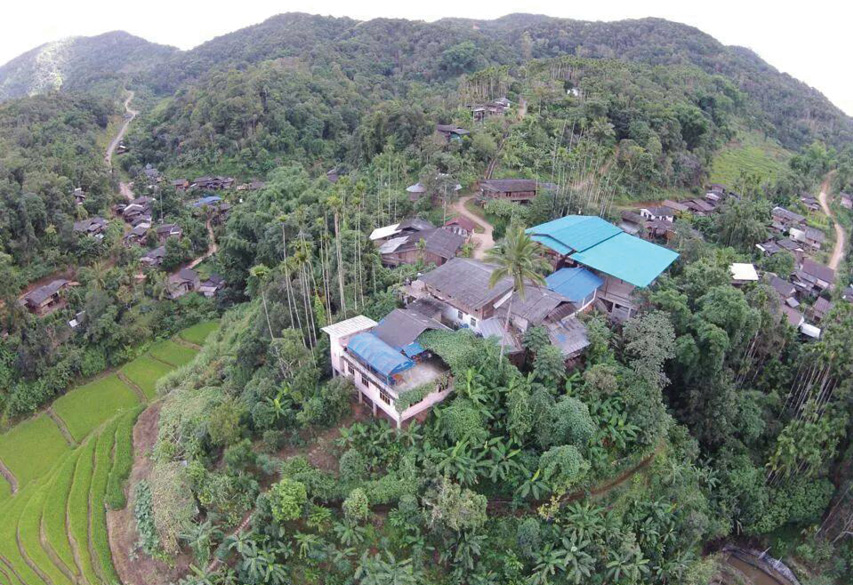 Baan Huay Hom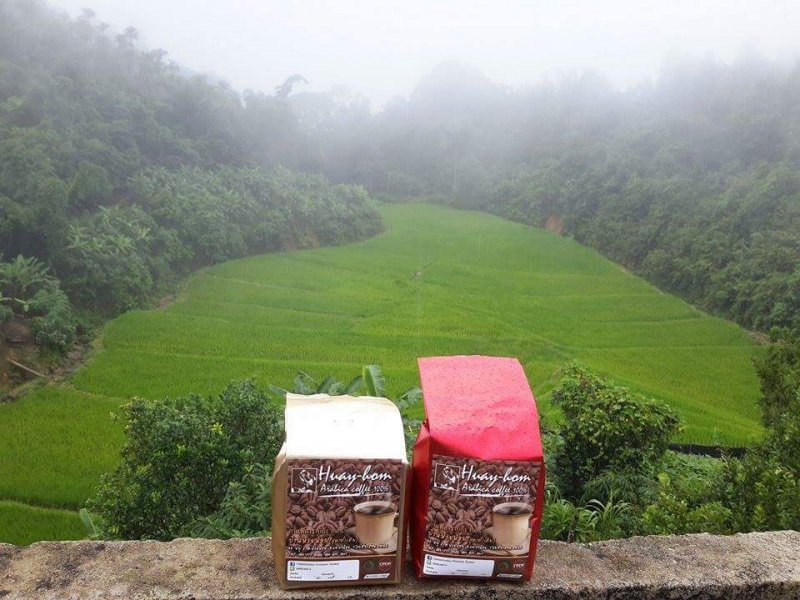 Coffee addicts should head to
Baan Huay Hom
(089-555-3900, 089-854-0914,
goo.gl/vvswEn
) in HM King Bhumibol's
Mae La Noi Royal Project
, where the small Pga K'nyau village tribe grows a strain of coffee used in Starbucks' Muan Jai Thai coffee blend. The coffee harvest begins in mid-November and visitors are welcome to join the villagers' routine till mid-January. This is also the only village in Thailand where they weave sheep's wool, a project initiated by HM Queen Sirikit. Accommodation here is limited to homestays within the community at B150 per person excluding meals (which are charged at B70 per meal).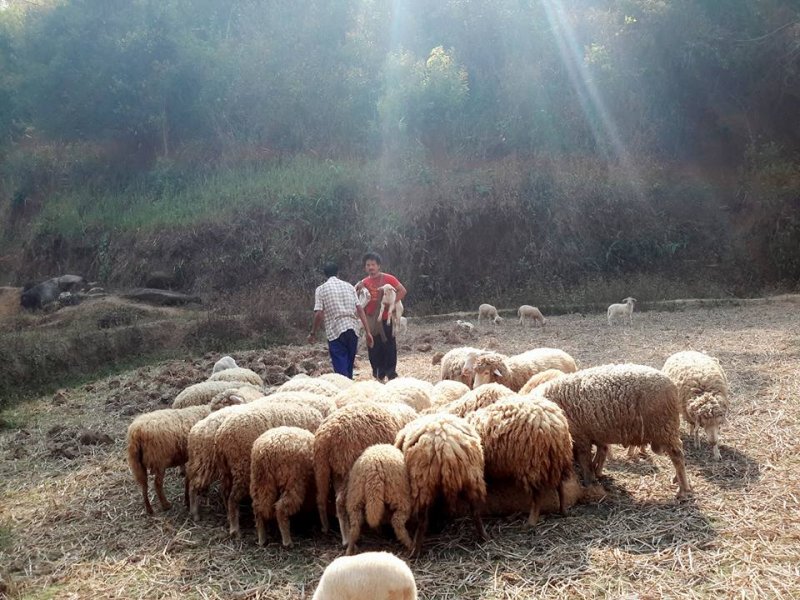 While you're there, make sure you eat at Guaytiew Chomview, a small noodle shop in Pang Ma Pha district's Jabo village—the steaming bowls of noodles come with bonus views of the Mae Hong Son mountains.
Contact: TAT Mea Hong Son, 053-612-982-3
---
Nan
Away from its town center, Nan's popularity for beautiful landscapes is really growing, especially in Pua district. This sleepy rural hill town surrounded by rice fields is home to hidden natural gems that are quickly becoming a sensation.
Wang Sila Lang
Known as the little Grand Canyon of Nan province,
Wang Sila Lang
was formed over millions of years by the Goon River as it eroded a crack in the Pua fault line. Today, the sheer gorge traces its way through beautiful scenery. The water level is relatively low during winter, which means you can easily walk along the gorge, following it upstream. Just 500 meters away,
Parkor Cafe & Food
at
Hua Nam Mushroom Farm
(054-792-252, 081-005-1533,
www.huanamhomestay.com
)provides a filling meal of all things mushroom, from omelet to pizza. Its dining tables also offer killer views of the vegetable farm during winter and rice terraces in the rainy season. Check into one of their country-style rooms (starting from B1,500) to enjoy those same views round the clock.
Toobna Homestay
If you want to extend your trip, the oneyear-old
Toobna Homestay
(094-143-1969,
www.toobna.com
) is a boutique guesthouse with equally stunning views. They just finished adding some gorgeous new bamboo huts, and the B1,800 rate includes a freshly cooked traditional kan tok—a full-course Northern-style meal served on a bamboo tray.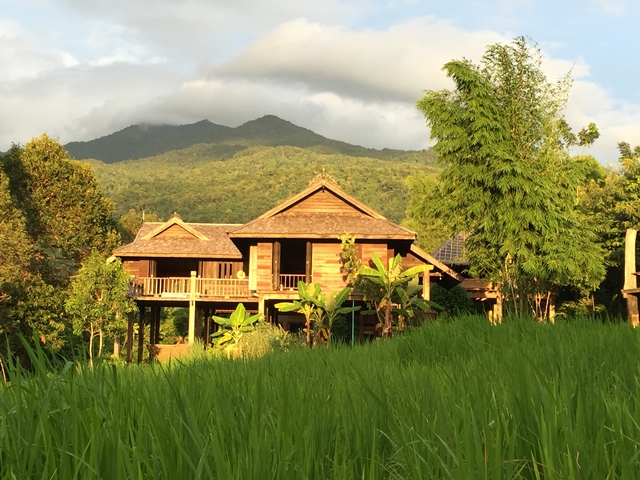 For somewhere that taps into the traditional architectural style of the Tai Lue hilltribe,
Sri Inpan
(081-423-3584, 086-510-0707) provides rooms for up to four people for B4,500 including a Thai breakfast. And don't leave Pua without taking a coffee break at
Baan Thai Lue
(054-792-371, 089-264-6058), where you'll find panoramic views of the mountain, as well as local clothes shop
Lum Duan Par Tor
(
www.fb.com/lumduanpartroshop
), which sells tie-die dresses for B200 and homespun garments from B1,500.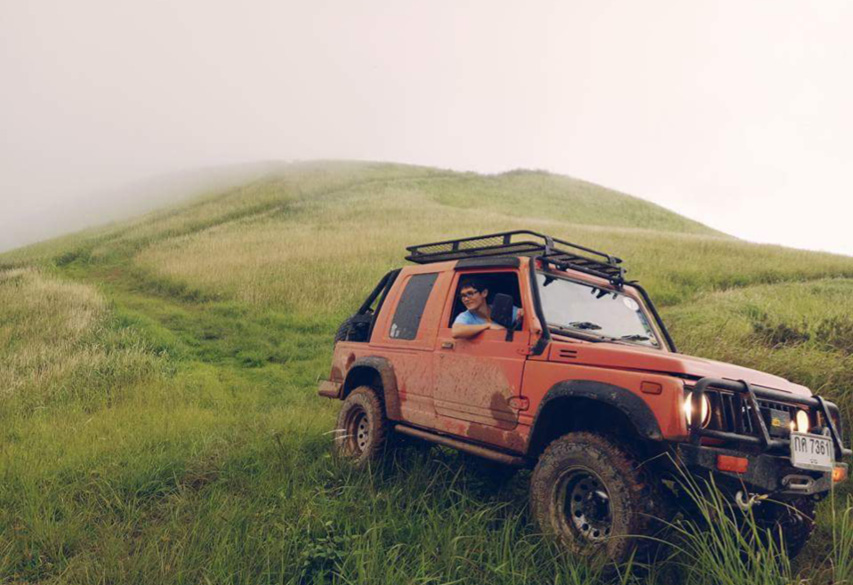 Doi Suan Ya Luang Credit: Oun I Mang
Make sure you schedule some time for the surrounding Tha Wang Pha district for the
Doi Suan Ya Luang
grassland. Bo Klua is also worth including in your itinerary if only for the tiny resort of
Oun I Mang
(081-374-7004,
goo.gl/8F73pY
). This popular destination has relocated to an enticing spot right by a stream from the Wa River, the longest white-water rafting course in Thailand. Rates start from B900-1,200 per person, per night, while a day trip of rafting and sightseeing (including the terrace rice and vegetable fields of Pieng Sor district) costs B2,000.
Contact: TAT Prae, 054-521-118
---
Chiang Rai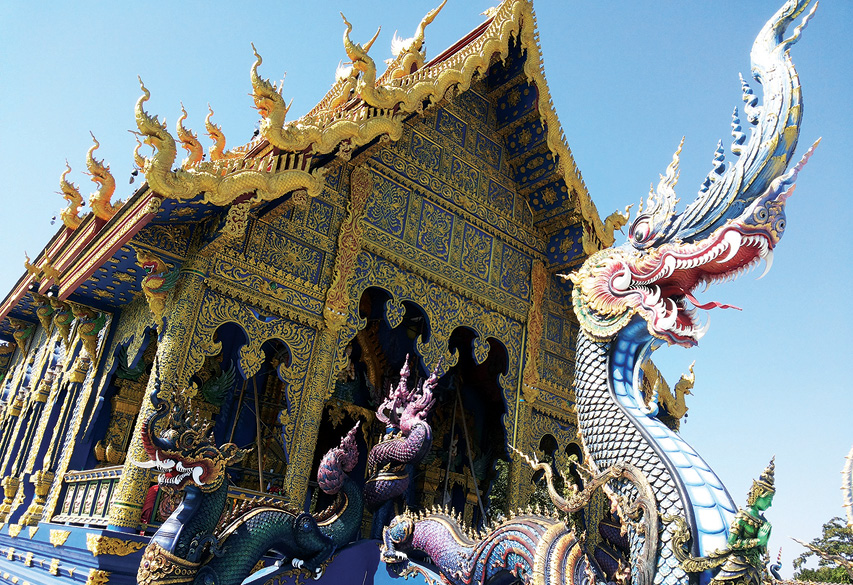 Wat Rong Sua Ten Credit: TAT Chiang Rai
Chiang Rai's white temple Wat Rong Khun now has a new colorful counterpart, Wat Rong Sua Ten, which opened earlier this year. Its designer, local artist Phutha "Salanok" Kabkaew, is a protege of Wat Rong Khun's creator, the revered Chalermchai Kositpipat.
Credit Doi Tung Club
Also new to the area,
Doi Tung Tree Top Walk
(053-767-015-6,
www.fb.com/DoiTung-Club
) inside The Mae Fah Luang Garden is a 295-meter-long walkway 30 meters above the ground, where visitors can view coffee plantations and the vetiver grass plantation where King Bhumibol spent years conducting research. Entrance costs B150, which goes to the Mae Fah Luang Foundation under royal patronage for sustainable community development, a scheme initiated by the late Princess Mother Srinagarindra.
Khua Silapa Credit: Wanchai Phutthawarin
At
Art Bridge Chiang Rai
(088-418-5431,
www.fb.com/ArtBridgeChiangRai)
, aka Khua Silapa, you'll also discover a large exhibition commemorating King Bhumibol, with contributions from more than 200 artists from around Chiang Rai and nearby areas, including Chalermchai. The largest piece at 17 meters long was drawn by 60 artists late last month in front of the gallery. All works will be shown from
Dec 24-Mar 30
. From
Dec 17-18
, they're also offering basic and advance courses in Japanese shibori indigo dye. It costs B2,000 per course or B3,800 for two courses.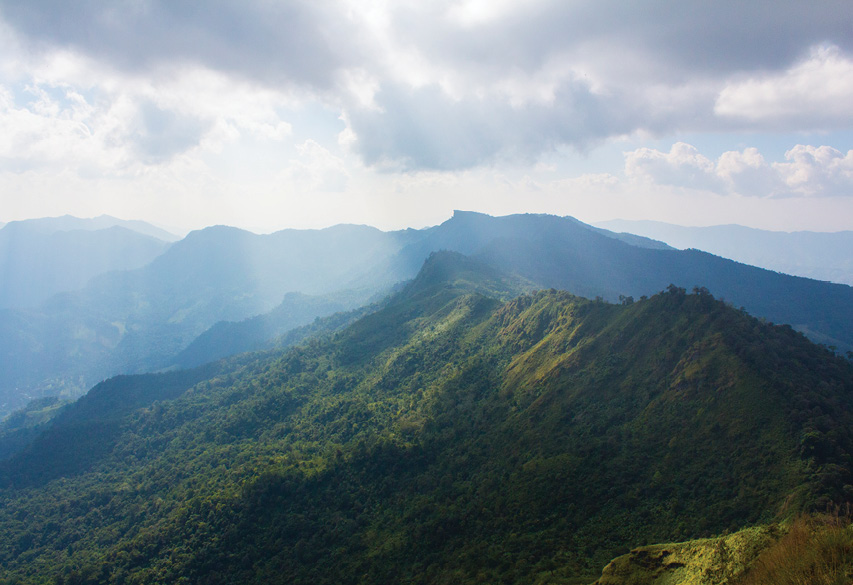 Phu Chi Dao Credit: TAT Chiang Rai
Make the most of Chiang Rai's stunning scenery with a visit to the new viewpoint of Phu Chi Dao, which offers 360-degree vistas over a sea of morning mist—its name means "mountain that points at the stars." It's a 200-meter trek to the peak, but first you have to reach Baan Rom Poh Nergn military base, from where you take a four-wheel-drive ride to the trek's starting point (B500 per car round-trip).
Contact: TAT Chiang Rai, 053-717-433, 053-744-674-5
---
Must-Visit Royal Projects
Spread across Chiang Mai, Chiang Rai, Mae Hong Son, Lamphun and Phayao, HM the King's 38 agricultureal initiatives in Northern Thailand are responsible for the successful cultivation of high-altitude crops like strawberries, arabica coffee, peaches, plums, avocados, kiwi fruit and passion fruit. Many of these projects have become popular natural attractions in their own right. Here are the ones to visit this winter.
Royal Agriculture Angkhang Station
Royal Project Khunwang, Chiang Mai
Situated in Inthanon National Park, this area was once home to wide-scale opium plantations before it was developed into a Royal Project in 1980. The local Pga K'nyau and Hmong tribes now make their living from growing fruits and vegetables. The phraya sue krong, aka wild Himalayan cherry blossoms, will be in full bloom in early January.
Pang Ung Royal Initiative Project (Pang Tong 2), Mae Hong Son
Surrounded by mountains, this forest station has lovingly become known as the Switzerland of Thailand. At the reservoir, you can wake early to watch the sun rise while floating unhurriedly on a raft surrounded by fog. Read about other beautiful reservoirs at
goo.gl/NAiOQq
.

Pha Tang Royal Project, Chiang Rai
Only nine years old, this agriculture station is getting famous for its wild cherry blossoms (visit in January). The nearby Doi Pha Tang offers stunning 360-degree views of the Thai and Lao border. See more of Thailand's most beautiful mountains at
goo.gl/
wxKxfX
.

Royal Agricultural Angkhang Station, Chiang Mai
Doi Angkhang has long been known as the place where HM the King's Royal Projects began, in a bid to rid the Northern hills of opium fields. Some 40 years later, the valley is a lush green, replete with popular attractions. The highlight strawberry, plum and tea plantations are at their most splendid in the morning. Read our full guide at
goo.gl/yOoXbc.

Pang Kha Royal Project, Pha Yao
Founded in 1987, this project supports local hill tribes to grow high-altitude fruits and vegetables such as oranges, avocados, zucchini and, the highlight, giant pumpkins. Nearby attractions include Khun Nam Tom Waterfall and Doi Phu Lanka, with its iconic karsts standing out against the flat landscape.