You can get a splash of water when you actually want it
Listen, we're not going to pretend those 46-degree temperatures magically go away when you leave Bangkok. We all still need to get some "splash time" in during Songkran. Hua Hin is better paced for it. Thailand's biggest water park, Vana Nava Hua Hin, certainly lives up to its title and is very much a world-class water park. But there are honestly better options out there this time of year (especially in terms of your wallet). You can always hit up some waterfalls like Pa La-U (open daily 8:30am-4:30pm). It's found on the southern side of Kaeng Krachan National Park and is worth the trek on a hot day (entrance is B300 for foreigners, B100 for Thais). Alternatively, you can pick a hotel that boasts prime water activities. Luxury hotel Hua Hin Marriott Resort & Spa (107/1 Phet Kasem Rd, 032-904-666)has long lagoon-shaped pools surrounded by tropical greens. Here, there is a specific type of pool for most needs, ranging from kids and teens, to "everyone" and an adult-only pool if you need some peace and quiet. There are two slides, too, if you want to go on a bit of a ride while shaking off the heat.
Peace, quiet and sweets
Hua Hin has some decent cafes on offer — whether you are in it for the food or the pictures. There is a decent slate of new openings in Hua Hin each year (you can see a similar article we did around this time last Songkran), meaning there are lots of foodie things to do if you don't want to get doused in water. The budding cafe scene includes the likes of Together Bakery & Cafe (72/3, Dechanu Chit Rd., Tambon Hua Hin, 032-531-059), the photogenic White Home (2/86 Naeb Khehat Rd., 095-949-6220) and elegant Chocolate Factory (Soi Phetkaseam, 061-172-8887) are all good bets. If you're looking for eats and a good backdrop for some pictures, Siam Bakery (107/1 Phetkasem Rd. Hua Hin Marriott Resort & Spa, 032 904 666) is a photogenic cafe which boasts international pastries amidst a white-slash-brown setting. You don't have to be staying at the hotel to enjoy their delicate, mouthwatering desserts like the fresh mango tart (B95) or eclair (B95) replete with lemon and pineapple stuffing, both are made with locally-sourced fruit and are very refreshing.

An ever-growing dining scene
Hua Hin isn't the first place that comes to mind when you think of a great dining scene, but the resort town has actually made some strides in recent years. There are tons of time-honored local spots like No-Name Somtam (Hua Hin Soi 101. Open daily 11am-4pm)—you can see our definitive list of local Hua Hin dining here. There's also some decent upscale options and plenty of new places. Check out Amber Kitchen for all-day Thai and international comfort food. For seafood lovers, head to Big Fish & Bar, a beachside seafood and charcoal grill specialist that highlights the very best produce from the catch of the day—every scallop or shrimp you eat is caught fresh. The seafood is top-notch, but it's also worth trying the lamb rack (B1,177)—tender and moreish. Unlike a lot of other beachside restaurants, you don't have to show up early to snag a stunning view of the ocean. Every seat in the house comes with a panoramic view.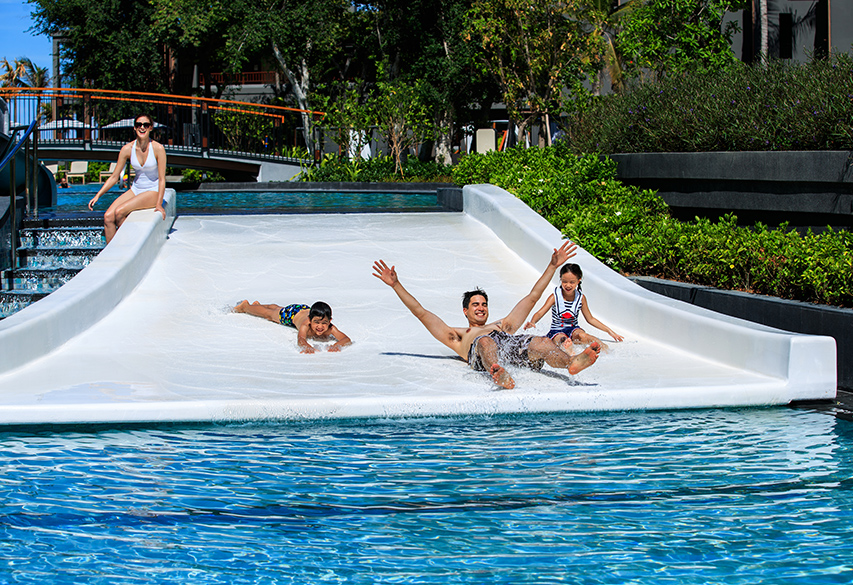 Lots of fun for the kids
Daily water fun aside, there are still plenty of places to let the little ones burn off some energy. Check out a few local markets, like Cicada Market (Cicada, Suan Sri Park, 032-536-606) for lovely handmade crafts and garden vibes, or the Hua Hin Artists Village (299/8 3218 Tambon Hin Lek Fai, 032 534 830), which has plenty of programs for children and adults. If you're staying at Hua Hin Marriott Resort & Spa, check out the in-house Kid's Club. There's lots to do, ranging from the beachside treehouse, pizza workshops and D.I.Y. watercolor painting. Parents can also get some downtime at the nearby Pool Bar while the kids are causing a ruckus.
For more information about Hua Hin Marriott Resort & Spa's latest deals, visit www.marriott.com.
---
This native ad was created by Asia City Studio. We use storytelling to help brands of all sizes influence and connect with people who matter. Visit us online: studio.asia-city.com

Sponsored by: