Kyoto is a beautiful blend of old and new, if you know where to look

Practice calligraphy at Wakwak-kan
Tucked away in Tenshucho near the Kyoto Imperial Palace, this two-story traditional Japanese shop-house offers a glimpse into the country's long-standing practice of highly sophisticated art forms such as calligraphy. Classes offer you a chance to create your masterpiece and delve into the Japanese philosophy of kaizen (continuous improvement). Visitors can experience wearing a kimono while the masters walk you through specific rules and manners. The dresses used are still handmade and each design is carefully crafted by in-house artisans.
761 Tenshucho, Takakura-dori, Nijo-agaru, Nakagyo-ku, Kyoto, +81 75-212-9993

Attend the tea ceremony and tea blend experience at Fukujuen
Founded in 1790, this flagship store of the age old tea company Fukujuen gives a rare glimpse into the formalities of traditional Japanese tea ceremonies. Here, you will see how each cup of tea is delicately blended and witness the tranquil atmosphere of the ceremony itself. The ceremony at Fukujuen is a minimized and modernized version of what Japan's old elite used to practice, but still retains the essence of the old days.
Fukujien Flagship Store, Kyoto, +81 75-221-6172

Sample European-Japanese fusion food at these two hidden gems
There is more to Kyoto than fresh slices of sashimi, sea urchin and steamy hotpot. Swing by Sodoh Higashiyama (www.thesodoh.com, +81 75-541-3331) in Kyoto's old town to take a break from tourists who constantly swamp the neighborhood. Located in a leafy setting, the restaurant serves Italian-Japanese fusion courses such as penne with eggplant and tomato cream sauce with al dente pasta served alonside caramelized eggplants. The semifreddo with drizzles of caramel is also a must-try.
Wander to downtown Kyoto to find the Fortune Garden (www.fortunegarden.com, +81-75-254-8843), which dishes up French-Japanese fusion food in a serene garden setting using ingredients like sea urchin and miso sauce to recreate classic French delicacies.

Witness stunning projection mapping at Kodai-ji Temple
It's not every day you get to see an old temple illuminated at night. After exploring the old town, spend at least half and hour strolling around the 400-century old Kodai-ji Temple being while it becomes illuminated by a massive projection system. The display is really stunning. Standing atop a nearby hill, you can see the age-old Yasaka pagoda standing tall among traditional wooden houses scattered throughout the area's old neighborhood. As the projection show begins, ancient facades and structures become bathed in vivid color lights evokes an otherworldly beauty. It's truly where ancient and modern meet. The event takes place in spring, summer and fall at specific periods, so it's definitely worth checking out their website (www.kodaiji.com/e_illumi.html) before booking your flight tickets.
526 Shimogawara-cho Kodai-ji, Higashiyama-ku, Kyoto, +81-75-561-9966
---
Travelling with a Toyota Hybrid in Japan
The Way of Life, The Way of Technology
If you are looking to get an up-close look at Toyota's "Hybrid Experience" for yourself, make sure to check out the Hybrid Experience Event happening right now at CentralWorld until March 11.
These experiences in Kyoto also help to illuminate how the special designs of hybrid cars also reflect the intricate way of Japanese life.
Japanese car manufacturer Toyota leans on its Japanese roots to help develop its world-renowned car technology—helping to comfort consumer to improve their only quality of life in a meaningful way. This process highlights the aforementioned philosophy of kaizen. Even though time changes everything, traditions are still charming.

Blending old and new like calligraphy
From generation to generation, Japanese culture has always encouraged people to live presently in the modern world. The long-standing tradition of Japanese calligraphy is a great example of this—blending tradition and modernity seamlessly. This, in essence, is what Toyota strives to achieve every day.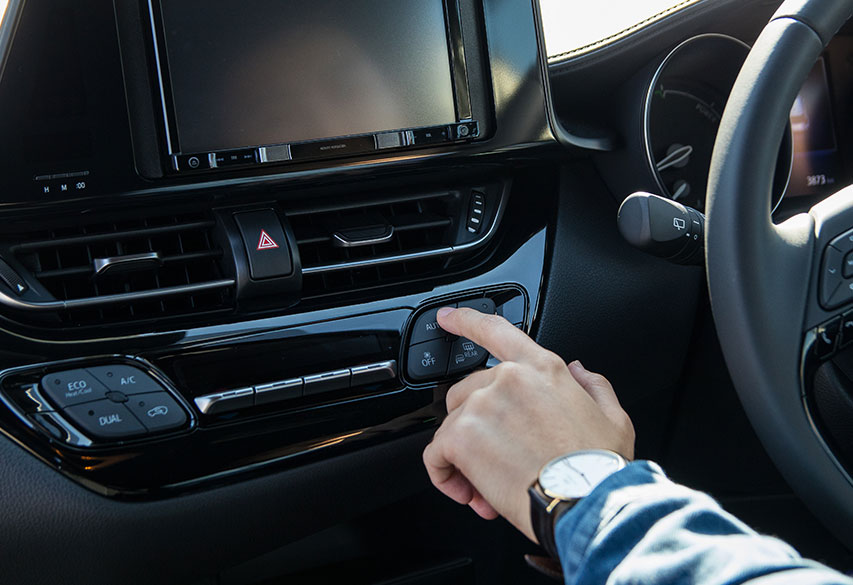 Understanding beauty and function with tea ceremonies
It might not seem obvious at first, but traditional Japanese tea ceremonies help to explain Toyota's philosophy of design and function. During the experience at Fukujuen, guests learn the intricate beauty of preparing traditional Japanese tea, which combines traditional practices with modern technology to produce the best results. Toyota uses this same approach when building its hybrid vehicles. Not only are they fuel efficient, but these cars also boast cutting-edge design.

Highlighting value through fusion food
Fusion food helps to highlight the different but mutual values of two different culinar styles. Toyota leans on this approach to make its hybrid vehicles by combining two different energy models into one car. This helps save fuel but also keep things fun for the driver, similar to the thrilling experience of tasting new food for the first time.
Combining nature and technology with projection mapping
Finally, the projection mapping at the Kodaiiji Temple is a perfect example of how technology and nature can be blended together. Using lighting and sound, these displays allow guests to see the temple's fantastic nature garden like never before. Toyota's hybrid vehicles take this approach as well—showing appreciation for the environment through highly advanced technology.
For Toyota, developing new technology is key to its growth, but so is preserving the traditions that got the world to where it is. The goal is constant improvement, becoming better and better every day and bringing happiness and peace to everything on earth, including the environment.
For those who want to have a glimpse of the "HYBRID" experience, you can come and visit the Toyota Hybrid Experience Event at Central World Bangkok 7-11 March 2018.
Stay tuned to Toyota's adventurous stories in Japan where ideas and culture are distilled into various forms of technology.
#hybridiscool
#ToyotaHybrid #Toyotahybridtripinjapan
For more information please visit website www.fb.com/toyotamotor.th/ or www.toyota.co.th/ or visit the "Hybrid Experience Event" at Central World Bangkok 7-11 March 2018
Sponsored by: