Five years ago, Thailand entered a long period of mourning after the loss of its long-serving monarch King Bhumbibol Adulyadej, who ruled the country for 70 years.
A quietness took root. It spread throughout the country. People wore dark colors, newspapers were published in gray, and all websites turned black and white. Mourners sobbed on the streets, and they carried their sorrow online, swapping profile pictures on social media for blacked-out images.
Their tears, however, quickly turned into rage after a man allegedly posted inappropriate comments regarding the former king's death online.
His comments ignited a sudden collective fury among Phuket residents.
Around 100 residents gathered in front of Nam Tao Hu Samkong on Yaowarat Road. They demanded the man be held accountable for insulting the monarch.
"You're the scum of the Earth," read signs carried by many protesters. "Don't you realize how grateful you should feel to have been born in this country?"
For an angry mob, these people seemed surprisingly happy. Their shouts could be heard clearly on the street, but occasionally they were overheard laughing. Many pulled out phones and live-streamed the event, inviting others to join them in their quest to restore the damaged honor of the former king.
A few days later, everything seemed to go back to normal, as if all the people in the crowd had forgotten about the events that night.
Not everyone could forget so easily.
In 2020, a short, three-minute film went viral online. It was created by Jittarin "Thank" Wuthipan, who documented the haunting memory he carried with him of the events in Phuket that night.
His film
still on my mind
has not only circulated online: it has also sparked countless conversations about anger, protests, the monarchy, and Thai culture in general. The short film was even officially selected for the 35th
Image Forum Festival
, organized in Tokyo earlier this year
.
We talked to the young director about his film, the experience that still haunts him, and his desire to combat historical amnesia in Thailand.
How much do you remember about the incident?
I was in the ninth grade. Many of my friends had gone out to that dessert shop, and they asked me if I wanted to join them. At first, I didn't know why people were gathering there so late. My best guess was that their nam tao hu (soymilk) was just so delicious that it was drawing crowds. Then my friends sent me a link to a live-stream of the mob. I was shocked. All I could make out was that the shop owner's son had posted something inappropriate regarding the king's death. But no matter how bad it was, he shouldn't have been subject to this kind of treatment—no one should.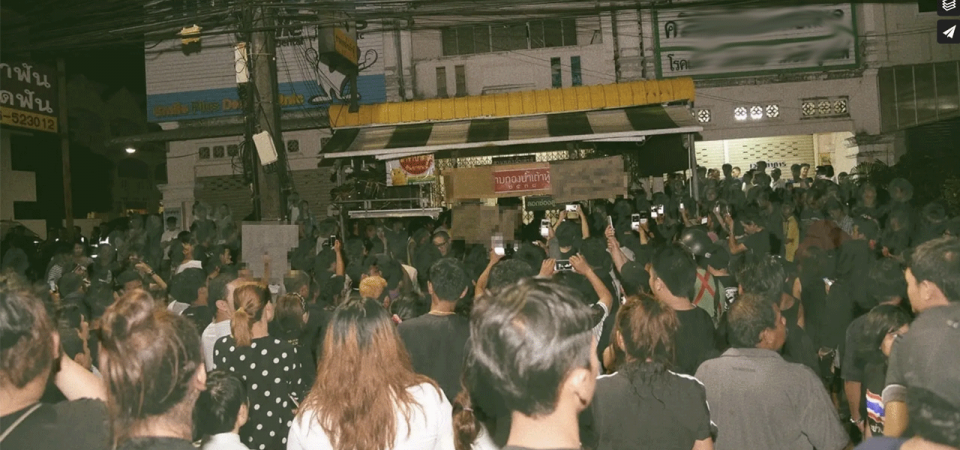 What did you do afterwards?
I started distancing myself from a lot of people I know—friends, families, everyone who was there in front of that shop. The next day, many of my friends who were there acted as if nothing happened. In fact, they were laughing, playing around, and talking like they already forgot what they did yesterday. It became more and more awkward to be around them, and I began to question the rationale behind their actions.
Back then, many mourners would turn their profile pictures to black-and-white. One person noticed that I didn't change mine, so he sent a warning to me that I should, saying: "It is dangerous [not to change your profile picture to grayscale.]" The whole situation made me scared and suffocated to be around them.
You mention that you were afraid to be around them. Why?
The most horrifying thing for me was how quick they could forget. It was terrifying to see how people you thought you knew could do something like that and relish in it. They were people I really admired and respected. But the way they acted during that night was different. Sure, they returned to their normal selves afterwards, but I was shocked that they didn't realize that they were destroying someone's life.
How did your friends and family react when they saw your film?
I published this film on Vimeo on October 13, 2020, the same day that the king passed away. Initially, the project was meant to be just a small memoir that I would share among my circle of friends. I didn't expect that my work would yield any impact. Things changed when Mit Sa Hai Than Nueng, a famous political page on Facebook, reposted my video. My inbox was bombarded with messages. I showed the film to my mom, and she was speechless. Many of my friends who were part of the mob also asked me if I always felt this way about the whole incident. Some pretended that they didn't raid the nam tao hu shop in the first place—they also wrote captions like they were shocked to see how people could be this cruel to one another. I also received threats from Phuket residents after publishing the film.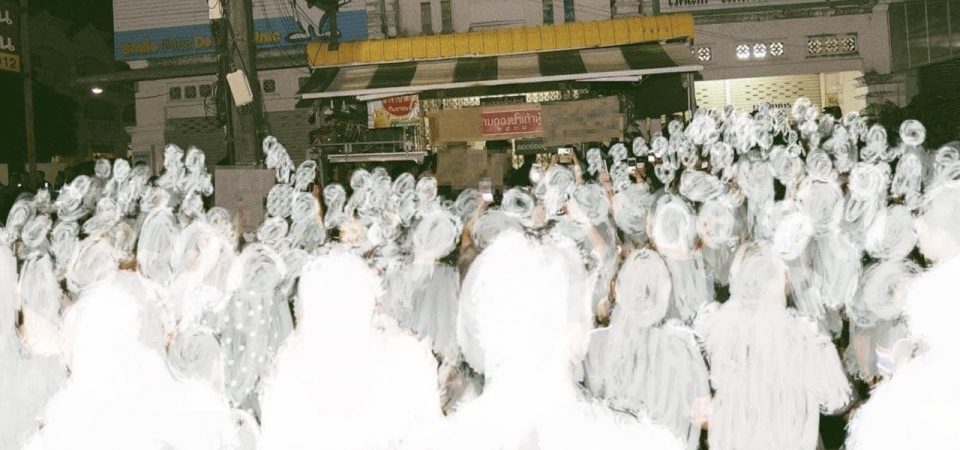 Can you explain the ghostly images of people at the end of the film?
These pictures are part of Angela Dean's work The Ghosts Within. To be honest, I'm not sure myself what Dean aims to depict in these little ghosts. In the film, I also incorporate her technique in painting people who took part in the incident in white. Personally, it reminds me of when I was a child. You may get upset with your friends and swear not to talk with them for the rest of your life. In the middle of your rage, you bring up all the pictures you had taken together and use a white pen to erase either you or your friends from the frame. But no matter how hard you attempt to erase yourself—or your friends—some traces remain. It isn't the same as deleting pictures on your computer.
I'm a big believer in keeping a digital footprint. When I uploaded this film online, I knew right away that even if my film were brought down, someone would save it and share it. The film, then, embodies both my frustration and trauma, and sometimes it does the talking in my place. Whenever I meet up with friends who seem ignorant of the whole situation in Thailand, I make them watch this film. Oftentimes, the film prompts them to think about the incident, and it sparks dialogue among those who feel the same trauma as I do.
You can watch still on my mind here:
All images above courtesy of Jittarin
"Thank" Wuthipan / still on my mind