Kolour's five-year run as Bangkok's dominant open-air techno and house festival is impressive in its own right, but last year Kolour promised to up its game and its 2019 line-up doesn't disappoint. The now single-day event hits Thai Wake Park on Mar 2.

It boasts an extensive list of heavy-hitter DJs and producers from across the globe—headlined by Belgian Charlotte de Witte, a female techno producer-slash-DJ who has exploded in popularity in recent years thanks to hits like 2015's "You're Mine" clocking in millions of views. The beefed-up artist ensemble (more on that below) follows Kolour's new ambitions to become Asia's number-one festival over the next several years. The event also pares back the timeline from two days to one, saying this provides a more immersive experience overall and helps guests get the most out of the festival while it is on. Backing up Charlotte de Witte is some serious electronic firepower.

The next biggest name on the list is arguably Masego, a jack-of-all-trades that boasts rapping, comedy, vocals, live saxophone playing and DJing, among other creative talents. Keeping with the soulful vibes, singer-songwriter SG Lewis is making the hike from Britain to spin his patented style of emotive house. Also joining the party will be South African dance/ electronic artist Floyd Lavine, Portland-based disco, funk and R&B producer Yung Bae, NY and Ibiza-based house DJ/producer Eskuche, Romanian electronic musician ATMA, American ghetto house music producer Juany Bravo and Bangkok's deep house and melodic techno live act Peking Opera.

The final wave of acts, just recently announced, includes Fur Coat, a Barcelona-based DJ and producer duo known for their unique salsa- and soul inspired beats that they developed in Venezuela, and Hayden James, who's been described by some as an "Australian electronic dance music genius" with subtle and delicate yet uplifting summer anthems layered with evocative vocals. The line-up rounds out with some local Thai acts, namely Boris Rubin, Dan Buri, Gramaphone Children, and Kuroten. Like previous years, the festival will also include a range of art installations and roaming art performances throughout Thai Wake Park. When you're not busy cutting up a rug, the festival's usual slate of food trucks, stalls, pop-up bars and mobile spa stations offer plenty of things to do when you need a break or to re-fuel.
For more information, see Singha's Facebook

KOLOUR IN THE PARK 2019
Tickets start at B1,500 (Kolour Plus+ are B2,900, which gets you access to VIP areas, afterparties, a private bar and a bunch more) and can be found on the event's website. There are limited tickets available at the door for B2,100 (B3,900 for Kolour Plus+). Check out the event Mar 2 at Thai Wake Park. Kolourinthepark.com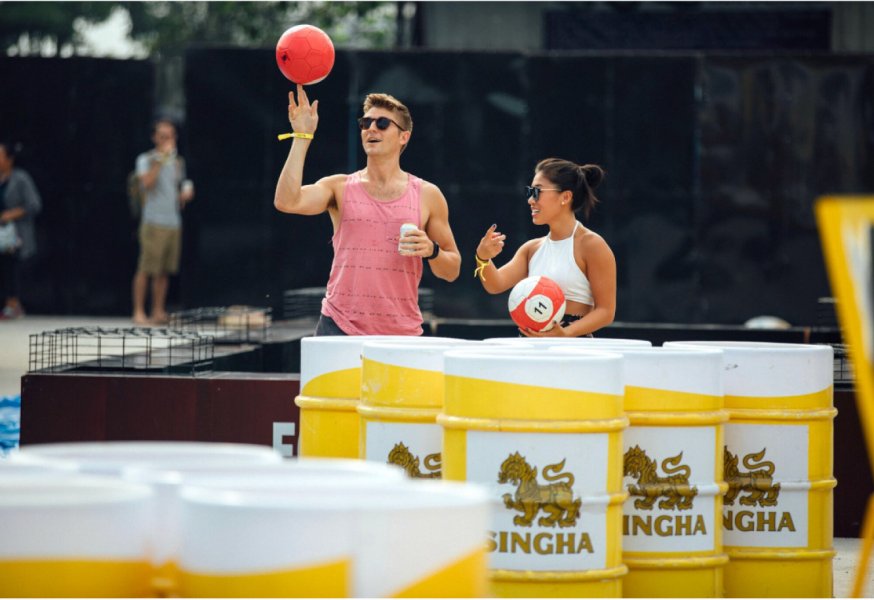 ---
This native ad was created by Asia City Studio. We use storytelling to help brands of all sizes influence and connect with people who matter. Visit us online: studio.asia-city.com

Sponsored by: