Beamfest—the festival established last year by nightclub favorite Beam—is back for more madness this Nov 16-18.
The music side of things promises genre-hopping headliners, from British deep house DJ Hot Since 82 and French electro-house DJ and producer Busy P to Atlanta's hot up-and-coming rapper MadeinTYO, as well as many familiar Bangkok names.
There will also be a molam stage by Studio Lam, an Auntys Haus pop-up streetwear stall featuring merch collaborations between Beamfest and Street X, and Mediterranean food from Appia (Nov 16), Vietnamese by Myanmar-based Rau Ram (Nov 17), and barbeque from Meat & Bones (Nov 18).
Ahead of the wild weekend, we spoke to three of the main attractions about their expectations for the festival.
Hot Since 82
The British house music producer, and winner of the DJ Awards 2015, is best known for his "Like You" track released in 2012.
What inspired you to become a musician?
All I've ever been interested in is music. My whole family is the same and all my mother's family members are in bands or play several instruments. I guess it's in my DNA!
Is this going to be your first time in Bangkok, are you excited?
Actually, I've been before where I played a festival with Loco Dice. I really love Thailand and the people, and of course the amazing culinary world you have. I'm more excited than ever.
What's your craziest concert/show experience?
I guess each show always offers something different. I really enjoy traveling and especially to places where I've never been before. It's often the more "off-the-beaten-track" shows that surprise me the most. I'm always grateful to play for anyone.
What usually inspires you to make music?
I guess music is made for a moment, a mood. Or at least it should be. I can only make music when I feel inspired by something.
Are there any new projects coming up soon?
Yes, I have my new album concept coming out early 2019 on my label Knee Deep In Sound. The project is called 8-track. I've been working on it all year and I'm so excited to release it. It's been inspired by some really tough times in my life over the last year or so and I hope it translates well to new and old fans.
What are your thoughts on Beamfest and Bangkok clubbing in general?
I think Thailand is a very colorful country and people always seem so happy. And, of course, they like to enjoy themselves. I'm looking forward to meeting new people and trying some delicious local street food.
Any tips do you have for Bangkok aspiring independent musicians?
Just do what makes you happy and follow your heart. Good things always come when you do this.

Yangon' Wild
Myanmar's hip, new collective combined of Vietnamese taco purveyor Rau Ram, coffee cocktails specialist Sawbwa Coffee Co and British-Burmese DJ Yu KT
Who is Yangon' Wild?
Yangon' Wild is a collective of three Yangon-based creative forces. We're all friends and have been on the scene in Yangon for a while so we thought it was high time for a collaboration.
Tell us more about your project
For Beamfest, our plan is to combine our formidable F&B and nightlife powers for one (incredibly lit) night in Bangkok. In a more general sense, we believe it's time for people outside of Myanmar to experience some of the deeply cool things happening in Yangon.
Is this going to be your first time doing something like this in Bangkok? Are you excited?
Kevin has been doing pop-ups across Asia for a few years for his cult brands, Rau Ram & Port Autonomy but this is his first time popping up at a festival. The Sawbwa boys are new to the scene, and are following up on a successful event in Yangon last month, where their Sawbwa Martini went viral. This is Yu KT's first foray into the Bangkok scene and an amazing springboard into her upcoming set at this year's Wonderfruit! We will get the chance to hang out with a lot of our friends from the Bangkok scene and introduce them to the Yangon crowd, which is always fun.
What's your craziest music festival experience?
We're actually not so crazy, ask anyone, so we're counting on Beamfest 2018 to be the craziest festival of our lives!
Are there any big, new exciting projects by you guys coming up soon?
We all have several things in the works but it's all a bit hush-hush. If Yangon' Wild at Beamfest goes well, you may be seeing more of us in the future!
Which headliner are you most excited about seeing at Beamfest?
Literally all of them!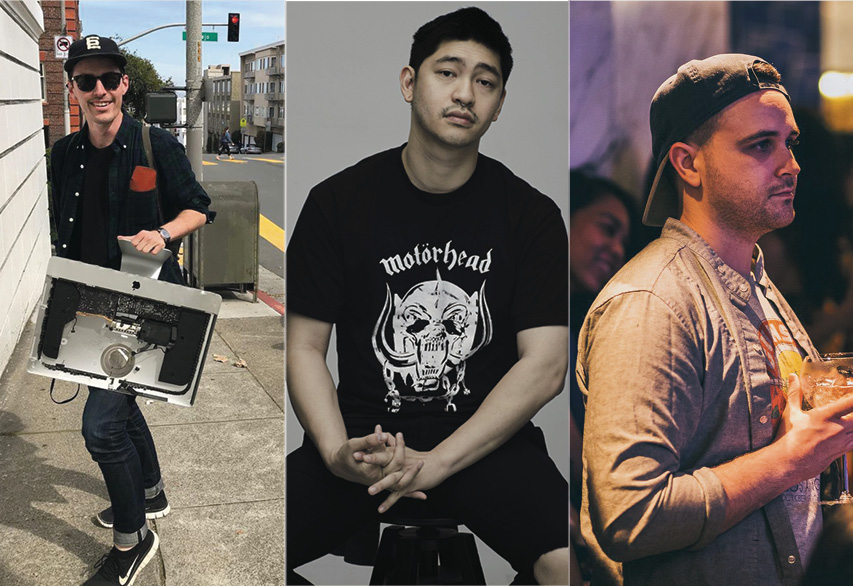 Blaq Lyte
Started back in 2016 as a tiny hole-in-the-wall hip-hop club on Sukhumvit Soi 39, Blaq Lyte became the city's most buzzing nightspot when it took over the space above Badmotel in Thonglor last year. Although that club recently closed, members Nick Supreda (pictured above, center), Mark Baker and Jack Brownson continue to throw events like January's Bangkok Block Party, which boasted five stages and a great turn-out.
What is Blaq Lyte going to be doing at Beam?
Nick: We are doing a pop-up for music and our Auntys Haus merchandise pop-up.
Can you give us a hint of what the collaboration would look like?
Nick: The merchandise collaboration is with Street X from Australia to do something special for Beamfest 2018.
What's your craziest music festival experience in Thailand?
Nick: Not sure about craziest but definitely memorable would be Bangkok Block Party. To see that kind of musical culture in Thailand was very impressive: how all kinds of music brought people together.
Are there any big, new, exciting projects by Blaq Lyte coming up soon?
Nick: We are always doing something but our Block Party is coming back for another year in January.
Which headliner are you most excited about seeing at Beamfest?
Nick: Definitely MadeinTYO.
Beamfest. Nov 16-18. 72 Courtyard, Sukhumvit Soi 55 (Thonglor), 02-392-7750. Tickets are B700/day on Ticketmelon.
---

Tired of searching for decent bars in Bangkok? BK Magazine's Bangkok After Dark (BAD) Nightlife Awards 2019 is here. Last year, we christened Bangkok's best bars, and now we're back for more with brand-new categories, activities and giveaways. Find out how you can win tickets to our VIP party November 21.