From Oct 31-Nov 3 some of Singapore's most beloved food and lifestyle brands will open pop-ups in The EmQuartier during an event called "Singatrail." The event offers all Lion City's finest—including nasi lemak, Cantonese and Hokkien classics, kebabs and burritos, soy and vegetarian delights, bubble tea and ice cream, and even durian. Admission is free (noon-10pm), the only thing you need to burn money on is food. It's like a Singapore food tour—only without stumbling through Changi Airport, beautiful as it may be.
Singaporeans love bubble tea—and one of the leading brands is R&B. Its menu starts with more than 30 tea bases—including macchiato, fruit-loaded brews, and oolong infused milk foam. But it doesn't shy from using ingredients like cream cheese either. Its Brown Sugar Boba series is legendary in Singapore. Try the classic milk tea with brown sugar pearls (B100), or dip into that classic line with a Brown Sugar Boba Milk (B120) or Brown Sugar Boba Milk with Cheese Brulee (B140).
Since opening in 2015, elemen has become Singapore's go to for wholesome meatless dishes—whipped up with natural and earthy recipes. For the best possible quality, it imports superfoods from foreign countries. Its Singatrail offerings read like a best-of vegetarian fine-dining: stir-fried angel hair pasta in black truffle sauce (B120), stir-fried brown rice with preserved beancurd (B100), and fresh pizza topped with white mushrooms and white truffles (B140).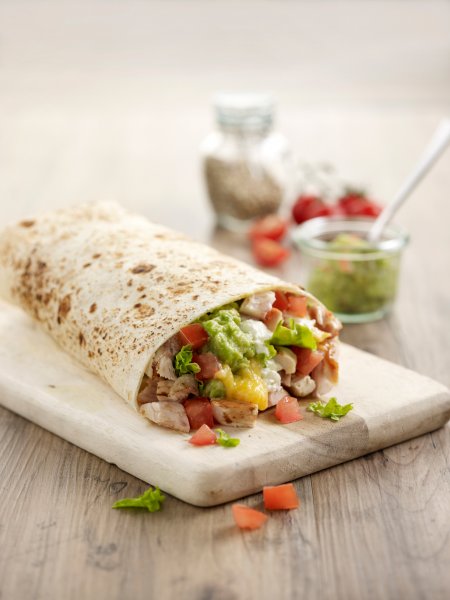 Stuff'd does just that: filling Mexican tortillas and Turkish flatbread with savory meats, fish and vegetables. It dominates both foods in Singapore, and is the city's largest Mexican and Turkish chain. It was even one of the first venues in the world to merge Central American al pastor burritos with central Asian spit-grilled kebabs. Come for the kebab (chicken B90/beef B100) or burrito (chicken B120/beef B130/veggie B120), and stick around for a quesadilla (chicken B140/beef B150) or daily bowl (chicken B135/beef B145/smoked salmon B160/veggie B135).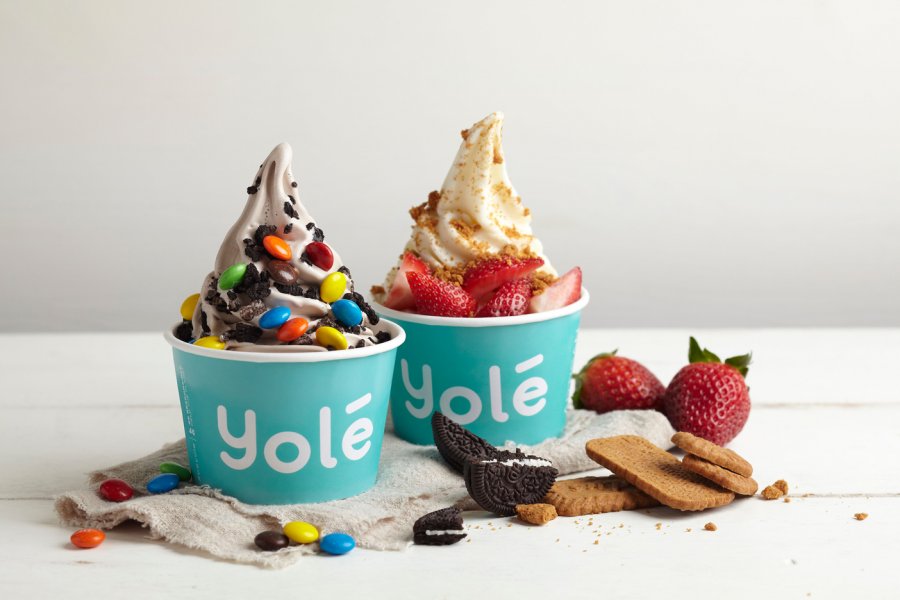 Yolé's ice cream is as healthy as it is tasty. It boasts top quality ingredients imported from Spain, and upholds the highest standards for production—with just a fraction of the calories of other brands. Healthy and tasty ice cream? Yolé is largely famous for trying to make that dream a reality. It's ice cream options come with a wide selection of fruit, crunches, and sauces. Like they say, there's a Yolé perfect for every occasion. Enjoy a natural flavored Yole with 2 toppings of your choice for just B99.
Now in its 25th year, Mr. Popiah began as a single stall at a coffee shop. Today it is one of Singapore's leading suppliers of thin skin popiah wrappers, spring rolls and pastries. From a state of the art 10,000 sq.-foot facility, it continues to distribute to hotels, restaurants, caterers and retailers. Its ready-to-eat meals are a Singapore classic, and appear in supermarkets, vending machines and petrol stations all over the island. Treats to try at Singatrail include Nyonya Popiah egg vegetable spring rolls, chicken burrito wraps and pastry Kueh Pie Tee cups.
Grain adeptly draws flavors from around the world—including Chinese beef char siew, Japanese unagi, Quinoa salads, deconstructed American burgers and Mediterranean flavors. It is known in Singapore for its philosophy—it puts great thought into how food makes us feel, and how it brings us together. At Singatrail, expect Malay nasi lemak with chicken and egg and homemade sambal sauce (B120) and Norwegian salmon, torched and then touched with citrus vinaigrette on parsley-spinach fusilli (B120).
The Soy Inc

Enjoying a good bowl of soya beancurd is a very Singapore way to start the day. The Soy Inc believes there's no reason to stop there—everybody should have access to fresh organic food all the time. Its innovative soy products and drinks include soy milk and soy milk tea, and milk tea with soy pudding. With extensive business experience, a passion for healthy food and rich nutritional and delectable products, The Soy Inc is winning hearts across Southeast Asia.
SPW (Siang Poh Wang) is a snack specialist passionate about traditional and generational foods. Chinese heritage is especially emphasized, but SPW also makes excellent Japanese mochi—with peanuts, green tea and more (B65). Family friendly treats include soya beancurd and su char shao buns. For a nostalgic taste, it's hard to beat glutinous rice balls—with red bean, yam, matcha, sesame and more (B45/bowl)—enjoyed with a ginger tea.
In 1979, Mr. Thian Boon Hua started a small stall in Chinatown serving Cantonese chicken and rice. His silky white sauce and outstanding service drew big crowds, and with his family's support he opened Boon Tong Kee (restaurant) at Balestier Road in 1983. Accolades and rave reviews followed, and outlets spawned in rapid succession. Today it is Singapore's most famous boiled chicken rice. Enjoy that classic dish with sides like mixed vegetables (B160) and crispy tofu, fried baby kaila greens and imperial pork ribs (B190). The shop's legendary toppings are also available, including: crispy powder (B80), chili sauce (B260) and XO (B380).
For over 50 years, Hoo Kee Bak Chang has been tantalizing Singaporeans taste buds with traditional, authentic and delectable rice dumplings (bak chang) made the traditional Hokkien way (B60). It's more flavourful than theirn Nonya or canton counteparts- not that they have nonya canton variation.
PrataWala
Prata Wala is a halal certified South Asian chain with a ton of awards—including accolades for Best Asian Restaurant, Outstanding Indian and Customer Service Excellence. It fearlessly tackles classics from across the subcontinent—north, south, Muslim, Hindu and even vegetarian. Enjoy prata flatbread with egg, fish, dahl gravy, curry, butter, mutton and more (B30-170). There's also butter chicken biryani (B150); curry biryani with chicken or mutton (B100/170); tikka samplers with chicken, mutton or fish (B120-150); and of course, naan (B30) and the butter chicken naan set (B150).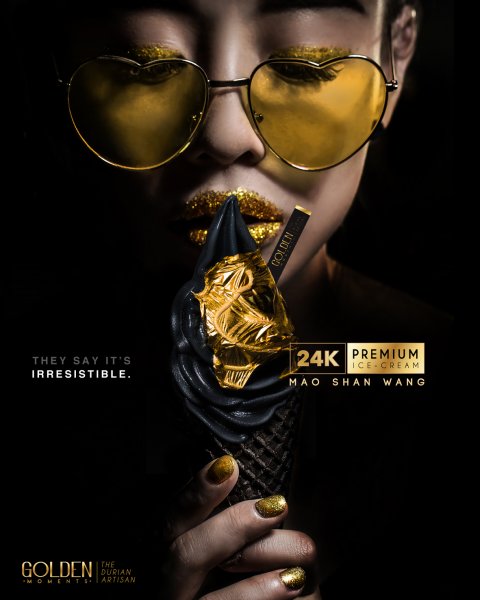 There is no second best for Golden Moments. Its motto is "to please, deliver, satisfy and serve. You deserve only the best. You deserve Gold." And that gold can be found in some of Asia's best durians. The gold in the name and motto is no misnomer either. One of Golden Moments' signature products is The Golden QQ—100 percent pure durian puree balls, with bamboo charcoal skins, dusted with 24K gold dust (B320). Also enjoy Mao Shan Wang Ice-Cream (B230) and Dark Chocolate Mao Shan Wang Macarons (B400). Founded in 2017, Golden Moments is already on its way to launching a durian revolution.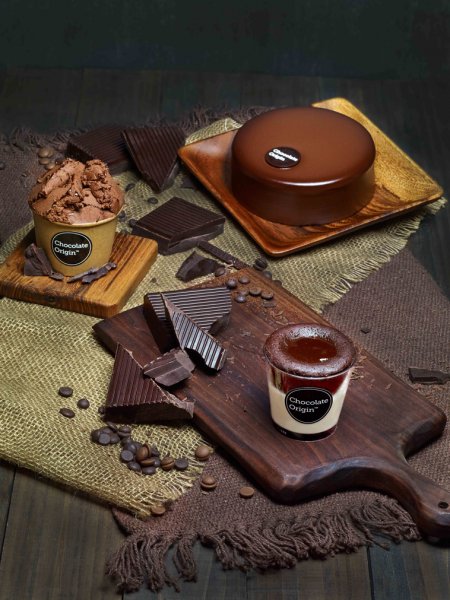 Chocolate Origin believes in just that—the best possible core specialty ingredients, to make the best possible chocolate products. The retail specialist has a carefully curated menu, designed and refined by expert chefs. Indulgent desserts include chocolate cake (B170), chocolate lava cake (B130), chocolate gelato (B110) and chocolate soft serve ice cream (B190).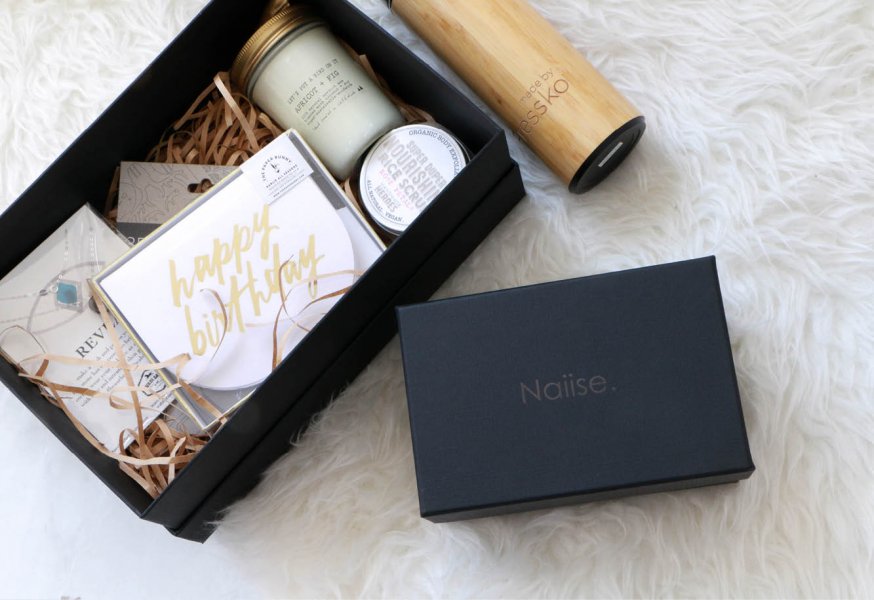 Naiise is one of Southeast Asia's largest and fastest growing design retailers; offering over 20,000 products from more than 800 emerging and established designers from around the world. Specially curated merchandise includes snacks, tea and coffee, as well as simple design for just about anyone—including beauty supplies, colognes, clothes, backpacks and tote bags, kitchen wares, home furnishings, stationary, and even postcards and Singapore art prints.
EmQuartier 698 693,695 Sukhumvit Rd. fb.com/events/709026579563572
Sponsored by: