Thursday, May 26
Catch 15 documentary films at the American Documentary Film Festival 2022 in partnership with the US Embassy Bangkok. Free entry with advance booking only via link, Doc Club & Pub.
Friday, May 27

The biggest motorbike show in Southeast Asia hits downtown Bangkok with six zones of shops for motorcycle lovers. Free entry, Central World. May 27-29.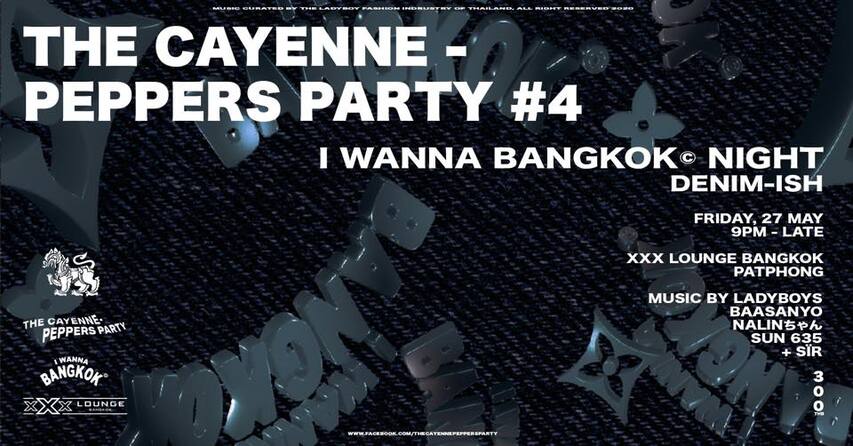 Not normally the sort of venue we'd recommend, but put on your denim and celebrate diversity at this LGBTQ-friendly party with music by the transgender community and hosted by transgender model, Nalin Chanl. B300 via Ticketmelon, XXX Lounge Bar (Patpong Soi 2).
Celebrate the 10th year anniversary of Bangkok's favorite dive bar with craft beer, Wisconsin-style food, and live bands. Free-entry. Fatty's Bar and Diner.
Take a break from the Bangkok party scene and head to Pattaya for a huge international DJ list from around the globe. B1,500 includes 2 drinks via Eventpop, Siam@Siam Design Hotel, Pattaya.
Bangkok's favorite Queertopia party is back after two long years; headliner Azula transports you to "Queer Multiverse". B250, Tropic Galaxy.
Local artist JKBoy (aka Jatenipat Ketpradit) presents portraits of tribal faces from around the world. Free entry, River City Bangkok.
Saturday, May 28
HotD hosts a small-group beer tasting of eight beers from Germany, Austria, and Latvia. B1,400 advance booking only, Hair of the Dog (Phromphong).
2021's Jury Prize Cannes Winner director together with DuckUnit and Pat Pataranutaporn interpret the beauty of light, the human body, and technology via their collaborative art. Free entry, Bangkok Citycity Gallery. May 28-Jul 10.
Dress up as the current Netflix's hottest Indian movie character for a chance to win the best-dressed prize, and enjoy cocktails with complimentary Indian tapas. Free entry, Sampan.
Catch local DJs Soi Dogs, Mo-Funk, and Alex Fischer at this techno club takeover at the rooftop garden of Phromphong's shopping mall. B600 via link, EmQuartier.
The market for shoe lovers which includes custom, repair, care, workshop, and all the things about shoes. Free entry, Lido Connect. May 28-29.
Shop for vintage goods, apparel, brand names, old books, vinyl, and handmade crafts at this pop up flea market. Free entry. Larn Luang Nang Lerng.

The Commons' Block Party gathering the community together again after two years. Enjoy workshops, vendors, family fun, and live music. Pet friendly. Free-entry, The Commons.
Grab vegan-friendly food, workshops, and day-drink to live music. Free entry, Yellow Lane Cafe. May 28-29.
Sunday, May 29
Celebrate wellness, music, and arts and crafts with soothing wellness sessions of healing, yoga, and tea ceremonies with sustainable vendors serving healthy food. Free entry, Amari Watergate.
Twilight Fever Dream
Local artist Patpong "Oat" Montien presents his installation research project into queerness and LGBTQ+ history in Bangkok. Free entry, Candle Light Studio, 3/F Bar Bar (Patpong Soi 2). Until Jun 23.