As we scale down the escalator and look out onto the courtyard that connects Siam Center and
Paragon
, we can't help but feel a tinge of excitement. There's a sign reading "Opening Day 17 May 2020" above the entrance to the car park. The fountains are spurting again. The proverbial red carpets have been sanitized and rolled out. Just two months ago, an afternoon of mall-hopping would have sounded about as exciting as a Saturday night of watching "Guardians of the Sun" on ketamine. But here we are.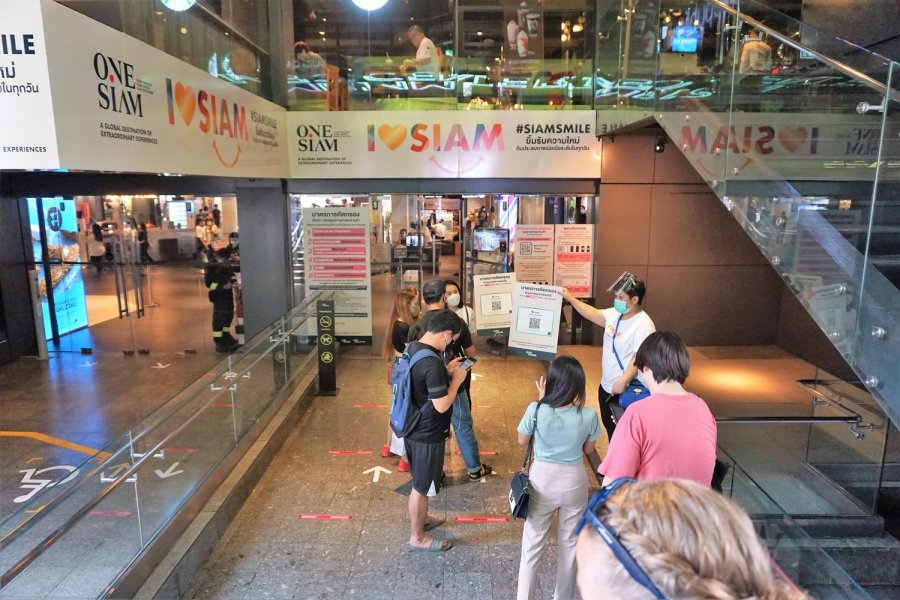 Torn between the opposite experiences before us, we choose Siam Center as our first destination. The darkest, smallest, least identifiable of the Siam malls has less of a queue and strikes us as a safe place to get our feet wet as we prepare to embrace the exceedingly cautious middle-class consumer within us.
At the door, we're met by a woman who instructs us to scan a QR code with our phones. We've read up and know that this should lead to some sort of Thai-language-only app-slash-website called Thai Chana that will be used to track our location inside the malls, but still we ask: what is this for?
"It's for tracking," she replies, presumably smiling beneath her face shield and surgical mask.
And what will happen with our data when we leave the mall?
"Just for tracking," she says.
Facebook, Instagram, Youtube, Pornhub, Twitter, Tinder, Tops Supermarket—everyone has your data at this point anyway. We're pretty sure every mall you've ever entered already has it, too. And so we submit and step forward to be thermally scanned and professionally disinfected by a friendly employee wearing a business suit. He instructs us to stick our hands under a machine that auto-sprays alcohol gel and walk across a little platform that will also sanitize our ankles for some reason. We are now deeply clean.
Inside, life continues as normal. There are scores of people lounging in public chairs, enjoying free air-conditioning and WiFi hot spots, and even more heading up to the food court, where they will most likely make their only purchase of the day. The only difference is now we're all wearing face masks.
As we wind our way through the mall, we find that many stores have taped off sections to usher guests into one main entrance, where you must again scan a QR code and sign in using the Thai Chana website. When you leave, you must do the same. This seems odd and possibly unnecessary. After all, they can't track your every movement once you're in the mall, walking through the halls and taking selfies outside Sephora, and not all stores make you scan the Thai Chana QR code, either. If someone later tests positive for Covid-19, wouldn't everyone who was inside at the time have to get tested anyway?
We shrug and move on to Paragon via the ground floor. Lines spill out of one mall and file into the next like an army of cutter ants lugging plastic shopping bags. Outside Paragon, a man barks into a megaphone while extra helpers rush to have us scan printed-out QR codes under great duress. Our hands and ankles are once again sanitized.
The food hall has never been busier. We're happy to report that the queues for places such as Hua Seng Hong and Peppery Thai Bistro remain as long as ever; however, now they're just long because you're waiting to be seated at a table by yourself while those outside the restaurant ogle you like a zoo animal.
Upstairs, lone mall employees stand at the top of escalators, joylessly wiping down the handrails. The crowds are really forming now. The line outside Gucci is unreal. Don't these people know there's another one of these stores just down the road? Another floor up, the iStudio is equally rammed. Oh, how we've missed the singular pleasure of fiddling with iPhones and groping luxury handbags.
Finally, we enter a store in here. Kinokuniya only allows 150 guests inside at a time, and they abide by that number, too—a man with a hand counter manually tracks the number of people they've let in or out. After about a minute, we're allowed in to shop. Frankly, it feels good. We end up buying over half a dozen books that we might actually read instead of watching how-to videos on Youtube.
With two malls under our belt, we know what to expect when we arrive at
CentralWorld
. To our surprise, however, the checks here seem understated. We have our temperatures read and apply hand sanitizer for the seventh time in two hours, but our ankles are left exposed to the elements this time.
The mall is spacious and the crowds relatively thin. At Pull & Bear, we find they've gone the personal accountability route, granting you the freedom to check in using the Thai Chana app without an attendant staring over your shoulder. You also check yourself out without a minder. What a relief.
At Supersports, an attendant scans your temperature, but that's it—one shot and you're in. To make a purchase, you sign in via a QR code and have your temperature read, too. Just kidding! There are only a couple of cashiers working the registers, though, so the wait is longer than usual.
We exit CentralWorld without checking out via the Thai Chana app and wander over toward
Gaysorn
and Amarin feeling devious. At this point, we think we might have sucked down too much of our own CO2, so we pass on the opportunity to window shop for luxury fashion or, ah, do whatever it is you do at Amarin—eat at McDonald's, we guess?—and make for the BTS.
As we near the train, we look up at the garishly decorated Clover shop. We notice it's advertising tourist goods, and it hits us that, with international arrivals barred until at least July, this shop isn't going to be making many sales for close to half a year. The night before, some of us had visited
Talad Rod Fai Ratchada
and walked away with the same empty feeling in the pits of our stomachs. Places like these could be casualties of the coronavirus, too. That's the unfortunate reality of the situation.
At least businesses can reopen now. Because of that, life in the city seems more normal than it has in a long time, and that makes us feel good. Who knew Bangkok shopping malls could be symbols of hope?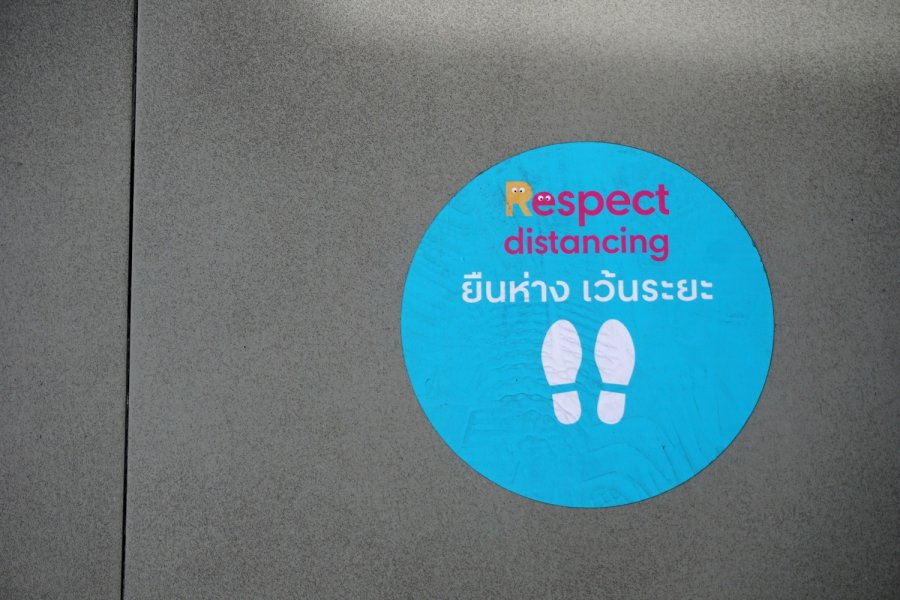 Hours spent in Bangkok malls
Two and a half
Hand sanitizer applications
12
Opportunities to use hand sanitizer
Infinity
Temperature checks
Four—six counting journeys on the BTS
QR codes scanned
19