Vinyl has been through its ups and downs, but in recent years the medium has found some stability in the market. In fact, after slumps brought on by CD sales and eventually steaming platforms, vinyl records have quietly bounced back in a big way. Global vinyl sales have increased by between 12-13-percent over the past two years thanks to collectors looking to deck out their music rooms and hunt for vintage record finds.
Bangkok has it's own budding vinyl scene hunting for that crate-digging fix. Two of the city's more well-known store owners are Siwakorn Charupongsa and Jitpol Saenrungmuang, who head up Fatblack Records. They sit down with BK to talk about what it's like to run a vinyl shop in 2019, and a recent collaboration with BMW to release a special vinyl record, BE MY WORLD, exclusively through Fatblack.
What got you interested in vinyl?
Siwakorn Charupongsa: My love for music was passed on to me by my father. He used to listen to Thai folk music on the radio every morning. When I came to Bangkok, I moved in with my cousin, and he introduced me to vinyl. Back then, vinyl was not as expensive [as it is now]. He had collected around 200-300 albums, including some Pink Floyd albums. That's when I really started to get into it—unlike other teenagers at the time, who usually listened to music on cassette tapes—and my love for vintage vinyl continued until the day I had enough money to collect albums myself. It's a delicate art, because you have to set up a completely quiet room and have a good system. There's a lot to learn, but that's what makes vinyl so exciting.
Jitpol Saenrungmuang: I grew up in the cassette tape era as well. I remember using cassette tapes to record songs off the radio. After I became a musician, I started buying higher quality audio equipment and looking for different music formats that could give me a new listening experience. That was 16 years ago, but I wasn't really interested in vinyl—not until I got bored of CDs. That's when I started collecting vinyl and noticed what it offered that other formats couldn't, like better music quality and a better ambience. CDs are easy, because you can buy them and play them almost anywhere. Vinyl gives a different vibe, though—you can appreciate the character of the songs and what musicians are trying to say with every note they play.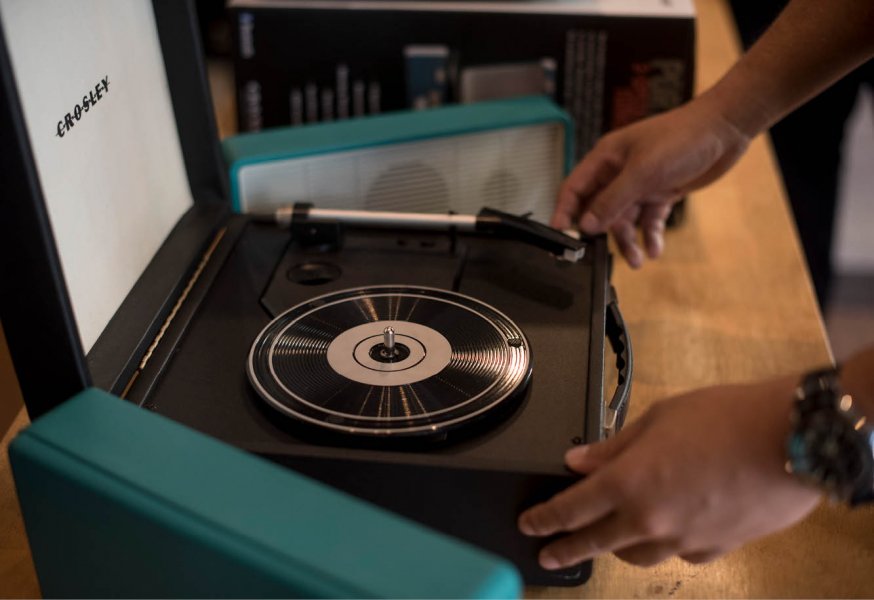 Tell us about the album that got you hooked on vinyl.
Jitpol Saenrungmuang: For me, it was Pink Floyd's "The Wall ." That album came out when vinyl was at its peak, and if you were listening to Pink Floyd, you were cool. The quality was so excellent, and that experience with high quality sound was exciting to me.
Siwakorn Charupongsa: There are lots of albums that blew me away, but the one I keep coming back to was an old album of ballroom dance songs that my parents owned. It made me feel as if I were stepping back into an era when my parents were young. That album also sparked my interest in old Thai songs and digging for long-lost albums, which is so fun.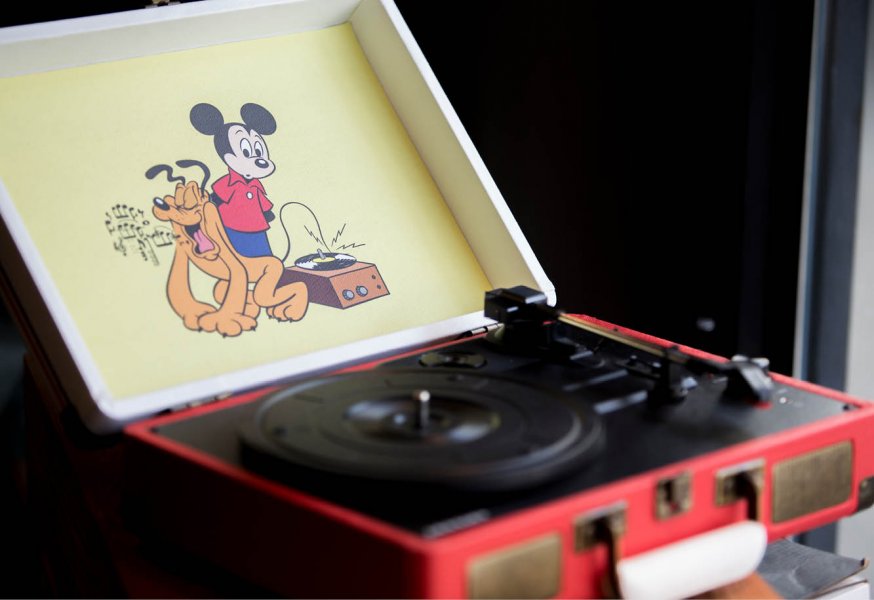 How did you two meet?
Siwakorn Charupongsa: We're both members of an audio equipment group. Buying every piece of equipment on the market will drive you broke, though, so we would buy different things and go to each other's houses to try out what we had each bought.
Jitpol Saenrungmuang: I joined the group because I wanted to meet other people like me who appreciate vinyl through and through. After I started going to Siwakorn's house, we became friends and traveled abroad together. We get along well, because we're always on the same wavelength, and he's opened my eyes to so many different types of music.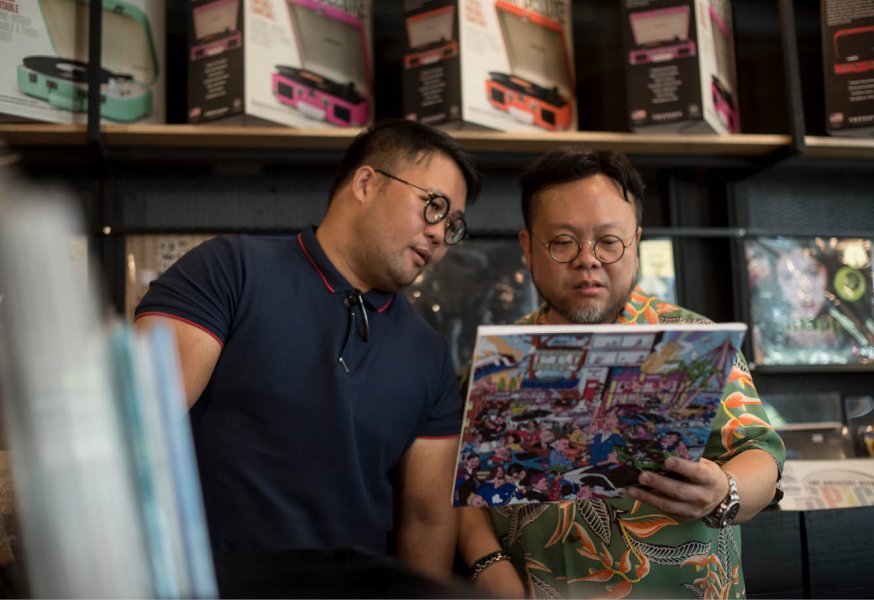 When you were young, did you ever think you would own a vinyl shop?
Jitpol Saenrungmuang: Never. But I think life isn't about what we previously wanted to be—it's about what we want to do today and tomorrow. If you feel like you want to do something different in the moment, then go for it. If it doesn't work, at least you can say you've tried.
Siwakorn Charupongsa: I've always been into music. But I just knew that I like this and I want to sell this. When we decided we wanted to start the business, Jitpol stepped up and took care of the financial and business side of things—I tend to approach business without plans. But without Jitpol, the business would have collapsed a long time ago.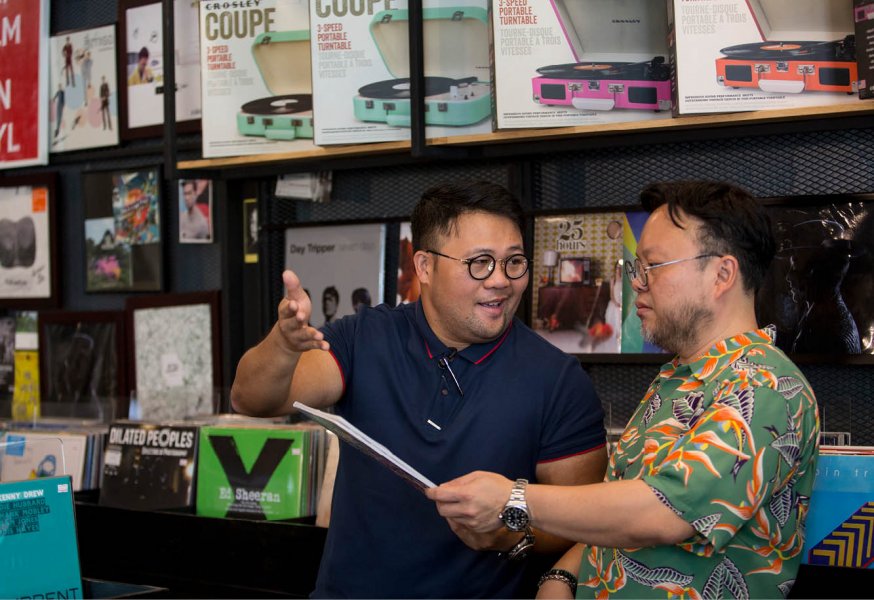 What challenges did you face when you launched Fatblack Records?
Jitpol Saenrungmuang: At the beginning, the shop only sold indie albums, with a focus on honesty, integrity, and loyalty to our customers. We've always provided honest suggestions to our customers. The challenge was earning their trust, but I think our sincerity has helped us get to a level that keeps customers coming back.
Siwakorn Charupongsa: When we first opened the shop, the biggest challenge was trying to earn loyalty from new customers and build our reputation. There are lots of people who aren't familiar with vinyl equipment. So we tell them there's no need to buy anything today; just try listening to it for now. If you want to listen to more of it, then come again and consider buying something. We tried to put ourselves in their shoes. It's like what Jitpol said: we're focused on sincerity. We believe in the same principles when we help produce vinyl albums for Thai artists.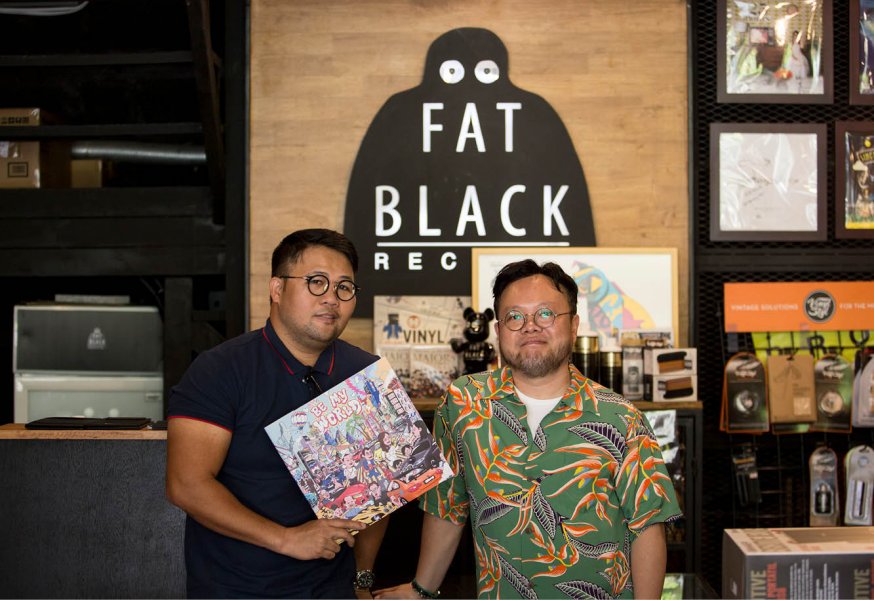 Tell us more about making a record for Boyd Kosiyabong.
Siwakorn Charupongsa: It's an exclusive project for BMW customers called BE MY WORLD that features rare recordings of Boyd Kosiyabong that have never been available before. This is the first time we've worked with him. He's a hugely successful artist with tons of fans, so creating a vinyl product for him was really special for us. It's truly a hidden gem, too—the music all comes from reel tapes recorded at his live sessions in 1995. This 'lost tape' type of thing has never happened in the Thai music industry before and it makes me feel excited to think that we're going to put those records out for listeners' ears with Boyd's approval.
Jitpol Saenrungmuang: Our mindset when working with these songs was, "How we can make the best quality out of it to serve listeners?" It's a fantastic album and worth collecting—whether for the sound quality, the beautiful album artwork, or hidden nuance in each track.
The exclusive album BE MY WORLD is available at B2,200. Members of BMW's JOY program can pre-order the album before public release by clicking here
Visit www.facebook.com/BMWUltimateJOY for more information