Travel gear to get you from here to there
Huawei Color Band A2 (B2,990) — Don't miss your flight. A clean look built around an XL OLED multi-touch screen makes it ideal for him or her. But that's just the start—the A2 can also track your hikes, and your sleep. Be sure to set the 'Reminders' function with your flight departure time.
Least Studio Hype passport holder (B490) — Make sure you've got that ultra-essential document safely stowed. The standout green cover is made from a rubber cutting mat.
Calpak carry on bags (B5,100) — For her: Calpak's carry on luggage line is beautiful. Lightweight hard-sided models like Astyll, Terrazzo, and Gold Marble are aesthetically designed from sheets of cut stone.
JBL Reflect Mini BT wireless headphones (B3,990) — For her: these were originally designed for workouts. They're comfy and practical, and with Bluetooth, can connect to just about anything.
Marshall Major II Headphones (B4,390) — For him: straightforward classic headphones that are lightweight and stable. They've got a firm snug grip, but plenty of padding—perfect for journeys on the move.
Matador Travel Ear Plugs (B490) — In case you want to go the opposite direction. Noisy trains, crowded airports—these can really save your sanity … and your trip. Perfect if your hotel is a little too close to the nightlife district.
Stay fresh on your trip with deluxe toiletries and essential travel threads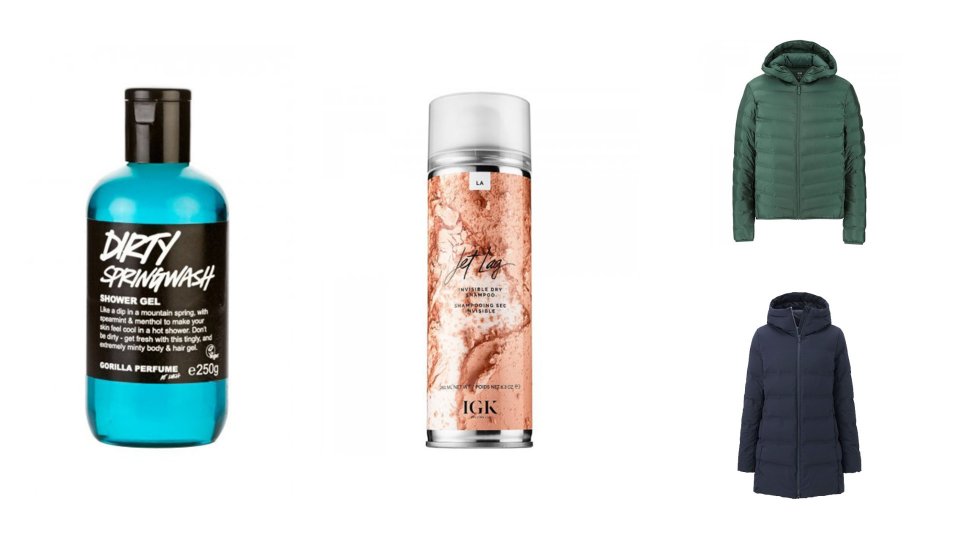 Dirty Springwash shower gel by Lush (B895) — For him: sure the name is an oxymoron. But the mint tingle from the suds feel like it has extra scouring power. It's made with spearmint and menthol crystals, plus vegetarian glycerin and sea salt, too. Ideal for washing off too many miles.
IGK Jet Lag Dry Shampoo (B1,160) — For her: a care product that borders on pure magic. A scrub of this finely-milled volcanic ash erases oils, cleanses mild dirt and refreshes hair. It's a wonder on your scalp—and practically invisible.
Uniqlo's Seamless Down Short Coat (B4,990) — For her: the perfect final layer for adventures in and through frozen terrain. The extra length around the thigh keeps you that much warmer. The design is free of exterior stitching, which means it's extra water-resistant and windproof.
Uniqlo's Ultra Light Down Seamless Parka (B2,990) — For him: a longtime classic. Affordable, functional and durable. Boasts a stylish contoured hood and a thin nylon riptop shell.
Don't forget the luxuries! These consummate quality of life kickers-slash-final touches elevate your trip to one for the ages
Lomography Sanremo Edition Instant Camera (B4,600) — Buck the digital trend. Capture some cool keepsakes, send your own postcards and print and leave some mementos behind too.
The new Glenlivet Triple Cask Collection — The Glenlivet, one of the world's best-loved brands recently released a refreshed trio collection of single malts, exclusive to airports. Each expression is triple cask matured and demonstrates how a careful interplay of whiskies matured in three different types of cask can add depth and complexity in a different way.
Scotch Rocks whiskey rocks (B3,533) — Why not cool down your Glenlivet with these premium whiskey rocks? That's a steep price tag, but it is worth it. These designer cubes are essential—and keep your whiskey velvety smooth, without watering down the flavor.
---
The Ultimate Traveler's Luxury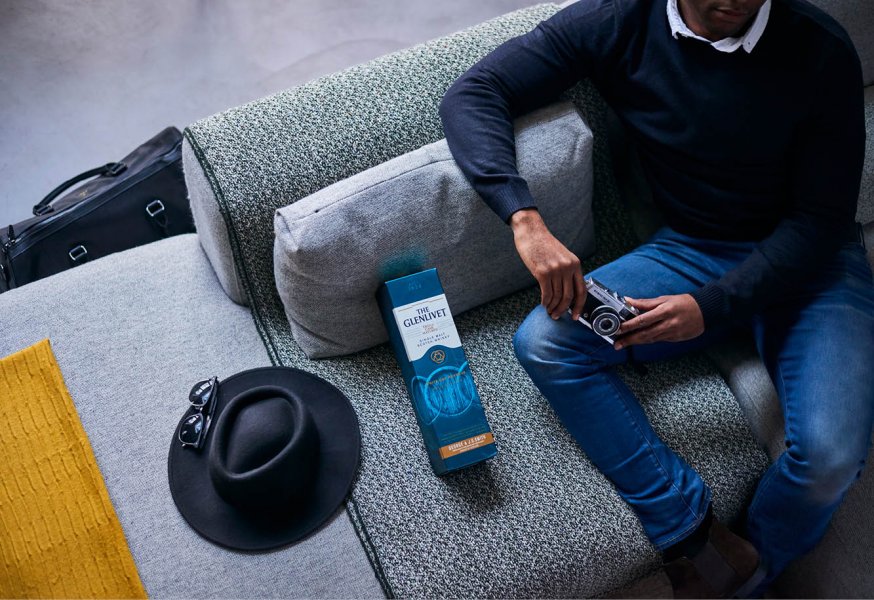 There is nothing better than enjoying a quiet moment in a scenic spot with a smooth glass of quality whisky on the rocks. It truly is the highlight of your trip. And the better the company around you, the better the whisky is during your travels.
And the new Triple Cask Collection from The Glenlivet tells flavor-focused stories of its own—travelling from cask to cask to create tastes that are refined, elite and smooth. Master Distiller Alex Winchester combines American White Oak, Traditional and Ex Sherry casks in varying proportions to amplify depth and complexity in all three single malts. Each whisky has its own unique flavor profile: the balanced fruity overtones of the Distiller's Reserve; the sweet and velvety composure of the White Oak Reserve, and the rich and spicy flavors of the Rare Cask.
Come visit the duty-free stores at the international airport now and discover your new travel companion for your adventure ahead.
Learn more about this exclusive collection here.
FB: TheGlenlivetTH
IG: @theglenlivet
Twitter: @TheGlenlivet
Sponsored by: