Wild Thing
The '70s bohemian and ethnic print revival shows no sign of slowing down. The latest offshoots go beyond twee floral prints into more elegant territory. Kloset's Women on the Moon collection achieves a bold tropical mood that's representative of Paul Gauguin's impressionist paintings. Meanwhile, Senada's Into the Wild collection sticks to the brand's girly identity but gets adventurous with darker shades and ethnic prints.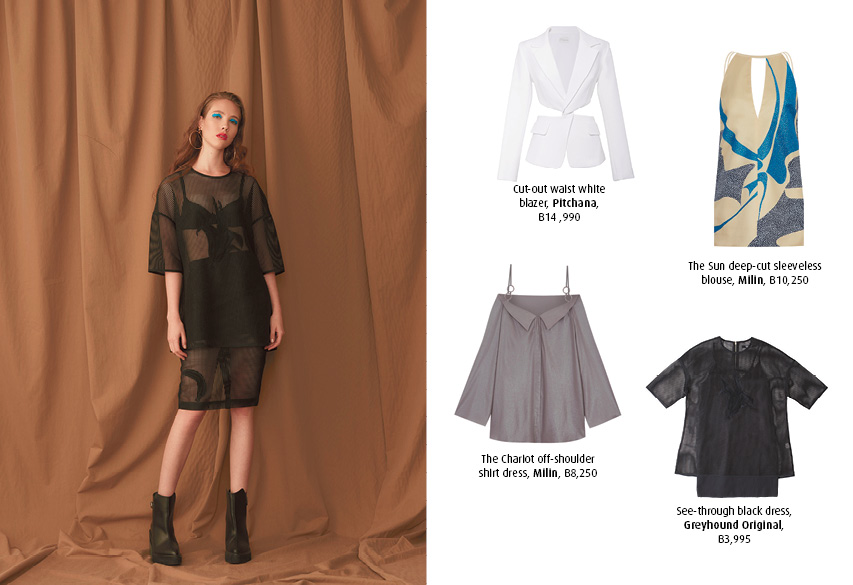 Show Some Skin
This summer, there's more reason than just the heat to let your skin shine. For a sweet and sexy look, consider one of the many off-shoulder and deep-cut options from Milin's Myth Universe collection. Looking for something more sophisticated? Choose a black sheer blouse or something with a cut-out waist or back for a sexy lady boss look—try Greyhound's Summer Art and Pitchana's The Upper East Side collections.
Pleats Please
Pleats. They're all over global runways, but have never really made it into dailywear here. Until this year. Both Thai and international ready-to-wear brands are proving pleats aren't just for the oldies (or Chula students)—see the youthful designs from ASV, Senada and Kloset. The tip is to keep your top minimal.
Color Block
This season's palette is all about deep tropical tones like mustard yellow, brick orange, maroon and burgundy red, and pine green. Don't worry about combining colors—just make sure they're all going in the same direction (like avoiding pastels with hot tones). On this topic, colorblocking is back, such as with
Senada
's collection which mixes an all-green dress with deep-red shoes.
---
Essentials
Kloset. 3/F, Siam Center, Rama 1 Rd., 02-658-1729. BTS Siam
Senada. 3/F, Siam Center, Rama 1 Rd., 02-252-2757. BTS Siam
Greyhound Original. 3/F, Siam Center, Rama 1 Rd., 02-251-4917. BTS Siam
ASV. 1/F, Siam Paragon, Rama 1 Rd., 080-049-1335. BTS Siam
Milin. 3/F, Siam Center, Rama 1 Rd., 02-658-1134. BTS Siam
Pitchana. 2/F, Central Chidlom, 1027 Phloen Chit Rd., 084-411-9955. BTS Chit Lom