We've been hibernating in our houses for so long that it's a struggle to get off the couch. If you're yet to revisit your pre-paid CrossFit class, then these on-the-go energy boosters could be the workout buddies you so desperately need. But which one tastes the best? We put six protein bars from around the world to the test to find out.

Carman's
WINNER!
The brand: This Australian-owned brand is known for using all-natural ingredients in its products.
The taste: Loaded with nuts and cranberries in every bite, this gluten-free bar truly stands out from the pack. Not too sweet or artificial, it would make the perfect camping snack. In the words of mama Ru, "You're a winner, baby."
Protein content: 7.5g/45g
Flavor: Almond, Cashew and Cranberry (B72)
Verdict: Protein bar realness
Available at Villa Market
Rude Health
RUNNER UP!
The brand: This London-based health food company is known for its cereals and dairy-free milks.
The taste: Though this naturally sweet, peanutty bar is a little leathery and hard to swallow, the more we chew it, the more it makes us salivate, and the aftertaste is strangely moreish. We can see ourselves enjoying the entire bar.
Protein content: 4.9g/35g
Flavor: The Peanut (B83)
Verdict: Late bloomer
Available at Villa Market
RxBar
The brand: Two friends from Chicago set out to make a truly nutritious protein bar in 2012 and the rest is history.
The taste: With clean and modern packaging, this enticing sea salt-sprinkled bar looks almost like a brownie. Its tough, elasticky texture requires some jaw work but flavors of nuts, dates and cacao nibs indicate that it is genuinely good for you. We sure feel like we could hit the gym after eating it.
Protein content: 12g/52g
Flavor: Chocolate Sea Salt (B119)
Verdict: No BS
Available at Villa Market
Promax
The brand: This Pennsylvania-born company has been busting out nutritious bars since 1996.
The taste: As soon as we put it in our mouths, we're reminded of the peanutty taste and crunchy texture of toob tub (Thai smashed peanut). The bar itself is hefty enough to be a meal supplement, placing it on the verge of being the opposite of a guilt-free bar.
Protein content: 20g/75g
Flavor: Nutty Butter Crisp (B129)
Verdict: Large and in charge
Available at Villa Market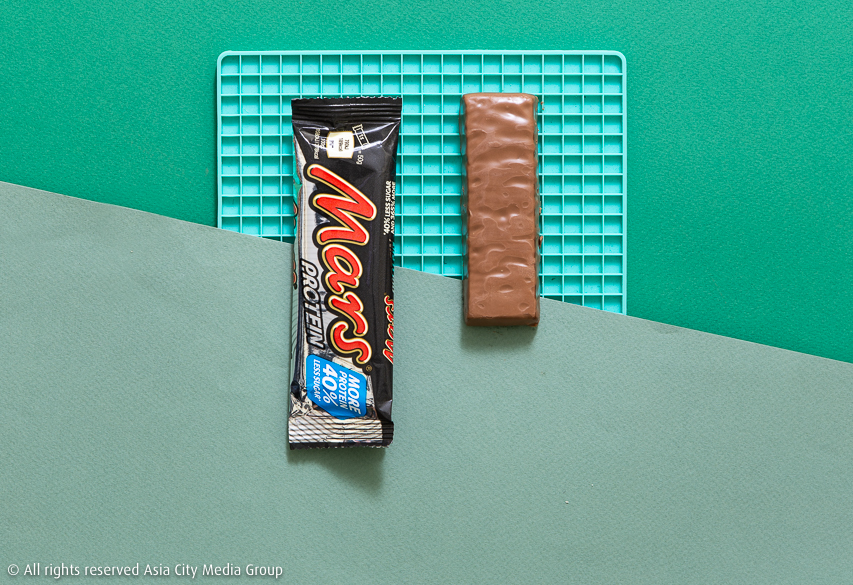 Mars
The brand: The mastermind behind this crowd-pleasing treat is Forrest Mars, who modeled it after his father's Milky Way bar.
The taste: It looks just like the original Mars bar and tastes pretty much the same too, but on the grainier and saltier side. The decadent flavor of nougat and caramel has us wondering if this bar really is healthy or not.
Protein content: 10g/50g
Flavor: Mars Protein (B129)
Verdict: Life on Mars?
Available at Villa Market
Go On
The brand: Born in Poland, healthy food company Sante deals in everything from whey protein powder to oat flakes.
The taste: If you're a Bounty fanatic, then this tropical treat is for you. Tasty as it may be, it's way too sweet for our liking and the shredded coconut is somewhat overwhelming.
Protein content: 15g/50g
Flavor: Coconut and Milk Chocolate (B69)
Verdict: Bounty hunter
Available at Villa Market