Statistics indicate that the world uses 500 billion plastic cups each year. Of those, 16 billion are disposable coffee cups coated with polyethylene, a thin plastic lining that makes them extra hard to recycle. Instead of kicking your caffeine habit, why not switch to one of these stylish reusable mugs?
Foldable Coffee Cup
Brand: Refill Station
What: Aside from letting you bring empty containers of shampoo, shower gel and detergent to refill, On Nut's bulk store, Refill Station, also sells a spread of eco-friendly products. Here, you'll find bamboo straws, toothbrushes, wheat straw utensils, reusable pads, silicone bottles, cotton net bags and, of course, reusable coffee cups. Modeled after a standard takeaway cup, their version is made from 100-percent food-grade silicone, which is fully recyclable, free of BPA and can hold both hot and cold drinks. It comes with a leak-proof lid that you can easily flip open to sip on the go. Now for the cool bit—this nifty cup can be rolled up into a compact disc, capable of squeezing into even the smallest of handbags. The cup can hold 350ml and is available in light green or gray.
Price: B320
Available at Better Moon Cafe x Refill Station, Sukhumvit Soi 77/1, 086-993-6566. Open daily 8am-9:30pm. Or order online at www.fb.com/refillstationbkk
Wallmug Sleek BK Pick!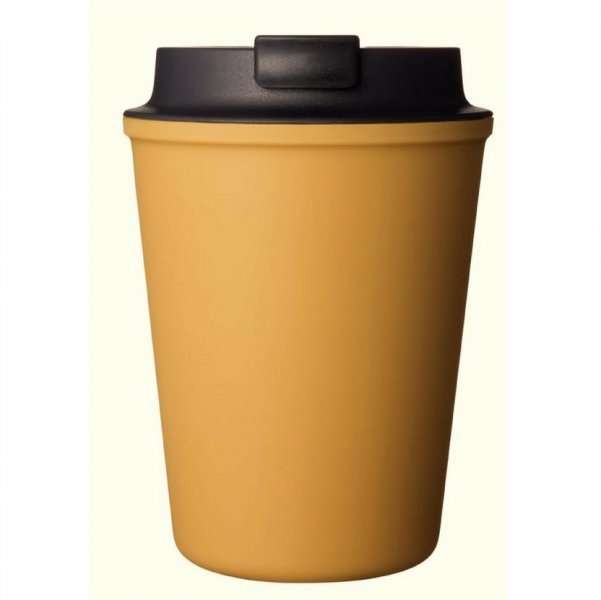 Brand: Rivers Drinkware
What: The sleek and understated design of this no-frills reusable coffee cup makes it great for everyday use. Its double-wall design can help maintain the temperature of your drink—be it a hot Americano or cold-brew—while also preventing the cup from becoming too hot to hold (no sleeve needed!). The BPA and BPS-free cup comes with an easy-flip lid and leak-proof silicone stopper, which helps prevent your drink from sloshing out regardless of how shaky your commute is. Though it feels lightweight and very much like a normal takeaway cup, this mug is highly durable and dishwasher-safe. The cup is available in seven colors including white, navy, gray, olive, beige, black and mustard, all of which hold 350ml.
Price: B650
Available at Roots Coffee Roaster, The Commons, Thonglor Soi 17, 097-059-4517. Open Mon-Thu 8am-8pm; Fri-Sun 8am-9pm. Or order online at www.rootsbkk.com
Kafe in the Box
Brand: Precidio Design Inc.
What: This straight-edged contender may look a little bulkier than its cylinder friends, but don't let its appearance fool you. Free of harmful BPA, BPS and phthalates, the inner layer of the cup is made from the safer BPA alternative, Tritan, and features a double wall polypropylene outer base to keep your brew toasty or chilled for hours. Extra points go to the deep indentation on the lid for easy sipping and the splash-proof, sliding tab lock that can easily be pushed up and down with one hand, making it a solid travel buddy. The Box's layers are easy to take apart for cleaning and are dishwasher-safe. There are four colors available including black, white, silver and bronze, in sizes 355ml and 473ml.
Prices: B695 and B745
Available at 3/F, Siam Discovery, Rama 1 Rd., 02-658-1000. Open daily 10am-10pm
KeepCup Brew Cork
Brand: KeepCup
What: Who says sustainable coffee cups have to look boring? Australian brand KeepCup has a huge range of cheerful, fashionable colors to choose from, plus BPA and BPS-free plastic lids, plugs and sleeves that can be bought separately in more than ten colors to mix and match your own design. There's also a premium edition made from durable, tempered soda-lime glass featuring a sleeve made using waste products from wine cork manufacturing. While the lid, plug and glass tumbler are designed to be taken apart for thorough cleaning, note that this is the kind of cup you should handle with care—removing the cork sleeve is not recommended, as it could lead to cracks and breakages. Size options are 227ml (small) and 340ml (medium).
Prices: B990 and B1,090
Available at Roots Coffee Roaster, The Commons, Thonglor Soi 17, 097-059-4517. Open Mon-Thu 8am-8pm; Fri-Sun 8am-9pm. Or order online at www.rootsbkk.com
Insulated Wide Tumbler
Brand: Klean Kanteen
What: Is your coffee always left to go cold while you're pulled into morning meetings? Then maybe it's time to invest in this BPA-free tumbler, whose "Climate Lock" double-wall vacuum insulation promises to keep your coffee hot up to a whopping 14 hours. It can also keep cool drinks icy up to 40 hours, depending on size—ideal for beer during hot summer music festivals. Its 18/8 stainless steel interior has an electropolished finish that doesn't mess with your drink's flavor and, design-wise, it's durable, practical and fuss free—the perfect grab-and-go. Available in three sizes—355ml, 473ml and 592ml—the Insulated Wide comes in an array of colors from Deep Surf (blue) and Buttercup (yellow) to Emerald Bay (teal).
Prices: B1,099-1,350
Available at 3/F, Lab Space, CentralWorld, Rama 1 Rd., 081-177-1371. Open daily 10am-10pm
To Go Tumbler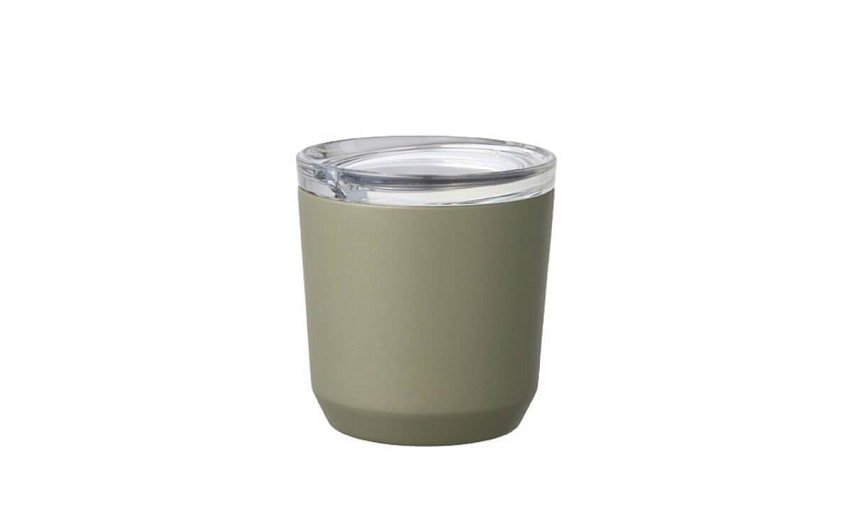 Brand: Kinto
What: When it comes to stylishly-minimal coffee cups and tumblers, Kinto totally nails it. The Japanese brand's To Go Tumbler comes with a clean design, crafted from rust-resistant stainless steel, and features a double wall vacuum, which they claim can keep your drinks hot for a good one hour and cold from two-to-five hours. What will catch your eye most about this beauty, though, is the lid. It comes in a transparent design that's pretty neat when you want to check how much is left inside, with a slim drinking hole ideal for controlled sipping. The compact tumbler slots easily into a car cup holder, making it a good choice for those who drive to work. Complete with a matte finish, the tumbler is available in sizes—240ml and 360ml—in pink, white, khaki, silver, black or coyote (mustard yellow).
Price: B1,280
Available at 4/F, Siam Takashiyama, IconSiam, Charoen Nakhon Soi 5, 081-868-9891. Open daily 10am-10pm. Or order online at www.allourgoodsth.com
Bring your reusable cups to these coffee shops to get a discount
Coffeelism Stand
B5 discount
Sathorn Soi 8, 095-568-2690. Open Mon-Fri 8am-3pm; Sat 9am-3pm
Flow Coffee Roasters
B5 discount
Silom Connect, Naradhiwas Rajanagarindra Rd., 086-531-3229. Open daily 9:30am-4:30pm
Gallery Drip Coffee
B5 discount
1/F, Bangkok Art and Culture Center (BACC), Rama 1 Rd., 081-989-5244. Open Tue-Sun 10:30am-8:30pm
Roots Coffee Roaster
B10 discount
The Commons, Thonglor Soi 17, 097-059-4517. Open Mon-Thu 8am-8pm; Fri-Sun 8am-9p