One of the world's biggest fashion and beauty brands has launched an all-new fragrance in Thailand—and let's be honest, fellas, we could all take better care of ourselves during these stay-in-your-house-at-all-times measures. Calvin Klein's new Defy fragrance, now available for online orders at www.central.co.th, www.robinson.co.th, and www.monline.com, seeks to tap into a sense of defiance and exploration during these uncertain times—and a basic need that you should probably try to smell good despite not going outside.
The name Defy comes from defiance (clearly), but more as a symbolic hat-tip to struggles of the past year and change—including the many moments when people had to try and do whatever they could to resist or overcome situations foisted upon them by the many turning cogs and effects of the pandemic.
The campaign stars Richard Madden as its main man, the Game of Thrones actor who played beloved character Rob Stark—if you haven't seen the series, all we can say is enjoy yourself until "The Rains of Castamere" episode in season three. The campaign shows Madden in a series of vulnerable, self-reflecting and defying moments that culminate into a courageous leap of faith. It's very abstract imagery but does convey the overall theme.
What about, you know, the actual fragrance itself? There are some really interesting notes to talk about: Mandarin oil, cedar leaf oil, violet, bergamot and lavender. The star ingredient here is vetiver oil, which produces an earthy, woody, almost leather like smell that acts as the foundation to the rest of the fragrance. It's a well known scent that is usually used in a more masculine context and marketed to men specifically. The plant is available in several regions across the world, but CK is sourcing it from Hati through a responsibility-focused supply chain.
If you are curious about the bottle—everyone wants things aligned nice and pretty on the shelf—the approach here is more minimalist and simple. The glass frame comes with carved and rounded edges contrasted with sharp linear lines, two opposing concepts that the scent makers and designers use metaphorically to align with the campaign concept. The bottle cap pays homage to Calvin Klein jeans with a matte textured blue denim-inspired embossed finish.
You can find Defy in Thailand at online stores www.central.co.th, www.robinson.co.th, and www.monline.com. In three sizes: 30ml (B2,150), 50ml (B3,150), 100ml (B4,050).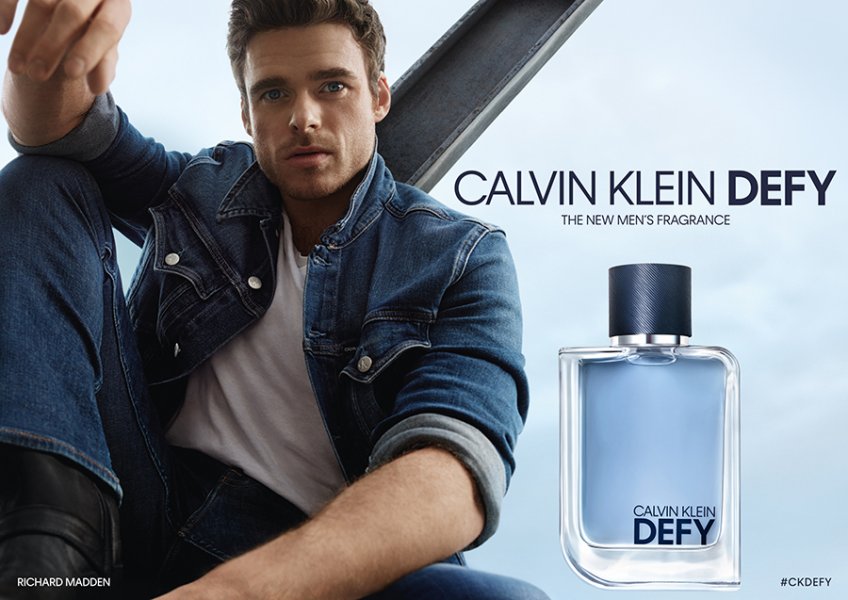 Sponsored by: