Ditch the Supreme and shop local.
After a slew of designer streetwear collabs hit the runways last year (think Louis Vuitton x Supreme) street style is continuing to boom in the fashion world, and Bangkok's no exception. Combining Thai traditions, subculture references and tongue-in-cheek parodies, these are the Thai brands set to make it big on the streetwear scene.
Credit: www.facebook.com/SSAPNYC
SSAP
Indigo dyeing traditions take a streetwise turn
Dubbed by Hypebeast as a budding alternative to the famous Japanese streetwear label, Visvim, SSAP is the brainchild of Thai designer Mel Sangsomsap. Following the utilitarian army-inspired menswear staples of earlier collections, SSAP's 2016 "Sakol Project" reinvented the natural indigo dyeing traditions of Thailand's northeast—with their handmade indigo patchwork streetwear making waves both locally and internationally.
Our favorite piece: Their patchwork indigo bomber jacket (B8,780) and handwoven indigo Thai Jacket (B5,380) add a cool layer to any outfit.
Available at Gin & Milk, 3/F, Siam Center, Rama 1 Rd., 02-658-1000 (1376). Open daily 10am-10pm www.ssapnyc.com
Credit: www.facebook.com/fuxuryclothing
FUXURY
Punk subculture meets Japanese street style
If Lido Cinema is your favorite haunt, then its likely you've laid eyes on this grungy Thai streetwear brand. Founded in 2012 by Nanthachai "Benz" Kantasomboon, Fuxury blends Japanese streetwear aesthetics with rebellious, eccentric graphics and subculture themes—from Sid Vicious-style super punk rock menswear collections to the dark but sexy pieces seen on goth Harajuku girls. With Nylon Japan already having caught on, this brand should be on streetwear-snobs radars everywhere.
Our favorite piece: '90s vibe stripe tees and the colorful Kill Your Ex T-shirts (B990).
Available at Lido, 2/F, Siam Square, Rama 1 Rd., 096-369-6936. Open daily 1:30pm-9pm www.fu-xu-ry.com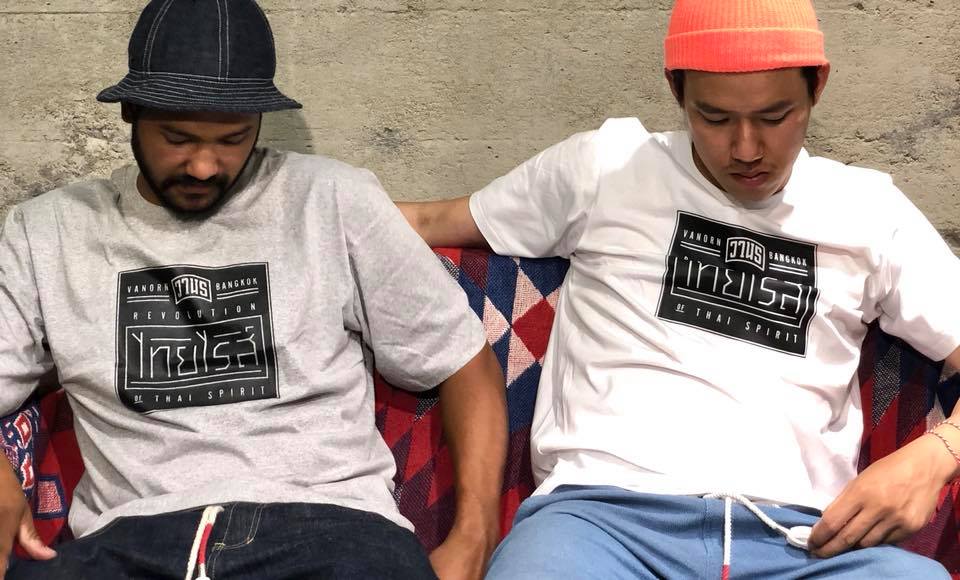 Credit: www.facebook.com/vanornbangkok
Vanorn Bangkok
Parody pieces with a Thai twist
Vanorn Bangkok was originally launched in 2010 as a Thai denim brand specializing in traditional weaving techniques and selvedge denim, using playful designs that revolved around Thai folk culture. Its Thai designers, Pichit "Top" Hathaipantalux and Taipitra "Fah" Srivongsechai, have now branched out to other streetwear staples like T-shirts, caps, and track pants, with trademark parody logos of streetwear giants like Stussy, Anti Social Social Club and Nike—homage or a straight-up copyright infringement? We'll let you decide!
Our favorite piece: The Vanorn x Bangkok 236 T-shirts (B990) that were designed to celebrate Bangkok's 236-year anniversary.
Available at Outcast Store, Siam Square Soi 7, 091-887-7687. Open Mon-Fri 12:30pm-9pm, Sat-Sun 11:30am-9pm www.fb.com/vanornbangkok
Credit: www.facebook.com/takarawongbkk
Takara Wong
"The Future is Wong": Rebellious subcultures and future-forward designs
Another streetwear brand with a rebellious spirit is Takara Wong, founded by emerging Thai designer, Thakorn "Champ" Wannawong, in 2015. Heavily influenced by his personal interest in music and subcultures—underground punk, metal, skateboarding, to name a few—his collections present creative menswear pieces with a strong, sporty silhouette. The latest spring/summer 2018 collection takes a futuristic turn, with garments dominated by transparent cutouts, multiple pull cords, and bold graphics. Is it just us, or do a lot of the collections look straight out of Seoul Fashion Week? Very G-Dragon indeed.
Our favorite piece: The white denim trucker jacket with the slogan "The Future Is Wong" (B6,450).
Available at Gin & Milk, 3/F, Siam Center, Rama 1 Rd., 080-441-2881. Open daily 10am-10pm www.takarawong.com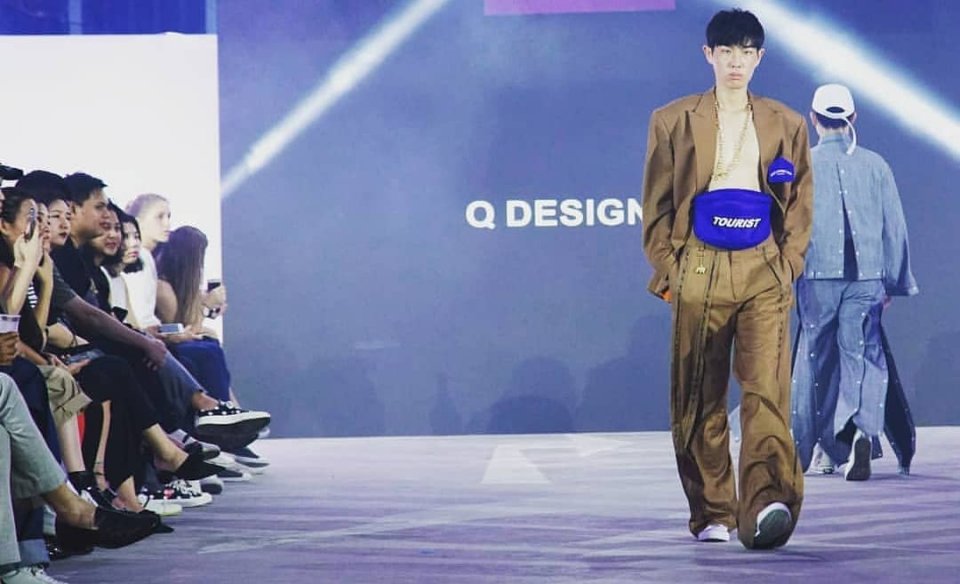 Credit: www.facebook.com/qdesignandplay
Q Design and Play
Bringing playful street style to office attire
With the slogan "We Design, You Play", this men's streetwear brand encourages fun fashion. Launched in 2010 by designers Praphat "Art" Somboonsitti and Ekkapoom "Ek" Treechairusmee, Q Design and Play explores concepts of irony and social satire through their use of unconventional silhouettes and unique tailoring. From boyish athleisure pieces to rebellious twists on office attire, this emerging brand offers a different flavor for style-conscious, new-gen individuals.
Our favorite piece: The navy, bomber "Superfake" jacket (B5,243).
Available at 1/F, Siam Center, Rama 1 Rd., 02-658-1117. Open daily 10am-10pm www.qdaponline.com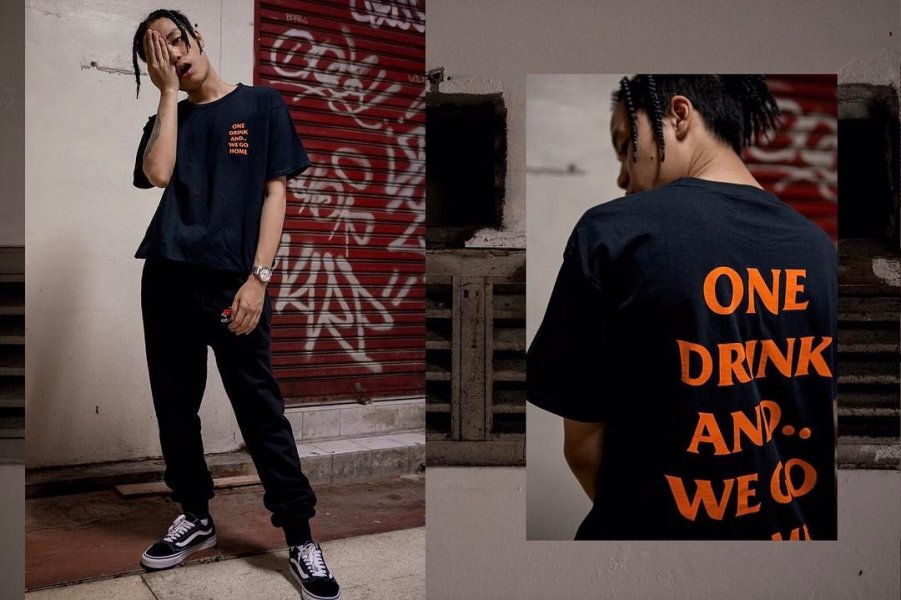 Credit: www.facebook.com/unfoundprojectsbkk
One Drink And We Go Home
Pop culture parodies that defy gender boundaries
One Drink And We Go Home is on the rise among Siam Square's young and hip crowd for its easy to wear '90s vibe T-shirts, hoodies and caps. Highly influenced by pop culture and nightlife (hence the name), this unisex brand specializes in prints that caption world-famous celebrity portraits, alongside various takes on the Anti Social Social Club logo.
Our favorite piece: Caps with Bitmoji-style celebrity faces of Kanye West, Rihanna, Cardi B and Kylie Jenner (B850).
Available at Unfound Projects, Scala Cinema, Siam Square Soi 1, 087-748-7005. Open daily 12:30pm-9pm. Instagram: @onedrinkandwegohome