Pinky Tailor
What: On the surface, the same as countless other tailors lining the area from Phloen Chit to Asoke—fading pictures of out-of-date styles, awkwardly posed mannequins and row upon row of fabric, most of which you'd never pick. But this small shop is one of the few places that is absolutely reliable, and Pinky has a devoted clientele that includes fashion editors and designers.
Go because: You know what you want. People choose Pinky for excellent workmanship, not style points. Whether speaking to Pinky or his son, Win, they'll tell you what is and isn't possible, but for best results you should take control of things from the beginning.
Who goes: Locals, many of them very well dressed. It's one of those places that exists on word of mouth, and when you meet a fellow Pinky club member, expect to talk about nothing else.
How much: Starts at B1,500 for a cotton and polyester shirt up to B30,000 for a pure wool suit.
Mahatun Plaza Arcade, 888/40 Phloen Chit Rd., 02-253-6328. Open Mon-Sat 10am-7:30pm; Sunday by appointment. BTS Phloen Chit.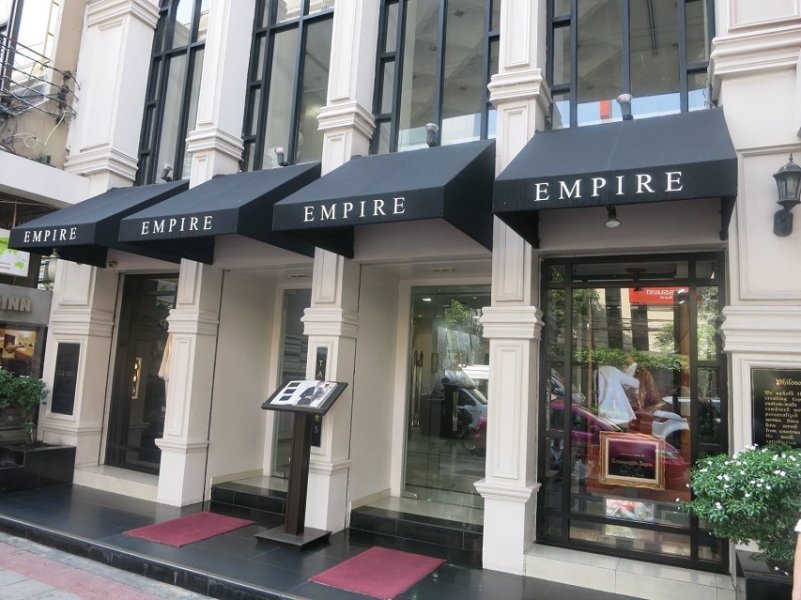 Empire Tailors
What: Elegant bespoke tailoring with a dapper flair that'll remind you of those handsome, well-dressed men from Pitti Uomo. Their charming boutique offers everything from pure wool and pure linen to some of the most exquisite Egyptian cottons, Vitale Barberis, Zegna and Loro Piana. They also stock an array of silk pocket squares, neckties, cufflinks, suspenders, and Mother-of-Pearl collar stays for a little hint of understated luxe.
Go because: This family-run business has been crafting fine bespoke suits since 1978, so you know you're in good hands. Sunny, the master tailor, and his team pride themselves on their quality, value and service—they even offer a remake and repair of your suit to ensure that it fits you like a glove.
Who goes: Definitely an expat favorite.
How much: Shirts start at B2,500, while suits range from B12,500-22,500

124-126 Sukhumvit Rd. (between Soi 4-6). 02-254-4760. Open Mon-Sat 10:30am-8pm. BTS Nana. www.theempiretailors.com
---
[Brought to you by Ambassador]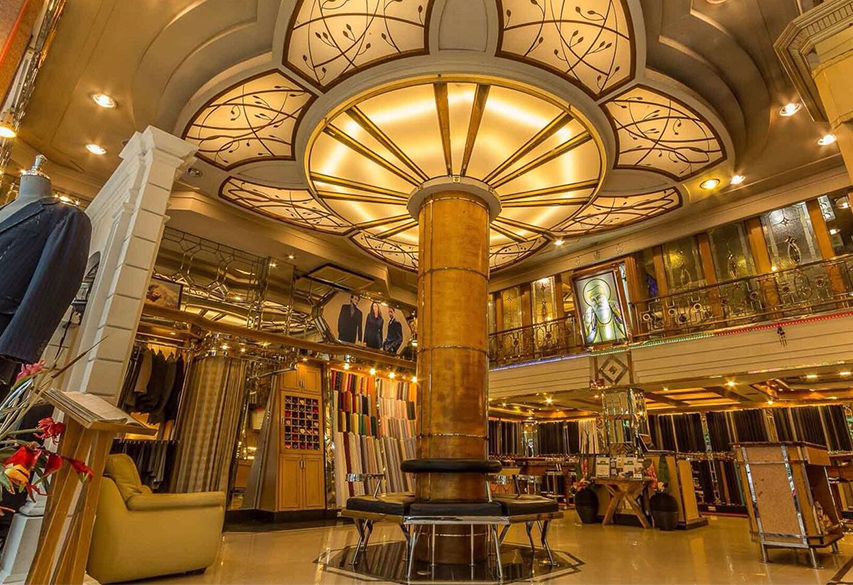 Ambassador & Smart Fashion
What: 40 years in Bangkok's tailoring game. Ambassador & Smart Fashion pays specific attention to the international side of the business—imported fabrics, high-quality linings and fine trimmings—and claims a customer base that stretches across the globe.
Go because: This is real tailoring, not the machine-primed and human finished stuff. When you order a suit, one tailor makes it from start to finish, and they can generally import all the materials you need.
Who goes: a mix of locals and returning customers from outside Thailand.
28/1 Sukhumvit Soi 19 (near Terminal 21), 098 793 5696. Open Mon-Sat 9.30 am-8 pm, Sun 10.30 am- 8 pm.
---


Vvon Sugunnasil
What: Bespoke tailoring with a distinctly hi-so, clique-y feel. His new shop in leafy Soi Somkid—one of the poshest addresses in Bangkok—offers from pure-wool Japanese super 120 to some really beautiful English Dormeuil wools, a full suit of which will cost you about B40,000. For the man who can never find the right collar, this is also the place, with 20 varieties on display.
Go because: Von has real style. His personal tastes lean towards French tailoring, and he spent a year in Paris prior to opening to learn the workings of a (very) small bespoke boutique.
Who goes: People from fashion mag social pages. Think Nadech, Jay Spencer and Ou Baholyodhin.
How much: Starts at B18,000 for Japanese super 120 wool cloth. Waiting list is around three weeks.
14/2 Soi Somkid. 02-001-8744. Open Mon-Sat 10am-7pm; appointment is required. BTS Phloen Chit. IG: vvonsugannasil
---
[Brought to you by Patrick & Co]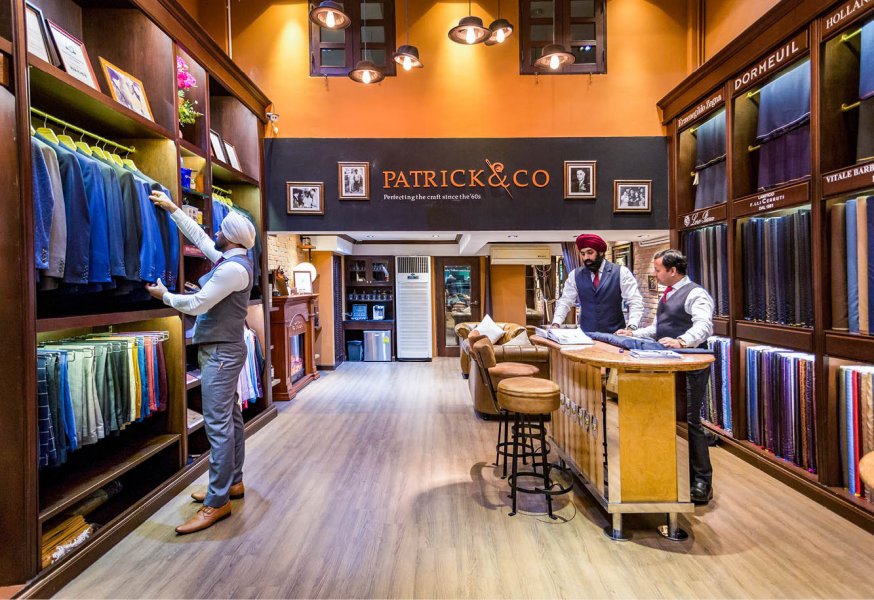 What: This tailor shop's roots date back to the 1960s, when its owner Satvinder "Steve" Singh became one of the first tailors in Thailand to make military uniforms for the US army during the Vietnam war. Today, this Thonglor-based tailor dolls out swanky suits made with imported European and Asian fabrics starting at premium blends and 100-percent wool up to expensive brands. You can customize your suit construction, too, from fused to fully canvased. Prices run the gamut as well but expect to pay about B14,500 if you want a quality suit (and starting from B1,500 for a shirt).

Go because: Patrick & Co has one of those age-old tailoring lineages that really does good work for a reasonable price. They are also easily accessible around the world at their global trunk shows.
89 Soi Sukhumvit 57, Thong Lo Place, 02-130-6575. Open Mon-Sat 10am-9pm; Sun 11am–7pm
---


Tailor on Ten
What: Probably the most elegant-looking tailor shop in Bangkok. Set in an old house right at the end of Sukhumvit Soi 8, it makes for the kind of experience you might expect from a bespoke tailors'. They do all their production on-site, too, and will happily take any customer behind the scenes to see work being carried out, and show you everything that goes into the jacket—lining, canvas, shoulder pads, chest plate.
Go because: You want an honest, no-nonsense experience. All the prices are fixed, and everyone who works there, from the owners to the salespeople, are very upfront about what they can and can't do.
Who goes: Definitely an expat favorite, but Thais do go there, too. One of the owners, British-Canadian Ben Cole, says the balance is about 5:1 foreigners to locals right now.
How much: Starts at B15,000 for wool blend. Italian super 110 from B21,000.
---


Narin Couture
What: Teak paneled from floor to ceiling, one of Bangkok's most imposing tailor shops. And we do mean tailor. Unlike many suit store owners, Narin Bowonnaowarux actually has formal training, and studied both design and construction at Paris's Chambre Syndicale de la Couture Parisienne—basically Le Cordon Bleu for clothes.
Go because: Narin's style is classic and elegant. He also says he'll do full canvasing (that's a floating inner lining rather than one fused to the outter fabric), which few—if any—other Bangkok tailors offer. For aficionados, the mark of a good suit.
Who goes: He says the balance is about half locals and half expats. Definitely not tourists—tell him you need a suit in a week, and you'll be politely asked to leave.
How much: Pure wool starts at B25,000, plus an extra B10,000 if you want canvasing.
180 Sukhumvit Rd. (between Soi 8-10), 02-251-9237. Open Mon-Sat 10:30am-9pm. BTS Nana. www.narin-couture.com


Parrish Jones
What: Located just a stone's throw away from BTS Phrom Phong, Parrish Jones is a high-end tailor shop-slash-lounge-like men's store from Canada/Finland. Spread over two floors, the shop has a casual and comfortable vibe where the staff will offer you a drink or a snack while you do your shopping.
Go because: Their next-level tailoring services. The tailors use 3D body-scanning technology to capture and measure the exact shape of your body within seconds, enabling them to create garments with the most accurate fit.
Who goes: A well-mix of locals and expats. Unlimited consultations with their stylists are also available, while suits and shirts usually take about a week to complete.
How much: Tailored shirt prices start from B1,800, custom made jeans from B3,900, and tailor made suits from B11,700. Accessories start from B300.
795-797 Sukhumvit Rd., 02-091-0600. Open Mon-Sat 10am-9pm. BTS Phrom Phong. www.parrishjones.com
---
BK ASKS
Which tailor do you use and why?
Jay Spencer
Owner, The Barkyard BKK
Favorite tailor: Vvon Sugunnasil
"Von actually made the suits for my wedding. I like him because the cutting is precise. I prefer a very slim and well-contoured fit. A lot of tailors I've been to aren't willing to go that far; they either can't or aren't willing to make the changes. The only con with Von is that he's really the hottest thing in town right now and the waiting list is incredibly long. But then, he's good."
Ston Tantraporn
Editor in Chief, L'Optimum Thailand
Favorite tailor: Pinky
"For quality, I believe he's one of the best in Bangkok. He's also understanding. I have a very specific style. I remember clearly the first time I went to Pinky carrying a suit that I really liked. I told him that I am going to be bossy, I am going to be picky, you will hate me but if I'm pleased and you get this right then I will stay. He looked into my eyes and said, OK. He really proved himself."