Fashion
The hip multi-label store Onion has opened a new branch in vibrant Ari. Unlike the original coffee-focused operation in Ekkamai, this one dedicates most of its spacious white venue to clothing and accessories, with only a tiny corner for Brave Roasters coffee.
Good for: Vintage and deadstock men's apparel and sunglasses, as well as international cult brands you'll struggle to find anywhere here, like Norse Projects x Suicoke, The Hillside, Beton x Cire and Stanley & Sons.
2/F, Nai Daeng noodle shop, Aree Samphan, between soi 10 and 11, 02-002-3605. Open daily 10am-6pm. www.fb.com/onion
This eyewear brand's products are designed in Bangkok but made in Japan. The multi-label shop also features fashion items handpicked by the owners from all over the world.
Good For: Quality, unisex sunglasses with pocket-friendly price-tags or hard-to-find items from the likes of Australian menswear brand W.G. Trunk Co. and Japan's Makoto Matsuo.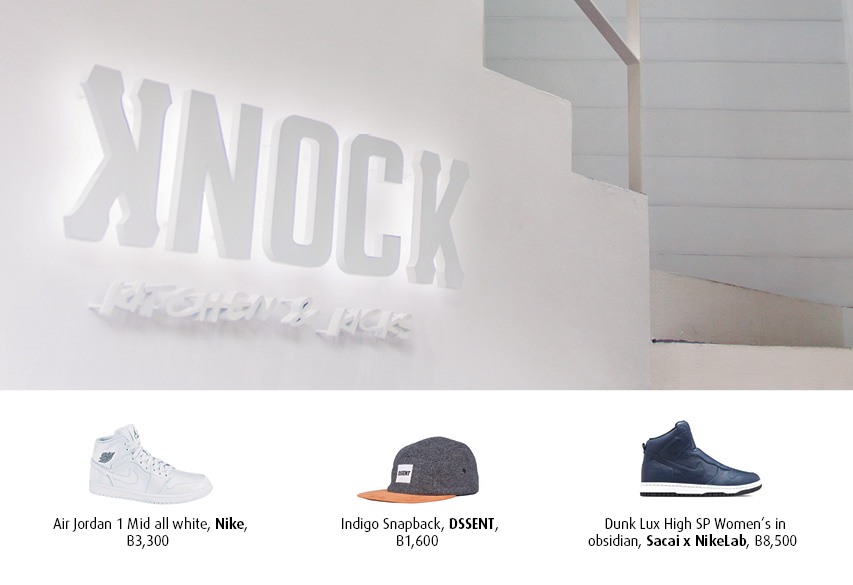 This white three-story-shop-house has been taken over by sneakerheads; the first two floors are devoted to a restaurant by Chalee Kader (Surface), while the third floor is all about kicks and streetwear.
Good for: Rare sneakers from Nike Jordan, Nike Air, Adidas, Asics and Mostly Heard Rarely Seen.
3/F, 333/1 Sukhumvit Soi 55 (Thonglor), between soi 15 and 17, 081-375-6625 Open Tue-Fri noon-9pm; Sat-Sun 11am-10pm www.knockbkk.com
Thonglor's latest multi-label store gathers a number of fresh-faced Thai designers who don't yet have their own showrooms. They also offer cold brew coffee, granola and cocktails (on weekends).
Good for: The focus is definitely on womenswear, from smart-casual to night looks, with brands including Pin & Tux and Anaman, while there are also mobile accessories from Another Case, leather bags from Chatt Material, aromatic candles from Ma Chandelle and a small selection of Rams men's accessories
Located opposite La Monita restaurant in Mahatun Plaza, this men's accessories shop began last year as an online leatherware store before expanding to a proper showroom.
Good for: Affordable leatherware for men.
G/F, Mahutan Plaza, 888 Phloen Chit Rd., 088-950-5564. BTS Phloen Chit. www.fb.com/Zettino
The former online business of Blue Dye Cafe's owner has been turned into a proper shop, stocking Thai handicraft products with an emphasis on indigo, silver accessories and home decor.
Good for: Ceramic pieces like coffee drippers and cute stuffed owls and foxes.
Novessence
Organic beauty products made from natural essential oils, floral waters, plant extracts and natural fragrances. They also offer DIY cosmetics classes, too, starting from B700 up to B1,100 for making your own shower gel and hand washes.
Good for: Finding a gift for your health-conscious girl friends.
This shop-house-turned-barber shop caters to all your classic men's grooming needs, starting with pomade from big names like Mr. Mostwell and Trix O' Treat. Across the road, at the social club of the same name, you'll find men's accessories like handkerchiefs from Rams.
Good for: Pomade and lapel pins for the stylish gent.
Home
This new concept store for Thai designer items also features a corner devoted to old products from the Fotoguffy Polaroid shop (which used to occupy the same space) and a cafe (featuring nitro cold brew coffee from Finca de Barn). Note that it only opens weekends.
Good for: Deadstock Polaroid cameras and film plus items from up-and-coming Thai designers like Ease Embroidery wall decor, A Pale Petal tote bags, Sattawat furniture and Pana Objects home decor
Eclectic furniture importer Casa Pagoda has opened a second branch on Sathorn's colorful Pan Road, complete with the new coffee and breakfast spot Luka Cafe. Like the original Sukhumvit venue, the new store is home to a tasteful mix of rustic and industrial-chic furniture and home decor, but there's also more emphasis on modern, edgier designs, too.
Good for: European-style home decor.
This tea specialist aims to make serious tea drinking more accessible. The tea house doesn't just pour serious brews; you can also buy the specialist (and beautiful) equipment to take home (see page 20 for more).
Good for: Drip coffee is so last year; time to get a proper tea-making kit.
1/F, Parklane, Sukhumvit Soi 63, 085-664-2616. Open Mon-Fri 10am-7pm. www.fb.com/7sevensuns
---
Organic Products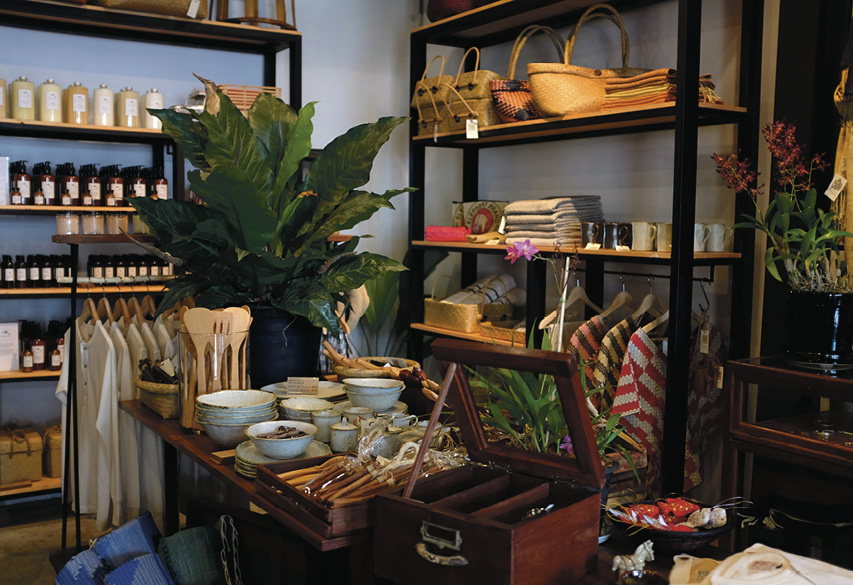 Heritage Craft and Cafe
Run by Thai Craft Fair Trade, this outlet aims to promote local, self-supporting social enterprises and hosts handmade markets on a monthly basis.
Good for: Organic and handmade products like lahu ethnic stools from Thai craftsmen.
Organic Supply
Co-owned by melancholic rock singer-songwriter Greasy Cafe, this clean-looking organic shop is Lad Phrao's new oasis for the health-conscious. A cafe zone offers healthy snacks like vegan bread, cold-pressed juice and smoothies while the another side is a proper shop that stocks many organic beauty and food products.
Good for: Natural-made goods, from skincare and baby products, to food products like brown rice pasta and tea.
148 Nakniwas Rd., 02-101-6410 Open Mon-Sun 10am-8pm. www.fb.com/organicsupply.bkk
---
Vinyl Lovers
One of Bangkok's most-trusted online vinyl purveyors has opened a proper shop, welcoming crate-diggers to Ladprao Soi 8. Despite the tiny space, it's packed with rare finds including both used and new stock imported from Japan, the UK and Germany.
Good for: Rare '80s-'90s alt-rock.
This may look like an industrial-chic cafe, but the focus is firmly on funk and jazz vinyl, much of which is sourced from the US. Expect plenty of Miles Davis, Marvin Gaye and Gil Scott-Heron. As for audio set-ups, you won't find any faux-vintage Crosley players here; this stuff's the real deal.
Good for: It's not all funk and jazz imports; there are some cool Thai alternative reissues, too.
Ekamai Mall, 3 Ekkamai Soi 10, 085-322-5403 ow.ly/KXYEc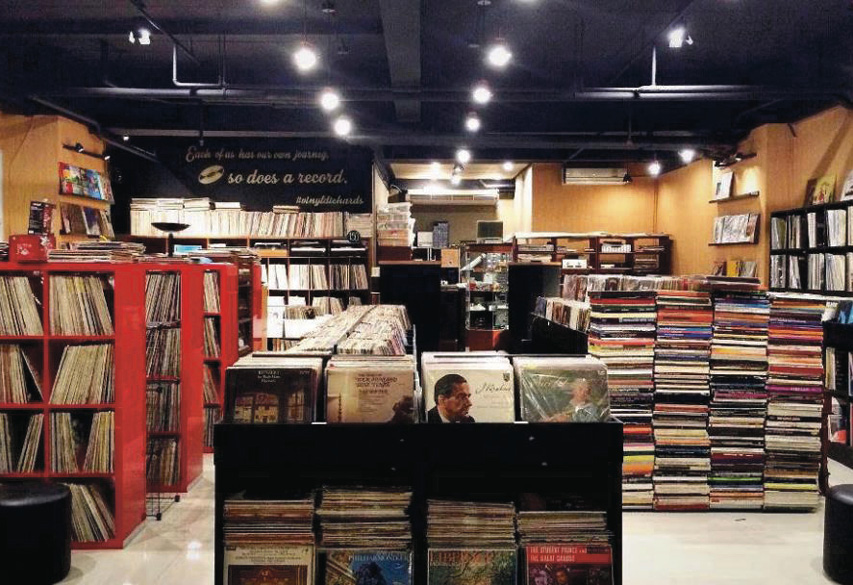 This renovation of the longstanding PS Audio comprises black and red shelves piled with records priced from as low as B100 for used titles into the thousands for new and reissued LPs.
Good for: Secondhand jazz and blues as well as the
latest indie pop/rock releases.