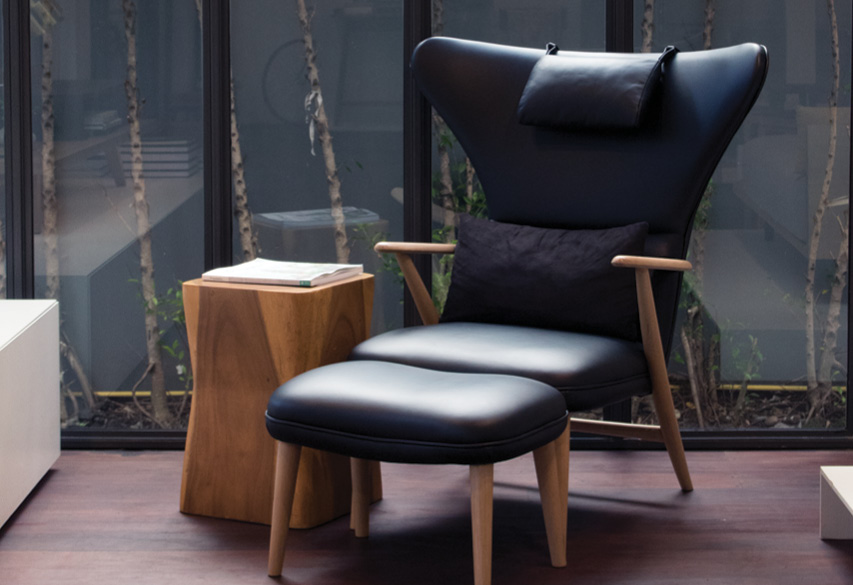 NIIQ
Style: Minimal/mid-century
Price: Starts at B2,500
Niiq's natural-toned, smooth-to-the-touch furniture sits in a 50-year-old wooden house hidden amid a warren of greenery down Rama 6 Soi 26. Short for "unique," Niiq makes one-of-a-kind, zen-looking pieces that mix function and simplicity. Their Willo Stool, made from teak and synthetic rattan, won Japan's Good Design award, while the Ma-i ash wood desk picked up a D-Mark award. Everything can be made to customers' exact dimensions, and colors and materials are just as flexible. Do note, though, that everything they make must be based on models found in the showroom. Niiq's owner, Rangsan Narathasajan (see page 7), has 15 years' interior design experience, and also offers complete interior design consultation.
884/1 Rama 6 Soi 23, 02-002-2860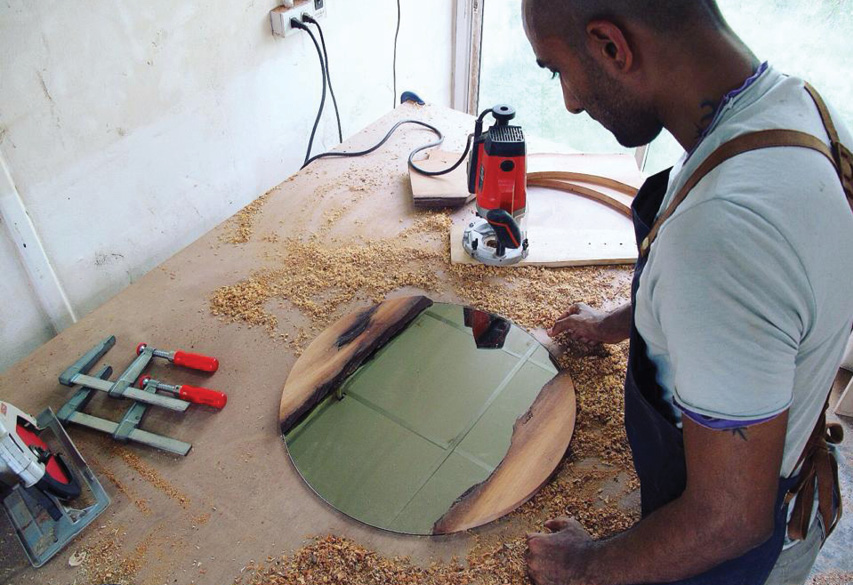 Credit: www.facebook.com/faisalmalikdesign
FAISAL MALIK DESIGN
Style: Live edge/whole-piece wood
Price: Starts at B60,000
Canada-born designer Faisal Malik draws inspiration from the whole-piece woodwork you find in old Thai homes and temples. "This wood carries a history and spirit," says Faisal. "That's its charm." In his hands, whole slabs of 300-year-old, reclaimed makha, hopea and river wood get paired with slender brass or stainless steel legs, inlaid with metallic butterflies, or left with a simple, natural oil finish. Each piece, he says, demands 60-150 man hours to complete.
74 On Nut Soi 11, 085-396-9331
Credit: www.th-th.facebook.com/ifiwereacarpenter/
IF I WERE A CARPENTER
Style: Recycled raw-looking wood
Price: Starts at B30,000
Wachira "Knot" Thonglor is a young graphic-designer-turned-carpenter who in three years has taken his brand from a small Ekkamai studio and developed it into an entire warehouse made from old shipping containers and zinc sheets—all in keeping with If I Were a Carpenter's upcycling concept. All the wood used in Knot's projects comes from old wooden buildings, and he'll dutifully educate customers on the providence of that piece of teak or makha that now serves as a rustic coffee table or pared-back desk. Most of his work is made-to-order, and always in a comfortable, homey style. Let Knot visit your home and discuss your furniture needs over a cup of coffee.
Pridi Banomyong Soi 42, 093-356-9965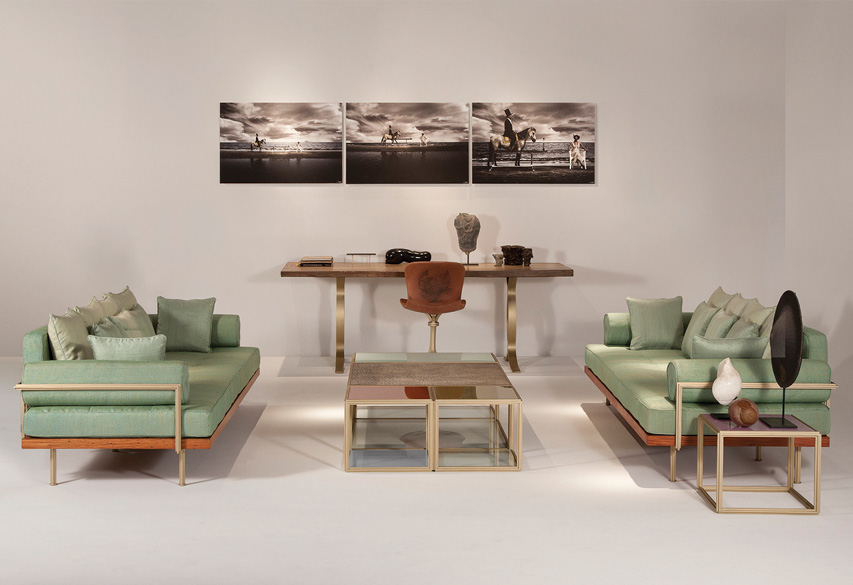 Credit: www.ptendercool.com
P.TENDERCOOL
Style: Minimalism meets Italian metal bling
Price: Starts at B200,000
P.Tendercool specializes in tables made from huge slabs of antique East Asian hardwood sourced from around the region, polished to an immaculate finish and held aloft on lithesome bronze legs. The company's Danish founder, Pieter Compernol, employs a handful of highly trained local craftspeople who say they never take less than a month to work on each tabletop. The casting of the bronzework, meanwhile, he outsources to an Italian foundry-worker who claims to have worked with the Spanish surrealist Salvador Dali.
48-58 Charoenkrung Soi 30, 02-266-4344
NINA DECOR
Style: Carved mango wood
Price: Starts at B1,000
At one time, mango tree wood was only used for firewood but now, due to its one-of-a-kind texture that's easy for carving, as well as its light weight, furniture makers are turning it into vases, lamps, bowls and cutlery. The naturally rustic appeal of mango wood makes the products of this overcrowded shop stand out from its Chatuchak peers. All the wood comes from a single carpenter village in Doi Saket, Chiang Mai. Mango tree vases are Nina Decor's highlight products, available in shapes that vary from pears to cylinders to bottles, as well as a range of different sizes. The piece that most caught our eye was a ball-like vase finished in a raw texture. Customized pieces allow you to choose between different shades of wood.
Room 84, Zone B, Chatuchak Plaza, 083-091-5456
---
BK ASKs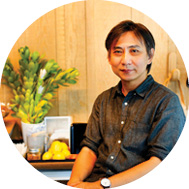 Rangsan Narathasajan
Furniture designer at Niiq and Interior designer of ORD Bangkok
Any advice about how people should approach ordering a bespoke piece of furniture?
Bear in mind that you have to live with that furniture for a long time (or the rest of your life) so you need to really understand your needs. Furniture is not just about beauty. Its appearance can be appealing at the first sight but if it's not functional for your home or doesn't fit your needs, you're wasting a big amount of money. Visitors might find something beautiful, but only once someone has lived with a piece do they know whether it's right for their home. That's why so many people could really benefit from having pieces custom made.
How can custom-made furniture offer more flexibility?
Mass furniture production requires a big manufacturer with machines set for a specific purpose that are not flexible for adjustment. The handmade process with a skilled carpenter allows more creativity because a piece of wood can be adjusted in any way. That flexibility also makes your work an original piece with unique character. When you work by hand, it surely comes with less precision, but that's the charm of one-of-a-kind furniture piece. I think it's sad to replace all local skilled carpenters with imported machines.
---
CUSTOMIZABLE KITCHENWARE
Stories Ceramics
This brand hand-paints each of its tea sets with a different story. Designed in collaboration with hit illustrator Pomme Chan, Stories Ceramics products span plates to tea caddies. Beyond its iconic blue-and-white porcelain styles, you'll also find other customized products like the alphabet tea cup (B490) and zodiac sign painted plate (B1,950).
Lamunlamai
Founded by two ceramic arts graduates, this craft studio makes tableware for Bangkok's top restaurants, from the tasteful, pastel-colored plates at La Dotta, to the alphabet glazed plates at Ifitis, to the organically formed porcelain at Canvas. Custom orders are available starting at B750 for a single plate, or you can visit their studio and join one of their workshops (B3,000) to take something home which you made yourself.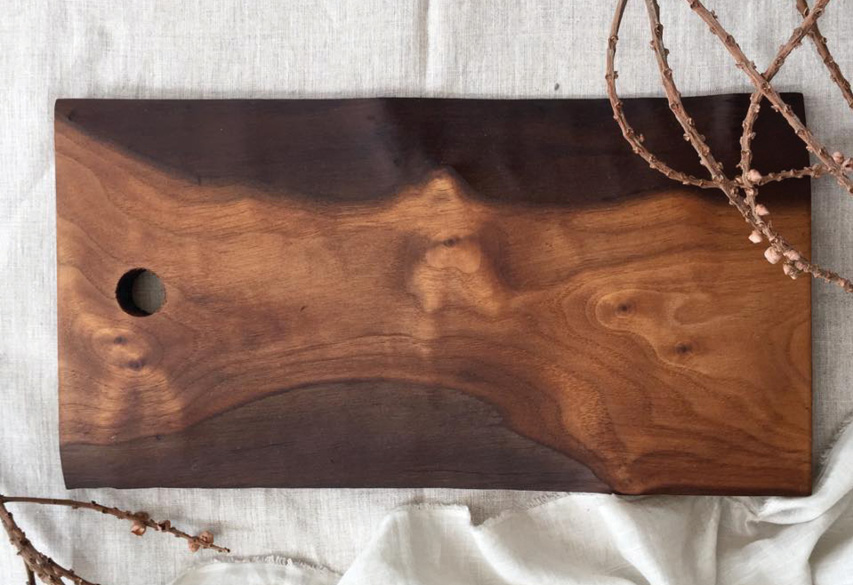 Pew's
The rustic chopping boards of Pew's come in many shapes and textures which all show off the natural beauty of wood. Order an exotic charcoal side-burned wooden board (B750) or rectangular walnut wood cutting board (B1,100) to the dimensions of your choosing.