Style Bangkok Fair 2019 (Oct 21-22) showcased up-and-coming Thai designers, alongside some of their most promising new creations. Here are the five to watch.
Kanita
What: With a love of Thai desserts and an eye for design, Kanita Kaniyomwakin creatively blends classic banana leaf-wrap Thai dessert packaging with leather. The result? Killer artisan leather goods—large and small—like the Khanom Tien and Khanom Sai Sai coin wallets, Khao Tom Mad key purse and Khanom Jak stationery bag. And since it's November, check out the Wan-Phen handbag collection inspired by the krathong—not only a cultural classic, but also sophisticated enough to wear day-to-night. The Wan-Phen belt bag is also super chic.
Prices: B520 for Khanom Sai Sai coin wallet, up to B7,500 for the Wan-Phen clutch.
Available at BACC Shop, 5/F, Bangkok Art and Culture Centre, 939 Rama 1 Rd., 086-797-7148. Open Tue-Sun 10am-9pm. fb.com/KanitaLeather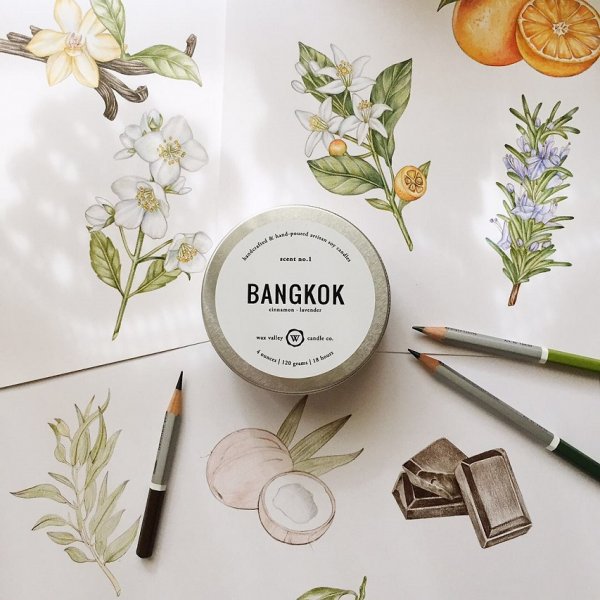 Wax Valley Candle Co.
What: This aromatic brand wants you to embrace "hygge"—the Danish concept of finding happiness in comfort and coziness—through their artisinal scented soy candles. The brand offers a wide range of scents including "Tender" cherry and vanilla; "Roaster" bittersweet cocoa and coffee; and "Woodland," which mixes fresh eucalyptus with earthy sandalwood. Other innovative aromas include "Bangkok," an uplifting and calming blend of lavender and cinnamon; and "Chok Dee," which blends citrus orange with rosemary. Miss the beach? Light up "Pattaya" and be enveloped by the sweet scents of coconut and fresh lime.
Prices: From B280 for small travel tins; up to B480 for glass jars.
Available at waxvalleycandleco.com



Vassana
What: This lifestyle brand preserves and reinterprets Thai craftsmanship through creativity and unique designs. It was founded by Vassana Saima, assistant professor at the Faculty of Fine Arts and Architecture at Rajamangala University of Technology Lanna in Chiang Mai. By working with local basket weaving communities there, she breathed new life into traditional wickerwork and bamboo crafts—producing exquisite hand woven Thai ornaments like handbags, lamps, phuang malai (floral garlands) and intricate home decor pieces. Saima's "Bird Nest" bamboo lamp won her first prize at the Innovative Craft Award held by The Support Arts and Craft International Centre (SACICT) in 2012.
Prices: B500 for floral garlands and B380 for small handbags. We say channel your inner '70s Jane Birkin and get the basket bag (B950).
Available to order at Line: 081-764-9433 or by email: vassana007@gmail.com



Coco Sui
What: Sanon Piumsiam, owner and designer, brings his passion for art, illustration and storytelling to everyday items, creating a wide range of fashionable pieces and accessories to brighten your day. Expect jackets, dresses, button-down shirts, backpacks, carpets, dishes, postcards, skateboard decks and more—all with fun, pop arty illustrations. His collection built on recycled rice bags is definitely a highlight, with style variations ranging from hip, everyday totes to cute, compact bags you can't really fit anything in but are still so chic you'll want them for the 'gram. We also have our eyes on the framed illustrations—the ones of His Majesty King Bhumibol Adulyadej are so tastefully done, we want to have one on our wall.
Prices: B200 for the small recycled rice bags; B1,200 for button-down shirts; B1,400 for hoodies.
Available at The Selected, 3/F, Siam Center, Rama 1 Rd., 084-526-1560. Open daily 10am-10pm. fb.com/cocosui.tees



Lively Ware
What: These cute, handcrafted stoneware pieces are made by ceramists Kitt Kullayanapong and Napapatch "Paint" Sethawong, who specialize in Chinese blue-and-white porcelain homewares with modern twists. The products include kitchenware and accessories, crockery, plates, coffee cups, vases, pens and earrings. Each piece is hand-painted with cobalt oxide, before being glazed and fired in a kiln for at least 16 hours. The duo's bestselling pieces are their "Pinto"—creative takes on the traditional Thai lunch box (or tiffin carrier) made from baked clay with oak handles. All products are made-to-order and take about three-to-four weeks to complete.
Prices: B1,700 for Pinto lunch boxes; B2,000 for plate sets; B13,000 for a bathroom sink.
Available at Iconcraft, 4-5/F, IconSiam, Charoen Nakorn Soi 5, 098-698-2641. Open daily 10am-10pm. fb.com/livelyware