Embrace the past with our retro roundup of furniture, cameras, fashion and more.
FURNITURE
Junkies
230/1-2 Ekkamai Soi 11, 02-392-2704-5. www.junkiesth.com. Open daily 10am-6pm
Randomly arranged, the secondhand furniture here is mostly imported from England but also comes from other European countries. Apart from the retro home pieces, they also have old vinyl records and collectibles such as antique figurines and old postal stamps.
Tuba
11-12 A, 34 Ekkamai Soi 21, 02-711-5500. Open daily 11-1am
This two-story pub, restaurant and art gallery has a retro vibe. You can play pool, listen to some old tunes and buy a couch all in one visit. The place serves Thai-inter food like foie gras and baked snow fish. Recently opened, another two-unit space just across the street in Soi Cham Chan stocks more vintage furniture for sale.
Shades of Retro
Soi Thararom 2, between Thong Lor Soi 18 and 20, 081-824-8011. Open daily 3pm-1am
Another great option, especially if you're looking for a combined chilling and vintage retail therapy session after dinner around Thong Lor, sipping a bottle of beer while listening to world music, surrounded by old school surfboards, Vespas, and vintage pianos. Most of the collectibles are up for sale with prices starting from B1,000.
CAMERAS
Fotoguffy
Old Samyan Market, Chula Soi 50, 081-647-7371, www.fotoguffy.com. Open Mon, Wed, Fri 6:30-9:30pm and Sat 4-8pm.
The owner of this shop, Boy, buys his rare photo-focused toys from eBay and showcases his finds on the shelves in his white-painted shop. His collection ranges from brand new lomo cameras to an old Polaroid EE-100 for B6,500. If you prefer not to fight the prime-time Bangkok traffic, online shopping is also available through his website, with an extra B100 for delivery.
Siam TLR
Mahatun Plaza Building, 888 Unit 6 Ground Floor, BTS Ploenchit exit 2, www.facebook.com/SiamTLR.Shop. Open Mon-Fri noon - 6:30pm, Sat noon - 5pm, 081-431-0351
Vintage camera lovers will swoon over the rare classic twin lens, single lens, rangefinder, half frame, folding and box cameras at Siam TLR. Panorama, Polaroid, ancient lomo cameras and expired films are also here in abundance. Most of their gems are still working, but some are only for collecting, like the 1930s Vigilant Six-20 Junior Model D by Kodak (B3,500). The owner is pretty generous with his advice and also offers a cheap rental service (with deposit) at prices from B300-600. Apart from cameras, his tube radios and telephones are also well worth a look.
FASHION
Cocue Basics
1/F, Baan Ekamai, Ekkamai Soi 21, 02-711-4783. Open daily 1-9:30pm
Ten years ago, Cocue managed to kick the local fashion scene up a notch by doing inter looks when everyone else was going for cute and girly. Although the Siam Square outlet does have some great garments, we're bigger fans of their new warehouse at Baan Ekamai which feels like a secondhand clothing store in Brick Lane, London. Our tip: the real vintage treasures are in the back, where you can find old military jackets, vintage dresses and classic pairs of jeans.
Chao Chan
1/F, Park Lane, 081-833-3655. Open daily 11am-10pm
Founder and owner Pu, has been a fashion enthusiast since a very early age. After working in broadcasting for 17 years, this chatty and amiable fellow decided to leave the media world behind and do what he'd always been passionate about—antique furniture and fashion. The shop focuses on secondhand U.S. import Ralph Lauren shirts (starting from B800), rare Levi's jeans from the 50s, and tailor-made leather shoes.
VTG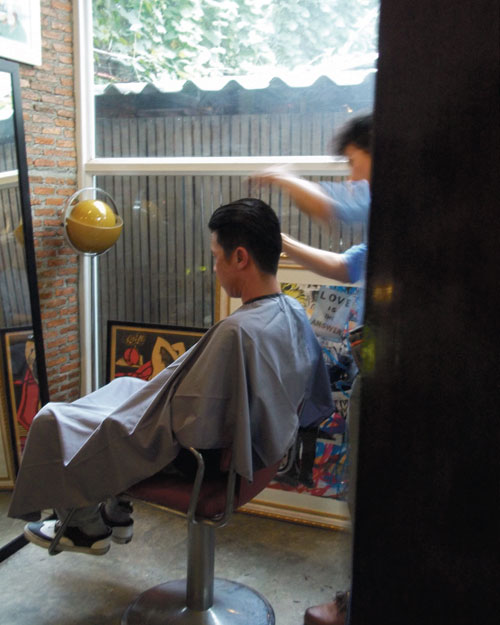 Ekkamai Soi 10 (next to Happy Monday), 083-906-0767. Open Mon-Sat 10am-10pm
Recently opened, VTG was co-founded by JJ market's What's Vintage, Hello Stranger and Ti from Happy Monday. The store is home to shirts and old polos, as well as a smaller selection of sneakers and accessories. Prices range from B500 to B10,000. We uncovered some rare concert t-shirts and old Levi's dolls that the owners, alas, are disinclined to part with. Oddly enough, they also do a hair-cutting service, for B400-500.
Bangklyn Project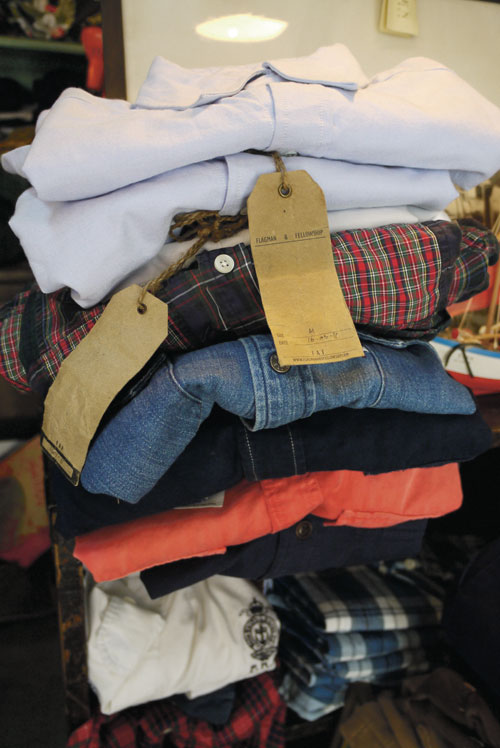 Opposite Siam Square Soi 1
Pi Pae, the owner of Bangklyn Project is considered by many to be the lead mover and shaker in the vintage fashion world. His devotees say that whatever he wears today is what we can expect to see cluttering the streets and stalls in the next two years. He personally hunts down quality vintage fabrics from the US, mainly New York, and then adapts the material into his own designs. His custom-made products are mostly shirts embodying a contemporary minimalist, yet vintage. The shop also does sunglasses, shoes and jeans. (Check out his interview here).
Him & Her
1/F, Baan Ekamai, Ekkamai Soi 21, 087-644-2169. www.himandhershop.com. Open daily 1-9:30pm
At this baan-baan lcommunity mall, there is a little closet hidden by the staircase showcasing both new and secondhand fashion gems. The shop is co-owned by the young Thai celeb Ploi Horwang, and, her bold style is what you're going to get out of that cupboard. It's a shame that this store is set to shut down soon, but you can still check out their cool stock on Facebook, or take a trip to the Launderette Offline Market (23/6 Sukhumvit Soi 36) the first weekend of every month.
Again & Again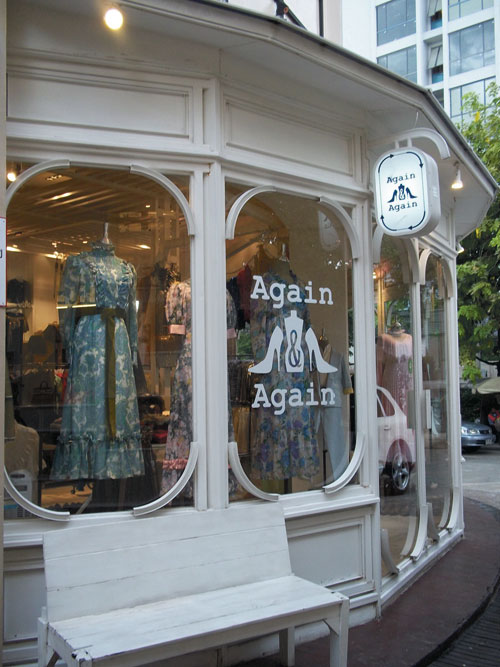 Room B1A, Market Place, Thong Lor Soi 4, 089-486-5359. www.vintageagainandagain.com. Open Mon 11am-8pm, Tue-Sun 11am-9pm
Unlike other more ragged-looking vintage clichés, Again & Again is the It shop to hook you up with more hi-so vogue. Glittery dresses, shirts, and selections of great quality skirts and pants are arranged nicely by colors on the racks. Buying online is very popular among the shop's fans and new stock comes in twice a week. Although their girly vintage outfits are the focus, they do have shirts, jackets and shoes for men too. Prices range from B590-20,000.
(Un)fashion Vintage Collection
Ekkamai Soi 10, Next to Happy Monday, 02-726-9592. www.facebook.com/unfashionvintage. Open Mon-Sat noon-9pm
Hundreds of leather shoes line the red-bricked walls, compelling passersby to just pop-in for a look. All the shoes are shiny, well-cleaned and well-curated with a clear sense of style. Most of the shoes are imported from Italy and date back from the 1970s, while the oldest pair ever stocked in the shop was from 1930. Prices aren't heart attack-worthy and range from only B380-5,000. Note that new stock comes in every Wednesday.
BOOKS& VINYL
Dasa Book Café
714/4, between Sukhumvit Soi 26-28, 02-661-2993. www.dasabookcafe.com. Open daily 10am-8pm
This two-story book café is possibly the best secondhand bookshop in town, stocking over 16,000 books in several languages (mainly English). There's lots of current stuff, too, like fairly recent bestsellers and prize-winners. You can even check out their online database before your visit for a specific title. Bring in interesting titles from your place to exchange for store credits or cash. And once you're there, try their sinful brownies with a cup of coffee.
Elite Book House
593/5, between Sukhumvit Soi 33-35, opposite Benjasiri Park, 02-258-0221. www.eliteusedbook.com. Open daily 10am-8pm
More cramped and chaotic than Dasa, Elite claims to be the oldest foreign secondhand bookshop in Thailand, dealing in books written in English, Japanese, German, Russian, French, Chinese and more. Fiction and non-fiction aside, they also have magazines in several languages.
ZudRangMa Records
7/1 Sukhumvit Soi 51, next to WTF Cafe and Gallery
Maft Sai's relocated vinyl store is keeping hipster company in the alley where WTF and Opposite are also located. This sexy shop has a leather couch for impromptu listening parties and a vast collection of molam, look thung, reggae and dancehall records. Don't worry, the less hip among you may find the odd Donna Summers record, too.
RIDES
Thai Auto Vintage
Between On Nut Soi 57 and 59, 081-613-7777. www.thaiautovintage.com. Open daily.
Apart from selling ready-to-drive retro cars, they also stock old spares and offer specialized restoration services. Their highlights include a restored vintage Ferrari, a gorgeous Porsche, an Alfa Romeo, a Jaguar, and a ready-to-drive 1965's black Mercedes Benz 190 Fintail MT.
S. Sombat Kanamuji
Bantatthong Rd., between Chula Soi 34-36, 081-423-1438. www.sombatkanamuji.com. Open daily 9am-6pm
Offers over 1,000 used bicycles from Japan including BMX, foldable bikes, mountain bikes and fixies. They also have a decent stock of brand new bikes available. Prices range from B2,000-7,000. The owner is very kind and will let you pedal around the block before you find your dream ride.
Velayenn
59/27 Sukhumvit Soi 26, 080-900-2610. www.velayenn.com. Open Tue-Sun 5pm-midnight
A group of fixie hipsters opened up their own workshop serving mostly vintage custom made bikes and spares. If you just want to drop by and have a chat, Sugarlust (next door) serves homey food and cocktails as well. Night rides take place every Monday from 9pm-1am.
MARKETS
Nightingale Olympic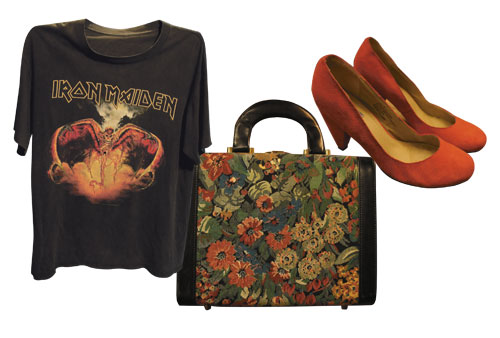 Your great grandparents will tell you that this haunted-looking seven-story building was once a very popular department store standing proud even before the first big Central. Well, Thailand's first mall is still alive and creepy. Rather than closing up shop, the owners just decided to keep selling the old stock, even though they have had to downsize to just two stories. You'll be journeying back in time through a pile of old golf clubs, underwear, musical instruments, expired perfumes and men's shoes. It's really, never-before-used vintage—what could be better? A customer once bought authentic Fred Perry shorts there for under B1,000, and Fred Perry doesn't even make those shorts anymore.
Pahurat intersection, 02-221-9733. Open Mon-Sat 9am-5:30pm
Wang Lang Market
In the shadow of Siriraj Hospital and surrounded by street food, Wang Lang is packed with secondhand clothes, bags and shoes. The secondhand section of the market is located in the middle and is divided into four zones. Most of the shops here have no official names, but they usually stick to their spot so you could come back and find them again if you had to. Mondays and Wednesdays are their clearance days to make room for new stuff. The first zone is the Ton Poh block (Open daily from 8:30am-7pm. B200-500) and it sells bags and high heels, fashion boots and flats. The Pra Too Kiew block (Open daily from 9am-6pm. B350-550) also does shoes and bags as well as some clothes and accessories, though not quite as nice as the stuff in Ton Poh, so you have to be willing to dig around for something good. The most popular shop here is the secondhand Converse shop. The third and fourth zones are called Talad Neaw Neaw, or the indie market (Open daily from 1pm-6pm, B100-550). You can also find handbags, jeans and other clothes there, but the overall vibe is way more hip than the other two sections.
Talad Rod Fai

Located on the Kampaengpetch Rd., next to Chatuchak weekend market and Or Tor Kor fresh market, Talad Rod Fai or Train Market is the newest night spot for secondhand shoppers. As the area is quite large, the place is not too packed, so the atmosphere is way more conducive to walking and browsing than Chatuchak and Wang Lang. Plus, the place is strewn with adorable little vintage-inspired cafes and bars playing old music. Apart from the clothing, bags and shoes, there are some more unusual items from people's personal collections to be discovered. You can find bikes (B4,000-6,000), Nintendo game consoles (B4,500) and even a 30-year-old Russian camera (B2,000)—all of them in working condition. You can even buy bike parts and assemble your own fixie. The retro home décor includes leather sofas, chandeliers and old school telephones.
Kampaengpetch Rd., 081-920-3972. MRT Kamphaengphet. Open Sat-Sun 4pm-1am
Chatuchak Weekend Market
One of the oldest destinations for indie shoppers, Chatuchak continues to evolve to serve the needs of its youthful customer base, awash in street fashion items, handmade stuff and a host of secondhand items. The market is divided into 21 sections, but the vintage finds are concentrated in sections 5 and 6. Clothing is priced between B200-550, though some rare leather jackets could cost up to B2,000, and secondhand jeans start at B1,000. T-shirts are often sold in bulk for B20 a piece, or B800 for rare rock band t-shirts. There's also lots of old vinyl here, starting at B500 for the original soundtrack of Grease (1978) while collector's specials like Woodstock 1969 go for B2,500.
Kampaengpetch Rd., MRT Kapaengpetch, MRT Suan Chatuchak and BTS Suan Chatuchak. Open sat-Sun 11am-7pm.
READ MORE:

Bangklyn Project's Pi Pae on Vintage and Secondhand Fashion

Flagman & Fellowship's Oak Sarisut on Vintage and Secondhand Fashion

Vintage vinyl buying tips from ZudRangMa DJ Maft Sai