---
VINTAGE FASHION STORES
Best for Vintage Tees
Best for Luxury Labels

Best for Military and Americana
Best for Ladies' Boutique Fashion
---
---
FURNITURE/INTERIORS
Best for High-end Statement Pieces

Best for European Antiques

The passionate owners of Vintage Showcase (1155 Patthanakarn Rd., 063-446-9394) have traveled across Europe to gather their eclectic array of pieces, from Victorian and Edwardian to vintage industrial gems from the '50s-'60s. Most of the stuff here comes from British and French flea markets, antique fairs and auction houses—expect a gorgeous 1920s wooden wardrobe, a handsome 1930s oak haberdashery cabinet, a French Napoleon coffee set, and a leather sofa from the 1880s, as well as other decorative items like picture frames and an English Imperial typewriter (B9,500). Similarly, over in Ladprao, European Antique Shop (8/71 Ratchadapisek Rd., 089-995-4969) specializes in genuine antique furniture and interior pieces from Italy, France, Holland, Germany and England, offering a huge collection of more than 2,000 home decor items—brass candlesticks, mirrors, lamps, chandeliers, record players, cabinets, paintings and religious artifacts—in primarily Baroque, Victorian, Empire and Rococo styles.
Best for Mid-Century Scandinavian Pieces

Best for Kitsch Retro
Papaya
Tuba (34 Soi Ekkamai 21, 02-711-5500) is a two-story pub, restaurant and art gallery whose '70s-inspired oddball bric-a-brac is actually for sale, meaning you can play pool, listen to some old tunes and buy a couch or life-size statue of Superman, the Incredible Hulk or Darth Maul all in one visit. The place also serves Thai-inter food (order the laab moo tod, B220) along with draught Stella Artois, Hoegaarden and cocktails served in huge martini glasses. Operated by the same owner is Papaya (Ladprao Soi 55/22, 02-539-8220)—a massive vintage furniture warehouse that has to be one of the most surreal places in Bangkok. Every inch of the three-story space is stuffed with thousands and thousands of antique, vintage and retro items, from 1900s Art Nouveau porcelain dolls (from B20,000), a Denon turntable and radio console from England (B35,000) and ceramic vases (from B500), to super-kitsch toys, tin cans, wooden rocking horses and surgical lights. Anything that you can think of, they probably have it stowed away somewhere.
More Awesome Vintage Furniture Stores
---
Markets
Best Vintage Flea Markets
Chatuchak Playground Antique Flea Market
Not to be confused with Bangkok's sprawling Chatuchak Weekend Market, Chatuchak Playground Antique Flea Market (Bangsue Junction Bldg, 511, Kamphaeng Phet 2 Rd., 088-377-5385. Open Fri-Sun 9am-10pm) is located along the strip in front of nearby Bangsue Junction shopping center. Every Friday, Saturday and Sunday, vendors display tons of Thai and foreign vintage, secondhand and antique goods, from knick-knacks like toys, glassware, electronics, vinyl, stereos and game players to fashion accessories and large-scale furniture. Also right next to Chatuchak, The Camp Vintage Flea Market (482 Kamphaeng Phet Soi 1, 098-998-8580. Open Tue-Sun 3pm-midnight) is sure to appease those who can't hold out till the next Made by Legacy. Here lovers of all things retro can spend their hard-earned on secondhand clothes (and new stuff that looks, well, old), as well as furniture, home decor and vinyl. All that vintage treasure hunting is bound to work up an appetite, so luckily street-food names (Taikong Seafood) and hipster faves (Pompano Roasted Cafe and Ari's Summer Street and Paper Butter Burger) take part too.
Best Vintage Night Markets
---
Do's and Don'ts of Flea Market Shopping
Don't walk away from an item you really, really love. You'll have a hard time locating it again in the market maze, so it's best to buy it there and then.
Don't forget to try on the pieces. It can be tempting to rush to buy in the excitement of finding that killer suede jacket or rare pair of 1940s Levi's, but remember it will have been worn and washed countless times, so don't rely on the size as a guide.
Don't buy items that will give you a hard time to fix or repair, whether it's weak fabric, heavy stains, holes or tears—it'll probably end up costing more than it's worth and may not even be possible.
Don't haggle if you're not serious about buying an item, and don't offer anything less than half of the price tag—otherwise you risk insulting the vendors and wasting their time.
---
Record Stores
Perched atop Thonglor's Black Amber building, this hidden gem is frequented by local indie musicians and music nerds who could well be extras from the set of High Fidelity. The selection spans '90s Britpop through to soul, funk and dance music. The tiny balcony occasionally heaves with gigs from up-and-coming rockers, too.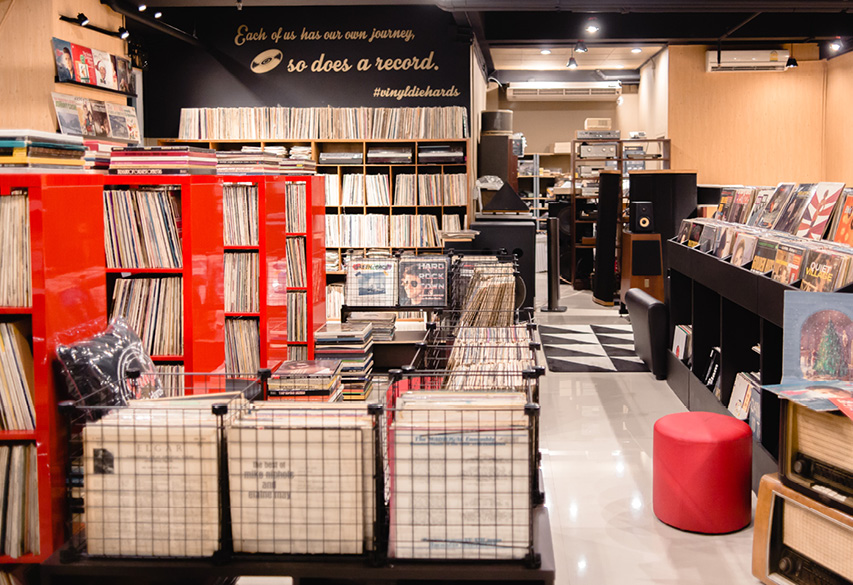 ---
---
REMEMBER: This stuff's more expensive than eBay
If you're shopping for trending mid-century European pieces or vintage Americana then chances are, that's right. The fact is that not a lot of this stuff was about in Bangkok when it was new, so the people selling it now are likely to have bought it from online auctions themselves, paid the tax and shipping, and marked it up for a profit. And don't expect to stumble upon some hapless seller who doesn't know his tatty old plywood dining set is by Arne Jacobsen. These people are super-knowledgeable. If what you're looking at sounds like a bargain, then chances are it's a knock-off and even those don't come that cheap.