When it comes to food trends, we are more than willing to go out of our way to try them. Wait in a mile-long line for donuts? Fork out the price of two meals for a bag of popcorn? Spend our entire lunch break queuing for tacos? Yes, yes and yes. Now it's the reign of Basque burnt cheesecake. Who started the trend? We have no idea, but getting that caramelized burnt top while maintaining a gooey centre of eggs, cream cheese and sugar is no mean feat. We're here to find out who nails it.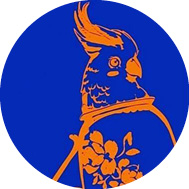 Patisserie Rosie
WINNER!
The place: Thonglor's patisserie darling has been killing it with contemporary twists on French classics since 2015.
The taste: We knew right away that this was the "it" slice, with an oozing middle (like a perfect medium-rare steak), satisfying jiggle and a nice sink on the perfectly-browned surface. Taste wise, it's tangy and not overly sweet with a mousse-like texture and a hint of vanilla—need we say more? Oh, it comes with fresh berries, too.
Price: B190/slice
Verdict: Get in our bellies
Pablo
RUNNER UP!
The place: Masamitsu Sakimoto—the brains behind this Osaka-born chain of cheese tart shops—treats baking like a work of art, so he named his brand after the legendary Spanish painter.
The taste: Though it is not as shiny as the others, the top has a pleasing chocolatey color. The consistency is on the dense and crumbly side, but the cake melts in our mouths, leaving a creamy, fragrant and moreish aftertaste. We could pablo-bly devour the whole thing in one sitting.
Price: B295/dainty whole cheesecake
Verdict: Pablo Honey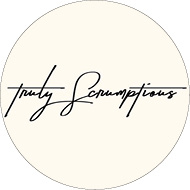 Truly Scrumptious
The place: Tucked-away on Sukhumvit Soi 49, this European-style cafe serves up beautiful homemade cakes and baked goods.
The taste: This slice looks like a perfectly cut, Tom and Jerry-like cheese wedge. The taste is nicely balanced between sweet and salty, while its intense flavor almost tastes like parmesan—in a good way. The only downside is that it sticks to your palate.
Price: B210/slice
Verdict: Say cheese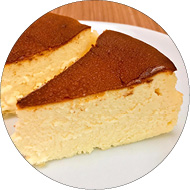 The Burnt Cheesecake Store With No Name
The place: Somewhere in Lad Phrao, the owner of this newly-opened Facebook store under the temporary name "Cheesecake.lover 47" doles out freshly-baked Basque burnt cheesecake in a lovely delivery box.
The taste: This one in particular reminds us of custardy khanom mor gaeng, with its umber browning and smooth texture. It has tangy and mildly sweet notes but the jelly-like texture makes us question if it's worth the calories or not.
Price: B380/hefty whole cheesecake
Verdict: Jelly legs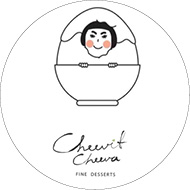 Cheevit Cheeva
YIKES!
The place: Hailing from Chiang Mai, this lively dessert chain is well-known for its Thai-style bua loy and coconut milk bingsu.
The taste: Despite the flawless plateau dip of that finely browned top, it disappoints us with a very subtle, one-dimensional flavor. Plus, the consistency is super light and airy like a sponge cake. We find ourselves continuously coming back to it but we can't find what we're looking for.
Price: B135/slice
Verdict: Basique
---
BK's Taste Tests are conducted blind by a panel and are intended as entertainment, not rigorous scientific analysis.

Read more of BK's Taste Tests