BY DAY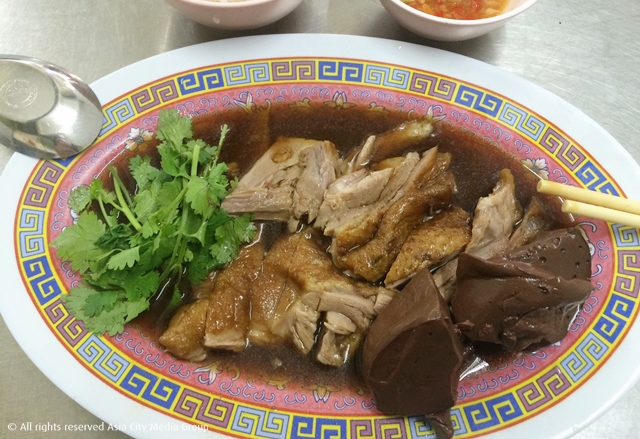 1. Lao Tang
The heavenly braised goose meat at this hole-in-the-wall eatery is slowly cooked with Chinese herbs for more than one hour. The outcome is tender-but-springy meat that goes perfectly with hot steamed ice. They also offer bitter gourd soup, pork ribs soup and algae soup. Warning: goose sells out within 3-4 hours. Prices start from B120. If you're more of a night owl, the duck noodles at the same spot are another neighborhood favorite that sells out equally quickly. Prices start from B50.
467/1 Yaowarat Rd., 02-221-6070. Open daily 8:30am-1:30pm
2. Kong Prasert
The residents we spoke to called this their favorite place to seek out moo krob (crispy roasted pork belly) and moo daeng (roasted pork). Their crispy pork contains thin layers of fat while the skin turns into a thick crust which tastes beautiful with the signature curry powder-spiked gravy. Prices are also surprisingly cheap—they still serve their dishes at B30. Hot soups here are also wonderful. Try the braised sheep stew and sukiyaki broth. We also recommend the fried sukiyaki thanks to their delicious pickled bean curd sauce, pickled garlic and chili.
304-6 Charoenkrung Soi 27 (near Gate of Chinatown, Odien Circle), 02-238-3587. Open Tue-Sun 10am-6pm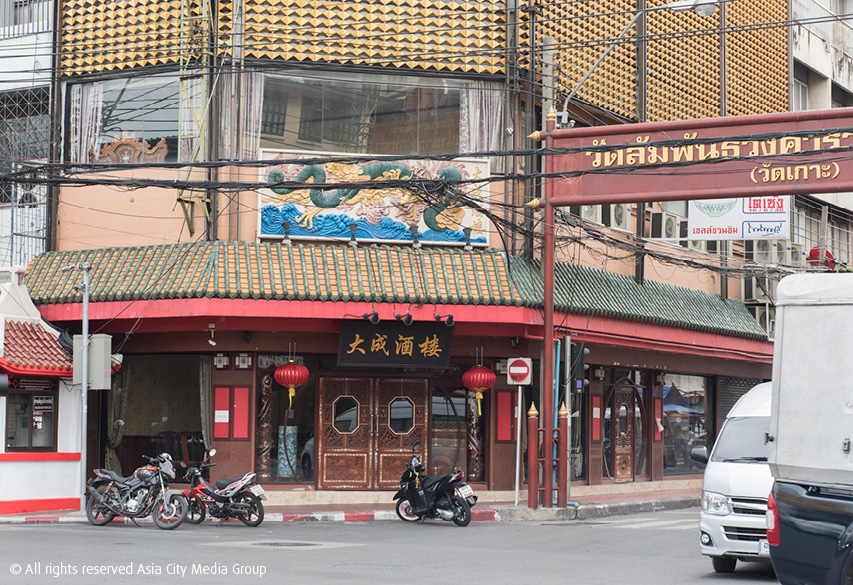 3. Tai Seng
Though a new face in the area (it used to be over at Lang Suan), Tai Seng restaurant has already won local Chinese families' hearts for its killer dim sum dishes, from shrimp dumplings (B50) and guay tiew lord moo dang (noodle with roasted pork, B60) to Peking duck (B900). Other Chinese staples on offer include steamed fish in soy sauce (market price), noodles in seafood gravy (B200) and stir-fried scallops with XO sauce (B350).
Chalermburi junction, 121-9 Yaowarat Rd., 02-639-5855. Open daily 11am-2:30pm, 5-10:30pm
4. Kanom Jeep Wat Yuan (Jek Sia)
In business for 55 years, Chinatown resident Jek Sia's pushcart is always surrounded by locals and outsiders who know where to find the best pork dumplings. He took the recipe from his Taochew ancestors, using ingredients such as pork, shiitake mushrooms and sesame oil. Starts at B3 per piece, 15 for five pieces.
Mongkol Samakom Temple (Wat Yuan), Plang Nam Rd, 02-223-7344, 081-726-0777. Open 11am-6pm.
5. Kui Chai Hor Chia Jay Noi
The best place in town for kui chai (fried pancake with chives). They fry their delicious pancake batter at the perfect temperature until it's slightly crispy outside and tender within, then serve it with a tangy and spicy black soy sauce. Three pieces cost B27.
Charoenkrung Rd. (opposite Phadung Dao Rd.), 081-721-2642. Open Tue-Sun 1-7pm
6. Hoi Tod Texas
Go here if you want to sample an old-school version of hoy tod (oyster omelet). Hoi Tod Texas fries its flour-and-water mix till the texture becomes crispy outside and jelly-like in the center before adding the egg. They also give you the choice between mussels and oysters, with prices starting from B60.
Phadung Dao Rd. (Soi Texas Suki), 02-222-6317. Open daily 11am-8pm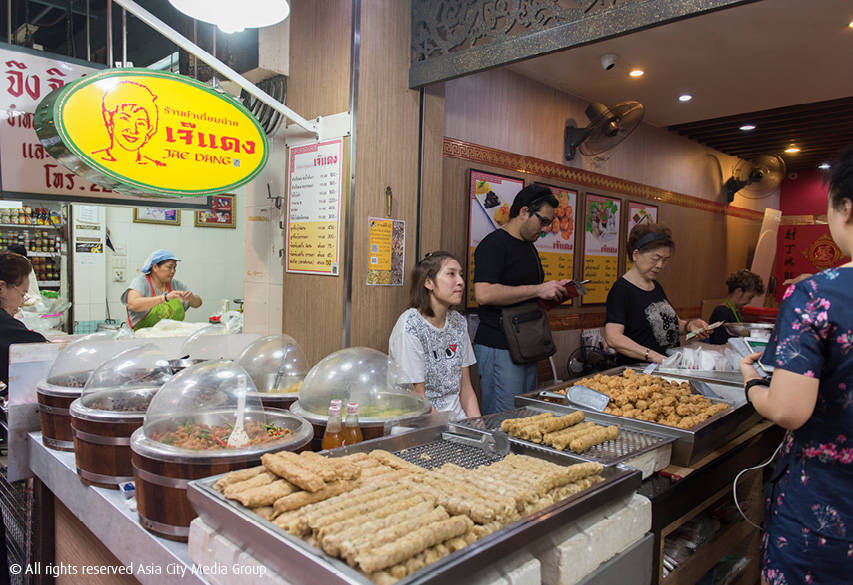 7. Jay Daeng Gium Chai
Famous for their tangy pickle salad, this shop also has a reputation for its full-flavoured hoi jor (fried crab/shrimp meat rolls, B75/B120) packed with chunks of meat. The shrimp balls (B300/B500 per kilogram) are also worth ordering to take home—and don't forget to grab some of the pickled vegetables, too. (B160 per kilogram).
222 Yaowarat Soi 6, 083-844-3388, 081-926-8899, 02-225-1960. Open daily 6am-6pm
8. Chiang Pu Chestnut
There are so many chestnut shops around Yaowarat that it's hard to stand out. Chiang Pu Chestnut wins the local vote as it's believed to be the very first of its kind in the neighborhood. They still use chestnuts sourced from China, which they roast in a mixture of sand and sugar to help moisturize and wax the crust. Prices start from B35 per 100 grams.
293/1 Yaowarat Rd. (in front of Yaowarat Soi 6), 02-222-2219, 089-445-4544. Open 24 hrs
---
BY NIGHT
9. Jay Fai Som Cheng Juice
This small orange juice shop has been around for nearly 40 years thanks to its wonderfully fresh juice made from sweet som cheng oranges. Apart from simple bottles of 100-percent orange juice (B60-185), they also squeeze pomegranate juice.
459 Yaowarat Rd., 080-267-1456. Open daily 5pm-midnight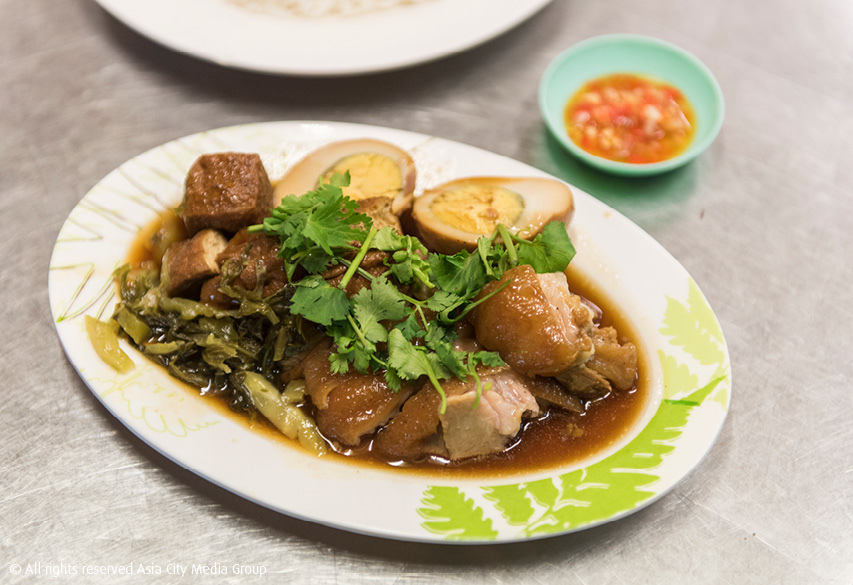 10. Kha Moo Siri Rama (Jay Wan)
Relocated from its old spot near Siri Rama cinema (now being reconstructed as a mall) on Charoenkrung Road, Kha Moo Siri Rama is known among Yaowarat people for its not sweet braised pork knuckle under a thin layer of jelly (a result of the two-hour cooking time). Other highlights include the flavorful one-hour-stewed entrails and fried tofu soaked in the kha moo broth. Prices start from B40.
Trok Sai, Padungdao Rd. (Soi Texas Suki), 087-705-4739. Open daily 4-9pm
11. Nong Amm
Yaowarat people turn their back on the massive queues at legendary bread stall Kanom Pang Jao Aroi Ded Yaowarat, preferring to sit and chat at this little bread and milk station. Open for 30 years, this precursor to the food truck offers grilled bread with sangkaya (pandan custard), butter and condensed milk along with other milky drinks such as cha yen (iced tea with milk) and hot fresh milk.
Padung Dao Rd. (Soi Texas Suki), 086-324-1711, 081-372-8861. Open Tue-Sun 6:30-10pm
12. Guay Jub Lek (Auan)
Don't be surprised to see this small push cart in front of Yaowarat's old market (talad gao), surrounded by a crowd all after its signature guay jub (rice noodles in five-spice broth). Its fans love it for the perfect crispy pork, clean-tasting entrails, and peppery soup. Chairs here are only for those with enough patience.
Yaowarat Soi 11 (Soi Isaranuphap). Open Tue-Sun 6pm-1am
13. Xia Hu Chalam
This small stall with its signature yellow sign is reputed for its fish maw, whether as a soup or stir-fried. The fried rice and stir-fried Hong Kong noodles with crab meat are equally essential eats, the latter featuring crab meat transported directly from Surat Thani. What's more, prices start at just B70.
Yaowarat Rd. (in front of Haki Lim Jing Hieng and Chinamart shop), 096-915-6659. Open Tue-Sun 7pm-1am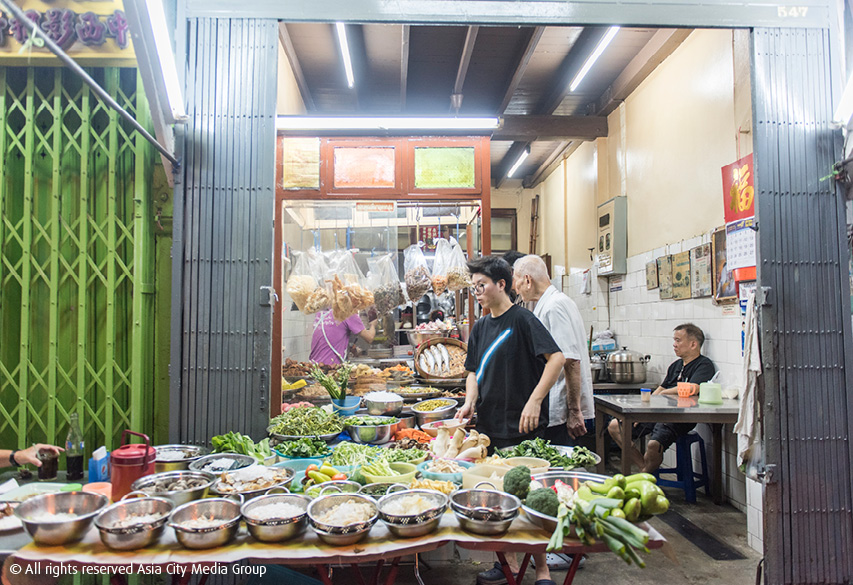 14. Khao Tom Jay Suay
Rumoured to have been around since before World War II (hence its nickname Khao Tom 100 Years), this rice soup place is run by the third and fourth generations of a Chinese family. Their ancestors' recipes include kiam buay moo sup (chopped pork in clear soup with Chinese plum, B50), moo daeng tod (fried roasted pork, B60) and ped palo tod see ew (stir-fried braised duck with soy sauce, B120). But what Yaowarat people most recommended here is smoked duck (B150 per piece).
Plang Nam Junction (Phab Phla Chai Rd.), 02-223-9592. Open daily 4pm-3am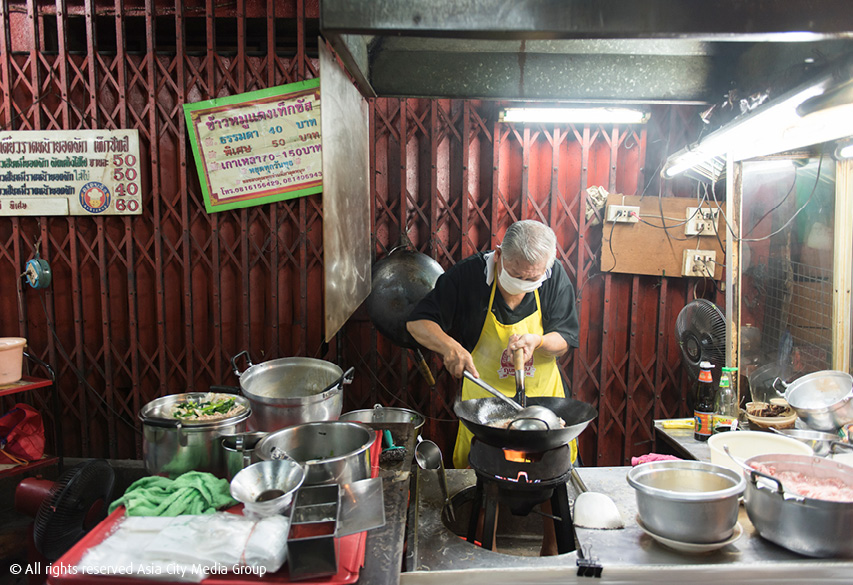 15. Rad Na Texas
This old-school rad na (noodles in gravy) place only stays open for three hours a day and always draws customers who buy their food to take away. The patriarch of the family still cooks the rad na over a strong flame that delivers exactly the right charred aroma into the noodles. The pork is also deliciously tender thanks to the six hours it spends marinating. Prices run from B40-60.
Phadung Dao Rd. (Soi Texas Suki), 089-882-9566. Open Fri-Wed 5-9pm
16. Porn Lamai
This street-food stall drew international attention when Hell's Kitchen star Gordon Ramsay visited. Its top dishes are rad na phu khao fai (gravy noodles cooked on a volcanic hotplate), sukiyaki, taro kua (stir-fried fish snacks) and taro kua kee mao (crispy stir-fried fish snacks). Dishes cost from B60-150.
Plang Nam Rd., 099-249-5414. Open Tue-Sun 6pm-2am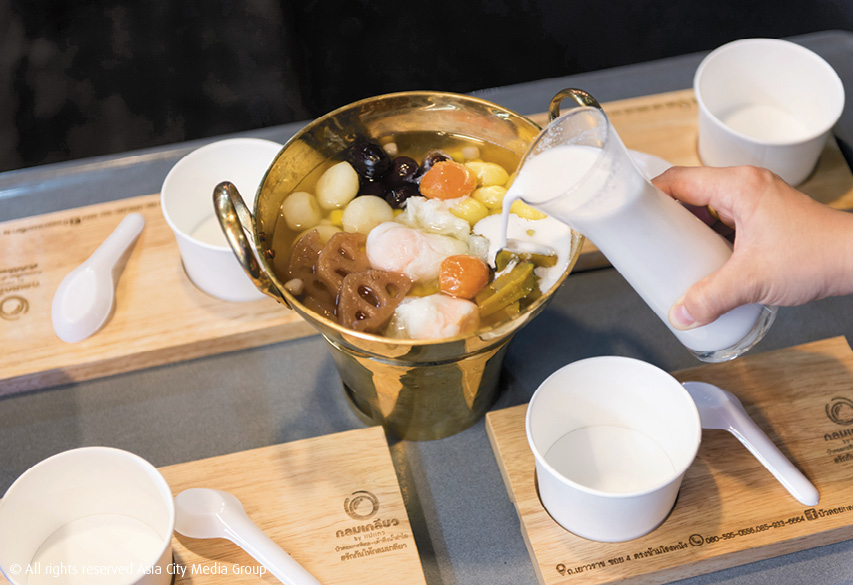 17. Bua Loy Klom Kleaw by Mae Koew
Open for only a year, this small kiosk has already won locals' hearts for its richly flavoured bua loy (dumplings in coconut milk) made from taro and pumpkin and served with syrupy monkey apple, gingko and lotus roots as well as salted egg and oozy duck egg yolk. The owners also just added a new hot-pot portion (B259) big enough to share among four to five. Prices from B40.
Yaowarat Rd. (in front of Yaowarat Soi 4), 085-933-6664, 080-595-0556. Open daily 8pm-1am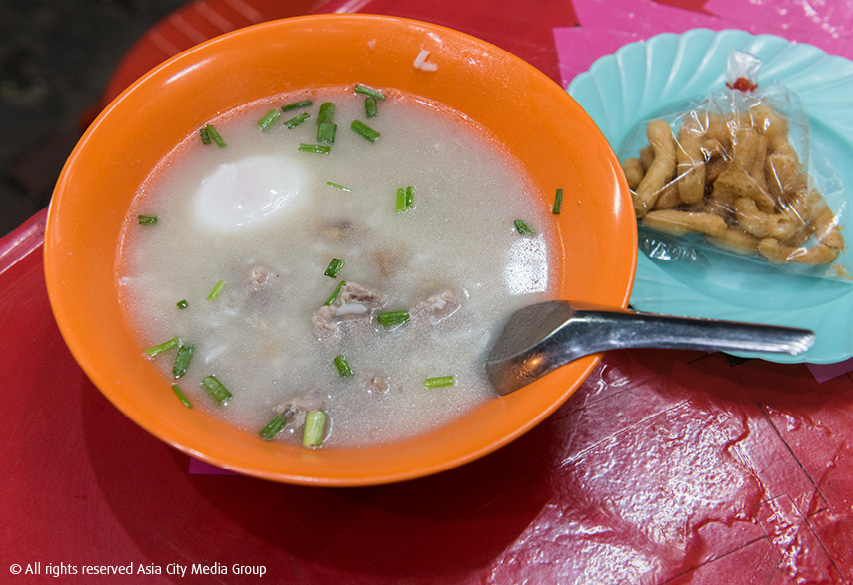 18. Khao Tom Kraduk Moo
Though it doesn't even have a proper name (referred to only by its signature dish of rice boiled with pork bones), this place has been serving the people of Yaowarat for 40 years. By the time it opens (7:15pm sharp), you'll already find people sitting at the tables and waiting to place their orders. Its success lies in the fact that the rice is cooked in a stove oven for the greater fragrance caused by longer time on the heat. Try their boiled rice with soft bones and egg. Prices start from B40.
Charoenkrung Rd. (opposite Wat Mangkorn), 089-682-0016. Open Tue-Sun 7:15pm-1am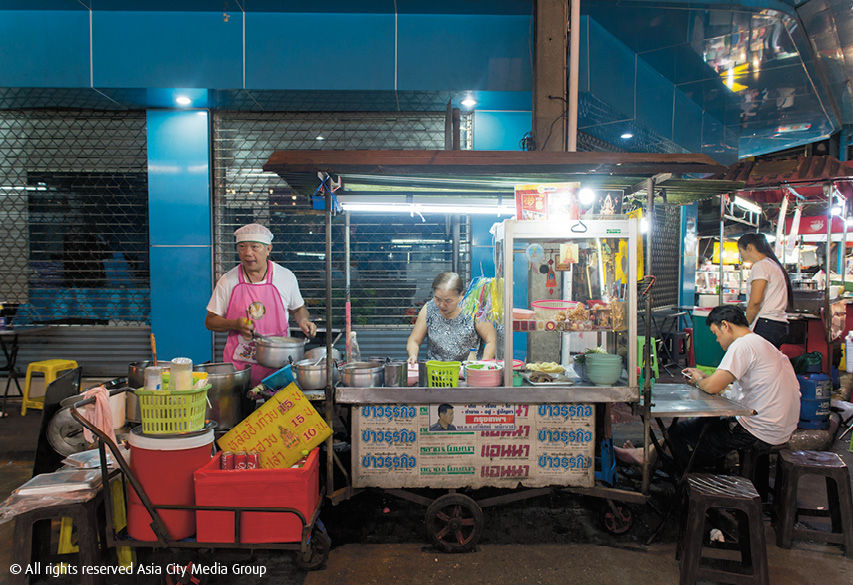 19. Congee at Krung Thai Bank
This beloved push cart serves a simply delicious joke (congee) in a pork-bone broth. The pork balls burst with sesame oil fragrance, while the entrails get washed in salt prior to boiling to get rid of any unpleasant odor. We suggest you order your bowl with an oozy thousand-year egg (B40) sourced from one of the best shops in Yaowarat's old market.
Phadung Dao Rd. (next to Krungthai Bank), 084-165-2158. Open Tue-Sun 6pm-midnight
20. Nai Weng
This pork blood soup stall is reputed for the freshness of its ingredients. The soup is so clear it looks like a consomme yet still manages to deliver a powerfully balanced flavor of pork bone. The perfectly prepared entrails also have one of the best textures in town. Prices start from B60-B70.
Plang Nam Rd., 084-755-8027. Open Tue-Sun 5pm-2am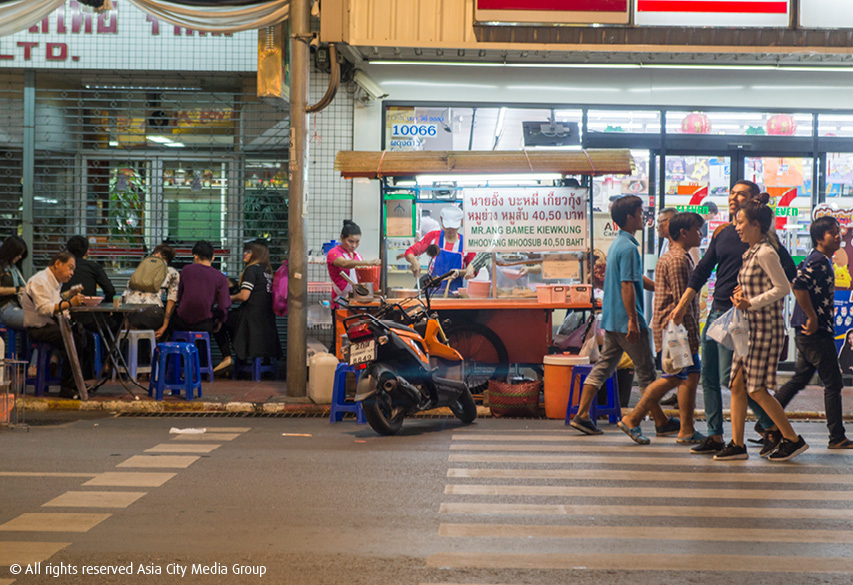 22. Nai Aung Bamee Moodaeng
This noodle shop's reputation rests with its dumplings (from B40)—packed with whole chunks of shrimp and diced pork. Be warned: they can disappear from their usual spot quite spontaneously, so go with crossed fingers.
Yaowarat Rd. (in front of 7-eleven at Phadung Dao Rd.). Open Tue-Sun 7-10pm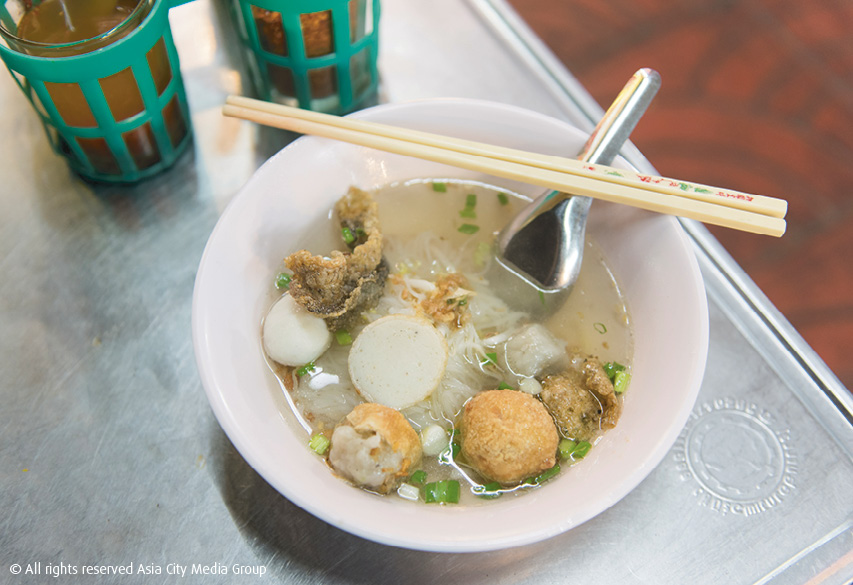 23. Guay Tiew Luk Chin Krae
It's easy to overlook the ordinary-looking sign of this shop specializing in yen ta fo (pink soybean noodle soup). Their simple but refreshing clear noodle soup brims with all sorts of different fish balls, including luk chin krae (Hakka-style fish ball).
Yaowarat Rd., (in front of Lieng Seng Heng gold shop). Open Tue-Sun 7pm-midnight
24. Guay Tiew Lord Pornchai
Easy to spot thanks to its red sign, this guay tiew lord (dried noodle with black soy sauce) shop comes highly recommended. The ingredients used here range from braised pork and squid to tofu, shiitake mushroom and dried shrimp.
Yaowarat Rd. (near Lao Li shark fin restaurant), 081-903-9151. Open Tue-Sun 7pm-midnight
---
BK Asks
What's your favorite restaurant in Chinatown?
"I recommend Tai Seng Restaurant. Before they moved here, I would go to Grand China Restaurant whenever we had a big family gathering. Now I like Tai Seng. I love their dim sum, fruit salad, stuffed duck and Peking duck."
Pannee Leelanukul, 62, owner of Jay Daeng Gium Chai See No.8
"If you love egg noodles, I recommend Aung Egg Noodle in front of 7-Eleven at Phadung Dao Road. They serve excellent shrimp dumplings and aromatic roasted pork."
Korkiat Jienjaras, 36, owner of Xia Hu Chalam See no.13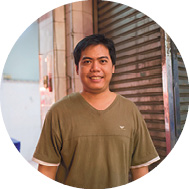 "I love Porn Lamai. Every dish they prepare is good thanks to quality ingredients such as large shrimp. I recommend you try their rad na phu khao fai (stir-fried noodles in gravy) and taro pad kee mao (spicy stir-fried fish snacks), both of which they serve on hot plates. You need to eat it quickly!"
Bodin Mongkolsuebwong, 36, owner of Jay Fai Som Cheng Juice See no.3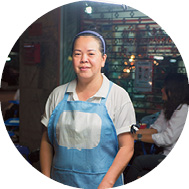 "I love to eat tom lued moo [pork blood in clear soup] at Nai Weng stall on Plaeng Nam Road. I like how they get rid of any unpleasant odor in the preparation, as well as the sweet pork bone broth.
Namjit Saetang, 49, owner of Nong Amm milk and bread See No.11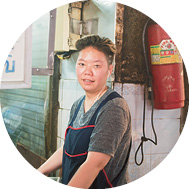 "I recommend a goose place called Lao Tang. It's very good, with a broth that's not too salty and perfect with a bowl of rice.
Pui Punturanan, 34, owner of Hoy Tod Texas See No.7
---