Bangkok has come a long way since Krispy Kreme debuted a decade ago. Natural yeast dough, plant-based rings, sugar-dusted Berliners, Italian bombolinis: here are eight great places to grab the classic, sugary fried treat in Bangkok.
Nestled in Udom Suk and now Ari at the Josh Hotel, the brainchild of bloggers
Oats X Somewhere
is a picturesque retreat, but the crowds aren't coming for the vibes alone. They come for the drool-worthy classic vanilla rings (B95), loaded with rich, not-too-sweet Madagascar vanilla cream, and more exotic options like the creme brûlée (B95) and bacon cheddar cheese (B115). Pair these treats with a black cold brew or jazz it up with their tiramisu coffee.
3131, 4-5 Sukhumvit Rd. (BTS Udom Suk), 096-393-8838. Open 10am-6pm
Singaporean chef Cong Wen's shop in Nanglinchee serves perfectly soft donuts, with shiny glazed sugar coatings that come in a variety of cream-filled flavors. The highlights here are undeniably the vanilla custard donuts (B80), but options with unusual fillings like palm sugar butterscotch (B80) and coffee and walnut praline (B100) are not be missed, either. R.I.P. that fried chicken, though.
76/10 Nanglinchee Rd., 093-596-2465. Open Tue-Sun 11am-6pm.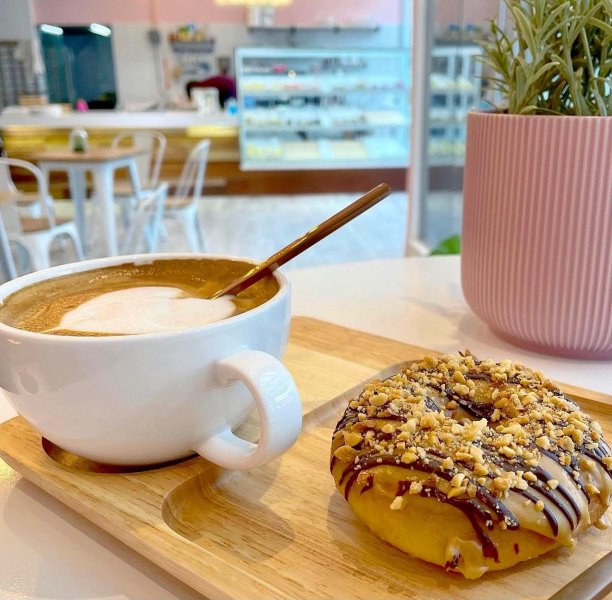 Chiang Mai's award-winning vegan donut shop arrives in Bangkok with a cozy, cotton-candy-colored cafe. Here, the specialties are plant-based donuts that do not compromise in taste at all—they are arguably even better than their full-cream counterparts. The donut base is extremely soft and chewy, enhancing all the toppings served here. Go for the Krispy Kreme-like original glazed donuts (B65) or classic cinnamon (B65). For extra punch, the lemon poppy (B75) and raspberry chocolate (B75) will satisfy your cravings.
99/290 Soi Phrom Mit (Sukhumvit Soi 39), 098-002-0156. Open Tue-Sun 10am-6pm.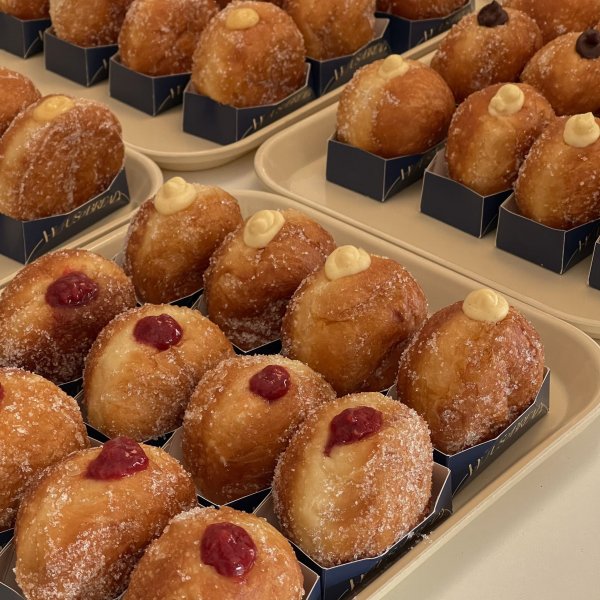 Credit: Huus of Bread
This new bakery has brought "sho-nuts" to Bangkok. A sho-nut, for the uninitiated, is a cross between Japanese milk bread (shokupan) and donuts—identical to your classic sugar-coated donuts, but softer and super-dense in texture. Popular options include the lemon curd sho-nut (B85) with its citrus-filled kick, a classic chocolate-filled sho-nut (B90), and the bittersweet matcha sho-nut (B95). For drinks, the coffee here is made with specialty beans from Saphan Kwai's Sleep Enemy with options of non-caffeinated beverages, too.
4107 Rama 4 Rd., 083-003-4926. Open Tue-Sun 10am-5:30pm.
Credit: Kinu Donut
Kinu Donut
Looking for something simple? Ari's staple donut shop serves puffy, unglazed melt-in-your-mouth donuts. Forget the glaze: these burst with butter-rich flavor. There are only a few flavors, including a highly questionable salted egg version, but splurge with a box cinnamon or original (B120/8pcs).
Ari Soi 5, 087-462-6666. Mon-Sat 9:30am-5:30pm.
Credit: Cream by Flour Flour
Chiang Mai's creative Flour Flour bakery brought bombolonis to Bangkok. Forget your typical donuts. This spot serves some intense, buttery sourdough-based donuts that bear some resemblance in texture to jiggly pancakes. Opt for their best-selling vanilla cream donut (B69) or switch things up with flavors like lemon meringue, salted caramel creme brûlée, or, their latest, hazelnut cream brownie.
399/4 Silom Soi 7, 095-695-8594. Open Mon-Fri 9am-7pm.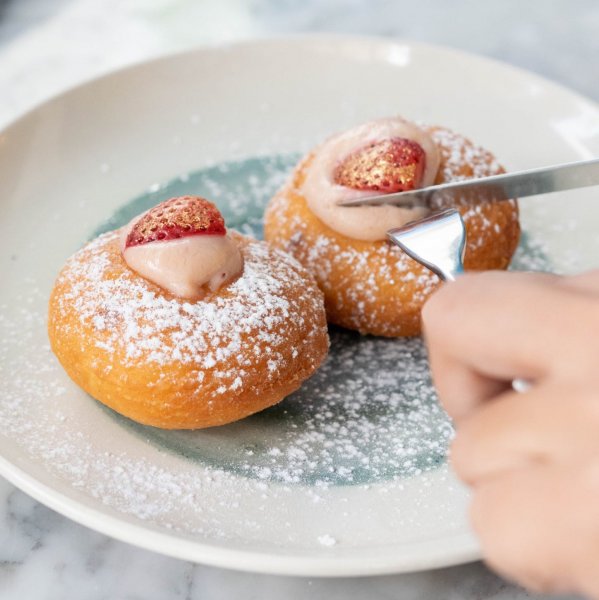 Credit: La Dotta
It's typically all about pasta here, but don't miss the to-die-for deep-friend Italian donuts. The artisanal pasta bar in Thonglor, now with a Silom branch too, serves bombolini donuts (B120) with classic fillings like nutella and strawberry to their signature flavors like champagne and tiramisu. Grab some to-go with their "Box Boloni" snack boxes (B98/box; includes two donuts and water), which come with two donuts, including savory options. Think carbonara and crab meat.
10/15 Soi Convent, 02-236-5558. Open Mon-Sat 11am-2:30pm, 5-9pm.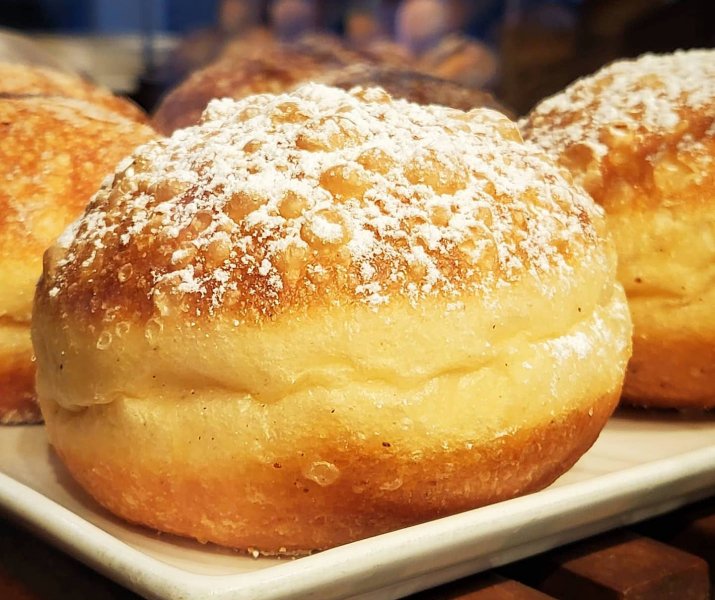 Credit: Holey Artisan Bakery
Known for their croissants and baguettes, Sukhumvit Soi 31's early-rising bakery (now with branches in Suan Phlu and Phra Khanong) draws bread-hungry crowds each morning. But look past the sourdough for sweet treats like their traditional Berliner. The secret lies within the gentrly fried homemade brioche, which gives it an extremely soft texture contrasted with a crunchy exterior from a quick dip in the fryer. Try it plain (B70) or with fancier flavors like jam (B75) or butterscotch (B90).
245/12 Sukhumvit Soi 31, 02-101-1427. Open daily 7am-7pm.