Fans of La Monita and Billy's Smokehouse know how passionate Billy Bautista is when it comes to his Mexican cooking. Over the past four years, he has joined with three other chefs—Mauriicio Rosales, Beto Garcia, and Arturo Villegas—to create their omakase-style Santiagabkk.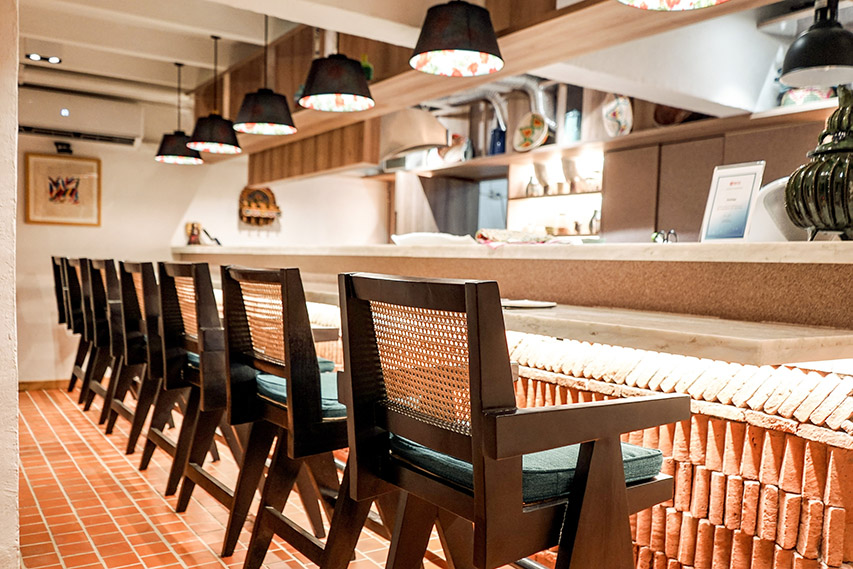 Situated atop La Monita, Santiaga offers flavor-packed dishes from popular and lesser known Mexican regions woven into an epic culinary narrative. If you're new to the cuisine, fear not, as Bautista, along with his fellow chefs, take turns guiding you through each dish in a Ted-Talk-like presentation. Kasama "Ao" Laopanich also grows her own chillies, vegetables, and nopales for the cooking here.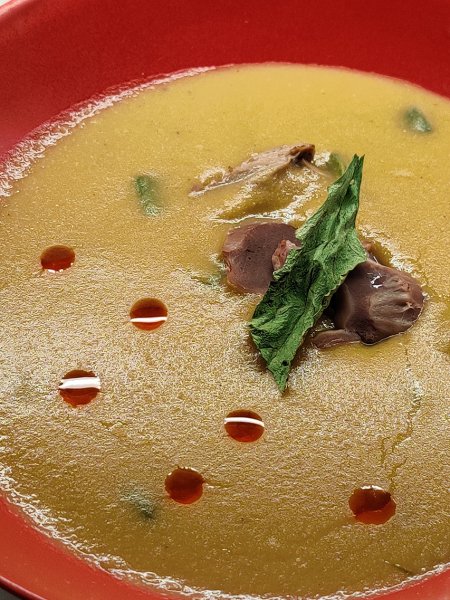 Don't let the "omakase" label scare you. Just like La Monita, Santiagabkk serves Mexican specialties at affordable prices. On our last visit, Bautista introduced us to his grandmother's Sopa Oferia (B175), a tub of chicken and fava beans holding a bath of crunchy cactus and chayote complete with chicken hearts and gizzards.
The Santiaga grilled salad (B220) features etote (charcoal grilled Mexican corn), grilled baby cos lettuce, rocket, and tomato topped with a tangy tepache reduction dressing; the sharable guacamole (B350) arrives with deep-fried Tlayuda chips.
The crunchy corn-dough gordita (B220) is packed with porky deliciousness from chicharron prensado and cured pork and a generous stuffing of cheese.
We love La Monita, so expectations were high—and exceeded. The formidable corn tortillas are made fresh from scratch and cooked in the clay comal—arguably the only Mexican place in Bangkok that uses one. The lengua beef tongue (B320) just melts in your mouth.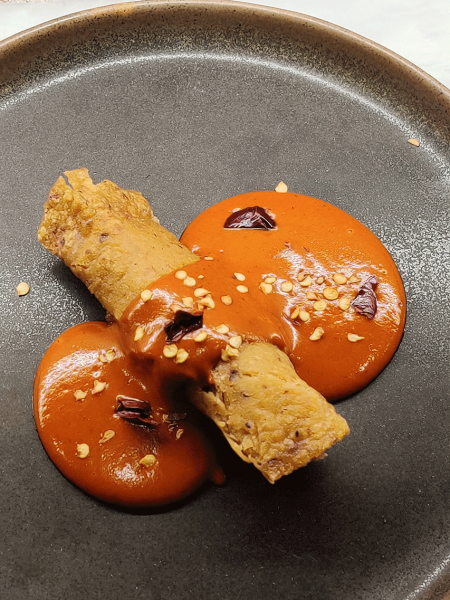 Perhaps our favorite is Pato (B350), an aromatic braised duck coated with creamy enchilada sauce atop corn tortillas—a full-on guilty pleasure that makes you wish you could forget the calorie counting.
For non-meat eaters, Santiagabkk has Manchamanteles Veg (B290), a rich mole served with French green beans and charcoal roasted pumpkin.
Dubbed as Mexican 101, their omakase options start at B1,800 for 8 courses and B2,300 for 10-course dining menus. As of now, Santiagabkk is still in its soft opening and accepts guests via reservation only.
2/F La Monita 888/25-26 Ploen Chit Rd., BTS Ploenchit. For reservation: Instagram @Santiagabkk