One of the most influential chefs in history

Alain Ducasse is a man that really needs no introduction in foodie circles. The legendary French chef held a whopping 21 Michelin stars across his international empire in 2012, the most of any living chef on the planet. His legendary flagship venue in London, Alain Ducasse at The Dorchester, holds three Michelin stars and has for the past decade. He is the first chef in history to own three restaurants with three Michelin stars in three different cities (New York, Paris and London).
He has also appeared as a special guest on the US and Italian versions of Masterchef. In 2011, he was behind the multi-course gala dinner for the royal wedding of Prince Albert of Monaco, which was attended by a who's-who of 500 A-listers. It's hard to understate how much Ducasse has influenced the international dining scene. He is the elite of the elite, and restaurants that bear his name are among the finest in the world.
This means his entrance into the Thai market is no small bit of news, and the whole foodie scene has been buzzing since news of his arrival broke in November of this year. Although he announced a chocolate shop in Bangkok earlier this year, the recent opening of Blue by Alain Ducasse at ICONSIAM is arguably the biggest culinary news of the year.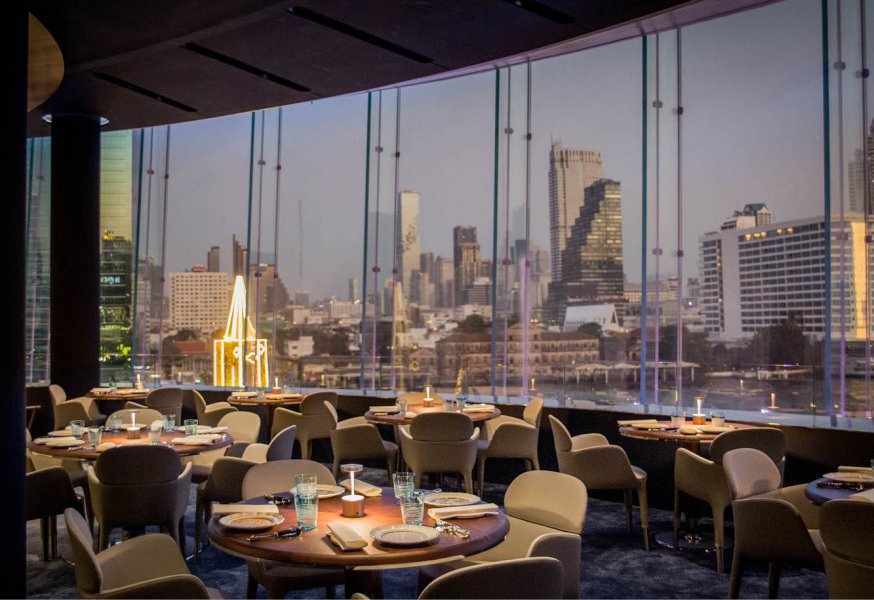 Inside Blue by Alain Ducasse

Blue by Alain Ducasse will be Ducasse's first proper restaurant in Bangkok, and will stick to his traditional French finedining roots, but is very much meant to be a unique experience to Bangkok that doesn't copy-and-paste concepts from his other venues. "'Blue by Alain Ducasse' is unique to this city and with its own particular identity," he said. "It has a contemporary French menu that I personally conceived, using carefully selected ingredients, and to be enjoyed in a magnificent setting with inspiring views over the Chao Phraya River that, together, deliver an unforgettable experience."
That menu will evolve with the seasons as premium produce becomes available. Right now, the menu sports a bevy of French classics augmented with ingredients from across the globe, such as Hokkaido's sea scallops served with Thai herbs salad in a black truffle vinaigrette dressing. There's also another starter made with blue crab, tomato water gelée, and gold caviar that uses three different types of tomato, has a gelée that is cooked for 12 hours, and is crowned with exquisite gold caviar.
Main dishes include grilled plumb lobster dipped in homardine sauce, with refreshing notes from apple juice and crunchy savoy cabbage. The venue doesn't pay lip service to the Ducasse brand either. It's very much meant to remain at the cutting edge of the international food scene. If you want proof, just look at who Ducasse has pegged to helm the kitchen, Wilfrid Hocquet—a chef with 20 years experience in many of Ducasse's Michelin- star restaurants, such as Le Louis XV by Alain Ducasse. He's also brought in one of his key maî·tre de to manage the service, Alex Cufley—the man behind the success of Macau's Alain Ducasse at Morpheus.

1/F, ICONSIAM (ICONLUXE zone) 02-005-9412. Main dining area: Open daily 12pm-2pm; 6.30pm-10pm, Lounge: Open daily 11am-10pm.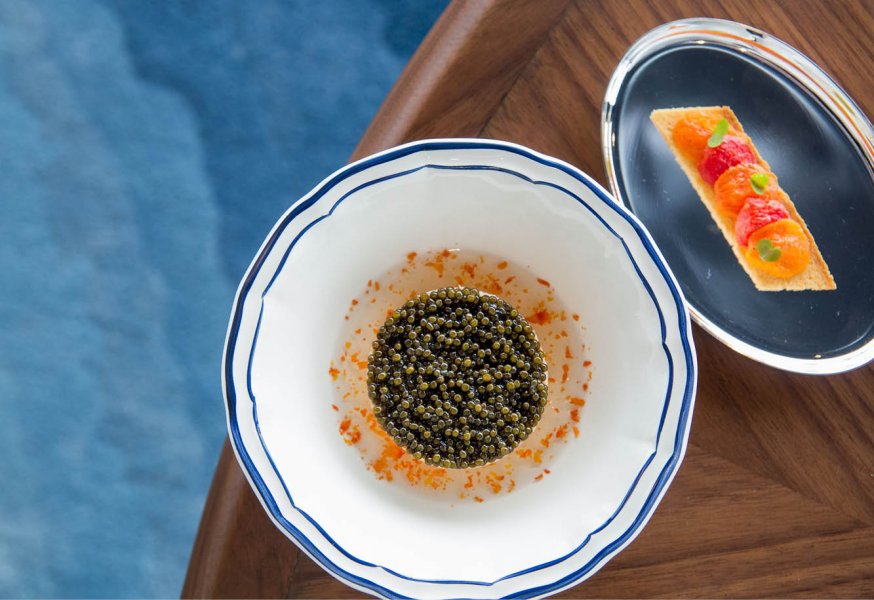 Sponsored by: