Insects are no stranger to Bangkok's food scene–from street food kiosks selling
rod duan
(fried insects) to upscale fine-dining at
Insects in the Backyard
where the entire menu is dedicated to bugs.
But this event promises something we rarely see with insects: 3D printing.
As part of Bangkok Design Week 2022, research institute and insect farm
Exofood Thailand
has teamed with creative/design-focused
FabCafe
to use their expertise to convert you into eating these hexapodal critters.
"Through these neat and cutting-edge presentations, we want to encourage people to see that there are various ways you can enjoy eating insects," says Athivach "Boom" Pongsattasin, one of the co-founders of Exofood Thailand whose mission is not only to improve Thailand's insect scene with their technology but also develop more sustainable protein sources for the future.
"You won't notice that these dishes are actually made from insects," Boom assures BK Magazine.
In their four-course tasting menu (B590) keeta, kaha, nawata (roughly translated to "insects, food, and innovation," Boom, along with his team from Exofood and creative crews from FabCafe, helps create dishes that highlight the nutritional value and diversity from the bugs.
The meal starts off with roasted pandan honeycomb. Thapakorn "Pong" Shinawasi, the chef overseeing this event, took inspiration from how Thai locals usually wrap honeycomb with banana leaves before roasting it. Instead of the usual banana leaves, Pong wraps it with pandan to lend a pretty green tint and refreshing aroma before topping it with a 3D printed dome of sugary sauce, which will melt from the warmth of roasted honeycomb inside.
The second dish, red ant larvae salad, acts as a palate cleanser, featuring the rare-find mae peng, a local dialect for the ant queens whose sour acidity rinses out the sweet creaminess of the earlier honeycomb. More fun is added with crispy crackers made from larvae that squish and pop as they go.
Inspired by Thai traditional khan tok (dining trays), the main course sees maeng da (giant water bug) in a 3D printed gelatinous bowl and served alongside rice and indetectable cicada and cockshafer bits. "Like other farm-to-table concept dishes, we want to bring the whole rice field to your table," Boom tells BK.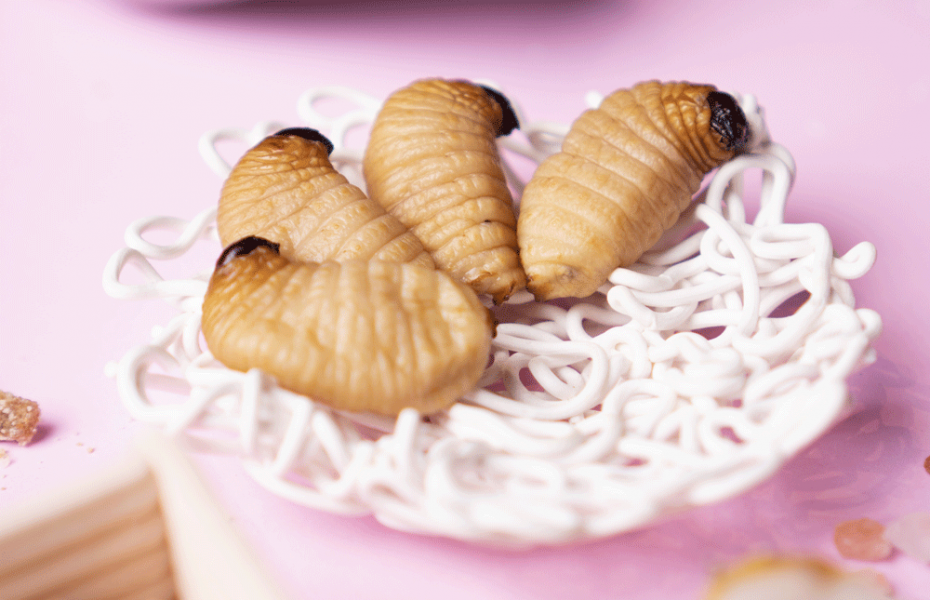 Surely, we can't end the course without a dessert. Chef Pong sources palm weevils from Exofood's insect farm and transforms them into delectable coconut ice cream. These weevils, however, are not your typical palm-eating insect, Boom tells BK. Instead of feeding these bugs with cassava, Exofood deliberately feeds them with fruit, lending a unique taste. The white crumble underneath the ice cream is also made from mealworms.
The event will run from Feb 11-13, starting at 6pm and has a limited capacity for seating 20 people for each round.

Fabcafe. 3/F Thailand Creative & Design Center. Charoenkrung Rd.