InterContinental Group continues to expand its luxury presence in Southeast Asia with the launch of Kimpton Kitalay Samui, a sprawling beachside resort in the popular tourist island. Found on the northeast edge of Koh Samui just a few minutes away from the airport, the resort's dark wood façade and angular roofs give the appearance of a stately home with stilt-suspended platforms and double-tiered walk spaces (it was designed by local architects P49, if you were curious).
There are 138 rooms and villas spread throughout the property, most of them sprinkled with locally made artwork, basketry and crafts to take in. It also continues the same trend of "lifestyle programing" as other Kimpton properties around the world, namely social hours and activities. A kids club, named Junio, sports a selection of non-tech activities to keep the little ones stimulated throughout the day and help parents take a load off. Renowned wellness brand HARNN has joined forces with Kimpton on the resort's spa, Pimãanda by HARNN—with a "14-step" signature treatment inspired by rituals in Southern Thailand.
Food-wise, there is a lot going on. There are a total of five venues, spanning restaurants, bars and lounges. Two of them, Fish House and Lanai, are particularly interesting.
Fish House
Open: noon-10pm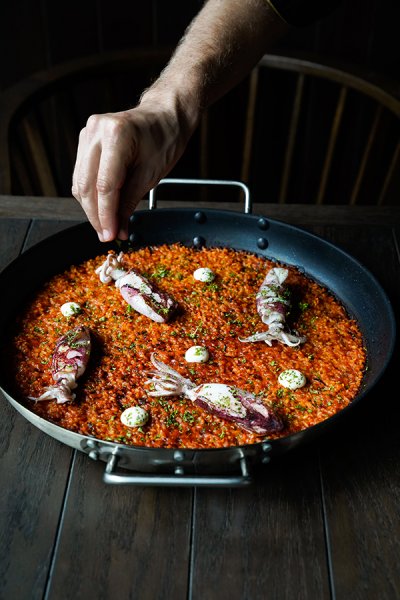 Inspired by a fictional tale of a fisherman named Uncle Plaa, who returns ashore each day to share the day's catch with his loving wife and friends, Fish House sits on the ground level of the resort with nothing more than a glass pane separating guests and the nearby ocean.
Peek out the windows and you will more often than not see fishing boats out on the water—floating back to shore during sundown as the character in the story would. The beachfront seafood restaurant is completely encased in floor-to-ceiling windows, but there are just enough breaks in the parameter for some ocean breeze to waft in and diffuse the aroma of chargrilled seafood filling the air.
The center of the restaurant is aptly called The Living Room, and is modeled after the wooden salas (benches and tables) that fishermen and their families would often gather around to spend time together, share stories and laugh the night away.
The drinks, specifically the cocktails, take a lean towards the overall restaurant theme, too. Cocktails, spritzers, pitchers and draft beer are all on the menu here, often with staff coming tableside to share the inspiration behind the selections. There is no wine list yet, but we are told that will be wrapped up soon and will include mostly organic, biodynamic and orange wines.
As you can guess with all of this focus on fishermen, their families and the ocean, fresh seafood is the main selling point at Fish House, but if you are a fan of high tea you can show up for an early social hour before the catch comes in at sundown.
Lanai Bar & Lounge
Open: 9am-10pm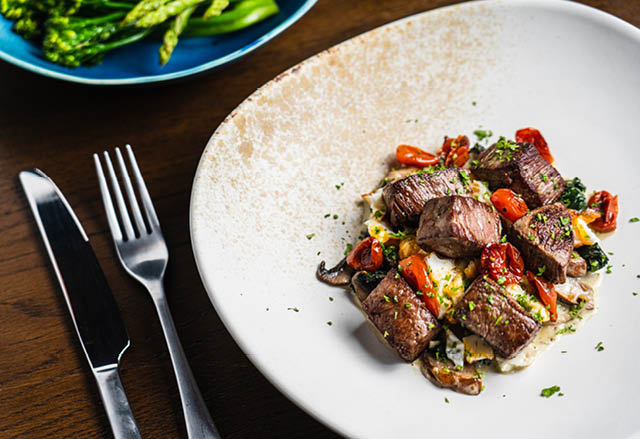 Said to be the only venue on the entire island with a drive-through (and you can probably say one of the select few in all of Thailand), Lanai Bar & Lounge is another ground-level venue at the Kimpton Kitalay Samui—slightly larger than Fish House with 91 seats.
Here, though, the focus takes a much more international perspective with dishes like steak and eggs, granola and yogurt bowls, and even some fancy stuff like olive spheres inspired by the legendary (but long-defunct) el Bulli restaurant in Spain. Like Fish House, the venue is close enough to the ocean to feel the breeze and hear the waves, but instead overlooks an infinity pool that steps out onto the beach (definitely worth an IG snap or two).
One of the key selling points here, that's not related to food or alcohol, is the house blend coffee. Made with locally and sustainably sourced Arabica beans, a team of baristas can whip you up all kinds of café favorites using a La Marzocco brewing machine.
As kind of an all-around snack, eat, chill, drink venue, there are several light bites like churros on hand to keep your tummy from grumbling during the day. Similarly, at night you can swing by for some high-end whiskies, local gins, craft tonics and other spirits. The lounge's far right wing can even be transformed into a pet-friendly meeting room if needed.
#KimptonKitalaySamui
Sponsored by: