After the departure of chef Sujira "Aom" Pongmorn—now overseeing the Southern Thai-Chinese restaurant Yoong Khao Hom—Suan Phlu's award-winning Saawaan is introducing chef Saritwat "Earth" Wanvichitkun's debut tasting menu focusing on classic Thai cooking techniques.
Earth's 11-dining course experience (B2,490++) showcases different methods common in Thai cuisine—think raw ingredients, fermenting, and stir-frying—interwoven with the creative flair we've come to expect from Saawaan. The fermented gaeng tai pla (Southern-style curry with fermented entrails), for instance, features mackerel and river prawn from Surat Thani, accompanied by homemade rice noodles. The rest of the mackerel is dried and ground into the curry sauce.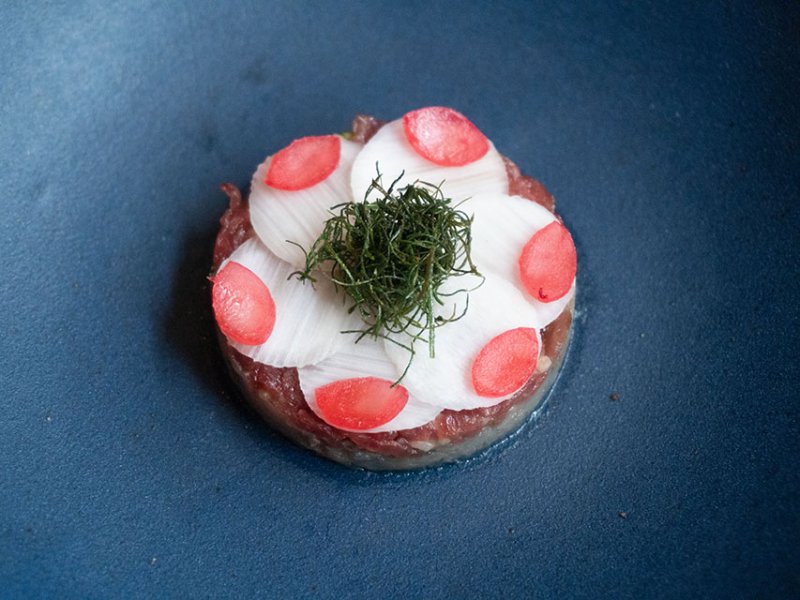 The boiled tom kati nuae khem (salted beef in coconut-blended curry) features crispy thin strips of the butcher's French Charolais beef. The immensely rich coconut broth is pleasing to the eye thanks to pickled shallots from Srisaket.
Our personal favorite, however, is the gaeng kiew whan ped (green curry). Teaming up with Kasetsart University—known for its contribution to agriculture—Earth combines 10 different types of Thai chillies and grinds them into a unique curry paste, bringing out fiery but refined flavors. To lend layers to the dish, the curry is served alongside seven-day dry aged French duck breast from Challans's Madame Burgaud, crispy duck skin, and vegetables.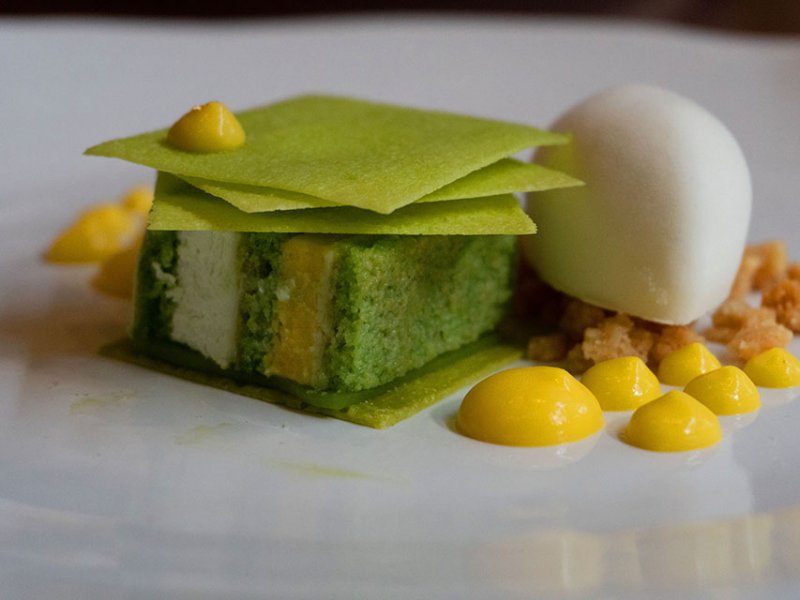 For dessert, chef Arisara "Paper" Chongphanitkul of Ici reinvents Thai traditional sweet treats with a modern touch. Khanom chan (steamed pandan layered cake), for example, is reimagined into a French opera cake with layers bursting into deeply satisfying tropical flavors—all completed with a jasmine ice cream and black rice sauce.
To drink, there is a B1,990++ wine pairing and the juice-pairing will set you back at B850++.