The Excise Department has just announced that it may tax alcohol by up to 150 percent of its retail price. Everyone is struggling to make sense of what that means as things are actually very, very complicated.
You could, in fact, argue the customs and excise tax system is designed to be impossible to explain. Imported wine, for example, is taxed B1,000 baht per liter of pure alcohol or B300 per liter, whichever is highest. There is also 36 percent tax on the wholesale price (although bottles below B600 are exempted). Imported spirits are taxed B400 per liter, local ones B120 per liter. Fun fact: booze made from grapes is taxed more than other fruits! The system is so complicated that it's open to interpretation. And by interpretation, we mean corruption:
In the case of Thailand, the official SEC document notes that between 2004 and mid-2008, Diageo paid about $12,000 per month – totalling nearly $600,000 – to retain the consulting services of a Thai government and political party official who "lobbied extensively on Diageo's behalf" in connection with multimillion-dollar tax and customs disputes, contributing to Diageo's receipt of certain favourable dispositions by the Thai government.
—The Nation
In an attempt to bring some clarity to the system, the Excise Department is floating a new regime which will tax booze on its retail price, as opposed to prices out of the factory. (Note that this applies to local production, not imports.) There will be different taxes depending on the alcohol type, but this single tax will replace seven other bits of tax code.
Will it happen? "It's unusual for the government to even discuss their plans. Usually they just make the changes over night. So I think we're months away from any real changes," says one wine importer. "They've tried to switch to excise taxes on retail prices in the past, but never managed to make it work."
The excise department's Somchai Poolsawat says 150 percent is the highest limit, but that is not necessarily what the tax will be. They even claim taxes will be lower on wine, which this infographic seems to confirm (at least for the pricier ones):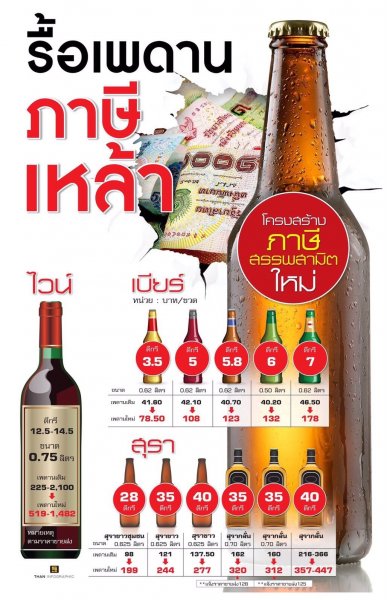 Will the price of beer really double? Recently, the Health Department argued a one percent price hike on beer would reduce consumption by three percent. Even the World Health Organization has flagged Thailand's very serious drinking problem. But Excise Department chief Somchai Poolsawat somehow claims his new tax regime won't affect retail prices, invalidating the above infographic. Also, this bill has yet to be approved by the National Legislative Assembly.
Note that the state's coffers are empty and that excise tax constitutes the bulk of the state's income, with income tax contributing only a small fraction of the budget. Unlike income tax, excise tax is a regressive tax that hits the poor the hardest.