BK Magazine is proud to present the BAD (Bangkok After Dark) Awards 2023, the first ceremony since 2019. The award winners for each category were decided by the staff of BK Magazine and a panel of carefully chosen lovers of Bangkok nightlife. On Mar 22, BK Magazine held an in-person award ceremony at the rooftop bar Paradise Lost with sponsors from Siam@Siam Design Hotel, Bangkok Airways, Anantara Bophut-Koh Samui Resort, The Standard, Megatix, and Avani Chaweng Samui Hotel and Beach Club.
Check out the winners from each category below and follow
this link
to find our complete guide, including runners-up and a few pub crawls to keep your Bangkok nights fresh. Keep an eye out for the print version at participating BK Magazine locations.
Bar of the Year: Opium
Sitting above Thai-Chinese dining spot Potong, Opium Bar transforms an opium-smoking den once belonging to Pitchaya "Pam" Utarntham's ancestors into a dynamic, ever-changing, and ambitious space that defies and reworks patrons' perceptions. Here, reality is not what it seems as head bartender Matteo Cadeddu and his supervisor Arnon Hoontrakul extract the essence of each ingredient and elevate them to another plane. The results are what they ambitiously dub "liquid surreality," a mix between fact and fantasy. The taste, smell, and texture of each drink are precisely executed and categorized according to taste profiles—which is a big help for uninitiated and indecisive drinkers.
422, Vanich Soi 1, Samphanthawong, 082-979-3950. Open Mon 5pm-midnight; Thu-Sun 5pm-midnight.
Best New Bar: Mahaniyom
After the closure of Backstage in Thonglor in December, 2019, Ronnaporn "Neung" Kanivichaporn and Chennarong "Jan" Bhumitchitr of Find the Locker Room made a swift comeback with this bar specializing in resourceful cocktails. Situated above nose-to-tail restaurant 100 Mahaseth, Mahaniyom mirrors the concept, using all parts of the selected ingredients and transforming them into unique concoctions.
2/F, 100 Mahaseth, 100 Maha Set Rd., 061-664-6588. Open Tue-Sun 5pm-midnight.
Bartender of the Year: Thanachot "Ong" Lohanimit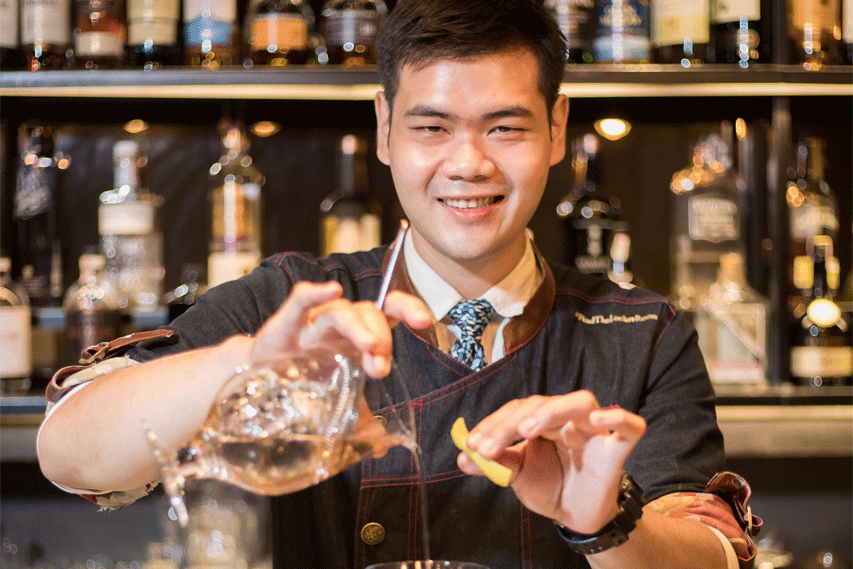 Thanachot "Ong" Lohanimit is the 26-year-old head bartender at Find The Locker Room and has been with the bar for almost five years. While the Time Capsule Volume 1 menu was a team effort, Ong took the cue from beverage director Ping Charoensri, researching and working with other bartenders to refine the flavors. He has been interested in bartending since he was in university and started taking gigs mixing drinks at events in Bangkok before landing a position at Find The Locker Room. In 2022, he was one of the finalists at Diageo WorldClass Thailand and won the Monkey Shoulder Ultimate Bartender Championship.
Best Rooftop Bar: Bar Yard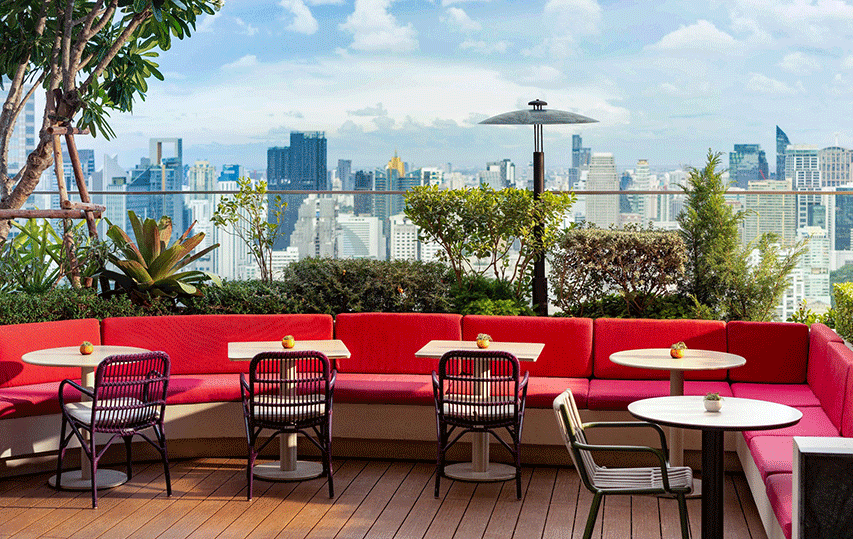 Located on the 40th floor of Langsuan's swanky Kimpton Maa-Lai, this rooftop garden-slash-bar promises a bright, breezy space filled with leafy, bamboo-clad decor. It's not just a place for after-work drinks and taking a selfie with the skyline (but, yeah, it's definitely good for that); this is one of the few rooftop hotel bars that actually elevates to a party atmosphere, with regular DJs rolling in and out and themed nights that bring out the wild side of locals and the jet set.
40/F, Kimpton Maa-Lai Bangkok, Soi Ton Son, 02-056-9999. Open Mon-Sun 4pm-late.
Best Dive Bar: Fatty's Bar and Diner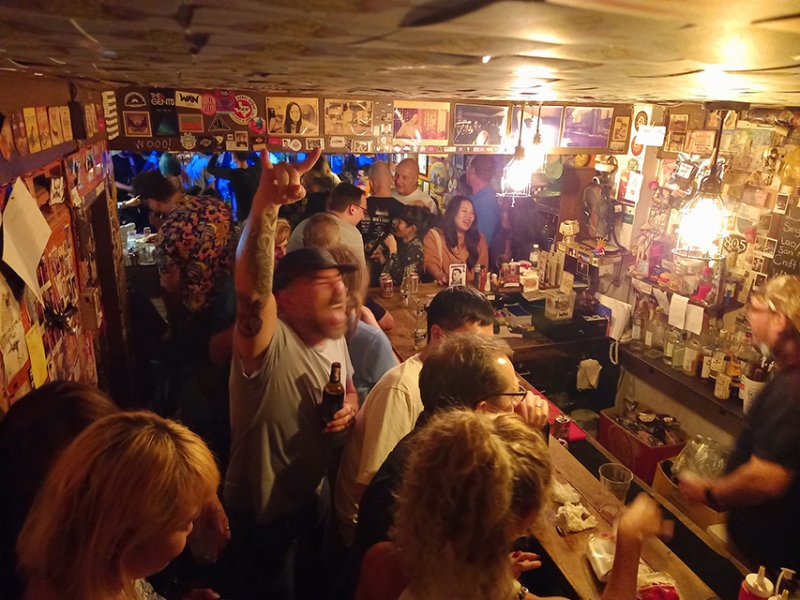 Whether you're there for the company or the tunes, this Din Daeng dive is unstoppable. Helmed by Wisconsin's own Matthew Fischer, this down-home spot of American fare and craft brew has been wowing regulars for more than a decade. When it gets late—whether they're playing folk and college rock or tearing up the block with a hip-hop party—Fatty's brings the heat with both its wings and roving performers on the "stage" by the door.
598/66 Asoke-Din Daeng Rd., 02-245-2965. Open Tue-Sat 11am-midnight; Sun 11am-10pm.
Best Nightclub: Beam
Before Beam, when Bangkokians wanted to dance they'd have to head over to RCA or Silom. In 2016, Thonglor welcomed this boxy dance bunker and it changed our partying culture forever. Though Beam's young patrons can make some feel a little old, the venue still offers a proper warehouse-style dancing space, music that doesn't make you cringe, a proper sound system with laser art, and a much nicer crowd than you get at most clubs.
1/F, 72 Courtyard, Sukhumvit Soi 55 , 02-392-7750. Open Wed-Sat 9pm-late.
Best Cocktail Menu: Mahaniyom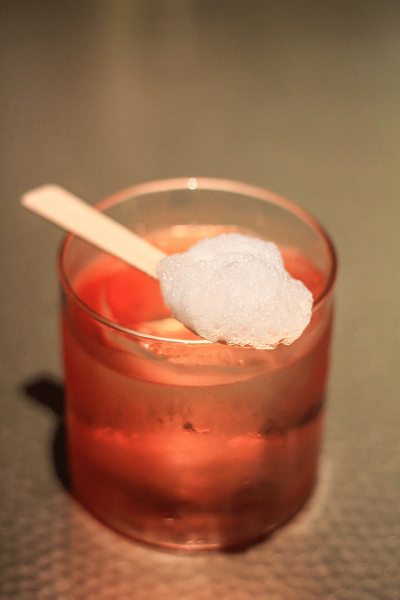 Mahaniyom's cocktails are resourceful and sustainable, as Ronnaporn "Nueng" Kanivichaporn deconstructs the ingredients to the molecular level, leaving no part behind. The fizzy, refreshing Pineapple sees the fruit's leaves dehydrated into powder and blended with vermouth and spice, while the rinds are fermented into tepache; Cow, on the other hand, takes on medium rare steak with brandy blended with brown butter and peppercorn finished with beef fat, red wine, and blue cheese bubbles.
2/F, 100 Mahaseth, 100 Maha Set Rd., 061-664-6588. Open Tue-Sun 5pm-midnight.
Best Beer Bar: Mikkeller
It should be no surprise that one of Bangkok's oldest craft beer heavyweights still tops the list of the city's best beer bars. Between the gargantuan beer list sourced from 17 countries, the food menu, weekly deals, and beer-focused tasting events, the '50s-era Thai house on Ekkamai Soi 10 that Mikkeller calls home feels more like a craft beer embassy than a humble bar and restaurant. Serving from 30 taps and a startlingly diverse range of bottles, Mikkeller is home to people who care about beer and friends just enjoying the green, open space.
26, Ekkamai Soi 10, 082-283-1274. Open Mon-Fri 5pm-midnight; Sat-Sun 11am-midnight.
Best Wine Bar: Mod Kaew
Before Mod Kaew, the wine culture in Bangkok was snobby and mostly for the older folks drinking any old Burgundy red. Mod Kaew changed the game entirely with their easygoing and unpretentious vibe. Stocking only natural wines, which make your wine experience even more funky and unpredictable, this spot drops the boundaries and whatever preconceptions you had about wine. As an added bonus, their food menu supports local talent by rotating chefs.
1041/21, Ploen Chit Rd., 082-096-0281. Open Tue-Sat 5pm-midnight.
Best Live Music Bar: Black Cabin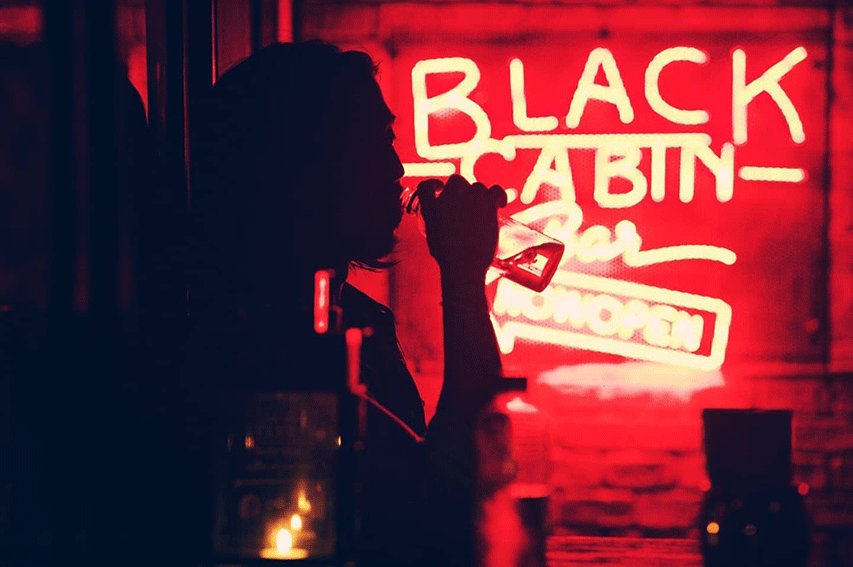 Hidden behind grungy brick walls, this is where you will find unsung local talent playing some of Bangkok's best live music—showcasing everything from soul and funk to Brit rock and beyond. Keep on the lookout for special nights that pay tribute to different genres, like hits from Y2K—the best pop from your walkman in the 2000s—or British radio hits like Kings of Leon, Radiohead, and Incubus. Dark, chic, and sharp, Black Cabin also packs in good drink deals.
33, 1 Rama 4 Rd., 081-599-9365. Open Tue-Sun 6pm-midnight.
Best Hotel Bar: The Loft
While most sky-high hotel bars think they can just have a great view and that's enough for the selfie-snapping public—and that's often true—this is not the case at The Loft. A breathtaking view from the 56th floor above Bangkok is paired together with a stellar cocktail menu created by the Italian bar manager Michele Montauti. With the glittering view, the quality of drinks, and the glamor and style of the mirrored bar and bronze staircase, The Loft is a stylish crown on this hotel brand's Bangkok property.
56/F, Waldorf Astoria Bangkok, 151 Ratchadamri Rd., 02-846-8888. Open daily 5-11pm.
Best Cocktail Bar: Mahaniyom
Forget what you think you know about innovative drinks. This bar—part Thai-Rococo, part disco—transforms every flavor imaginable (and a few unimaginable) into creative, resourceful cocktails. The brains behind this chic bar are none other than Ronnaporn "Neung" Kanivichaporn and Chennarong "Jan" Bhumitchitr, formerly at Find the Locker Room and the now-closed Backstage Bar. The drinks here deconstruct ingredients from something as traditional as pineapple to more challenging cocktails made from squid and wagyu beef—all couched in a comfortable but exciting vibe.
2/F, 100 Mahaseth, 100 Maha Set Rd., 061-664-6588. Open Tue-Sun 5pm-midnight.
Best Theme Bar: Playroom
If you're a fan of Fifty Shades of Grey, chances are you're going to enjoy every sip and vibe at this bar. Sitting above upscale French restaurant Stage, this speakeasy in Ekkamai is for the kinky, with mysterious red hues and dramatic curved gold accents, not to mention naughty S&M decor items like chains and wearable handcuffs. The drinks also follow the concept with some sexy names and illustrations like All Night, Virgin or Not, and Mr. Grey.
2/F, 359/2, Sukhumvit Soi 63, 080-278-7808, Open daily 6pm-late.
Best Design: Opium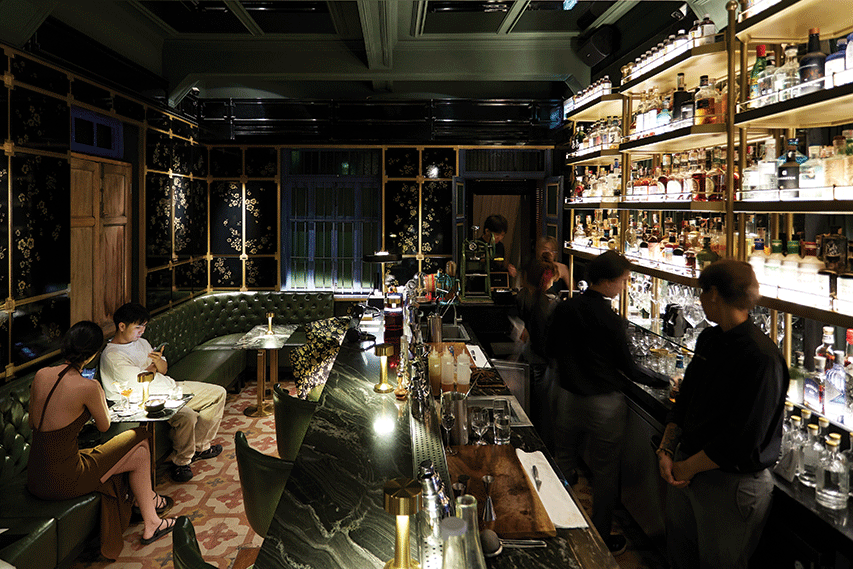 Perched above the busiest road in Sampeng, this century-old Chinese opium-smoking den has been transformed into a swanky cocktail lounge that offers a judicious blend between the old and new. Inside the private Black Jade Room space, the quintessential gold-painted peonies glide across black, polished walls juxtaposing traces of the ancient. The rooftop area, which used to be the family's stargazing hall, now dubs as a small botanical garden for the restaurant and offers a vantage overlooking Chinatown.
422, Vanich Soi 1, Samphanthawong, 082-979-3950. Open Mon 5pm-midnight; Thu-Sun 5pm-midnight.
Best Alfresco Bar: Zuma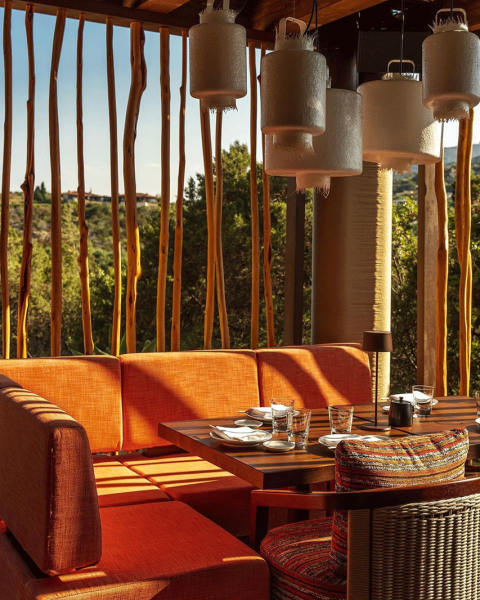 There's nowhere else in Bangkok where you can pretend like you're drinking in a (very hi-so) cave, surrounded by stone walls in an open-air space—that's one of the things that makes Zuma our favorite alfresco drinking spot. Of course, the newly launched Japanese garden cocktail menu also makes this venue special. When you're done with drinking in the open-air, you can head back inside for some Japanese fusion dishes. If you find yourself there on a Sunday, it's an unmissable brunch.
G/F, The St. Regis, Ratchadamri Rd., 02-111-8999. Open Mon-Sat 11:30am-3pm, 6pm-late; Sun 11am-3:30pm, 6pm-midnight.
Best Pub: The Londoner
Why this spot over the cacophony of British pubs that haunt the tourist districts? The Londoner has been shelling out pints and pub food since 1997, making it one of Bangkok's oldest microbreweries—and it's made a lot of friends along the way. Here, it's about more than just a pint and a pie; it's whiskey and cigar nights, craft beer-battered fish and chips, and a communal space for indulging in pub food from Chef Yao built on quality meat from abroad. The location is a bit far from the Sukhumvit crowd, but it's better for that.
1178, Phatthanakan Rd., 02-022-8025. Open Mon-Fri 10am-midnight; Sat-Sun 9am-midnight.
Best Comeback: The Bar at the House on Sathorn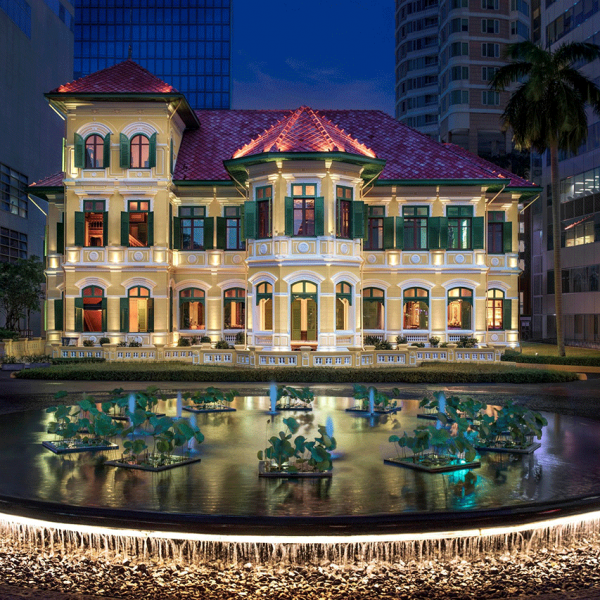 If you haven't been to The House on Sathorn for a while, go now because this venue is well and truly back on the Sathorn drinking scene. The bar was joined by Francesco Moretti, previously at Sinnerman, who started his training at Michelin-starred chef Jean- Claude Brugel's Sea Lounge in Monaco when he was 18 and has been mixing drinks all over Europe, America, and Asia ever since. His new cocktail menu is inspired by the four different eras of The House on Sathorn, which boasts a fascinating history. To taste the space when it was a Russian Embassy or an ultra-luxurious hotel in the 1920s, Moretti has crafted four cocktails and a mocktail as well as a few snacks inspired by each era.
106, Sathorn Rd., 02-344-4025. Open Mon-Thu 2:30pm-midnight; Fri-Sat 2:30pm-late; Sun 2:30pm-midnight.