Thu, Feb 8
The two always-busy DJs team up for a night of underground techno sound.
Feb 8, 10pm. Glow, Sukhumvit Soi 23, 086-614-3355. B250 includes 1 drink.
A showcase night of underground techno and house music featuring headliners Funkpheno and #Gimmie.
Feb 8, 9:30pm. Residence de Canal, 463/72 Luk Luang Rd., 02-061-8089. Free.

English artist Justin Mills' paintings incorporate lyrics and poetry through a "manipulated alphabet" to make ambiguous references to Thailand's current socio-political situation.
Feb 8-17, 6pm. Cho Why, 17 Soi Nana. Free.

Four local bands from Panda Records and Bird Sound Records perform live: psychedelic rockers Chladni Chandi, shoegaze/noise rockers Hariguem Zaboy, country rockers Sahai Hang Sailom and psychedelic hard-rockers Mico. Followed by vinyl DJ sets from Tat (Basement Tape) and Jar (Hariguem Zaboy).
Feb 8, 7pm. De Commune, 1/F, Liberty Plaza, Sukhumvit Soi 55 (Thonglor), 061-717-4365. B300.
---
Fri, Feb 9
For the fifth time, this event will invite art lovers to visit more than 50 galleries city-wide. Dedicated tuktuks will be on hand to shuttle you around to special exhibitions, talks and workshops until late.
Feb 9-10, 5pm. Galleries across Bangkok. Free.
Photographer Sophirat Muangkum explores the question of whether nudity is art of obscenity.
Feb 9, 6pm. MOST Gallery, 672/36 Charoenkrung Soi 26, 02-639-6582. Free.

Artist Fckngns exhibits post-apocalyptic urban landscapes and calligraphy backed by an ambient/industrial soundtrack.
Feb 9, 8pm. Maison Close BKK, 397/399 Charoen Krung Soi 45, 083-980-8620. Free.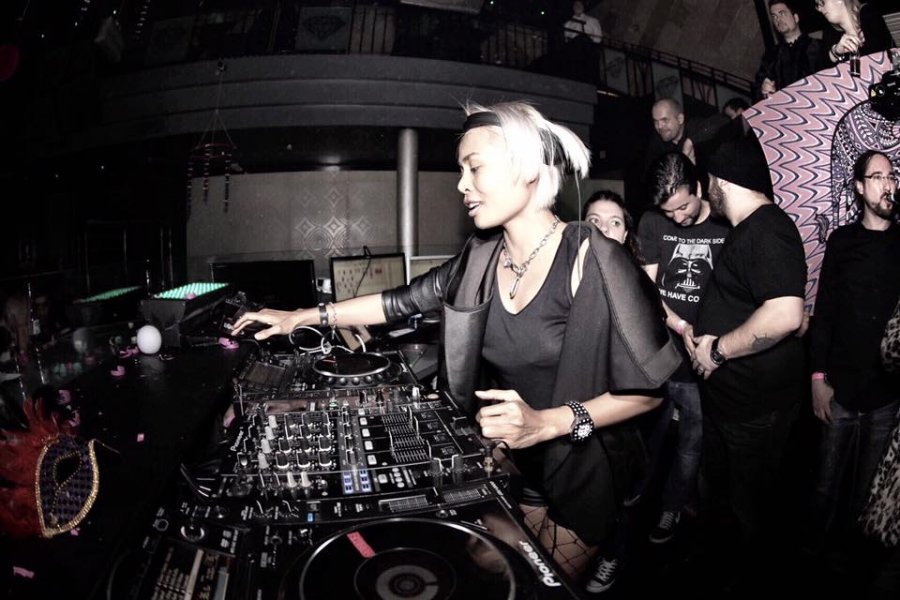 Thai techno DJ Nakadia is joined by Greek duo Dizharmonia. Grab tickets at bit.ly/2GgQDGH.
Feb 9, 9pm-2am. Violett, Thonglor Soi 10, 095-393-8858. B300-400.
Tokyo psychedelic disco veteran DJ Kent is supported by Rocco Universal, Gishiyama and Jamsai.
Feb 9, 8pm-2am. 12 x 12, Ekkamai Soi 19, 094-260-4713. B300.

Nightlife: Darren Emerson
The former member of English electronic music group Underworld drops by the Thonglor nightclub.
Feb 9, 9:30pm. Beam, 72 Courtyard, Sukhumvit Soi 55 (Thonglor), 02-392-7750. B300.
The Munich-based DJ Jichael Mackson spins minimalist grooves
Feb 9, 10pm. Safe Room, Whiteline, Silom Soi 8, 087 061 1117. B200 includes 1 drink.

Hip-hop through to alternative rock from independent artists Gold Wolf, Protozua, Tom Camp and Bu Ramoni, plus a DJ set from Rory Breaker-Morant.
Feb 9, 7pm. Live Lounge, Trendy Building, 10/47 Sukhumvit Soi 13, 02-168-7335. B300.
Classical: Art Music Fest X: CU Flute Ensemble
A night featuring Amilcare Ponchielli's Dance of the Hours from "La Gioconda" arranged by Shaul Ben-Meir, Edward Elgar's Enigma Variations - Variation IX (Adagio) "Nimrod" arranged by Shaul Ben-Meir, Tritsch-Tratsch-Polka, Op. 214, by Johann Strauss II, Ito Yesuhide's Fantasy on Theme of Jupiter, Antonin Dvorak's Serenade Op. 22 in E Major arranged by Yoshiko Takama and Stephen Lias' Melange of Neumes
Feb 9, 7pm. Music Hall, Culture Building, Chulalongkorn University, Phayathai Rd.094-561-5295. Free.
---
Sat, Feb 10
Japanese artists Esow and Sasam Yoshizawa show off their skater art-influenced iillustrations.
Feb 10-Mar 4, 3pm. Goja, Sukhumvit Soi 71, 085-848-7576. Free.

DJs Retraflex, Will, Azek and DeLorean return for a straight-up drum n' bass night
Feb 10, 9pm-2am. De Commune, 1/F Liberty Plaza, Sukhumvit Soi 55 (Thonglor), 061-717-4365. B150.
A night of live electronic and techno from the two collectives and artists like DJs Do, Cliffy and Flex.Off.
Feb 10, 8pm. Whiteline, Silom Soi 8, 087-061-1117. B100.
The Meatchop and Happy Endings restaurants team up for a night of Vietnamese food and cocktails, while British DJs Pageant and Brent Burns soundtrack the evening.
Feb 10, 7-11pm. Happy Endings, 1/5 Sala Daeng Soi 1, 080-961-4524.
A Thai-English subtitled performance that follows the lives of retired Japanese men who move to Thailand amid much confusion.
Feb 9, 8pm, Feb 10, 2pm/7pm. Creative Industries At M Theatre, New Petchburi Rd., 02-718-0597. B500.
A cultural charity event to support refugees from Mogadishu, Islamabad, Colombo, Saigon, Baghdad and Kabul. Shop and enjoy art, crafts, food, dance and workshops.
Feb 10, 5pm. Brownstone, 1395 Sukhumvit Soi 77. Free.
---
Sun, Feb 11

Koish spins a five-hour set of disco, house and techno.
Feb 11, 9:30pm. Glow, Sukhumvit Soi 23, 086-614-3355. Free entry before midnight. Then B250 includes 1 drink.

The Wildest Youth's live series featuring only female artists returns with My Life as Ali Thomas, Petite Diva, Sasi, The 10th Saturday and Lukpeach.
Feb 11, 7pm. Loyshy, Soi Phayanak, 085-018-5575. B300-400.

The Buffalo, New York-born folk singer-songwriter visits the city as part of her world tour in support of the album Not Even Happiness. Alongside the support act from local folk talent Yossnon.
Feb 11, 8pm. Jam, 41 Charoen Rat Soi 1, 089-889-8059. B200.

Shop organic products and vegan food and enjoy DJ sets from Alex Imix, NK Chan, Superstar Panda, Slum Disco Soundsystem and Tek "Analog" Harrington.
Feb 11, 1pm. Nowhere, 6/F, Tha City Loft Hotel, Ekkamai Soi 6, 099-394-4417. Free.