Activities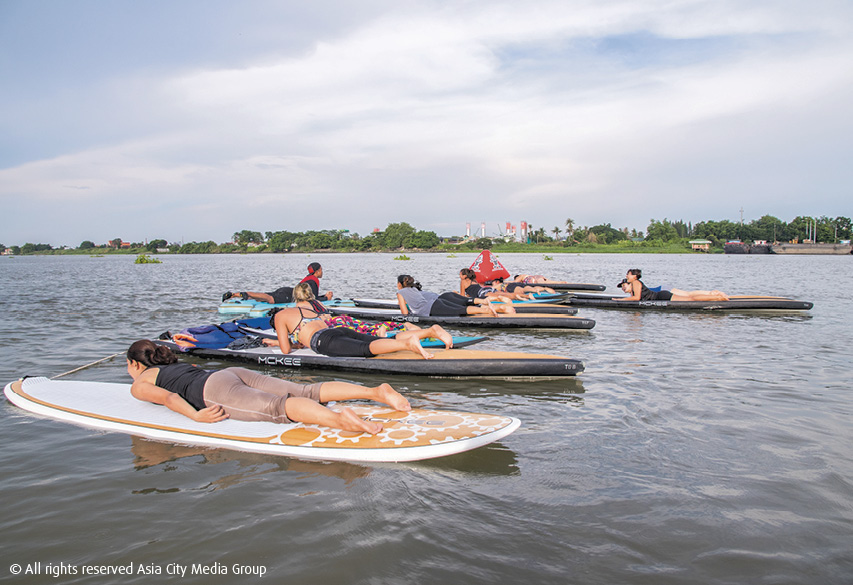 1. Learn stand-up paddle yoga
Standup paddle (SUP) yoga involves throwing sun salutations, on a paddleboard, cut adrift on water. Bangkok's first event happened back in May on an upriver part of the Chao Phraya beyond Koh Kret, where the water's not so worryingly murky. It was followed by another SUP Yoga event at Taco Lake wakepark. The next one still hasn't been announced, though organizes assure us it'll drop soon. The 60-minute class is open to all people with or without yoga or paddling skills, and costs B1,500 per person—just note, space is limited to a group of eight. Incorporating aspects of surfing, SUP yoga is said to require a little more focus on your core than regular yoga, while also posing a challenge mentally if you want to avoid taking a quick dip.
Bookings at www.fb.com/thailandsupyoga or 087-794-6543
2. Brew your own craft beer
Every Sunday, Thai craft beer pioneer Wichit Saiklao teaches a group of students the secrets to beer-making from his brewery on Koh Kret in the middle of the Chao Phraya River. His Chit Beer classes get booked out months in advance, despite it being technically illegal to brew beer in Thailand. Wichit has been fined three times but continues to run his operation. The B7,500 class can be split between 6-7 people, who'll brew up a batch of 20 liters of beer between them.
Koh Kret, Pak Kret, Nonthaburi, 083-999-0935. Open Sat-Sun midday-9pm
3. Become a Shaolin master
Learn kung fu with a true Shaolin master in the unassuming underground floor of an Asoke office building. Laoshi Zhu Qi Guo trained at the Shaolin Temple from the age of 7-18. At Thai-Chinese Shaolin Kungfu School, he'll teach you the basics to have you doing frontflips and sparring with swords in no time. The exercises are as grueling as CrossFit—full-body workouts and stretches that will leave your joints aching the next day. B2,200 for a four-class package.
B2/F Interchange, Sukhumvit Rd., 083-888-3906. Open Mon-Fri 6:30-7:30pm, Sat-Sun 3:30-4:30pm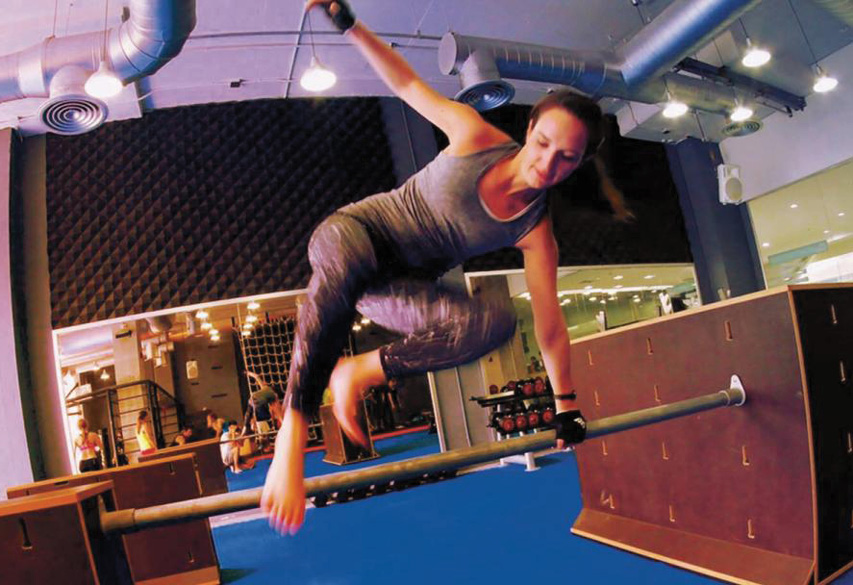 4. Train with the parkour community
If risky free-running videos turn you on, check out Asia Parkour. Run by certified French coach Julien Vigroux, who has been practicing parkour for 15 years, Asia Parkour offers classes for both beginners and masters in the making. Newbies will learn the techniques to safely jump, walk on a narrow surface and balance themselves. Aside from indoor classes held at the multi-use gym on the ground floor of Amarin Plaza, they also do outdoor sessions from time to time.
Prices start at B550/session Activ Parc, Amarin Plaza, Phloen Chit Rd., 088-493-2075. Open Mon-Fri 7am-9pm, Sat-Sun 9am-5pm. BTS Chit Lom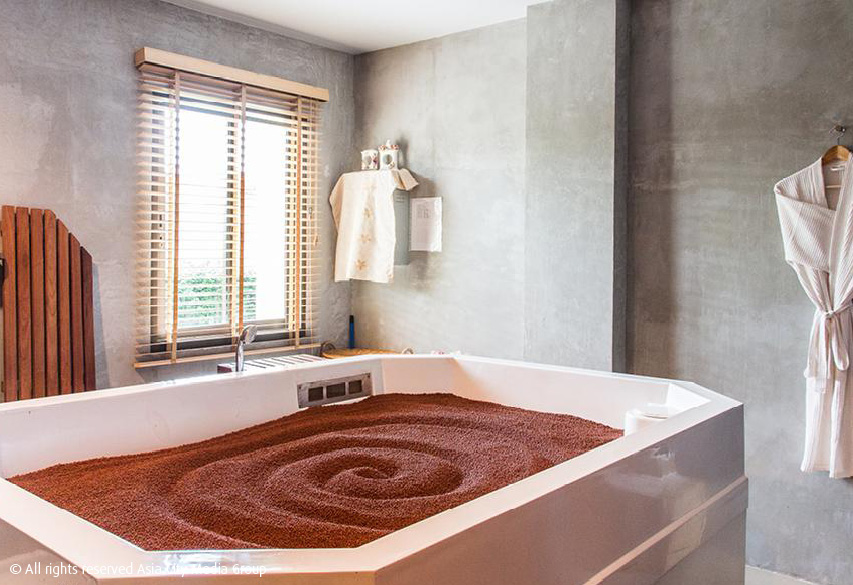 5. Take a sand bath
The chunky grains of volcanic Japanese sand at The One Sand Bath Therapy are said to use 50 essential vitamins and minerals to improve your immune system, stave off signs of aging, detoxify your system and improve blood circulation. There's no denying that lying back in a bath of this stuff is super relaxing, but prepare to sweat… a lot. The therapist will check your pulse before bathing to analyze the proper duration your body can handle. The default temperature for the tub is 55 degrees Celsius, and you shouldn't really stay longer than 20 minutes. In fact, the owners compare it to rigorously exercising for one-and-a-half-hours.Prices start from B2,500 for a 15-minute sand bath followed by a scrub and shower.
The Oone Residence Hotel, between Srinakarin Soi 63-65. Open daily midday-10pm
6. Perfect your baseball swing
For an alternate way to work off stress after a long day, check out Bangkok Batting Cage where for B100, you can perfect your swing against 55 baseballs pitched at 90-110km/h. No need to bring anything, just show up (preferably in comfy, sporty clothes) and they'll provide you with a helmet and gloves. It's basically like a golf driving range, but a whole lot cooler.
108/1 Sukhumvit Soi 31, 022620699. Open daily 10:30am-9:30pm
7. Go whale watching
Just one hour's ride from Bangkok, you can jump on a boat and see 40,000kg Bryde's whales in the open sea. Wild Encounter Thailand runs whale watching expeditions which are so close to Bangkok it's basically still the Chao Phraya. Boats leave from Bang Khun Tian pier in Samut Songkram and spend 6-8 hours out on the water in search of these gentle ocean giants.The B2,300 trip includes Bangkok trasfers, lunch and soft drinks.
www.fb.com/wildencounterthailand. 099-292-2666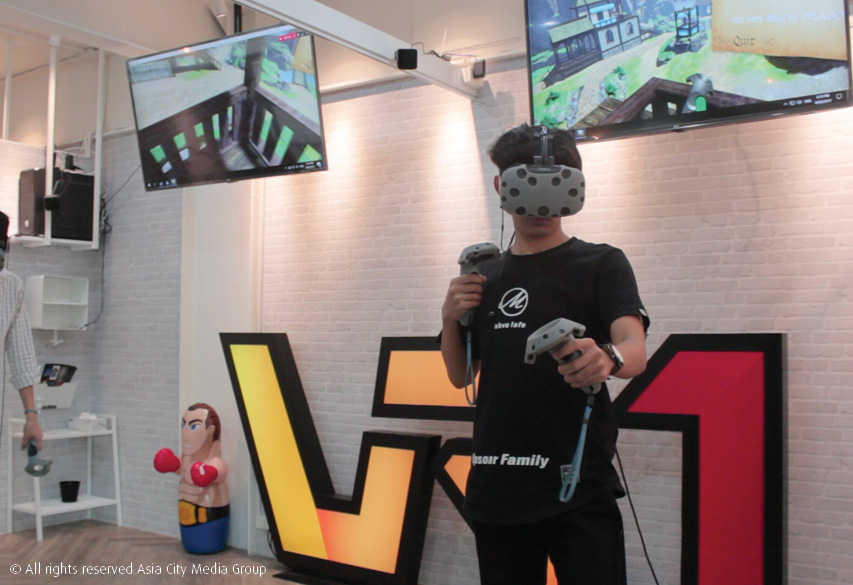 8. Enter a world of virtual reality
At VR Cafe, you can be anything, really. Zombie hunter, space pirate, fruit-attacking ninja, the possibilities are endless. Just put on the virtual reality goggles and become immersed in a world of your choosing. There are almost a hundred games to try out, and these are not gimmicky VR wannabes either—equipment feels responsive and pricey. You can even go all Ender's Game against a friend if that's what you fancy. One session costs B650 per hour.
2/F Anekvanich Bldg., 154/2 Sukhumvit Soi 55, 080-288-2777. Open daily noon-midnight
9. Float yourself to inner tranquility
Floating in a pitch-black tank of skin-temperature saltwater balanced to create an almost no-gravity condition can lead to total sensory deprivation. The whole experience has been described as inducing a trance-like state close to sleep, typified by heightened receptivity and creative inspiration. Currently the only place to try the wellness trend is at Bangkok Float Center, whose new home is at SHOW DC Entertainment Mall, over by RCA. Opt for a single float, starting at B1,950/60 minutes, or go for one of the multiple-entry packages (from B6,000 for four 60-minute sessions). If it's your first time, you can also score an intro pack, which gives you three floats for the price of two.
4/F, SHOW DC, Jaturatid Rd., 090-993-6487
10. Take on the Bangkok fight club
Sorry to break the first rule of Fight Club, but you need to know this. Bangkok has its own underground fist-fighting scene, where you can take the role of Brad Pitt and beat the crap out of people.
Fight Club Thailand
hosts two matches per month at locations which are only announced in advance on their Facebook page (see below). Anyone can ask to join on their Facebook page, male or female, lightweight or heavyweight. There are only three rules: You must listen to the referee, you must wear gum shield and gloves, and you must fight for three minutes.
www.fb.com/fightclubthailand
Market Airships, Bang Phli
11. Print your own Lego set
At Ari's Fab Cafe, you can design your own car or Lego set then have it printed out in plastic. This creative/design-focused space originated in Japan and specializes in 3D printing services. There are two types of printer on offer. One, an FDM printer, is perfect for making things like Lego bricks. Fab lets you use it at B750 for the first hour and B450 for every hour after that. The other, called an SLA printer, is used for more in-depth, detailed modeling and sets you back more—B1,200 for one hour then B750/hour onwards.
77/1 Soi Ari 1, 083-619-9983. Open Tue-Sun 10am-8pm
12. Visit the airplane graveyard
Ramkhamhaeng's "airplane graveyard" is home to dismantled jetliners and old aircraft wreckage that has become an unusual tourist attraction. It's not often that you get to explore the interiors of stripped-down commercial jets and rummage around their debris. There are actual families living on-site acting as gate-keepers, so an entrance fee (between B100-B300 per person, depending on the negotiation) is required. Pro-tip: Take your tetanus vaccination before climbing into a rusty Boeing 747.
105 Ramkhamhaeng Rd.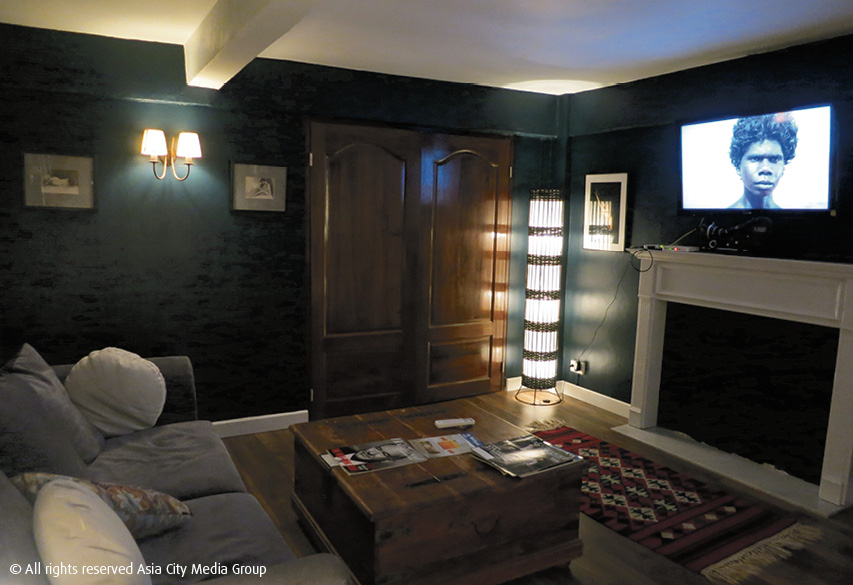 13. Book a cinema for you and your friends
The Friese-Greene Club is an alternative independent cinema hidden on Sukhumvit Soi 22 with a bar on the ground floor. Filmmaker Paul Spurrier runs the show, screening movies for free every night (check the schedule at fgc.in.th/films). But every Tuesday, he lets group of six friends rent the place out to screen a movie of their choice. The best part: it's still free. Make sure you show Spurrier some support by spending plenty of money at the bar. A glass of wine is only B100.
259/6 Sukhumvit Soi 22, 087 000 0795. Open Tue-Sun 5-11:30pm
14. Get some fresh air in the city
Bang Krachao isn't Bangkok's only jungle. PTT Green in the City has taken over a dilapidated five-acre plot of land with over 270 botanical species. Still only five years old, the land already looks lush enough to save you a trip to Khao Yai, complete with treetop skywalks and guided tours every 1.5 hours. Keep an eye out for rare birds and other wild animals that have moved in there. Entry is free.
81 Sukapiban 2 Rd., Prawet, 02 136 6380. Open Tue-Sun 9am-6pm
---
Food & Drink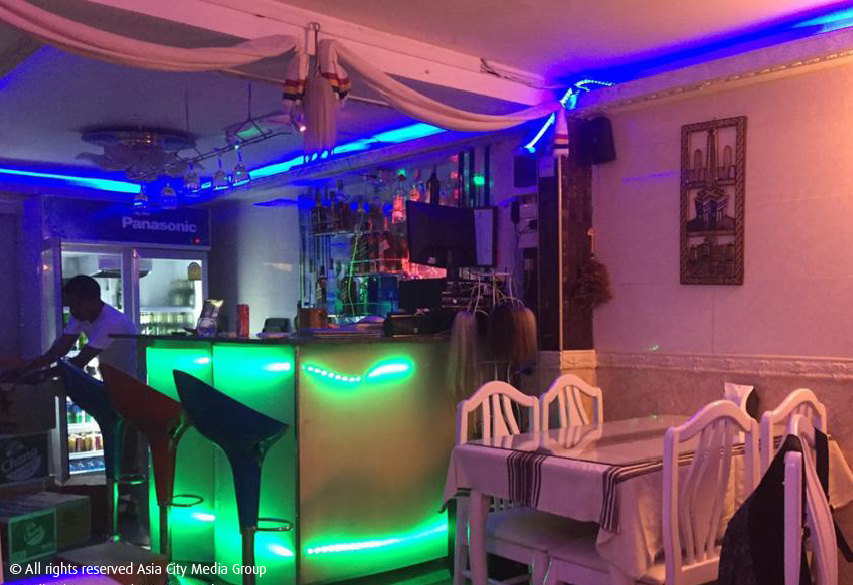 15. Discover the spices of Ethiopian food
Ethiopian is all about big sharing portions and eating with your hands. Dishes—mostly rich, condensed stews (or wat) flavored with a chili, cumin and garlic-heavy spice mix called berbere— all come served atop injera, an unstoppably moreish fermented flatbread with a distinctly sour flavor. Simply rip from the outside in and scoop up the wat as you go. Our favorite in Bangkok comes from Ethiopian Restaurant, whose Meat Combo (B450) serves as a flavor-packed introduction.
1/22 Sukumvit Soi 3 (Nana), 0849303250. Open daily 11am-10pm
16. Eat pig's brain
It's not just Hannibal Lecter who enjoys pigging out on brains - Samong Moo Thai Tham's famous pig brain soup (B70) is a favorite among celebrities and food critics alike. This hole-in-the-wall serves Shell-Chuan-Chim-certified kao lao, which contains pig brain, entrails, deep-fried fish skin, Chinese sausages and deep-fried taro balls, all floating in a peppery clear broth. Yum!
28/1 Phraeng Phuton Rd., 02-221-7612. Open Mon-Sat 7am-2pm
17. Eat insects in a non-backpacker kind of way
The edible insects trend has been creeping onto menus globally of late. Called Insects in the Backyard, Thonburi's new restaurant has been conceptualized by the team behind the Old Town's beloved Seven Spoons. Chef Thitiwat Tantragarn heads the modern international kitchen to serve the likes of cricket pasta with pesto and chorizo, red ant and peppercorn-marinated tomahawk steak and Marou chocolate-covered crickets.
Chang Chui, 462 Sirindhorn Rd., 0818172888. Open daily 4pm-11pm
18. Drink craft beer at FamilyMart
Family Mart at Holiday Inn Silom (981 Silom Rd.) has two fridges of craft beer stored and kept cold for you to quickly grab during lunch time (priced at B149-159). The convenience store also has a tap for Chang draft beer and a space set inside where you can sit and drink.
981 Silom Rd., 02-836-5999. Open 24 hours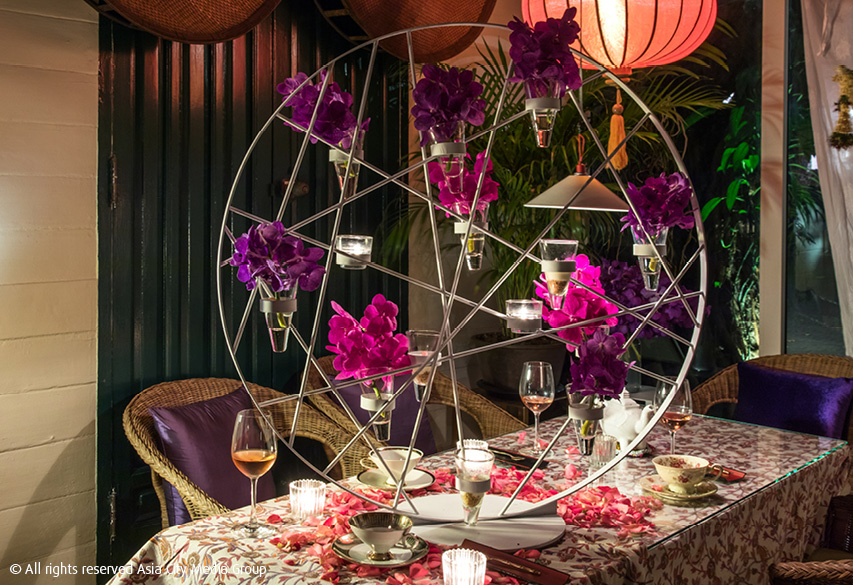 19. Eat dinner in a flower museum
Bangkok's museum of floral culture has opened a restaurant, Midnight Moon, created by master floral artist Sakul Intakul, who works on royal ceremonies in Thailand and abroad. Sakul's idea of food is no less delicate. Inspired by the artist's travels in Asia, especially Japan and India, the tasting menu (B1,450/person) charts dishes like grilled miso tofu placed on a magnolia leaf and served with house-pickled white turmeric and a white champaka flower, complete with instructions on how to smell the flower while eating the tofu.
The Museum of Floral Culture, 315 Samsen Soi 28, 02-669-3633. Open Tue-Sun 10am-6pm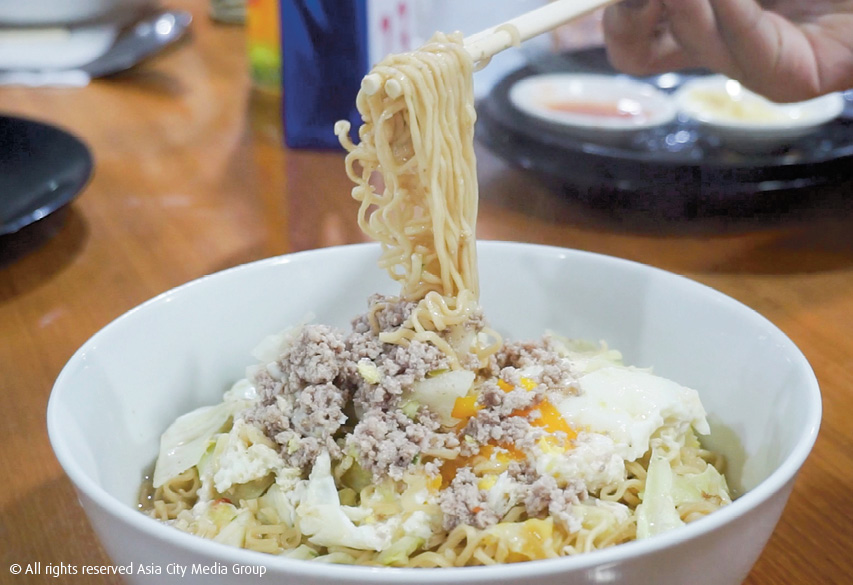 20. Dine at a restaurant dedicated to Mama Noodles
Everyone eats Mama noodles at home, and there's a good chance you cook it with some extra veggies, egg, mince pork and the likes. Well, this shop in bustling Sathorn is all about that—and only that. At Suan Bamee, you'll find all types of Thai instant noodles, whether it's the classic tom yum or green curry. The ordering process is simple: pick your noodle, add your condiments (egg/veg/sausage/mince pork/everything) Best part yet: it's all for a ridiculously cheap B35-45. Don't expect to find a table easily at lunch time.
Rajanakarn Building, 183 South Sathorn Rd., 02-676-5500. Open mon-fri 7am-5:45pm, sat 8am-3pm. BTS Chong Nonsi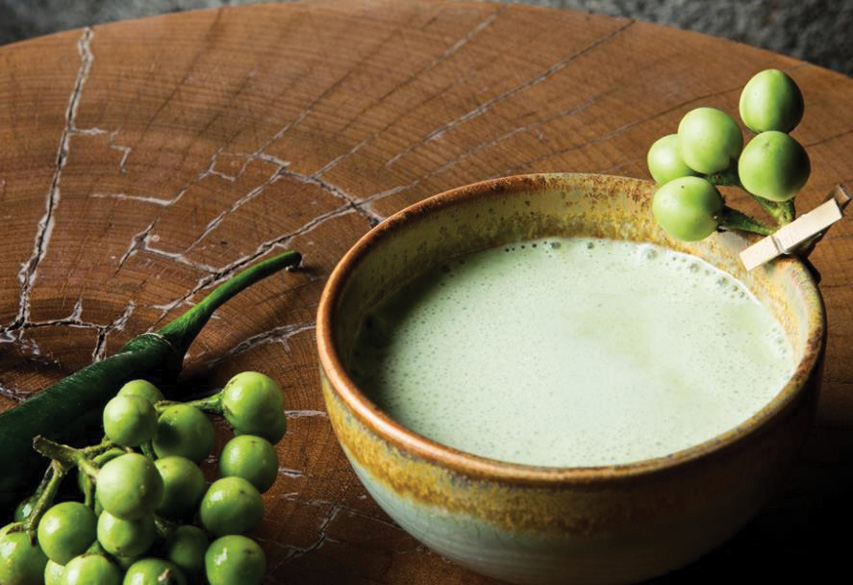 21. Drink laab in a cocktail
Eat Me's newest concoctions are on a whole other level. Mixologist Buntanes "Pop" Direkrittikul uses green chili paste, toasted rice, roasted chili and shallots. Flavors are so powerful, they can be almost too real: the Gaeng Kaew Wan, comes fully loaded with garlic. Our favorite has to be the vodka-based Laab Moo (a spicy, herbal Isaan dish made with minced pork). All cocktails are priced at B320.
1/6 Soi Phiphat 2, Convent Rd., 02-238-0931. Open daily 3pm-1am
22. Pay for Noodles with Bitcoin
Eighty-year-old noodle specialist Lim Lao Ngow is boldly going where no other Bangkok restaurant has gone before (OK, besides Eat Me) by accepting the bitcoin cryptocurrency as payment. Currently, it's only available at their Siam Square One branch, where a bowl of noodles sets you back about B35. With 1 bitcoin currently valued at B84,647.97, we'll leave you to do the math.
388 Siam Square One, Rama 1 Rd., 021151435. Open daily 10am-9pm
---
Art and Culture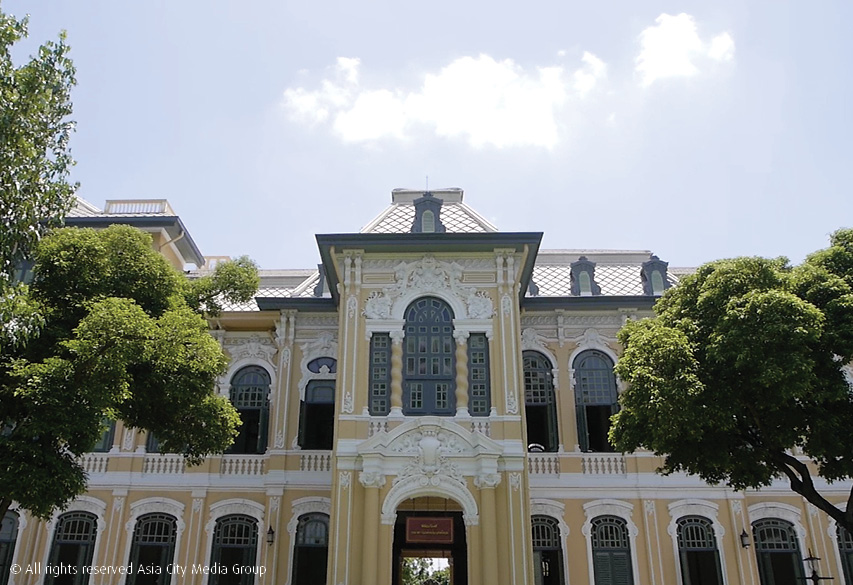 23. Check out Bang Khun Phrom Palace
Situated by the Chao Phraya River, the 100-year-old Bang Khun Phrom Palace is considered one of the most beautiful residences in the country. And it just opened to the public free of charge. Walk-ins are scheduled for every Sat at 10:30-12pm and 1-4pm. And be sure to bring along your ID.
273 Samsen Rd., Wat Sam Phraya. Open Mon-Fri 9am-12pm, 1pm-4pm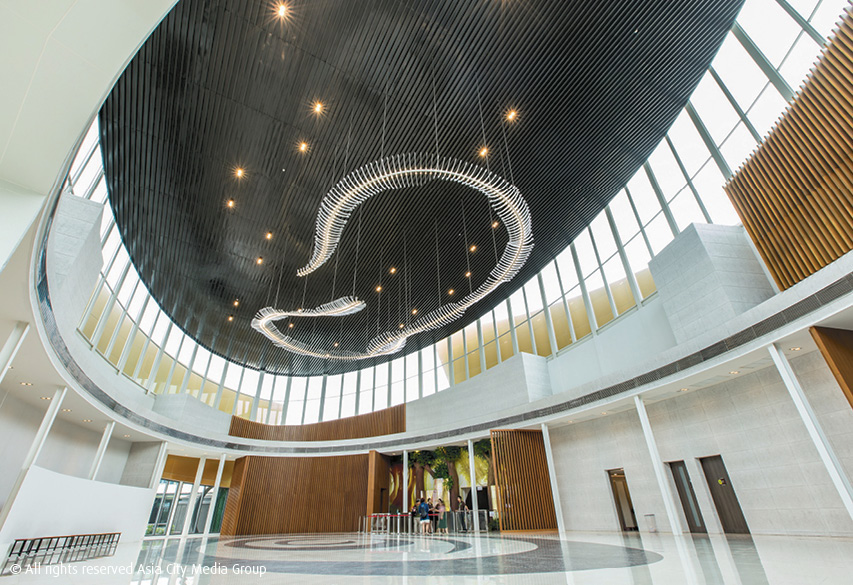 24. Visit a snake museum
Ophidiophobia sufferers will want to steer clear of Siam Serpentarium, Bangkok's newest edutainment space dedicated entirely to snakes. Located out of the city in Lad Krabang, the space comprises three main attractions: an interactive exhibition about snakes and their life cycle; Snake Planet, a display of over 50 species of real snakes and Naka Theatre, which offers live performances featuring snake handlers. It may take you some time to spot the snakes as they are good at hiding—just keep in mind that photography and knocking on the glass are not permitted. Prices are set at B350 for Thai nationals and foreigners with a work permit, and B550 for tourists. 969 Luang Phang Rd., 02-326-5800.
Open daily 9am-5:30pm
25. Learn about humans' insides
Take a break from window shopping at Siam Square and drop by Chula's Human Body Museum. Among the 130 specimens are 14 dissected full bodies which a technique called plastination keeps fully preserved without any mess or stench. Make sure you try holding the real human brain before leaving. Admission: free.
Room 909-910, 80 Years Chalerm Navamaraj Building, Faculty of Dentistry, Chulalongkorn University, Henri Dunant Rd., 02-218-8635, 091-232-1519. Open Mon-Fri 10am-4pm. BTS Siam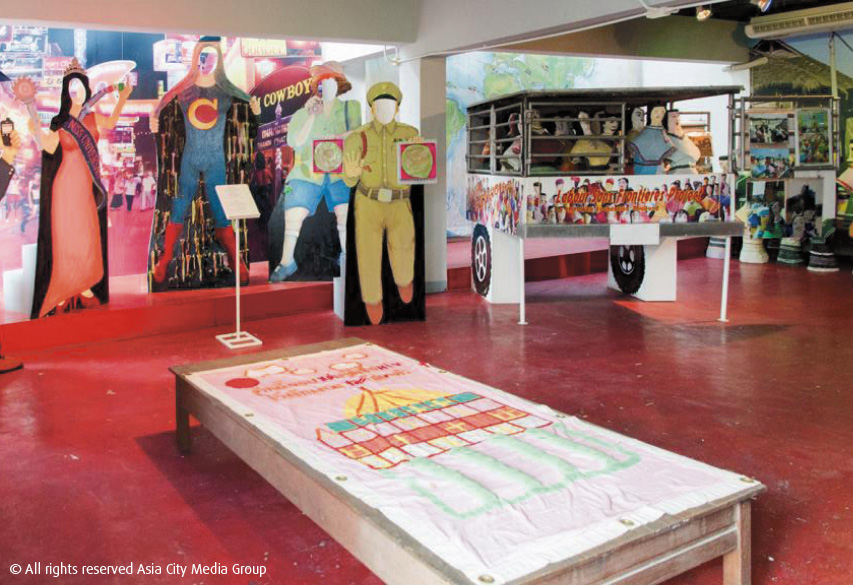 26. Explore a Sex Work Museum
Run by the Empower Foundation, This is Us museum in Nonthaburi is a judgement-free celebration of Thailand's long history of prostitution. "Sex work is a sin in the eyes of many," says foundation director Chantawipa Apisuk. "This museum isn't like Ripley's in Pattaya where you go see weird stuff. Here, we provide information on the value of sex workers and the development of the sex industry in Thailand." This it does with refreshing irreverence through bright and bold installations featuring everyday paraphernalia like condoms, lube and lingerie. Admission is B100.
Empower Foundation, 57/60 Tiwanon Rd., Nonthaburi, 02-526-1294. Open Wed-Fri midday-7pm