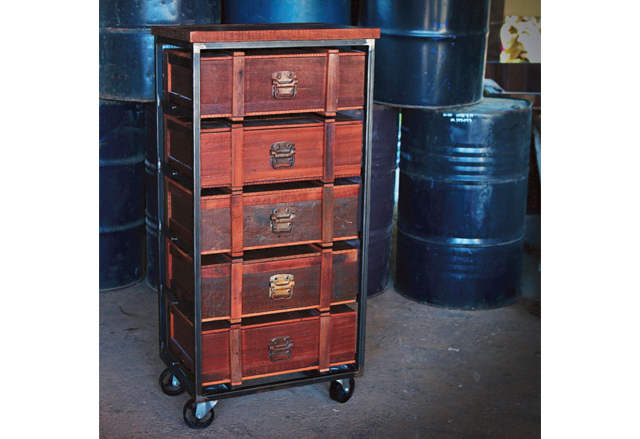 Idealize Art & Decoration
The Chiang Mai-based wooden furniture brand was founded back in 2007 by designer Suthi Payothonsiri, whose showroom has joined the Baan Tawai handcraft village. The brand actually started off making carved-teak furniture before turning to industrial design. It uses old wood, scrap wood and tree stumps mixed with steel and leather details to create rugged and manly pieces like the low coffee table (B18,000), New York Sofa (B20,000) and chest of drawers (B15,000).
Get yours at:
They only have a showroom in Chiang Mai, but offer domestic shipping via
www.idealize-art.com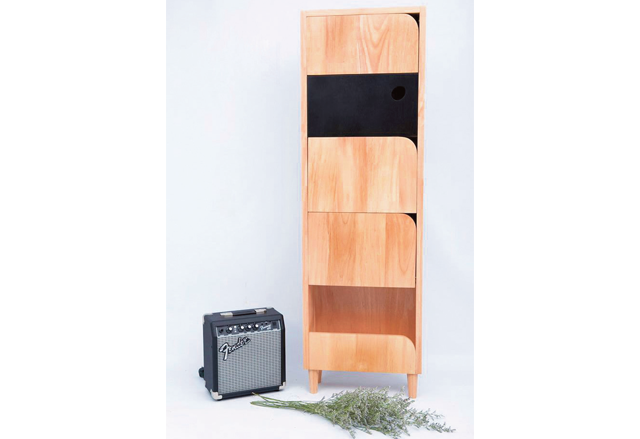 Egg White Design Studio
Founded in January 2014 by designers Kittima "Joy" Chatchaleomwit and Sirinut "Pop" Keetanitinun, who both graduated from Chanapattana International Design Institute. Pop comes from a family of carpenters, and the studio extends its reach into both the wholesale market for high-end wooden furniture as well as the more design-savvy market for minimal-yet-functional pieces. The para-wood furniture ranges from the Matchbox working desk (B9,300) and Perd cabinet (B6,200) to smaller pieces like the Curve wall decor (B120/piece) and Eggstand (B150).
M/O/M and Thxful for Small Mercies
Inthanu Faromkao is a designer and furniture maker who's worked in Thailand's home decor scene for almost a decade. This year, he finally put his own brand together, M/O/M, for which he partnered up with his two friends, Piti Kuptawatin and Adiwis Wittaya, to specialize in basic home furniture that can be used both outdoors and indoors. Their designs pretty much stick to the Scandinavian style, but also use a lot of bowed techniques both with steel, like the Ging Kaew chair (bowed steel topped with woven faux rattan, B4,500) and wood like the R&R stool (B3,800). Inthanu, alone, also introduced a second brand at the Baan Lae Suan Fair called Thxful for Small Mercies. This one specializes in home decoration, featuring unique designs that blend Thai wood carving and weaving techniques. Highlights include the beechwood-carved pendant light (B1,650, there's also an option for walnut wood at the same price), woven tray (B1,150 for beechwood to B1,550 for walnut) and wooden box carved with a lotus pattern (B650-2,150).
Filobula
Debuted at TIFF earlier in March, this brand specializes in minimal wooden and cushion furniture with Scandinavian touches. Despite being labeled as new, the brand is actually a collaboration between the decade-old ODM (Original Design Manufacturer) furniture exporters, and the young Dots Design Studio, which takes care of the creative side. The result is the Macaron collection (ashwood with green and red cushion, B3,300/stool, B4,200/bar-stool and B7,400/bench), which was quickly featured in Wallpaper* magazine, and the Whipcream Sofa (oakwood with duck feather cushion, B16,900 for one seat and B28,900 for two seats), which won the DITP's Design Excellence Award 2015.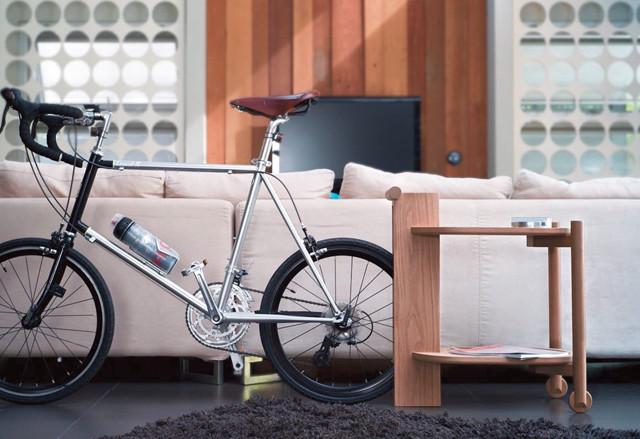 Timmer Furniture
Run by the giant furniture importer Champaca Wood, which also collaborates with Studio 248 designers Purim Kraiya and Sukalaphan Suwansomboon, Timmer is a new brand specializing in small and medium-sized home decor made from oak, maple and teak. The design sticks to a minimal-yet-functional style, while the bright shade of wood makes for a clean look that's easy to mix with any room. Cyclists should check out the Shift side table; a trolley-like low table that allows you to park your bike at one end (Price TBA). Capsule (Price TBA) is a wall decor piece with storage room for books and hangers, while the Robin Hook (Price TBA) is a single hanger that allows you to be creative with how you position it on the wall.
Coco Home Decor Vintage & Industrial Design
This shop offers a made-to-order crate from pinewood with a black screen as well as imported wooden furniture and steel work that sticks to a rustically vintage theme. The wide-ranging products include the wall-to-ceiling X Book Shelf (80x40x180cm, B27,500), and three-meter dining table (pinewood, B22,000) as well as smaller decorative pieces like the ladder wall shelf (B850), steel hanger (from B550) and vintage fogy (B250).