Heading into Sentosa? The next time you're thinking of heading into the resort island, try walking in via the Boardwalk instead.
Not only is walk-in admission free (until the end of 2020) and scenic, there is now more reason to brave the heat and the 670m-long route thanks to four new retail zones that are packed with 35 eye-catching vending machine of all sorts, including ones that are currently exclusively found there.
When heading in, the first zone you'll encounter is the Fresh Point, where you'll find machines vending snacks, refreshments and other island essentials that you can use to stay cool. Next, up a travelator near the midway point is the monorail-themed Gift Street cluster, where tourists can purchase quirky souvenirs, books and other local crafts as keepsake.

Fun Alley
Then further down is a forest-like zone, the split-way Fun Alley, that's packed with game machines, outdoor must-haves and more to keep you entertained. It's tempting to spend more time than anticipated at this zone, but it's the final Foodie Zone that'll likely keep you lingering longer, being the only air-conditioned cluster.
At this last enclosed zone, there is cocktail vending machine Bar Stop, a semi-automated bar counter serving up local concoctions and beers, that's worth giving a whirl just to see the magic happen. Pair your drinks with cup noodles, Fragrance bak kwa and even a full serving of piping hot chilli crab from House of Seafood, all dispensed from machines.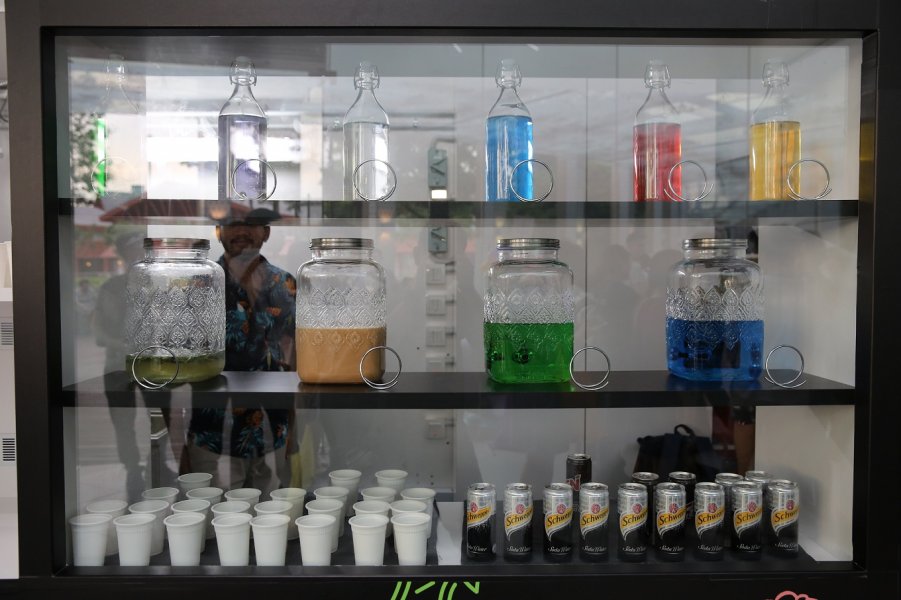 Bar Stop
And the best part about this new initiative? Nope, it isn't the 24/7 availability of daily essentials for all Sentosa goers, but the option to pay using cashless methods—so you never need to fumble for change again once you got your eye on your desired goods.